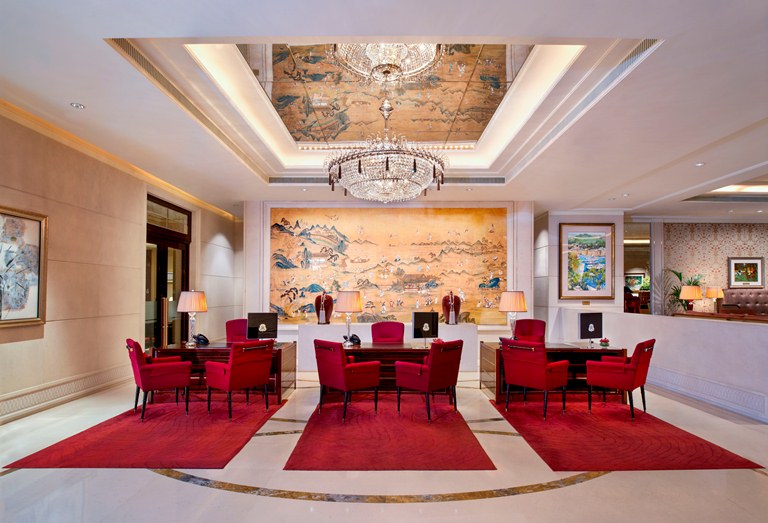 St. Regis has always been one of my all-time favorite hotels in Singapore. It's so centrally located– by Orchard Road— yet at a quiet corner, away from the crowds. The hotel is the epitome of timeless, quiet elegance,  with great food, exceptional service, and rooted in art.
I was thrilled to have been able to call it my home (once again) when I was in Singapore last week. In fact I loved it so much that despite being the type of person who's always out first thing in the morning and back late at night whenever I'm overseas, I ended up taking a raincheck on my friends my last two nights to spend more time at my hotel— cocooning in my room, and for a quiet nightcap at Astor Bar.
Here are 10 reasons why I think you should stay at the St. Regis Singapore— or at the very least, check out their F&B outlets— they have new menu offerings!
1) Old World Elegant Rooms That Make You Never Want To Get Up And Leave (Truth!) 
My Grand Deluxe King room had a super comfortable king-sized bed set against a hand-painted chinoiseric silk wallpaper, framed by a wooden writing desk,  a 42″ flatscreen TV, and a red sofa festooned with Jim Thompson silk throw pillows– looking out to the Singapore Botanic Gardens. While most hotels maintain DIY coffee and tea facilities in the room as a standard, here it's up a notch as fresh coffee and tea can be delivered to your room at any time of the day– complimentary! Their mini bar is also stocked with Ruinart Brut (which is apparently not for sale anywhere in Singapore, as they are exclusive to partner hotels), Chateau La Tour de By and Domaine A. Cailbourdin Pouilly-Fume.
Tip: All hotel guests have access to Remède Spa's wet lounge facilities, ie. steam room, sauna, and an indoor and outdoor jacuzzi!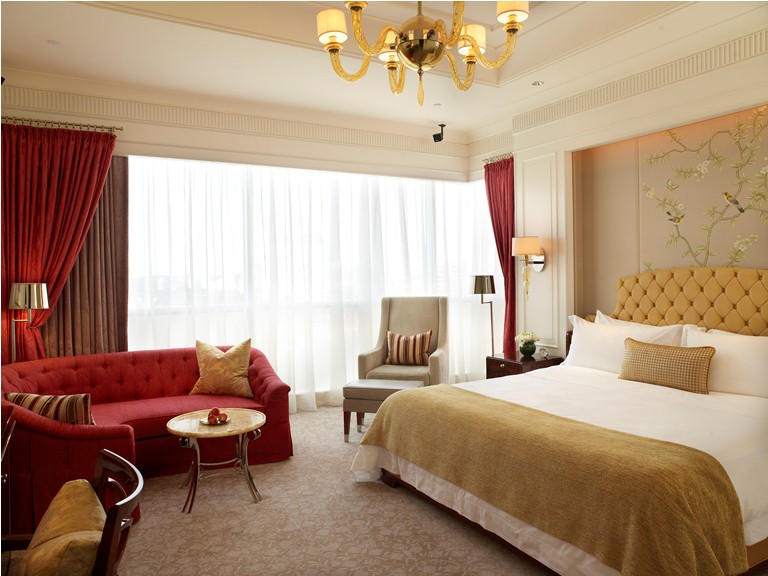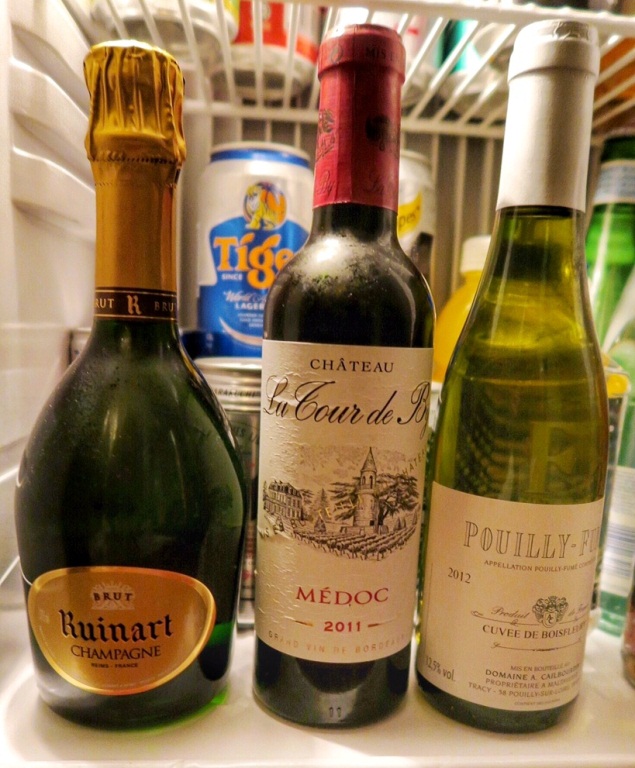 2) French Marble Bathrooms With Free-Standing Bath Tubs
Each bathroom features  a standing bath tub, where you can unwind smothered in bubbles, with the option of watching television while at it. Toilet and shower areas  (equipped with separate jet showers) are considerately enclosed from each other, in case you are sharing a room with a friend, and need privacy. Bath amenities are Remède.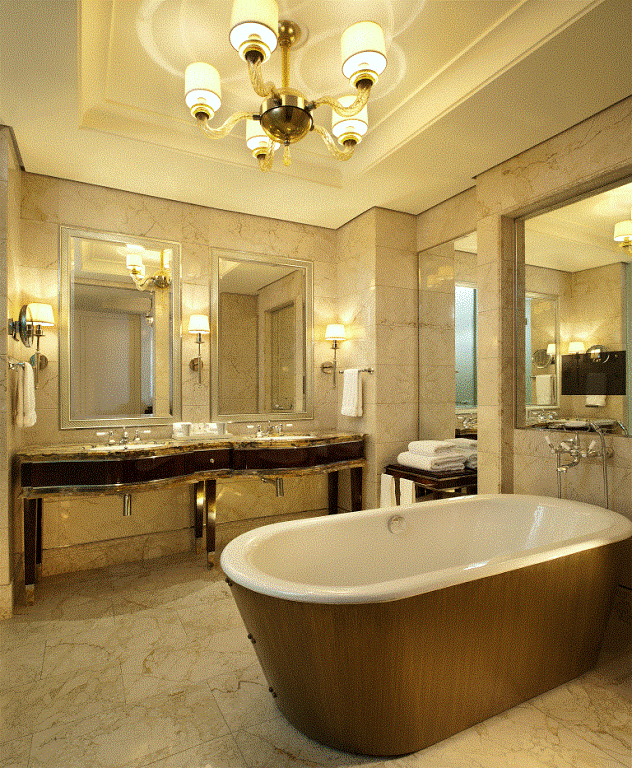 3) 24- Hour Butler Service for All Hotel Guests
St. Regis is the only hotel in Singapore that offers butler service for ALL guests, a treasured hallmark of the brand for over a hundred years.  They are there to arrange for coffee or tea upon arrival, un-pack (or pack) your luggage, and attend to your needs for garment pressing (2 complimentary pieces per day). On this particular trip, I had been suffering from a bad migraine and was too exhausted to walk to the mall. I asked my butler to buy me ibuprofen– and it's little things like these that make you truly grateful for hotels that go the extra mile for your well-being.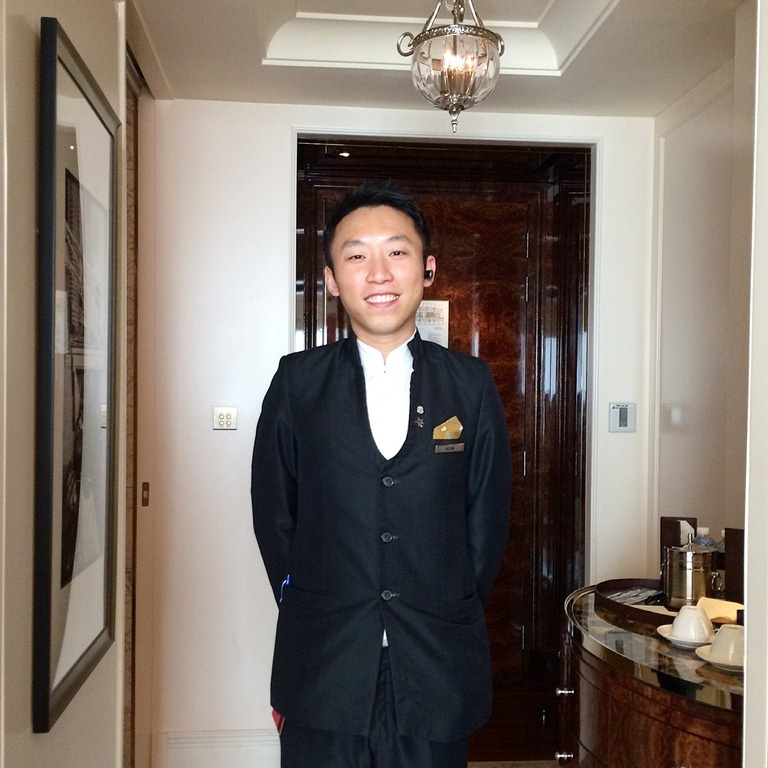 4) Living Within The Walls Of A Private Art "Museum"
The hotel houses one of the finest private art collections in Southeast Asia, with over 100 original works of art from Pablo Piacasso to Joan Miró to Fernando Botero to Cheong Soo Pieng to Georgette Chen, a great representation of both the East and West.  At 6 PM every evening, the St. Regis butlers conduct a 30-minute tour through the collections for hotel guests, giving insights to the lives of the artists and the inspirations behind them.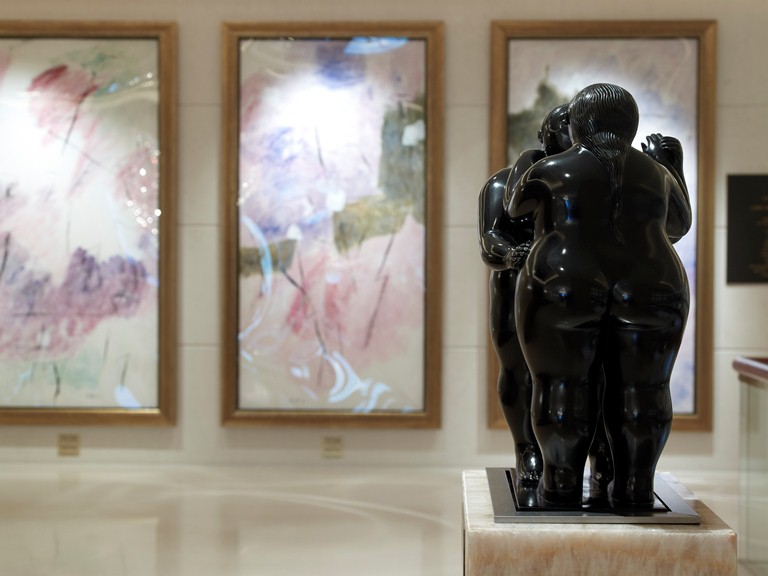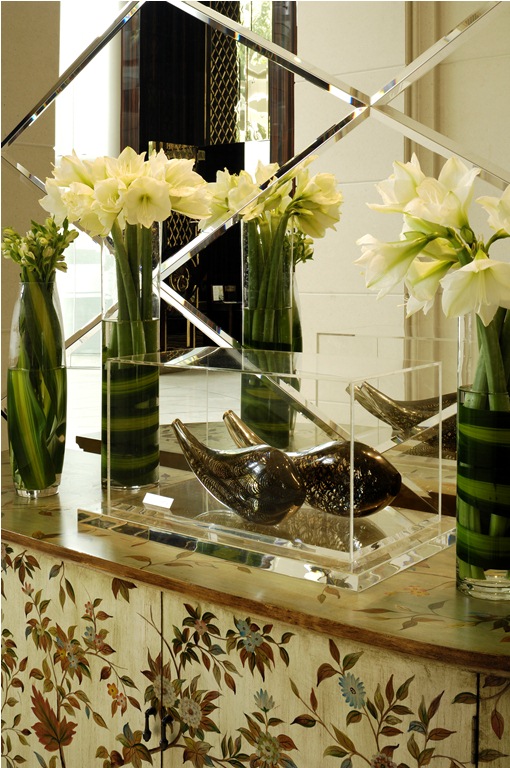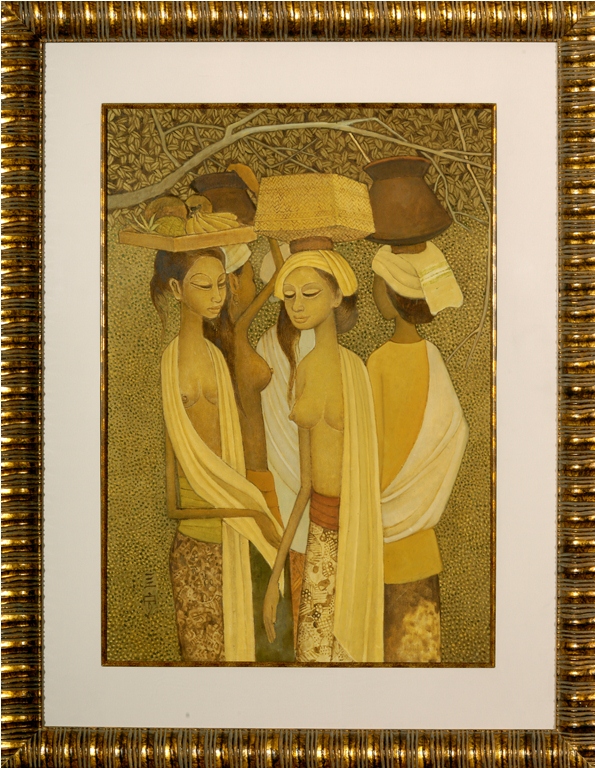 5) Centrally Located by Orchard Road And The Embassy Row
While St. Regis is centrally located by Orchard Road (specifically on Tanglin Road), it's away from the hustle and bustle of the crowds, giving guests some tranquility. It's 3.2km to 4km away from Dempsey Hill, Tiong Bahru, Little India, Haji Lane, China Town, and about a 15-minute drive to Sentosa.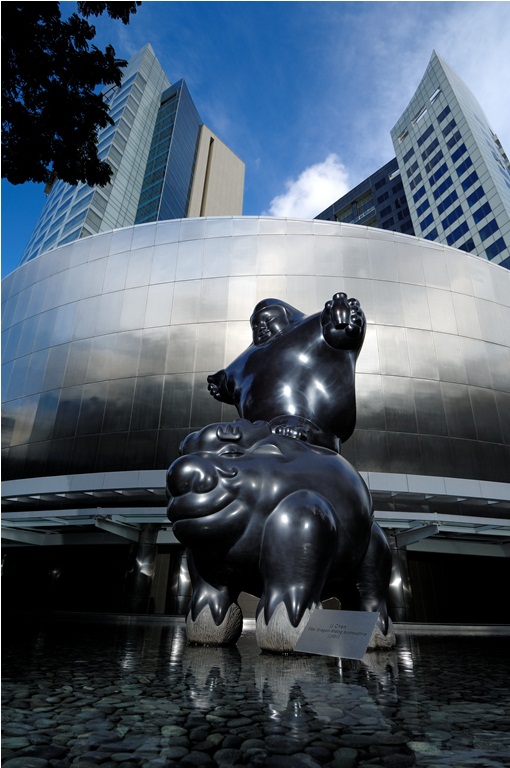 6) Steak And Seafood Grill Indulgence On Monday And Tuesday Evenings At Brasserie Les Saveurs
Brasserie Les Saveurs' gorgeous hand-cut crystal chandeliers, floor to ceiling windows and colorful floral stained glass decors– coupled with the buffet spread of quality Continental and Asian dishes make breakfast  a daily stunning affair. (Plus, as St. Regis invented the Bloody Mary, guess what they serve during breakfast– the Virgin Mary, look out for it!)
Recently, they've launched the Steak and Seafood Grill Indulgence on Monday and Tuesday nights where prime cut meats like Japanese Wagyu Sirloin, Grain Fed, MB +9, Australian Black Angus Porterhouse Cut, Grain Fed, Aged 21 Days, Australian Kurobuta Pork Chop,and fresh seafood like Jumbo Mexican Tiger Prawns, Norwegian Superior Wild Salmon and Whole Live Boston Lobster, are prepared a la minute over the grill by Chef de Cuisine, Thomas Cruise,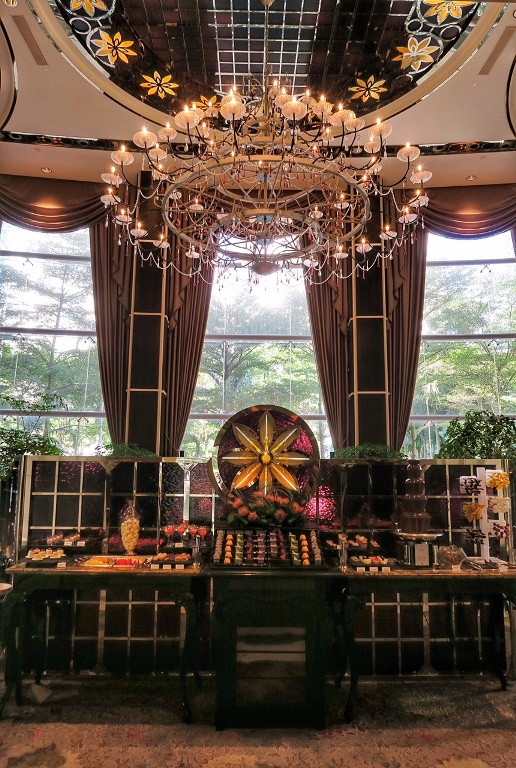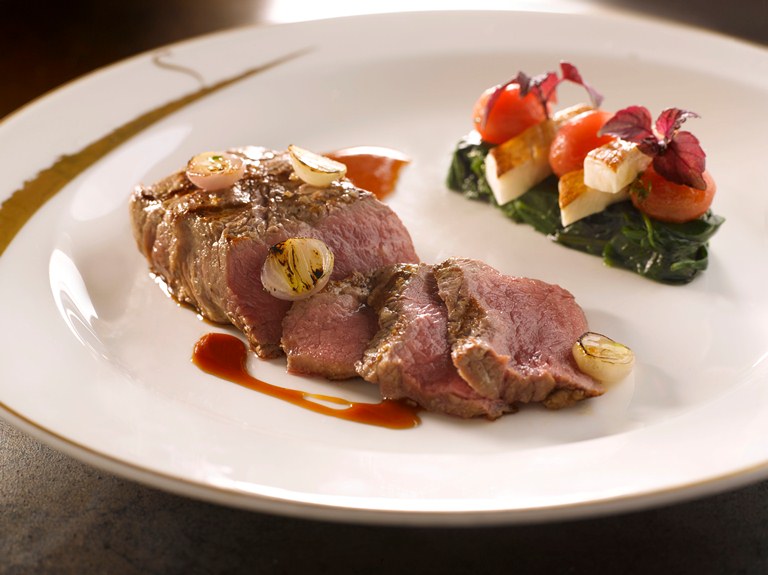 7) Excellent Cantonese Dim Sum At Yan Ting– and An Ongoing Don Perignon Pairing Menu
I've always loved Yan Ting's weekend  brunch. In fact, it's become so popular, that they've created 2 seatings (10:30-12:30; 1 PM to 3 PM) just to be able to accommodate as much as they can!
They currently also have an ongoing pairing menu with Dom Perignon Vintage 2005, where chef Tony Wun Shun Kong has created a special seafood-based menu to pair with the rare vintage's flowery yet spicy finish, until the end of the year. (SG$676++ for two persons, inclusive of one bottle of Dom Pérignon Vintage 2005 )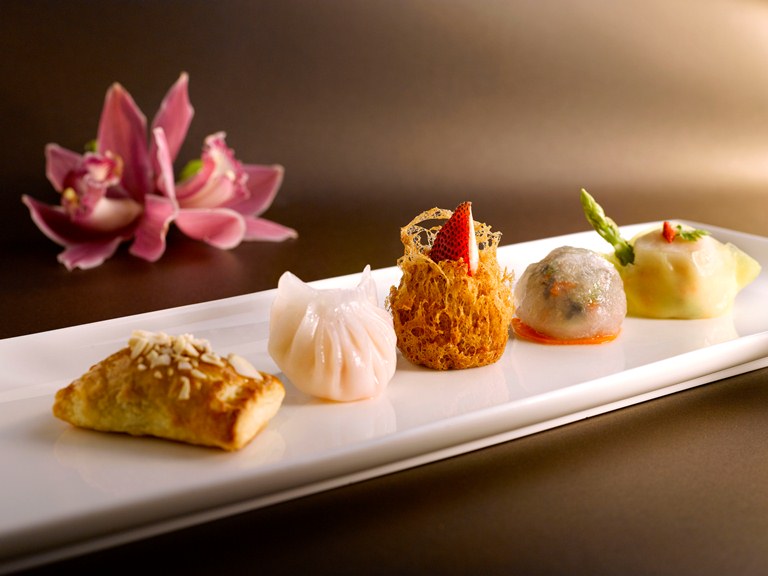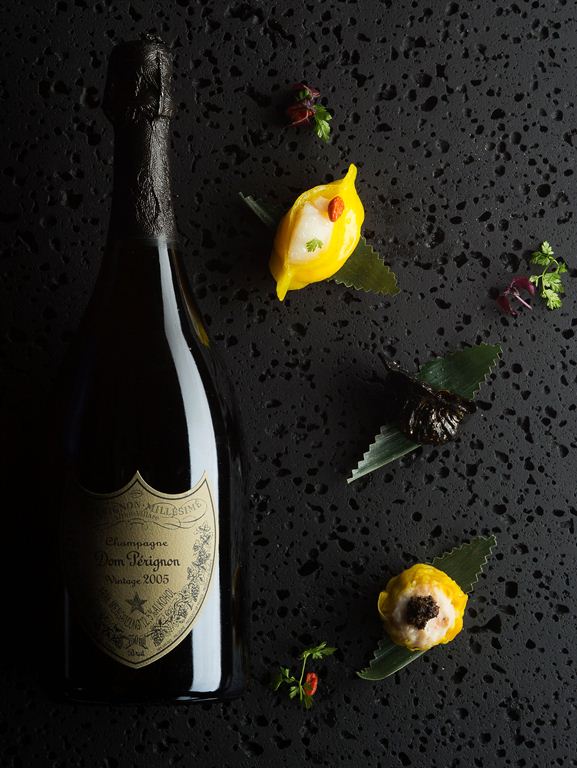 8) Pasta Parade and Risotto Revelry at La Brezza
The Italian trattoria-style La Brezza spotlights pastas on  Wednesdays, and risottos on Thursdays by Chef de Cuisine Luca Moioli. For SG$48++/ head, a choice of four medleys of pasta (from Venetian-style Bigoli Pasta with Pan-Seared Duck Foie Gras to Paccberi Pasta filled with Kurobuta Pork Cheek) or risotto (from Black Squid Ink Risotto with Tempura Oyster to Carnaroli Risotto with Pumpkin and Muscovy Duck Ragout), are served over two courses in a duo of tasting portions.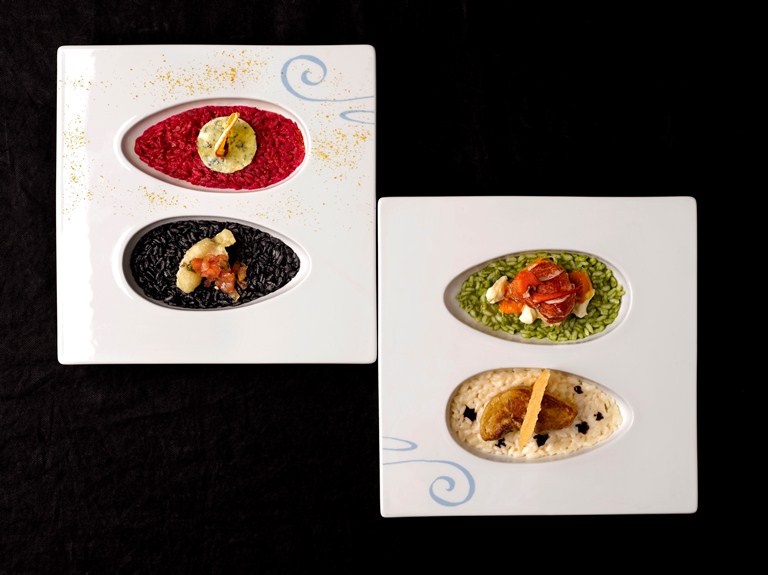 9) Full Head To Toe Pampering At The First Remede Spa Outside Of The USA 
I had the Perfect Synergy Treatment (SG $360++), a Bastien Gonzalez signature (Naomi Campbell is a fan!), which was 75 minutes of four dexterous hands– one pair on the face (customized facial) and another on the feet (Bastien pedicure) performed by two therapists working in tandem. My face was treated to microdermabrasion to clear the pores and refine pigmentation, while resident podiatrist Steve Desobeau took to giving my feet a very meticulous pedicure, smoothing out callouses and dead skin, resulting in pretty happy feet! Highly recommended!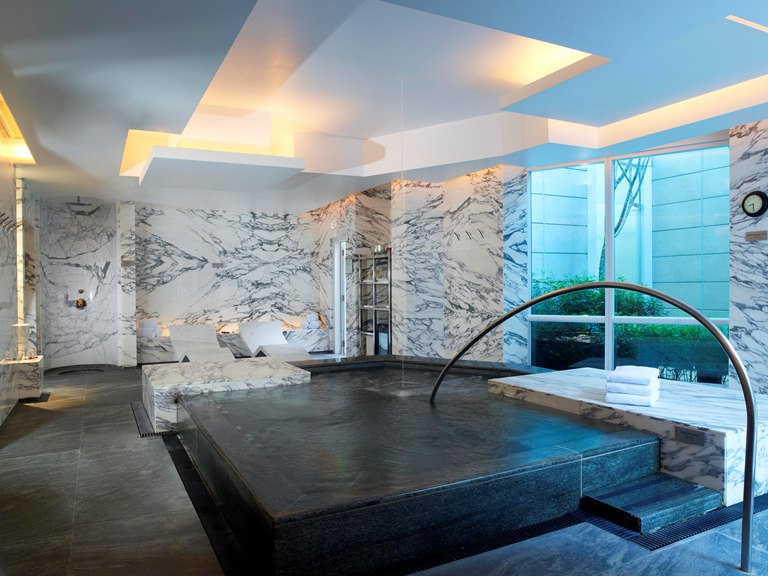 10) Nightcaps, afternoon-caps, morning-caps at Astor Bar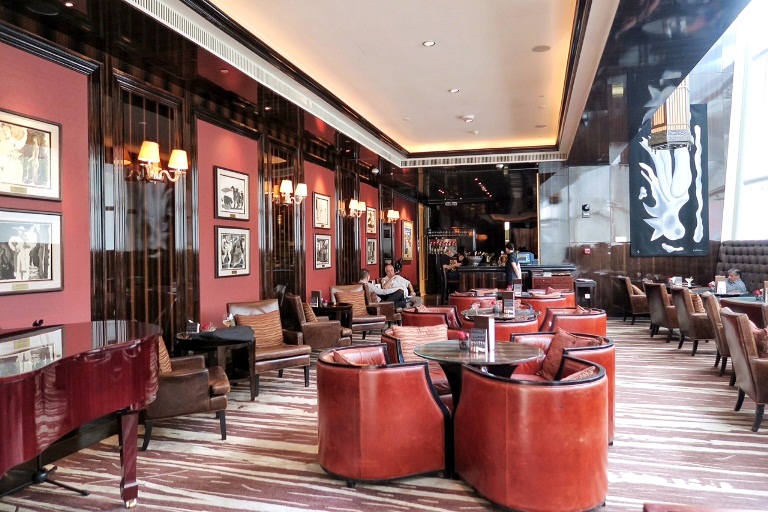 Astor Bar has always been one of my favorite bars, I love the classic, masculine feel of the place, with plush leather sofas spaciously arranged throughout the place. As a female, I'm comfortable walking in alone to have that one last drink before calling it a night. Since the Bloody Mary was invented at the St. Regis in New York, you should have one here. They also have a Singapore version of it called Chili Padi Mary made from lemon grass, chili padi and ancient Chinese ginger. This particular trip, I chose to unwind with some wine. If the wines on the menu aren't your fancy, look at their premium wines on the enomatic wine machine– I had Château de Beaucastel's beautiful white Châteauneuf-du-Pape, as well as a few amazing grand crus. Look for bartender Imran, he will take care of you.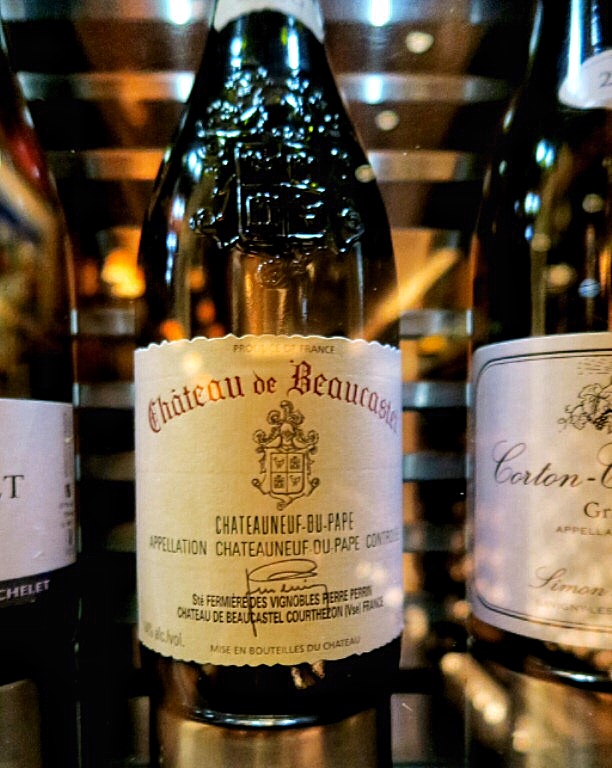 St. Regis is located at 29 Tanglin Road, Singapore 247911. For more information and bookings,  phone (65) 6506 6888, fax (65) 6506 6788, or visit <stregissingapore.com>
Some special offers they currently have:
· Refined Rewards, Exceptional Experience [Weekend Staycation]: Rates start at SGD396++/ night (minimum of 2 nights), with a complimentary SG$200 dining credit 
· All Day, All Yours [Your 24-Hour St. Regis Experience]: Rates start at SGD407++ / night, and you get to check out the same time as you check in
· Celebrating Singapore's Golden Jubilee [#SG50Staycation Experience]: Exclusively for Singaporean residents, weekend rates start from SG$394++/ night