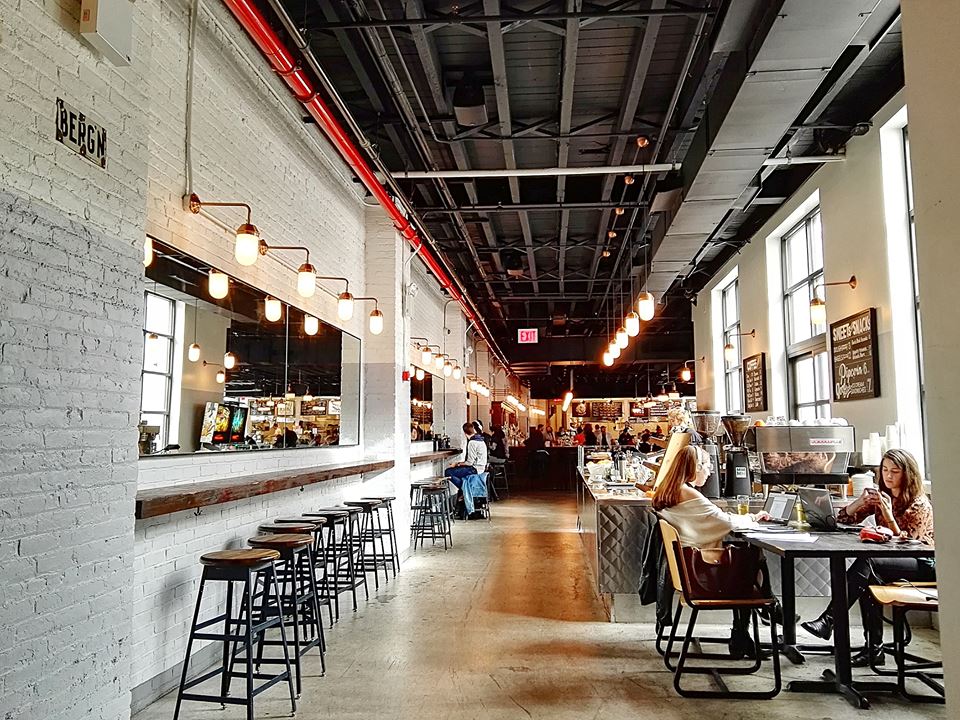 So, Brooklyn. New York City's most populous borough has been re-branded as the cool, hip and essential destination in the Big Apple that's popular with the locals,  foreign to Manhattanites, and in some areas, devoid of tourists.
I spent a lot of time in Lower Manattan during my 1.5-month stay in this most incredible city and tried to explore this super cool borough as much as I could. Luckily, I had friends that introduced me to these gems that may or may not come out on top when you Google "Brooklyn." (Shout outs to: Neil Dee Syham, Marc Yap, Mitsuharu Tsumura, Virgilio Martinez, Jorsand Diaz, Oscar Lorenzzi, Ryan Duffy, Stanley Likver and Juan Carlos Vallarino.)
In no particular order, here are my favorite Brooklyn discoveries this 2016:
1.Roberta's/ Blanca
We can credit Roberta's for elevating the once-seedy Bushwick into a (for lack of better term) "foodie" destination, thanks to their famous wood-fired (crisp outside, doughy inside) pizzas. And since 2012, behind the restaurant's metal facade and open garden is chef Carlo Mirarchi's two-Michelin-starred by-reservations only restaurant, Blanca. While seating capacity is small (only 12 seats), the space, housed in a converted garage, is huge and features a state-of-the-art, open kitchen, where the miniature-sized 20 courses are dexterously crafted for guests. (Click here for my Blanca experience during the World's 50 Best Restaurants 2016 #KoreaNYC series in June.)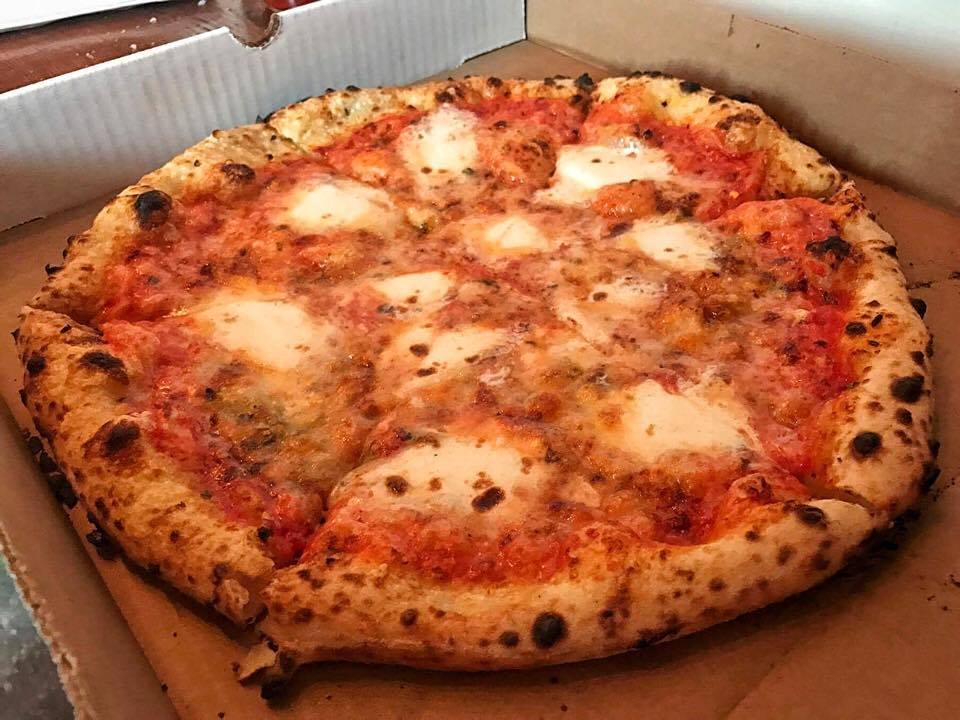 2. Okonomi/ Yuji Ramen
Yu Ji by night is a 12-seater ramen shop but during the day from 9AM-3PM, it's known as Okonomi, serving traditional ichiju-sansai (Japanese set) breakfasts  in this quaint space: grilled fish (we opted for blue fish and mackerel) with tamago and seasonal veggies, miso soup and rice set, ranging from $21-23. Additional orders of onsen egg ($2) and uni ($6) are a must. Oh, and just like in Japan, they don't accept tips! This is such a precious place.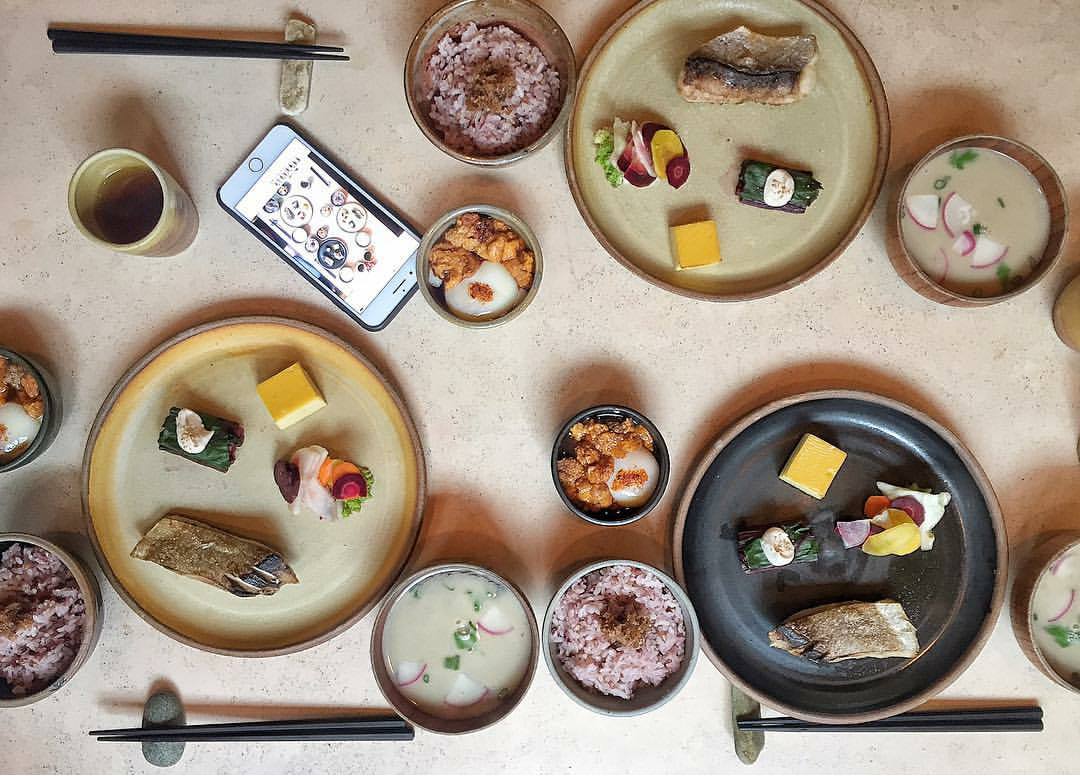 3. Bunna Cafe
You all know how much I love my Ethiopian cuisine. At Bunna Cafe in Bushwick, it's delicious and fairly simple– the entire menu is vegan. It's one of the best value lunches around town, too. For  2 pax, it's $15 and for 3 pax, it's $22– for the injera and 7 kinds of wot (stews) and veggies. PS They only accept cash.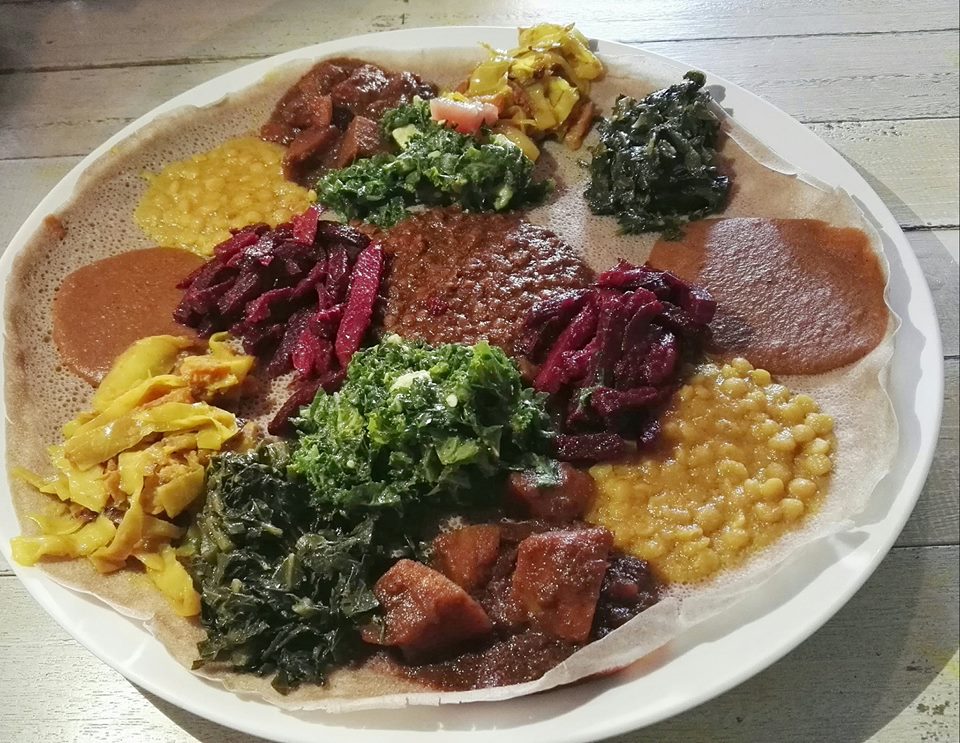 4. Lumpia Shack at Berg'n Beer Hall
Lumpia Shack owner Neil Dee Syham is Chinese-Filipino but moved to NYC to start his life many years as ago (first as a banker then chef then restaurateur) and chose to spotlight on the popular Pinoy dish influenced by the Chinese (lumpia). They have 4 branches now: Greenwich Village, Smorgasburg, Berg'n Beer Hall (which I visited) and at South Street Seaport.
I had a sampling of their sisig rice bowl (although more like lechon kawali or deep-fried pork belly in a patty); adobo-glazed chicken wings; and lumpiang shanghai, or deep fried spring rolls the restaurant is named after. They've also just released a kinilaw bowl (which they loosely translate to "Filipino poke bowl.")  Always happy to see the Philippines represented overseas!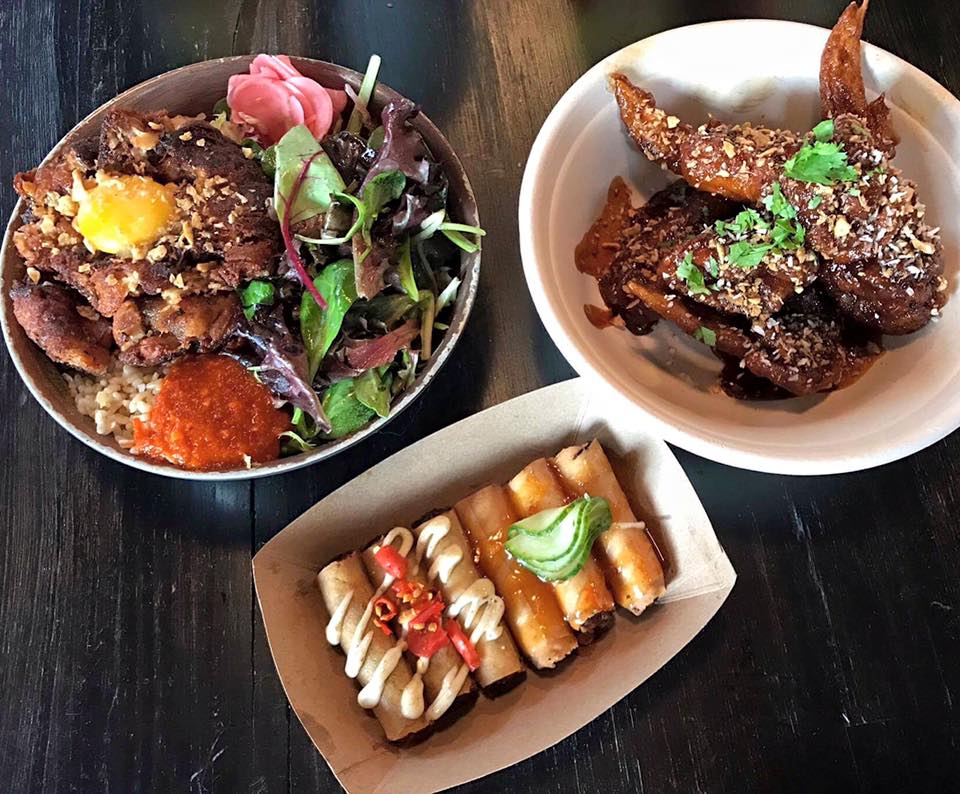 5. Llama Inn
Llama Inn is hands down one of my favorite restaurants in all of New York. Chef Erik Ramirez adds a touch of whimsy to traditional Peruvian dishes, ie. plantains and dashi in ceviche; char siu pork belly as an anticucho, etc. The grand daddy of them all is his take on the Peruvian national dish, lomo saltado. Here, instead of serving it with rice as done traditionally, the stir-fried beef tenderloin is buried under a bed of gorgeous fries– set next to a plate of scallion pancakes– where you take one and roll yourself a little "taco." It is A-M-A-Z-I-N-G. Click here if you want to watch me eating it, haha. (PS Virgilio Martinez, whose Central in Peru is the #1 restaurant in Latin America and #4 in the World, launched his book here, too.)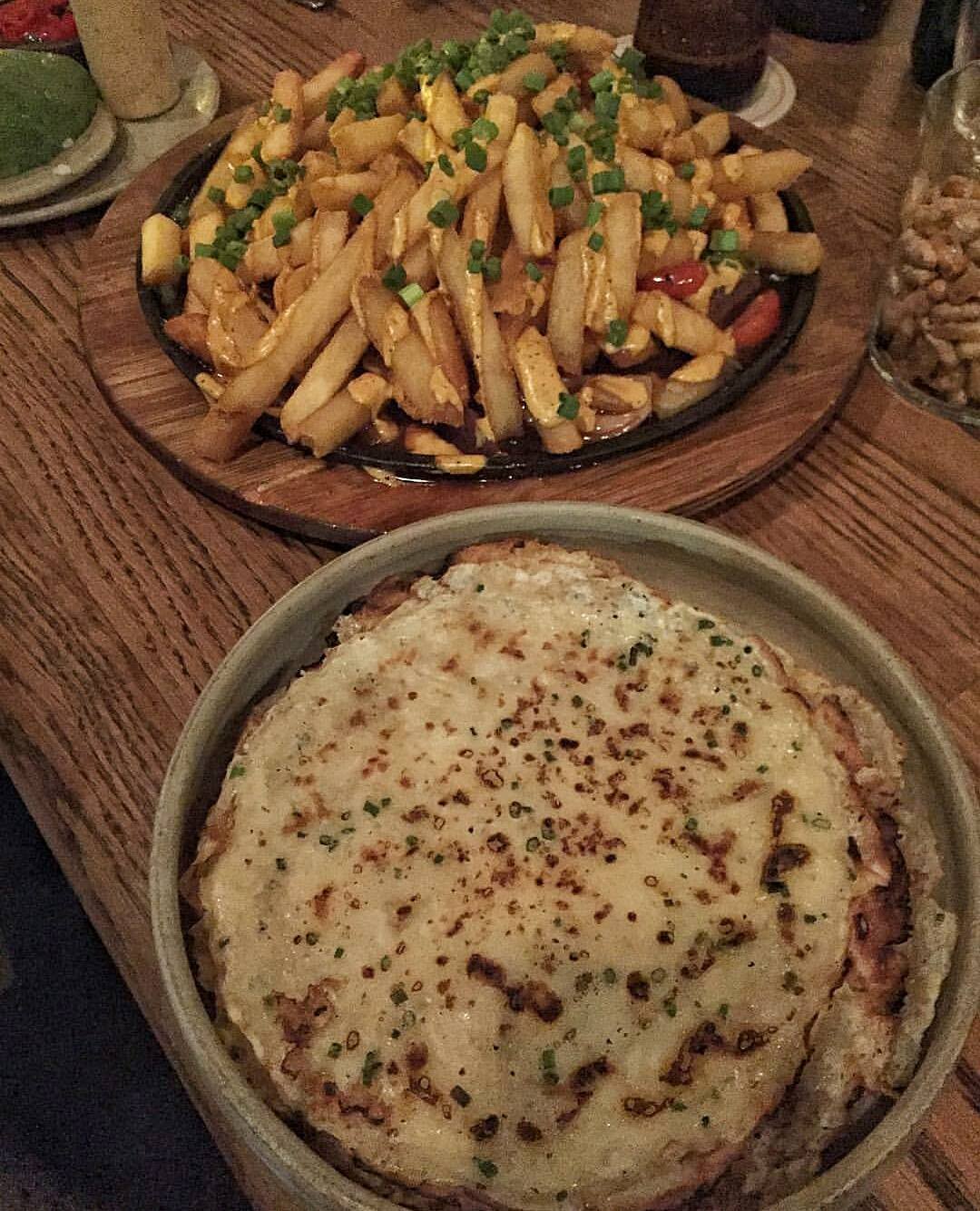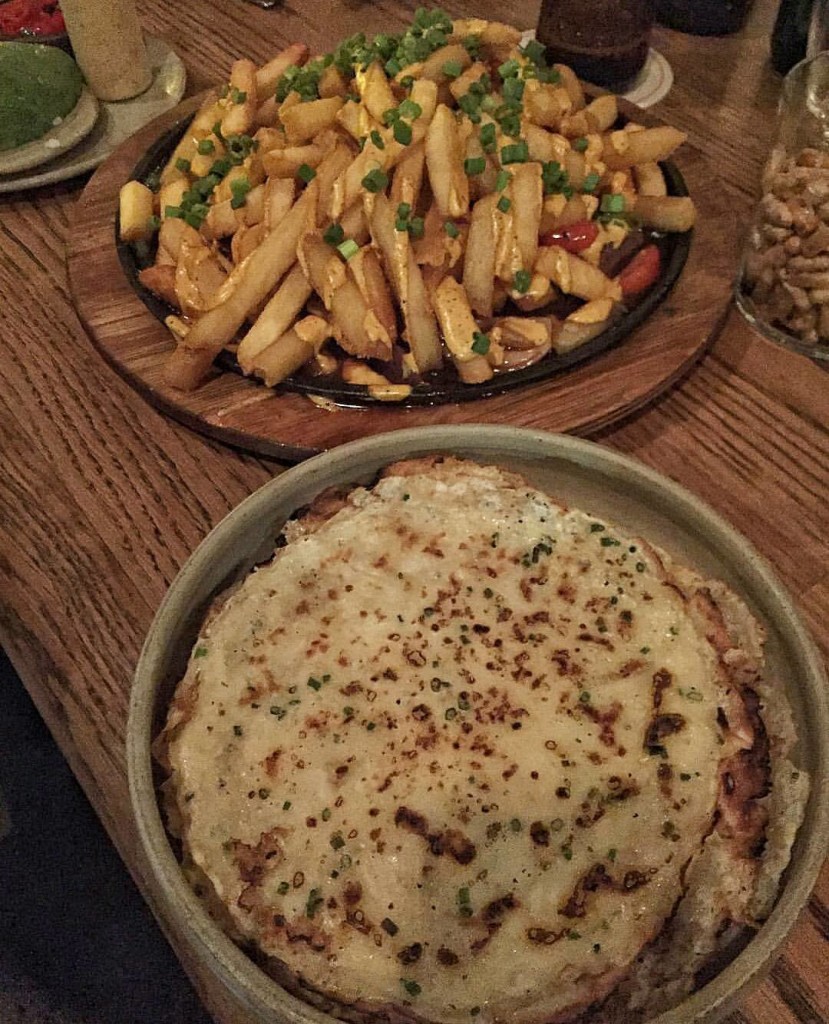 6. Olmsted
When I booked for Olmsted early on, only the 10PM time slots were available for dinner– for both November and December. Why? Rave reviews from New York Times, Eater and almost every other New York publication. The Prospect Heights neighborhood restaurant is not going to change your life but it is easy-going and comfortable. The backyard garden is stunning– physically– but is also an integral part of the restaurant as that's where chef Greg Baxtrom and co-owner Ian Rothman farm for their menus.
Dishes are served creatively- ie. the garden kale crab rangoon is served in a fun dimsum takeout box, complete with chop sticks. But the most memorable dish is for sure their famous carrot crepe. It's a delicate 'ravioli' made with carrots, with little neck clams swimming in a buttery sauce underneath and topped with sunflower seeds. (When we were there though, they accidentally charged us 3 cocktails we didn't order– so always check your bill!)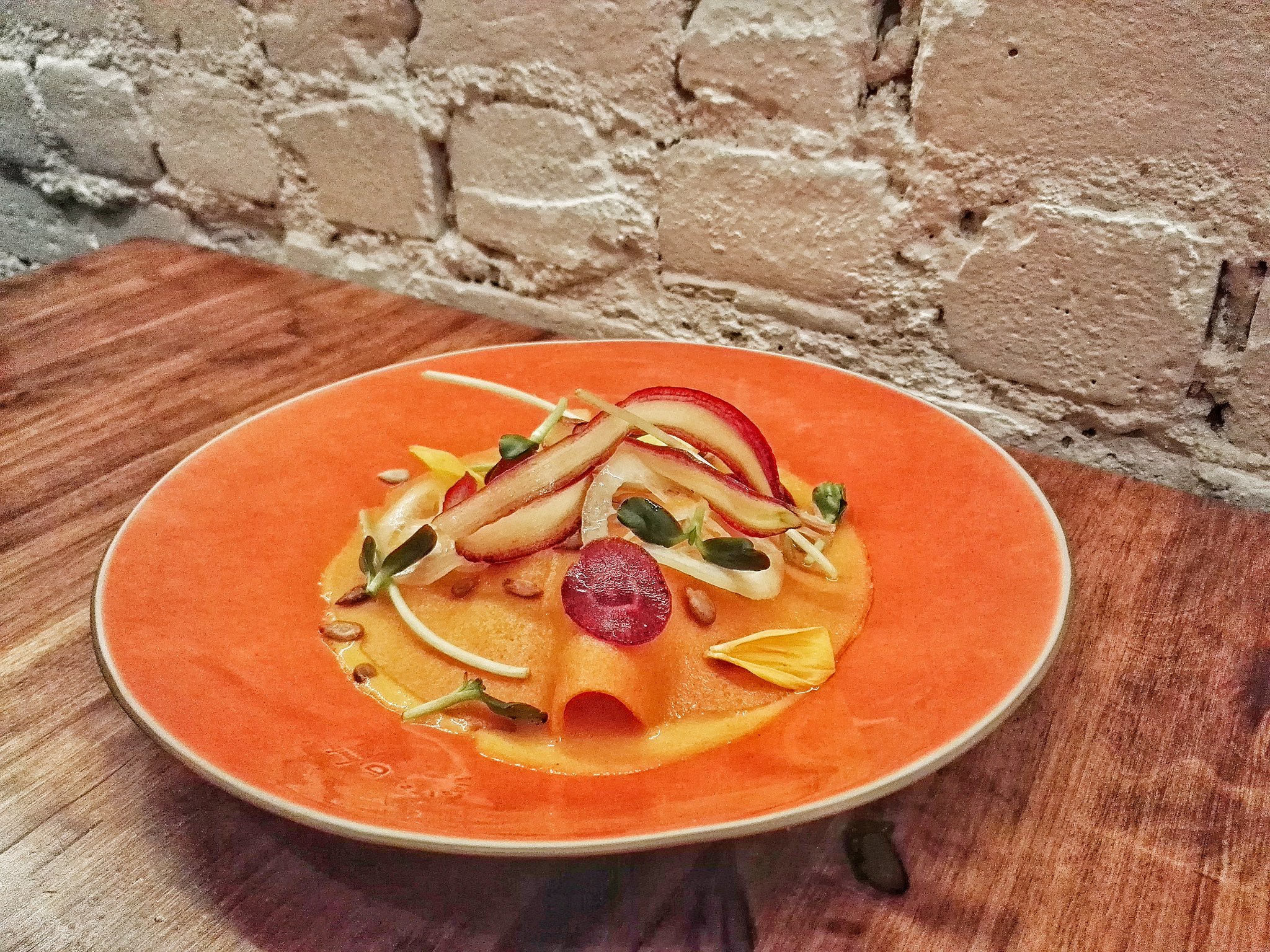 7. Karasu Restaurant and Cocktail Bar
Karasu is a gem in Brooklyn's Fort Greene area. It is a quaint Japanese speakeasy inside an Italian restaurant called Walter's. They make great cocktails and serve delicious little plates. I particularly liked the karaage duck wings. Plus, no tourists here; almost everyone here was local.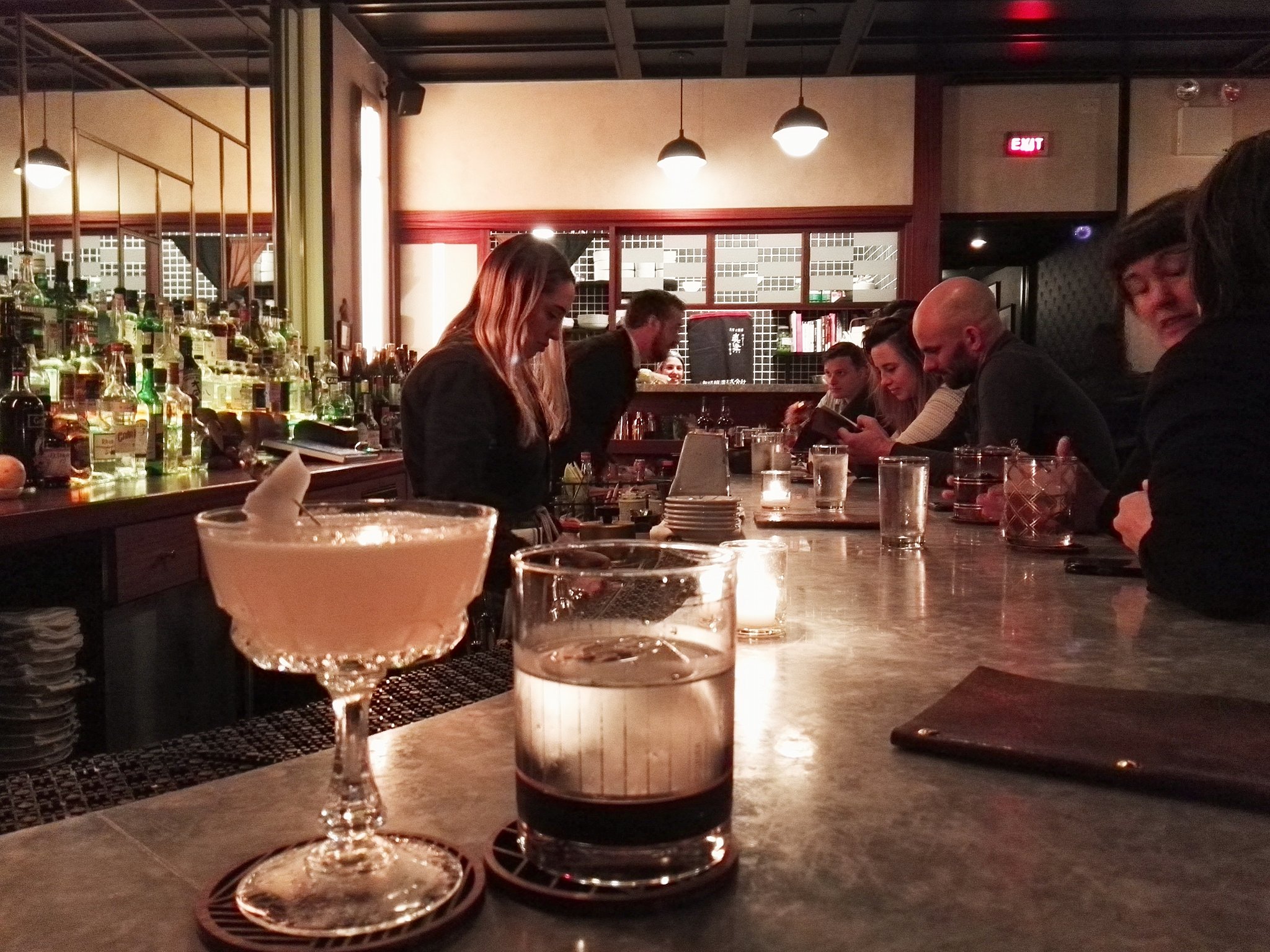 8. Maison Premiere
Maison Premiere recently made it to the No. 20 spot on the  World's 50 Best Bars 2016. But the Williamsburg bar is best known for its $1 oyster specials (from 4-7PM), wide selection of absinthe– and the martini (which is stirred dramatically tableside). The old world bar does get packed so leave your name and number, walk around a little bit, and they will call you back for your table before you know it.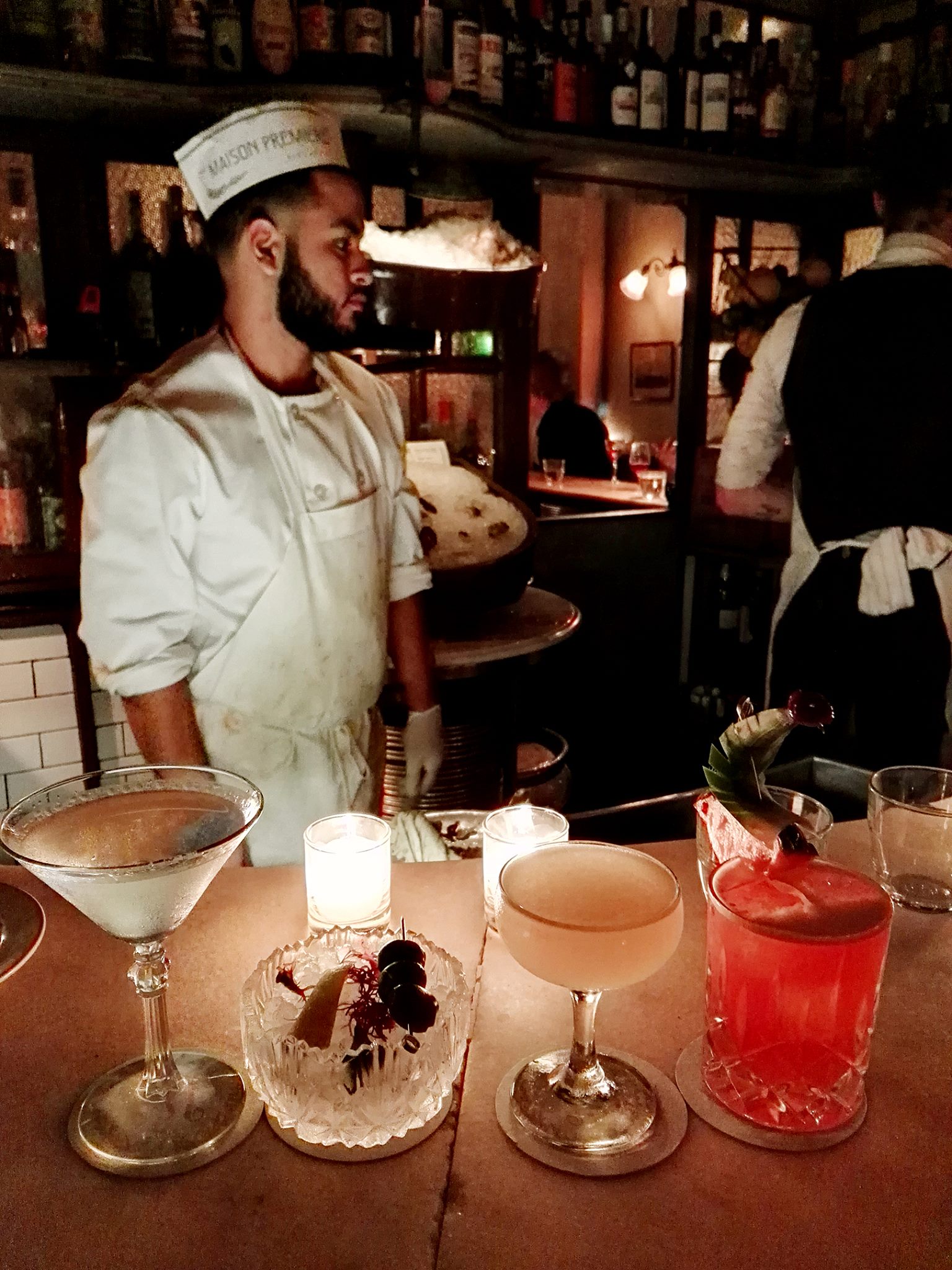 9. Cafe Glechik
While there is a Little Ukraine in Manhattan's East Village (Veselka is open 24 hours!), Cafe Glechik is situated in a neighborhood in Brooklyn– Sheepshead Bay (they have one in Coney Island's Brighton Beach, too)– where a lot of Ukranian immigrants and families live today, and has a more homey, non-touristy neighborhood feel.
The restaurant has an extensive menu but the standouts to me were their assorted pelmeni and vareniki, which are little dumplings with fillings.  Interestingly, the restaurant had looping reruns of "Tom & Jerry" in the background– a cartoon apparently old Russia/ Ukraine grew up watching.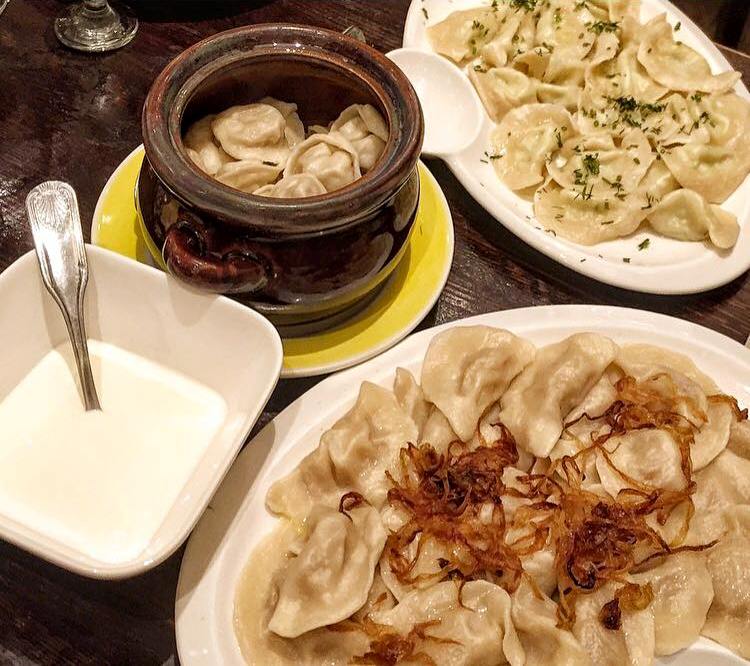 10. Westlight at William Vale Hotel
The William Vale Hotel opened a few months ago and has become Brooklyn's most exciting luxury hotel opening. Westlight on the 22nd floor has outstanding rooftop views of the Manhattan skyline– so yes, you'll want to come at sunset for those gorgeous photo-ops before settling in to devour Andrew Carmellini's small plates and Anne Robinson's cocktails.
I went with chefs Mitsuharu Tsumura of Maido in Peru, Jorge Vallejo of Quintonil in Mexico and food writer Nicholas Gill and we very much enjoyed a couple of gorgeous bottles of whites, and fried chicken chicken wings, kurobuta baby back ribs, shrimp cocktail dumplings and duck carnitas tacos. PS The lines get really long– I was lucky my friends were staying there so we had guest elevator access.