Cheryl Tiu (張美鈴 Zhang Mei Ling) is an international journalist and a multi media personality. She is editor at large of Lifestyle Asia, the Philippines' number one luxury magazine. She maintains a column for the Philippine Star, called "In Between Deadlines," and for Forbes USA called "Miss Adventures," writing mostly about food and travel. She is a writer for CNN Travel, CNN International's travel website, and has showcased the Philippines' Tagaytay/ Taal Volcano on television as a host on CNN International's CNNGo: Manila in 2010. Cheryl authored the first ever Wallpaper* City Guide for Manila, published by the UK-based Phaidon Press in November 2014, shortly before receiving a "Best City Nomination" for the Wallpaper* Design Awards. She is also a contributor for Michelin Singapore. She is a judge/ panelist on Singapore's largest broadcaster Mediacorp's newest show, Eat List Star.
Cheryl is also an official Tastemaker for the World's 50 Best Restaurants.  The only one in the Philippines, and only one of two in Asia.
She also has a jewelry line for Denovo Diamonds, inspired by her travels, entitled "Global Collection."
She was also part of the board of judges of the 2014 Asia-Pacific Stevie Awards, which has been dubbed "the business world's own Oscar Awards" by the New York Post. She was invited to be part of the board of judges at the 2015 Katha Awards at Manila FAME, considered the most prestigious award-giving body in Philippine furniture and décor design, and also for food.
She has been tapped by various luxury brands as a brand ambassador or influencer. She was a muse for the first Hermes Silk Ball in the Philippines; brand ambassador for the new Huawei Mate S, French heritage jacket brand K-Way and Brazilian footwear brand Melissa; influencer for Globe Telecoms Platinum Tattoo, Singapore Tourism Board, Stuart Weitzman, Louis XIII Cognac, UNIQLO; an icon for Guerlain's Kiss Kiss lipstick range; as well as muse for several fashion designers.
*Portrait photo credits by Erron Ocampo*
–
For blog features and advertising inquiries, please contact the publisher at inbetweendeadlines@gmail.com
Twitter: www.twitter.com/cheryltiu
Instagram: www.instagram.com/chertiu
Facebook: www.facebook.com/cheryltiu1111
Women On The Map (Washington DC, USA) (March 2017)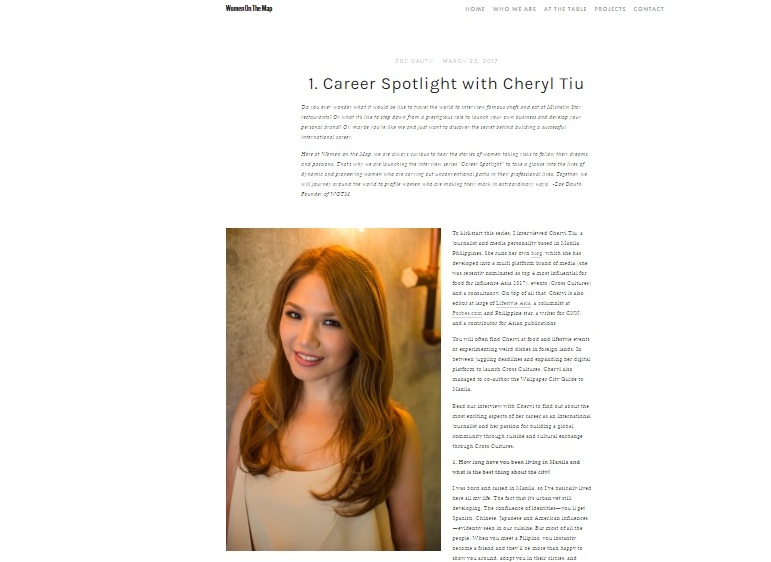 Philippine Tatler Generation T: 100 of the Philippines' brightest connectors,
creative visionaries, influential innovators and disruptive talents (October 2016)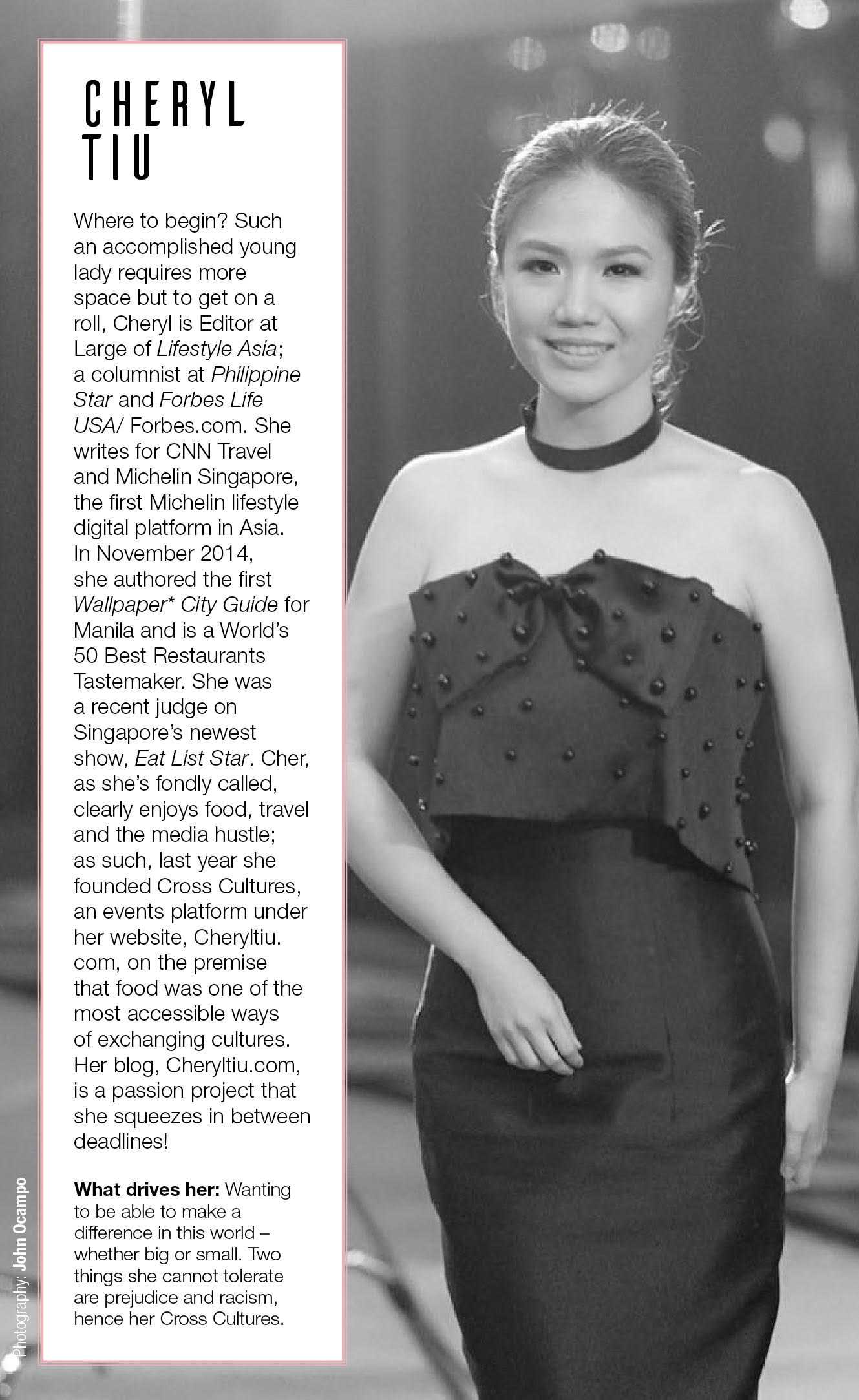 Scoot Airlines x Tourism Victoria campaign with Victoria Cheng and Xindi Siau shot in Melbourne, Australia (May 2016) 
Lifestyle Asia Magazine (February 2016)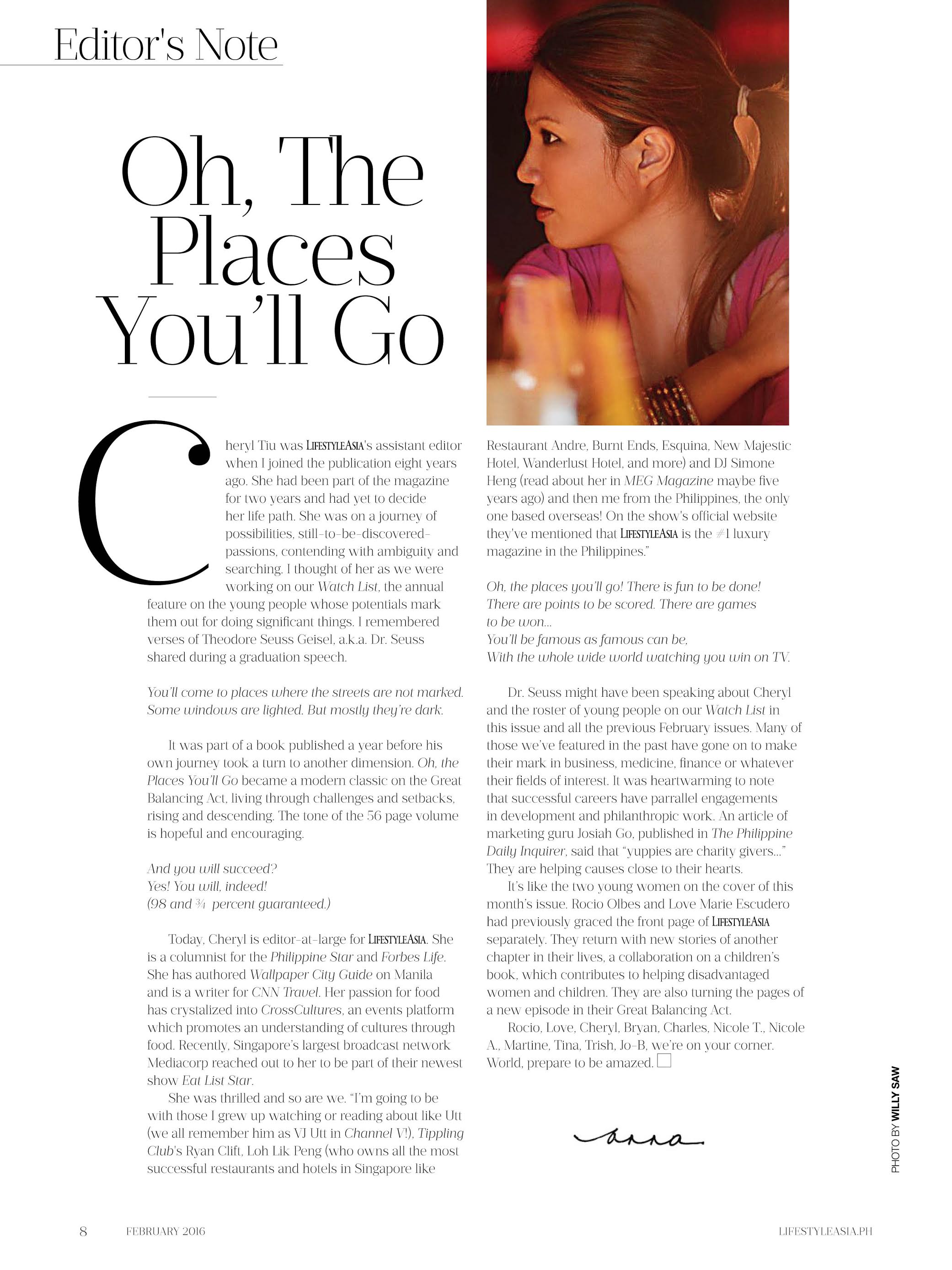 Viva Asia Magazine Indonesia (December-January 2016)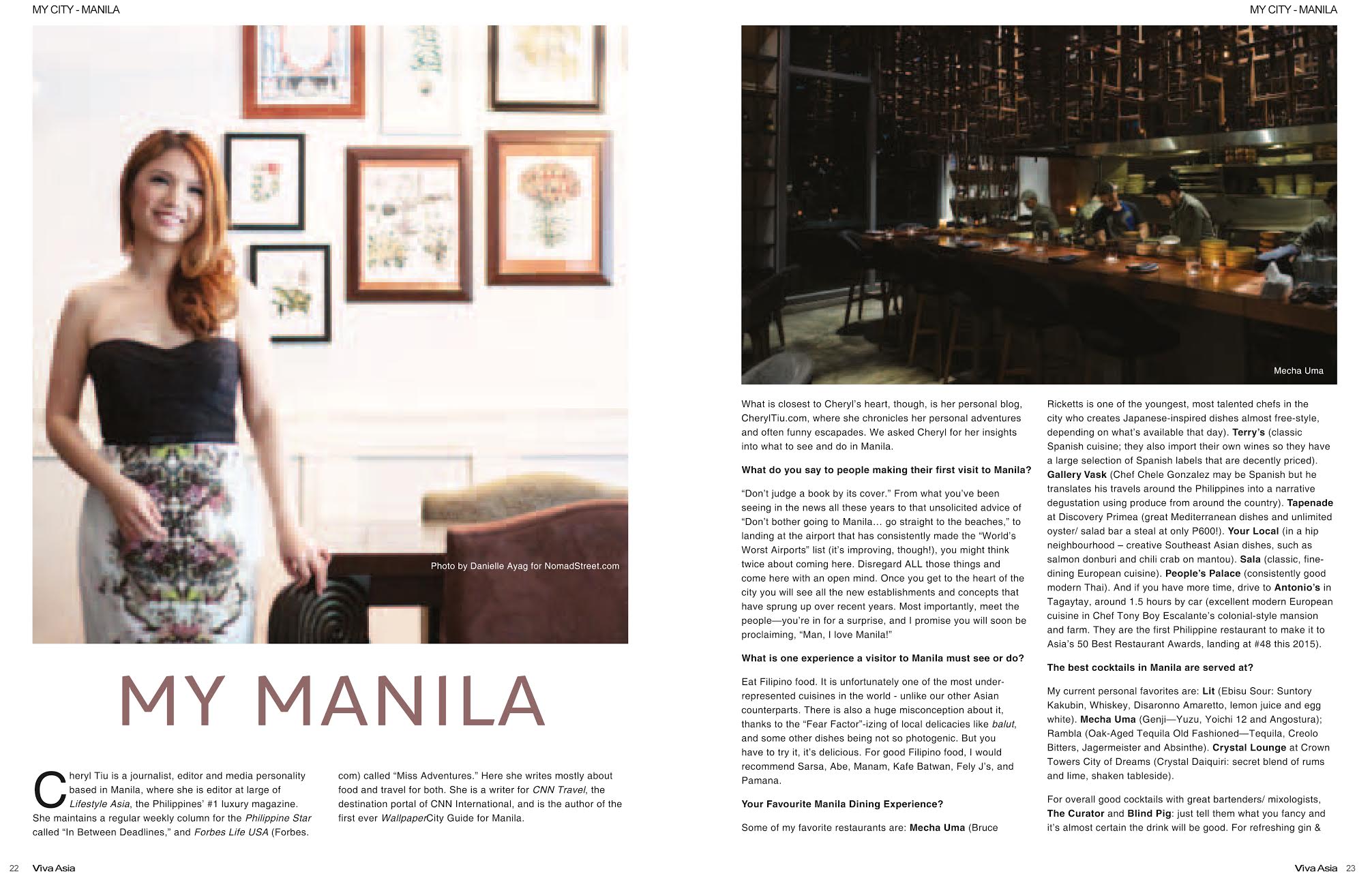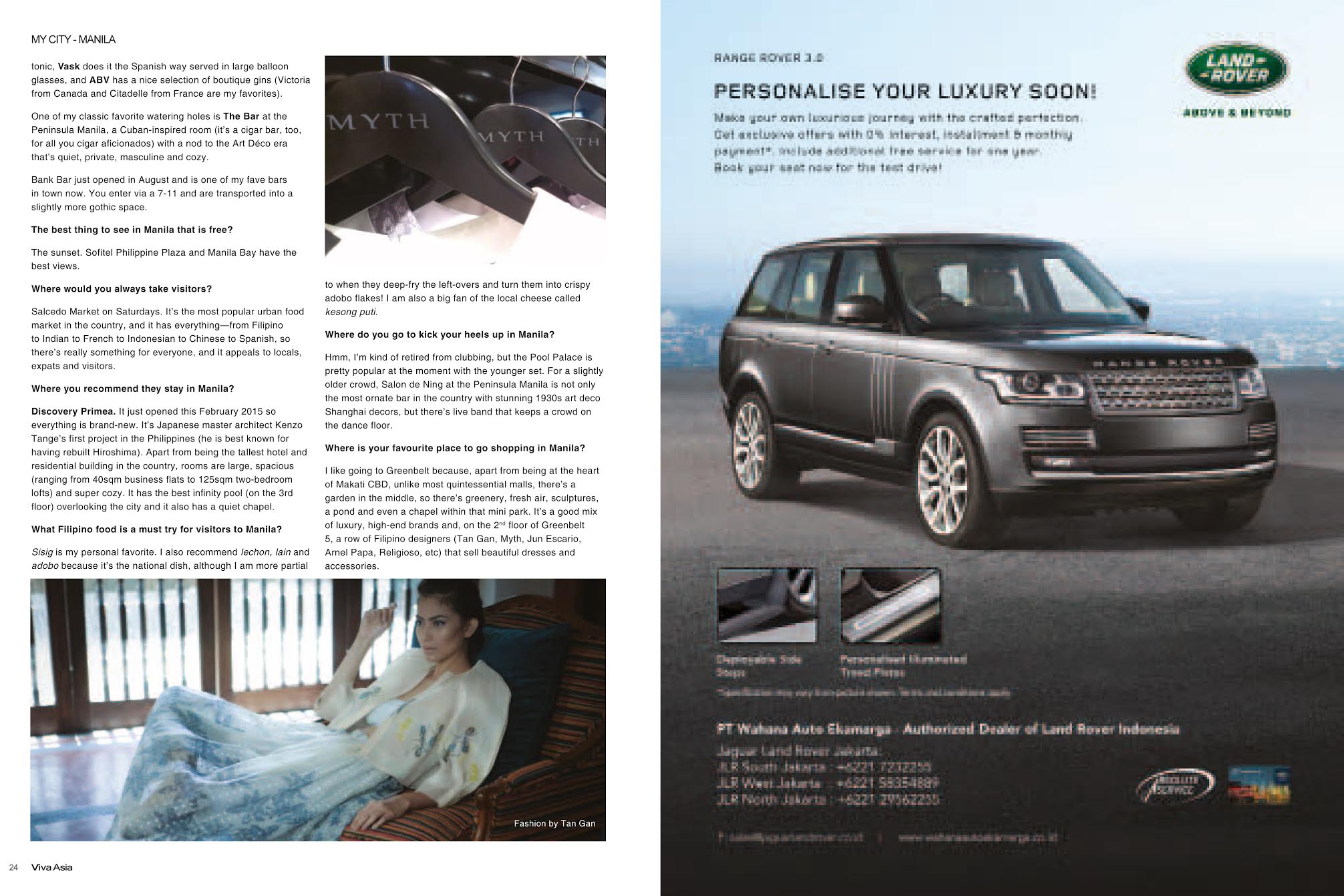 Travel Now Magazine (Vol. 3, 2015)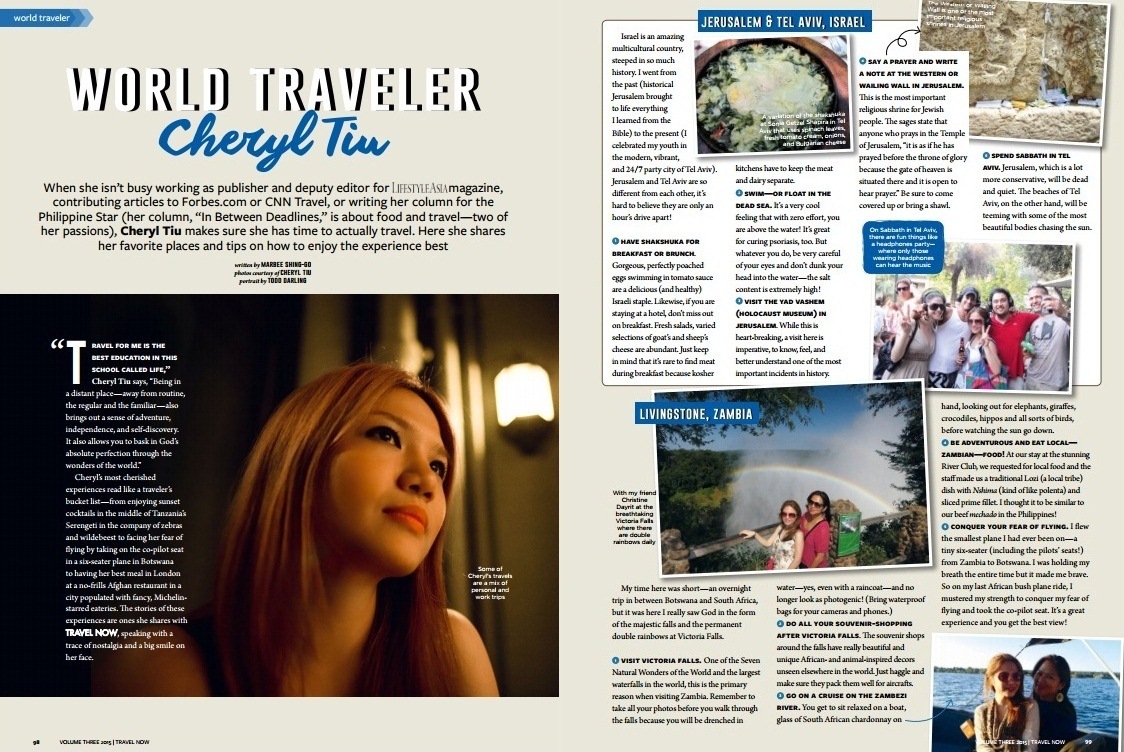 Pepper.ph (May 2015)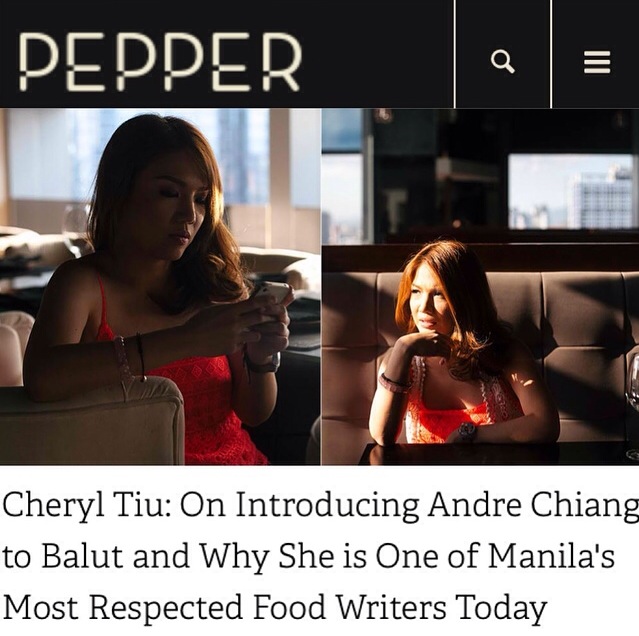 Hola Philippines (May 2015)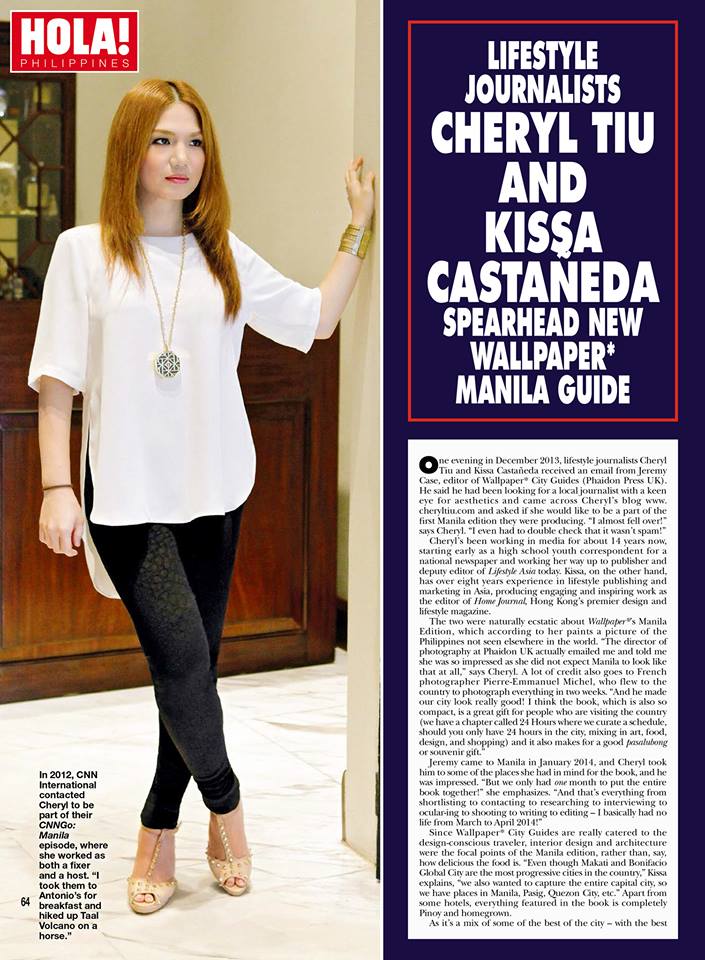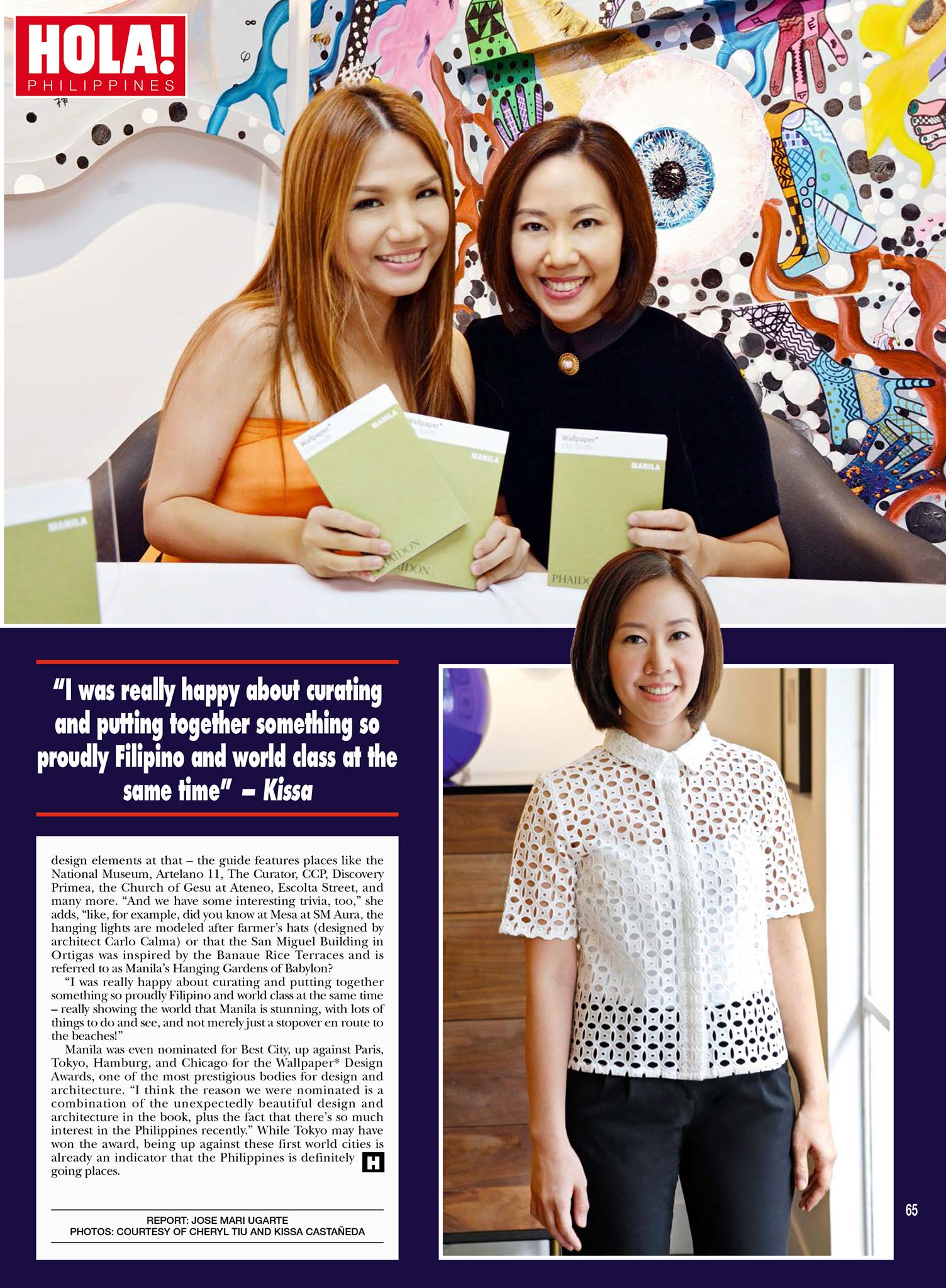 Meg Magazine (April 2015)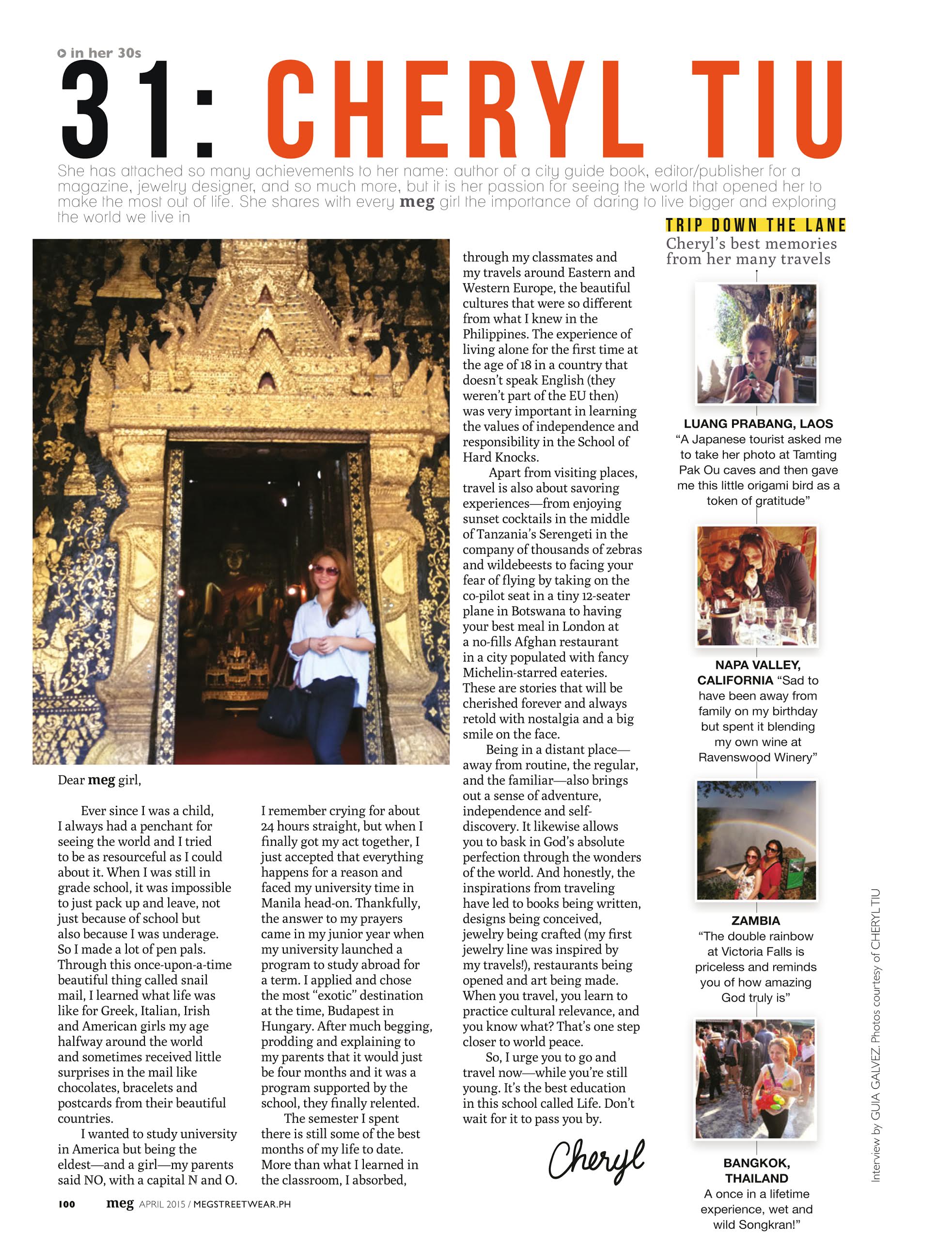 Philippine Star Front Page (December 2014)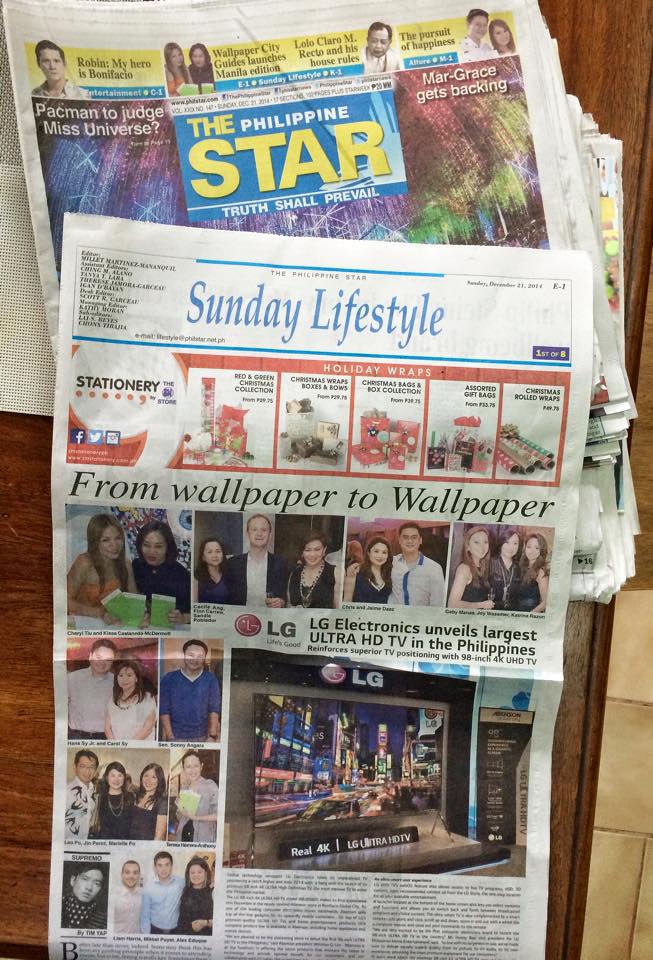 Guerlain Kiss Kiss Icon (Red Passion 321 and Red Strass 327)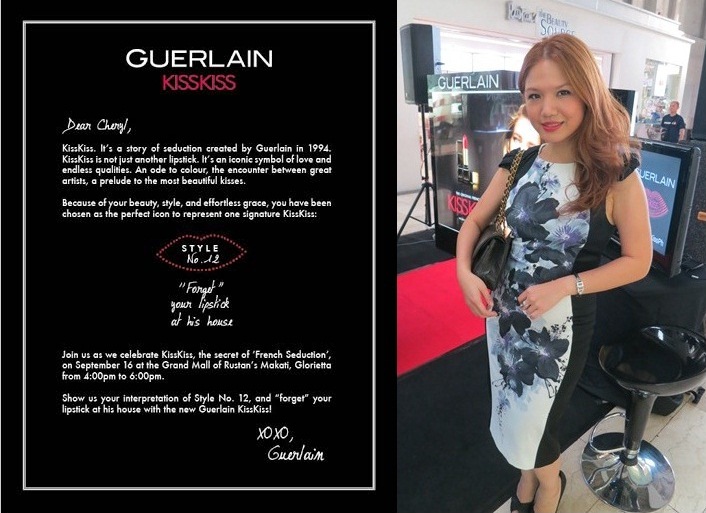 Hermès Silk Ball Muse, Philippines (2014)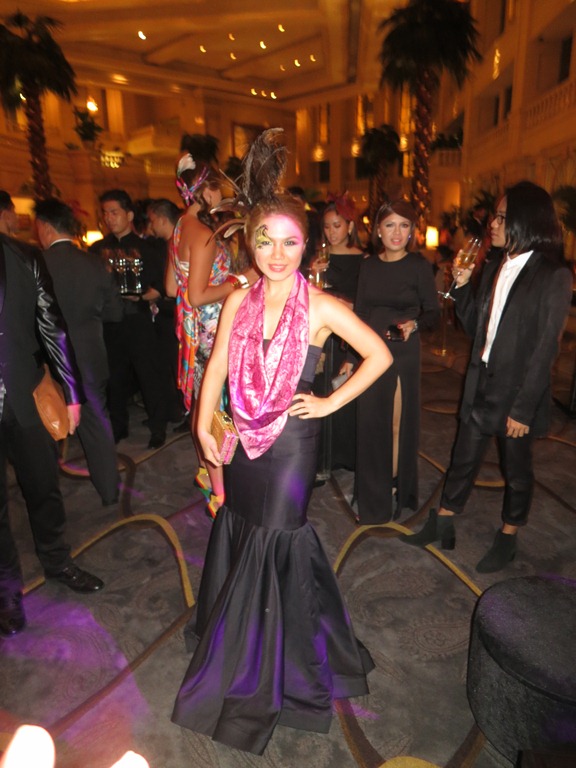 Town & Country Philippines, Alpha Girls, (September 2014)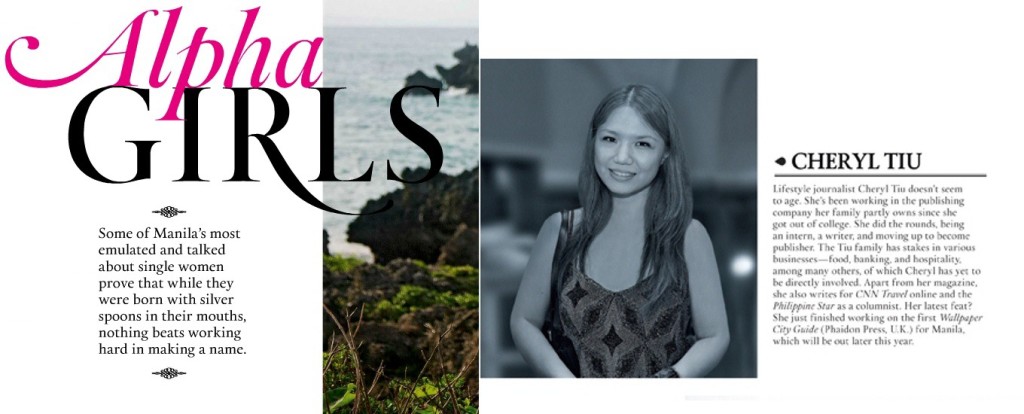 Brand Ambassador for K-Way Philippines (2014)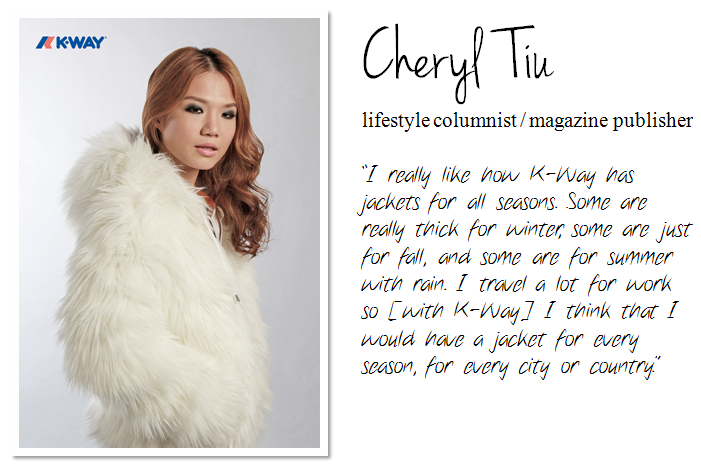 Chef Sharwin Tee's Curiosity Got The Chef Guesting, Lifestyle Network (September 2014)
The Gypsetters (March 2014)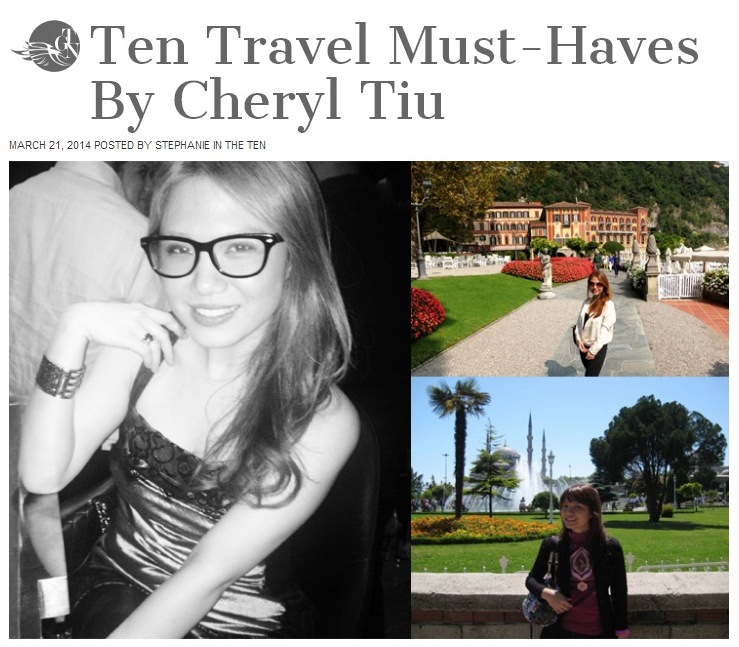 Manila Bulletin Style Weekend (December 13, 2013)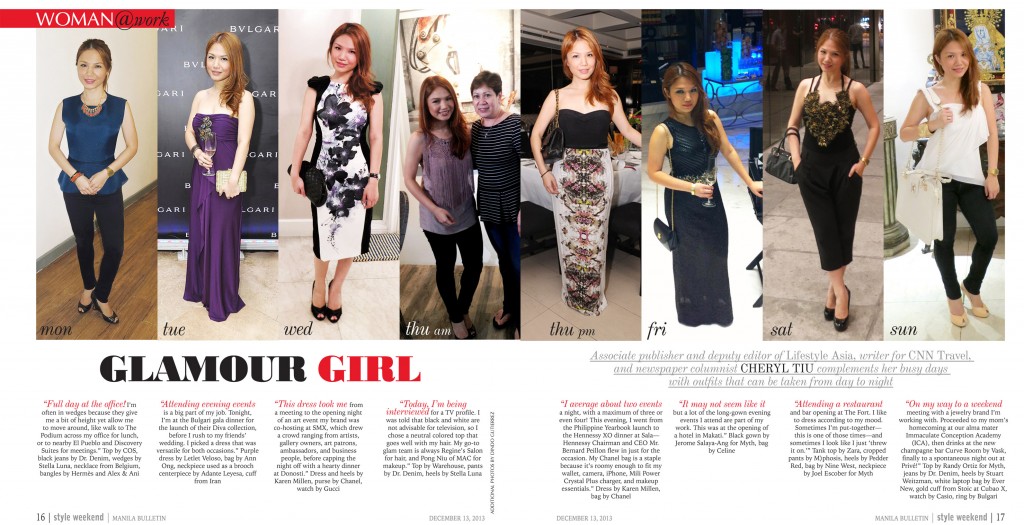 Philippine Star- Allure (June 23, 2013)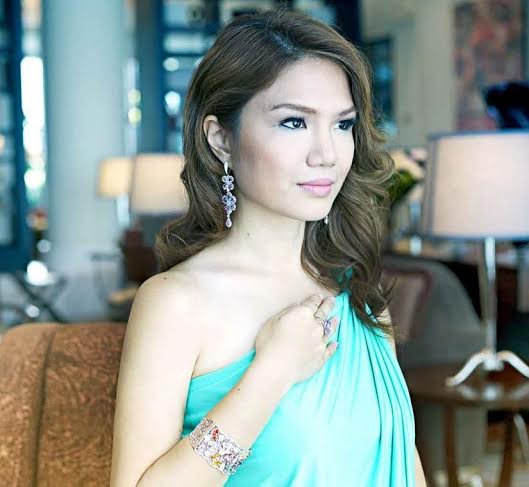 Chinoy TV, Net 25 (September 2013)
Nomad Street (September 2013)
Starworld (January 2013)

CNN International (October- December 2012)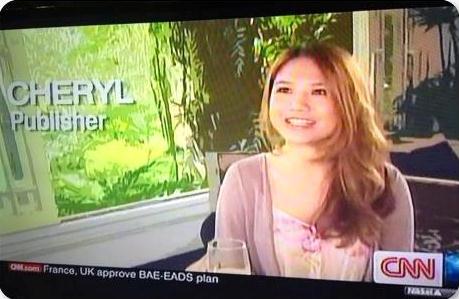 Philippine Star (November 2009)