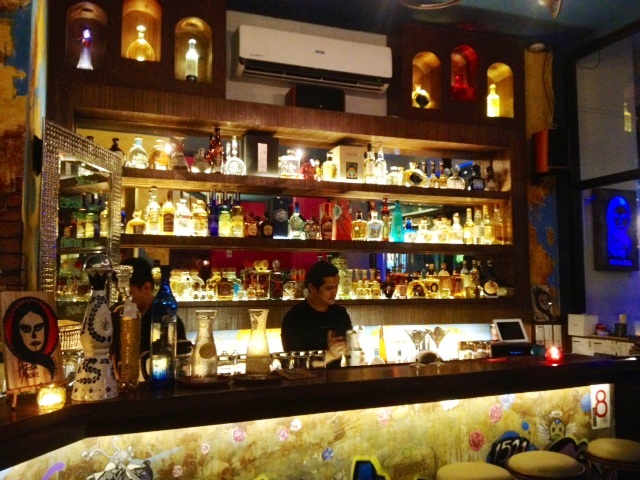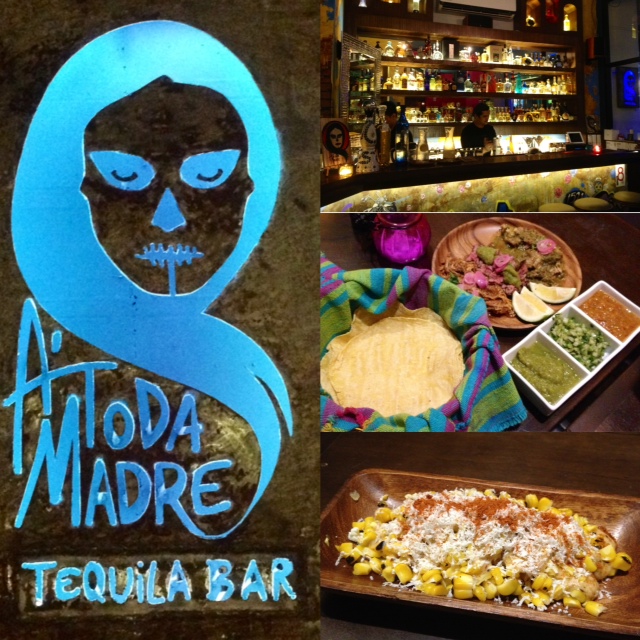 I'll be honest. I avoid open bar margaritas like the plague because they are always: 1) sugared out to high heavens, 2) and made from mixto (51% blue agave tequila, 49% sugars)– which would give me a massive headache almost instantly.
It's a little sad because a good margarita is incredibly refreshing, and contrary to tequila being a potent alcohol– can also be hangover-free. So imagine my joy when I finally got to visit A'toda Madre— the first tequila bar to open in Metro Manila! They use 100% pure agave tequila in all their magaritas– more specifically 1800 Tequila for their pouring. (100% agave means that no other sugar was used during fermentation to create the alcohol, so it has more body, more flavor, and a stronger agave aroma.)
My friend Erika had been telling me about this place since it opened just one month ago on February 13, 2014, but I'd been so busy, I never got to check it out until one very recent weeknight.
First of all, it's tucked in a slightly off the beaten path around the Makati Avenue/ Poblacion area– a little hard to find, but it's right across Hotel Durban. I loved the interiors! When I saw the hand-painted skull murals by the bar area, I immediately exclaimed, "Dia de los Muertos!" (My first encounter of the Day of the Dead was on November 2, 2011 in Los Angeles when my friend Magee took me to breakfast at Urth Caffe. I remember taking so long to go inside because I was distracted by the massive, colorful skulls that decorated the place for the Mexican holiday.) What's interesting to note though is that while we all commemorate our faithfully departed on this date, in Mexico, the culture is more festive than somber. Thus, all the pretty colorful skulls.
In fact the A'Toda Madre logo is a stylized caricature of La Calavera Catrina, an image created by José Guadalupe Posada, dressed only in a hat befitting the upper class outfit of a European of her time. She is a satirical portrait of those Mexican natives who, Posada felt, were aspiring to adopt European aristocratic traditions in the pre-revolutionary era. She has become an icon of the Dia de los Muertos.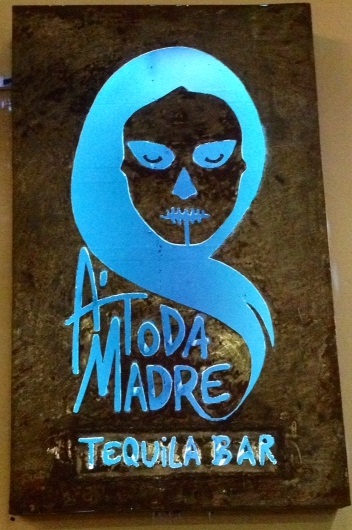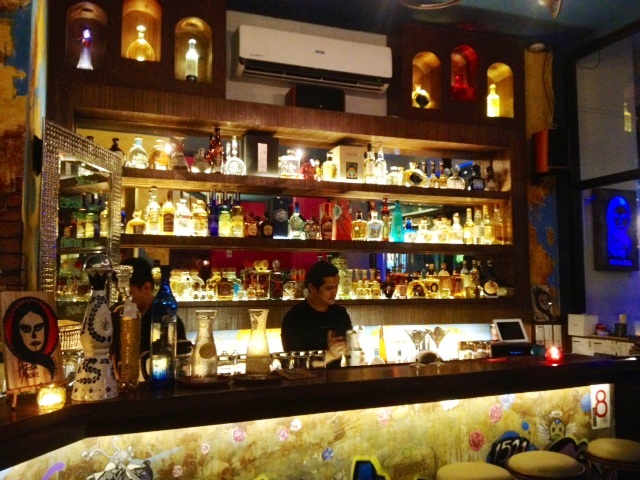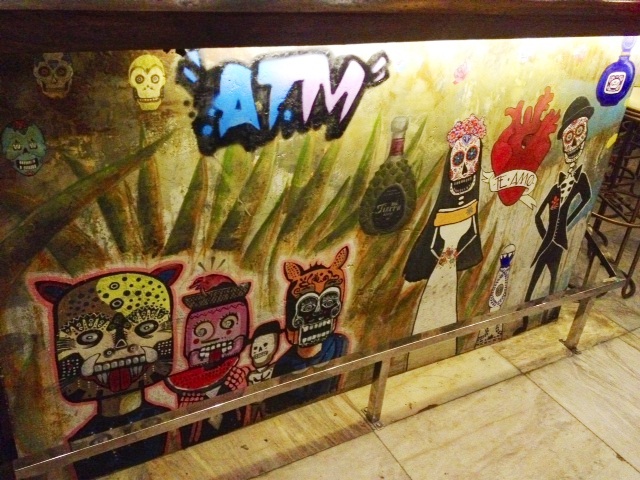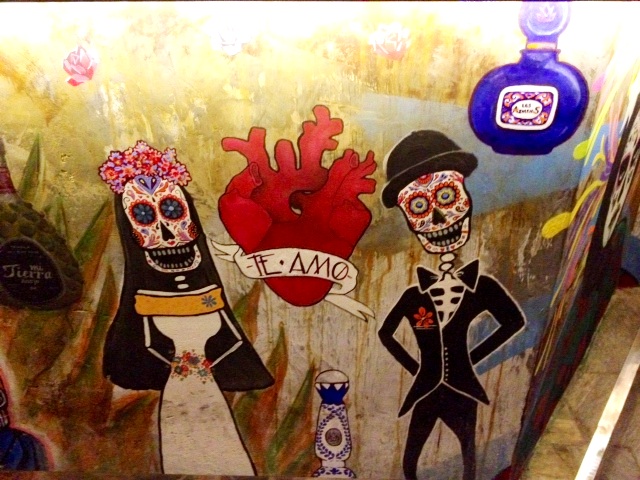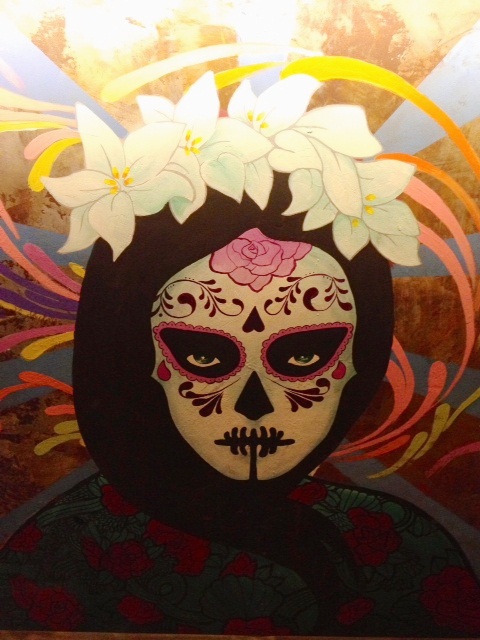 As soon as we sat down, Erika, who is a frequent visitor, piped up, "I know what I want!" and rattled off her order without even batting an eyelash at the menu. I had about a minute to peruse and decided on an assorted platter of tacos. Of course, not without the house margaritas to start!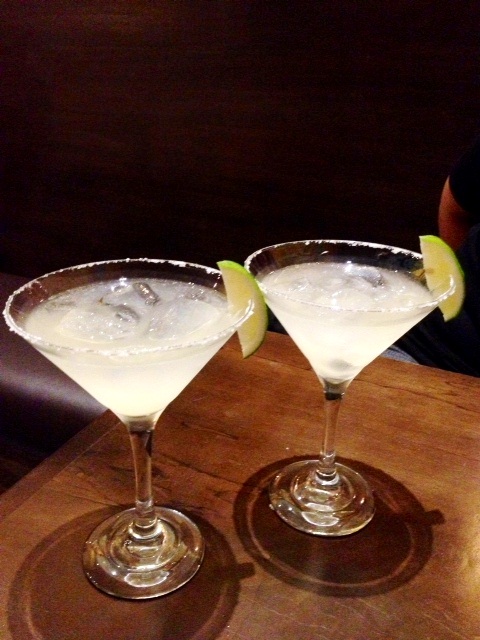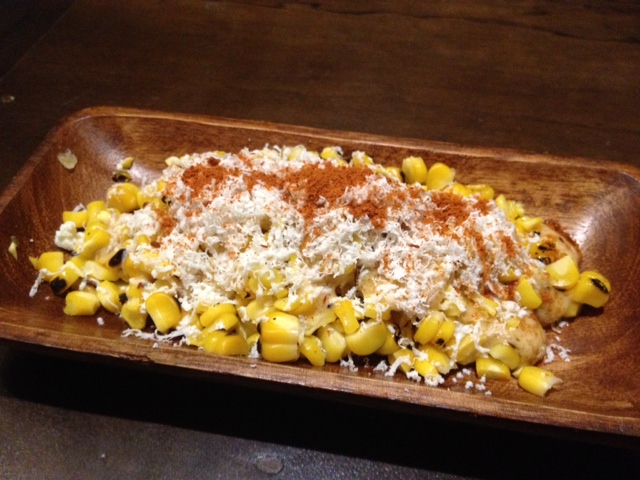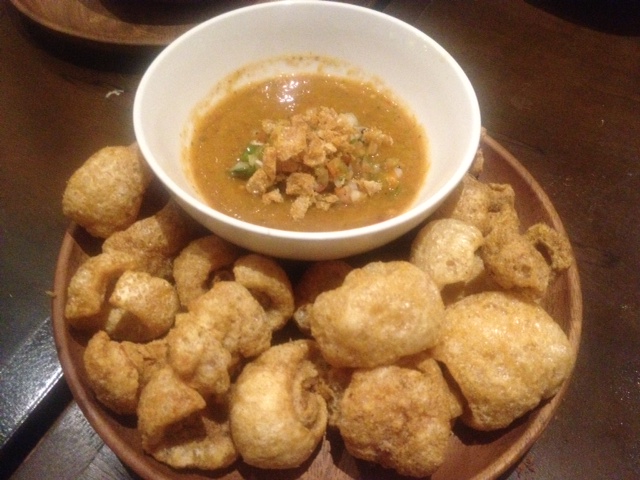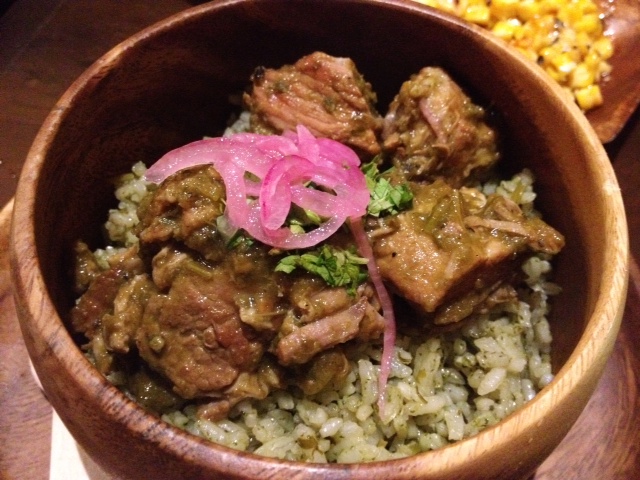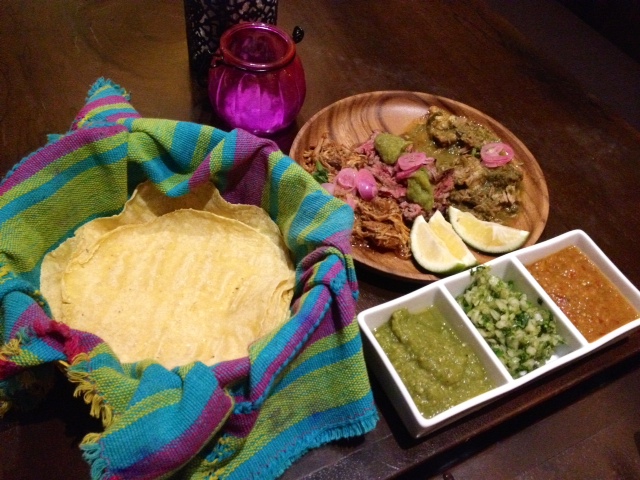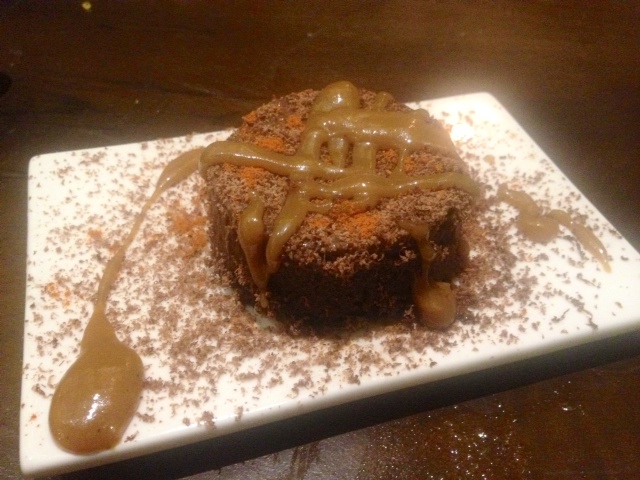 Ok, honestly, everything was really, really good. The owners, Filipino-American brothers Aljor and Sante Perreras, happened to be there, and when I congratulated them on their new place, Aljor replied, "It's not a restaurant. It's really a tequila bar– and the food is just a plus!" Well this big plus has somewhat become a focal point as lots– and I'm sure more– have been going for the food. The brothers describe their dishes as Cali-Mexican as they used to live in California (Aljor moved around Glendale, Burbank Hollywood, and Sante around San Francisco), and they moved back to the Philippines to put A'Toda Madre together.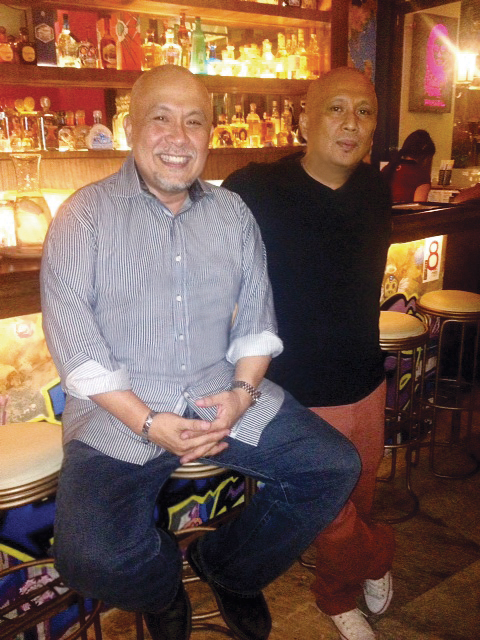 They currently have over 89 kinds of tequila, and will soon have up to 150. Here's a little Tequila 101 on the four types they carry:
1) Blanco, also called silver, plata or white, is the purest form of tequila that's un-aged, and is crystal clear in color.
2) Reposado, is known "rested" tequila, where it takes a siesta  for at least two months– up to a year in oak barrels. Here, there is mellowing effects of aging via wood with subtle oaky undertones.
3) Anejo is similar to well-aged whiskey, barreled in wood for at least 1 year, with some of the best ones spending 3 years in oak. It's the perfect marriage of earthy agave and wood in a really smooth liquor which has butterscotch and caramel notes.
4) Extra Anejo is a subclass of anejo that encompass tequilas aged for three or more years. Some of these can rival 30-year-old whiskeys– and not without the price tag!
At A'Toda Madre, their most expensive bottle is the Partida Elegante, which has been ranked the 5th most expensive tequila in the world. Here they sell it for P2,800/ shot and P25,000/ bottle. There are only 1,300 bottles in the world– and since A'Toda Madre just sold one, now there are only 1,299 left.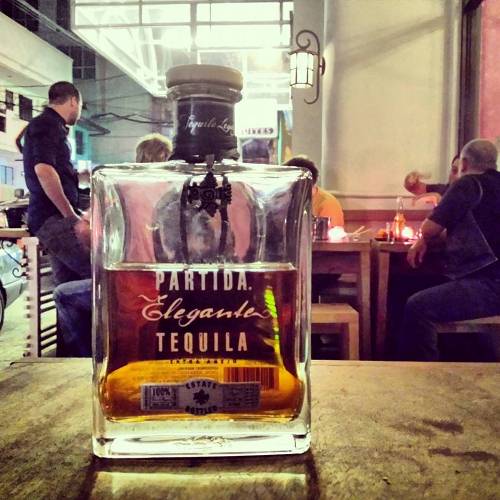 Well this Partido Blanco (below) is slightly more affordable 😉 Notice, how they serve their tequila in long-stemmed glasses, which according to Aljor is how they are served in Mexico.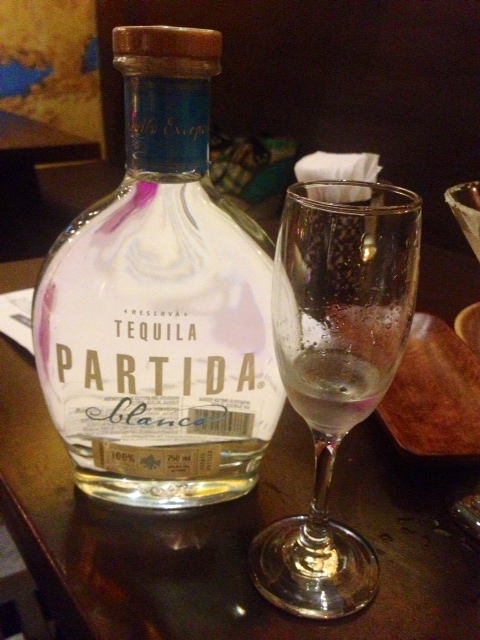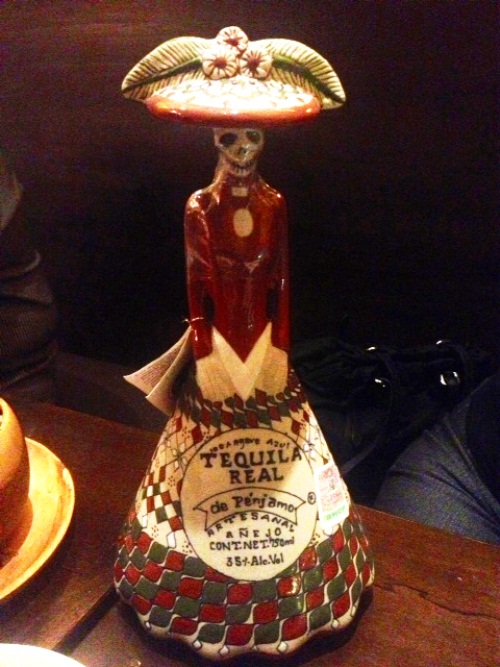 Soon, they will have tequila flights; and  every Tuesday nights at 10PM, they have Salsa Fresca Tuesdays. By the way, A'Toda Madre translates to "something awesome," and we all know that when you name/ declare something, you claim it. Very awesome indeed. Salud! 
A'Toda Madre is open Mondays to Saturdays from 5PM to 2AM. It is located at GF Sunnette Tower (right in front of Durban Hotel) on Durban Street, Makati City. Phone +63 998 999 1521 or visit http://atodamadre.com.ph/
*If you want to read more about my personal experience in Cancun/ Riviera Maya on how the Mexicans truly celebrate life, check out my column in Philippine Star. "It's not the end of the world" was written in honor of the end of the Mayan Calendar last December 21, 2012.