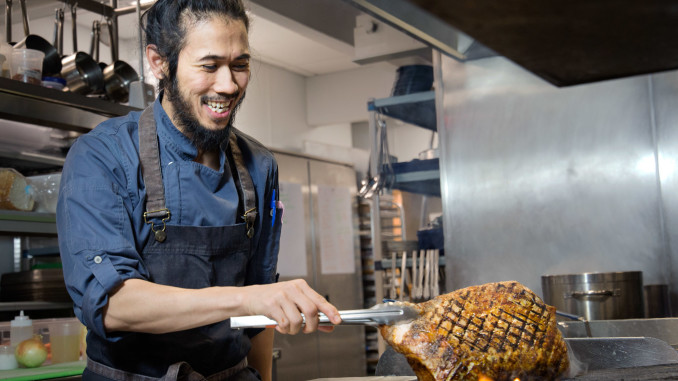 Hi Boston!!! It's such an honor for my events platform Cross Cultures to be collaborating with the prestigious Berklee College of Music's partner restaurant B3 this September 18 (Tuesday). B3 normally serves American South cuisine but for this special evening (US$65 per head), executive chef Jeffrey Salazar, will be cooking up a spectrum of Filipino dishes—a tribute to his Philippine heritage—where guests are invited to feast together family-style. This is in line with our thrust at Cross Cultures to promote the exchange of cultures through food, in order to build a more global community. The evening will be accompanied by live music from Berklee College of Music.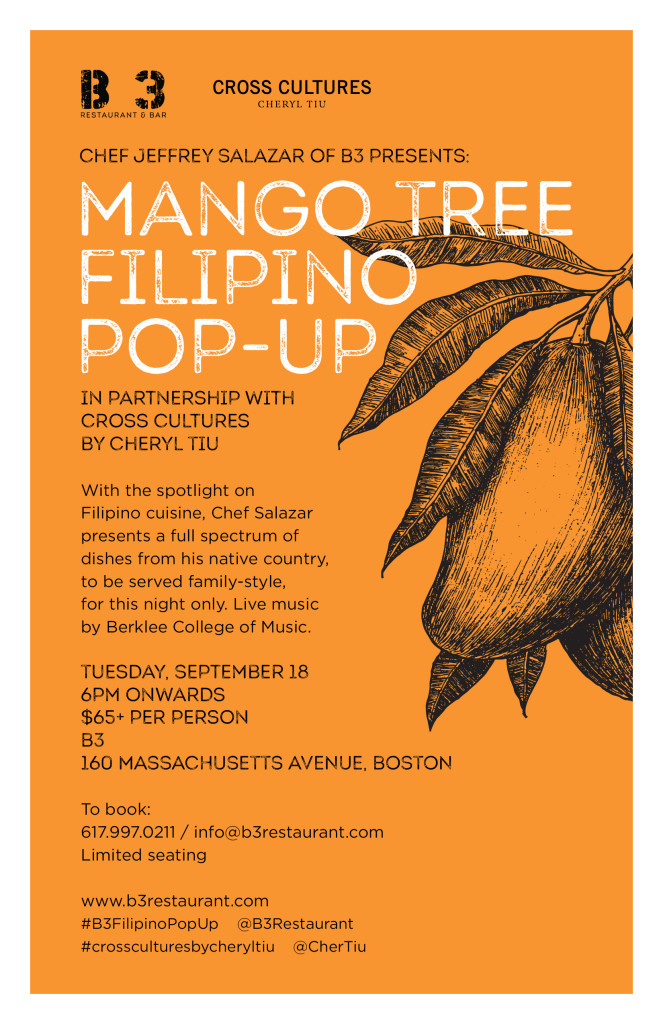 Chef Jeffrey Salazar began his culinary career in Providence, Rhode Island and moved to New York City in 2013, working at a string of established restaurants including the Caribbean-inspired Cove Lounge in Harlem as Executive Chef as well as under Chef Bobby Flay at GATO Restaurant and Bar Americain. At B3, he spearheads a Southern-influenced menu that showcases the rich food culture of New England, where produce and fresh seafood are sourced from local farmers and fishermen. Embracing his Filipino heritage, Chef Salazar was inspired from a young age by his hardworking mother, originally from Navotas City, located north of Manila that is known as the fishing capital of the Philippines.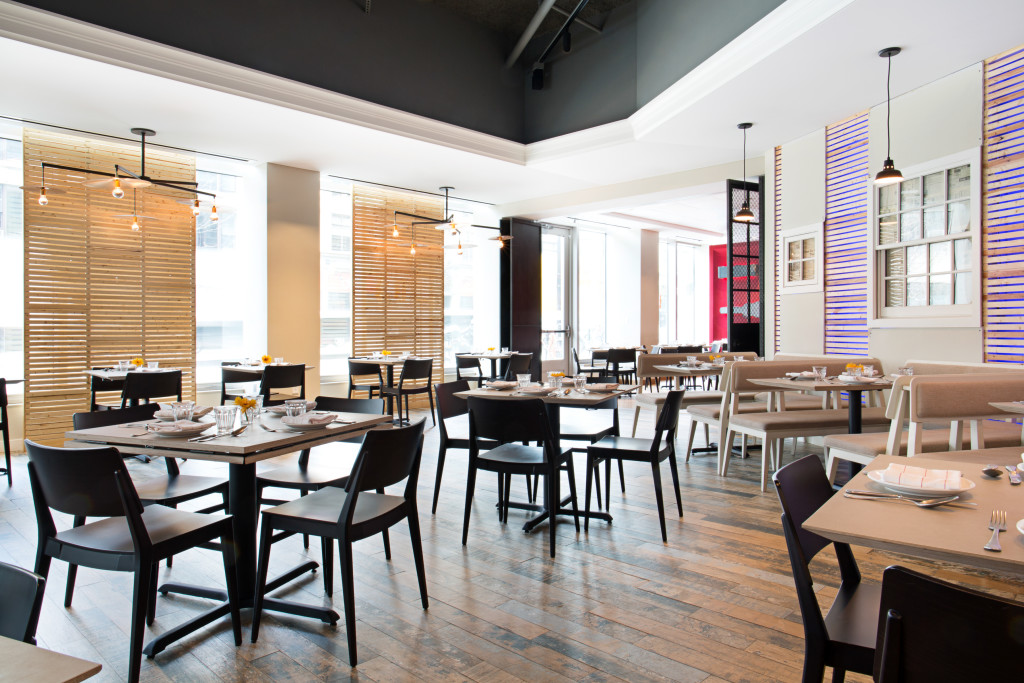 Here's the menu:
Snacks
Green Mango with Shrimp Paste
Green Mango on a stick with Shrimp Paste
Adobong Mani
Peanuts Sautéed with Crispy Garlic and Thai Chili's
Street Food Tasting
Spicy Sisig
Pork Head Bits, Aromatics, Chili's, and Raw Egg on Sizzling Platter
Ukoy
Sweet Potato and Carrot Fritters with Shrimp and Chili Vinegar Sauce
Main Dishes
My Mother's Sweet and Sour Fish
Crispy Fried Tilapia with Sweet and Sour Sauce
Smoked Ribs with Adobo Sauce – 3 Pieces
Filipino Spices Dry Rub, Smoked for 6 Hours, Adobo Sauce
Fried Chicken with Gravy
Fried ¼ Chicken with Brown Chicken Gravy and Banana Ketchup
Sides
Jackfruit Cornbread
Southern Style Cornbread with Jackfruit
Carolina Steamed Rice with Crispy Garlic and Achuete Chicken Oil
Steamed Carolina Gold Rice with Crispy Garlic Flakes and Achuete and Chicken Oil Blend
Vegetable Chop Suey
Carrots, Broccoli, Cauliflower, Bell Peppers, Baby Corn, with Quail Eggs in Light Oyster Sauce Based Sauce
Dessert
Turon
Sweetened Banana and Jackfruit wrapped in Spring Roll Wrapper and Fried until Golden Brown
Leche Flan
Creamy Egg Custard with Light Caramel Syrup
Buko Salad
Filipino Style Fruit Salad with Coconut, Fruit Cocktail, Grapes, and Apples in Condensed Milk and Heavy Cream Sauce
For reservations, please phone the restaurant at +1 (617) 997 0211. Our Mango Tree Filipino pop-up runs from 6PM onwards on Sept. 18. We look forward to seeing and welcoming you! xx
B3 is located at 160 Massachusetts Avenue, Boston, USA
About Cross Cultures by Cheryl Tiu
Cross Cultures is an events platform founded by journalist and media personality Cheryl Tiu that promotes the exchange of cultures through food. Through the sharing of culinary experiences and talents between chefs and cooks, between countries and continents, Cross Cultures aims to remove misconceptions and boundaries, in order to build a more global community. They work with everyone from World's 50 Best and Michelin-starred restaurants to private kitchens and food movements. Some of these have included Gaggan (Thailand), Central (Peru), Narisawa (Japan), Jungsik (New York, USA/ South Korea) and Quintonil (Mexico). Cross Cultures has had events in the Philippines, Singapore, Hong Kong and Miami, USA.