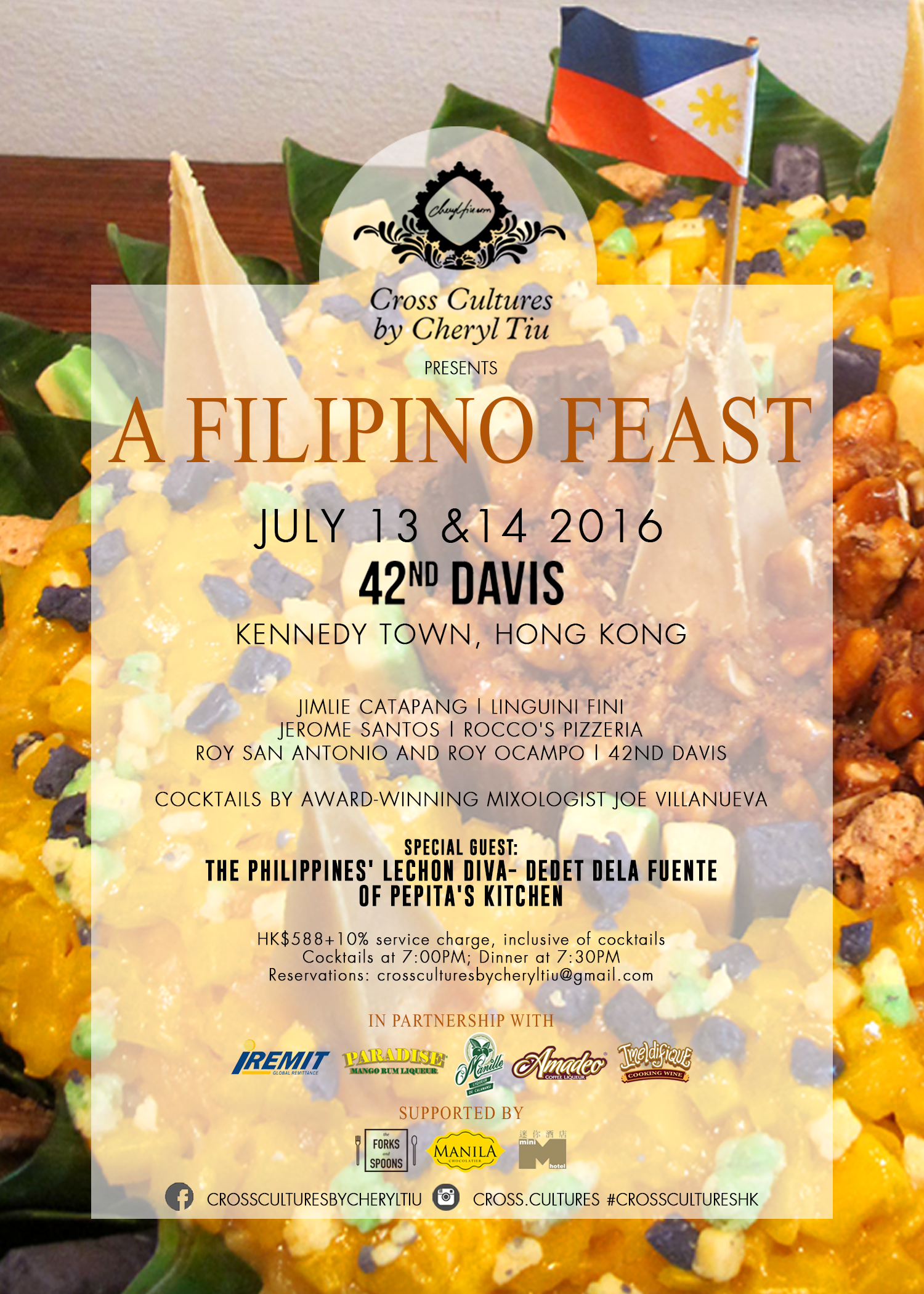 My events platform Cross Cultures has had the privilege of bringing and collaborating with some of the best chefs and food movements from around the world, in the Philippines. This time, it's reverse– we are bringing Filipino food overseas– and first stop, is HONG KONG!
 On July 13 & 14, we will be having a Filipino feast at the just-opened 42nd Davis in Kennedy Town (trivia: it is owned by Pinoys!) featuring Hong Kong-based Filipino chefs, Jimlie Catapang of Linguini Fini, Jerome Santos of Rocco's Pizzeria, and host chefs Roy San Antonio and Roy Ocampo of 42nd Davis. They will be cooking sisig, chicken inasal, inihaw na pusit, pinakbet, and lots more! Cocktails will be crafted by award-winning mixologist Joe Villanueva, using Philippine liqueur: Paradise Mango Rum, Manille de Calamansi, and Amadeo Coffee.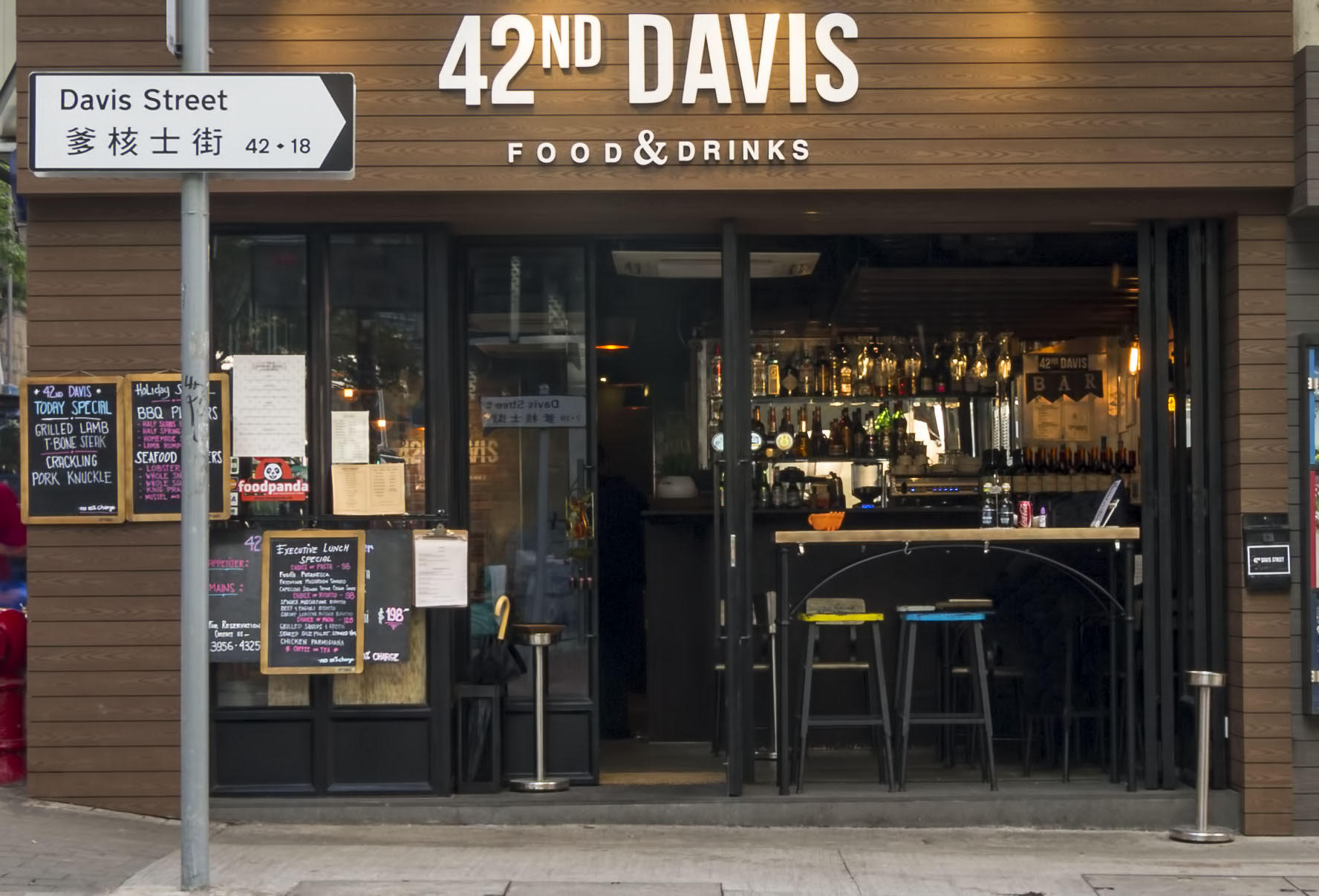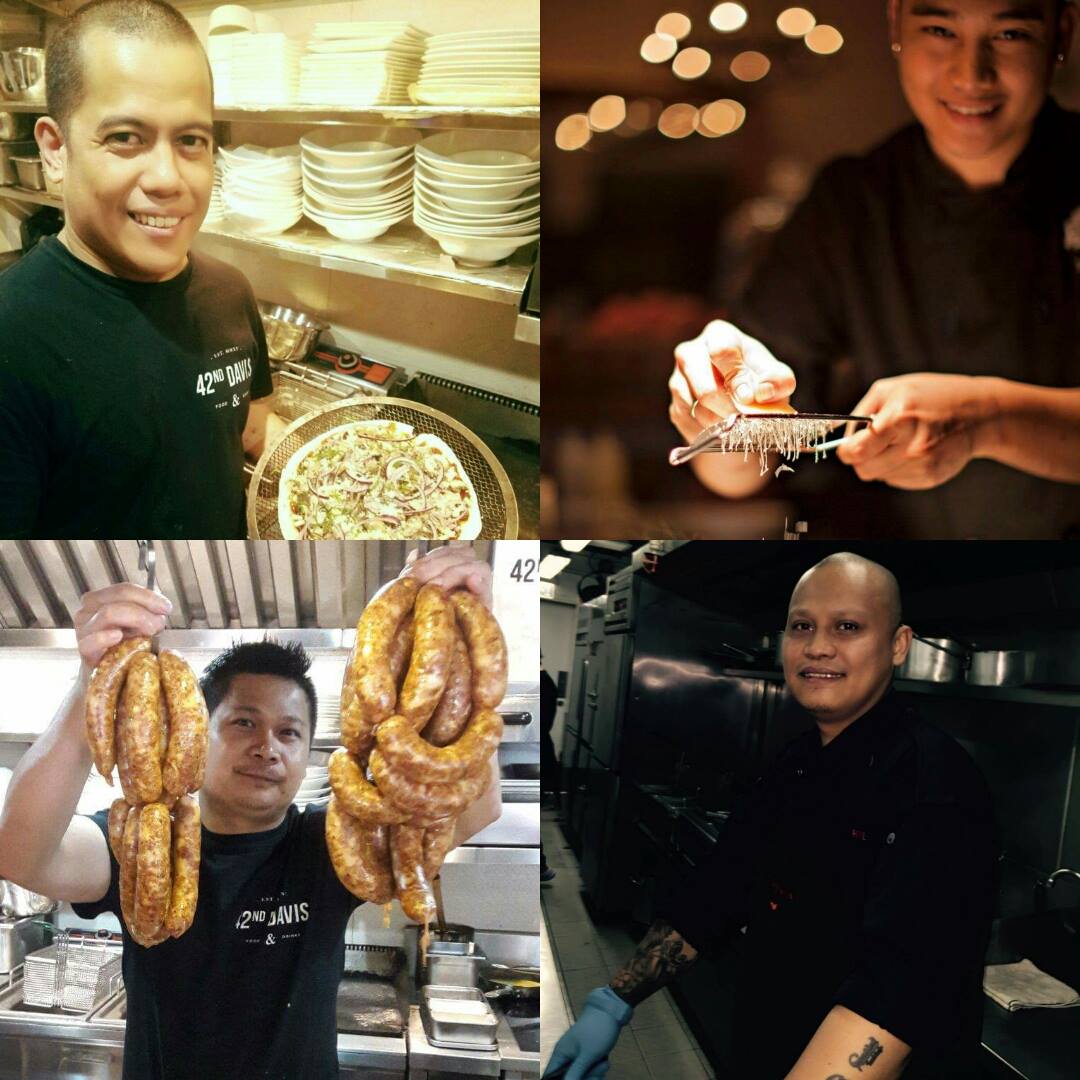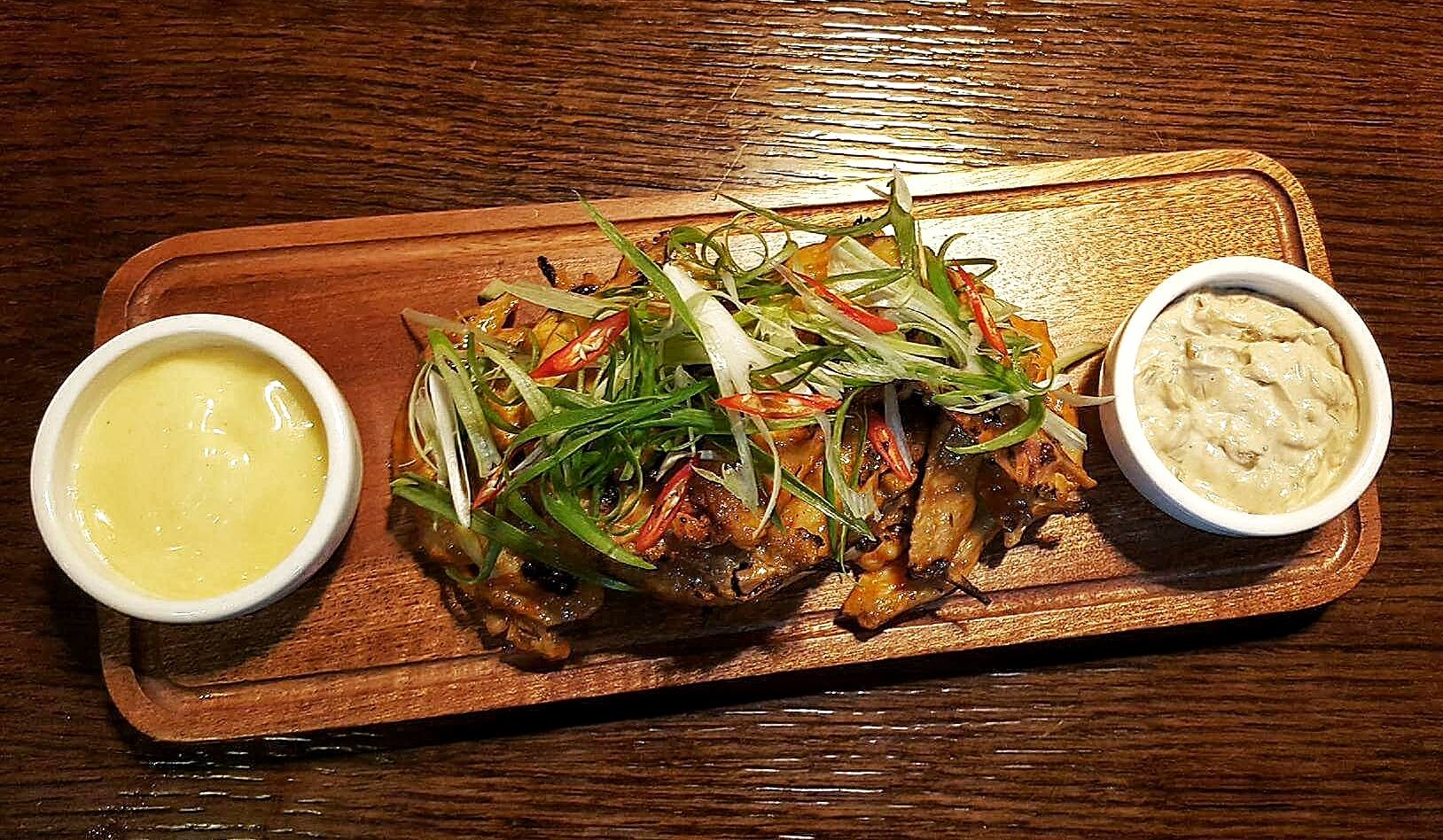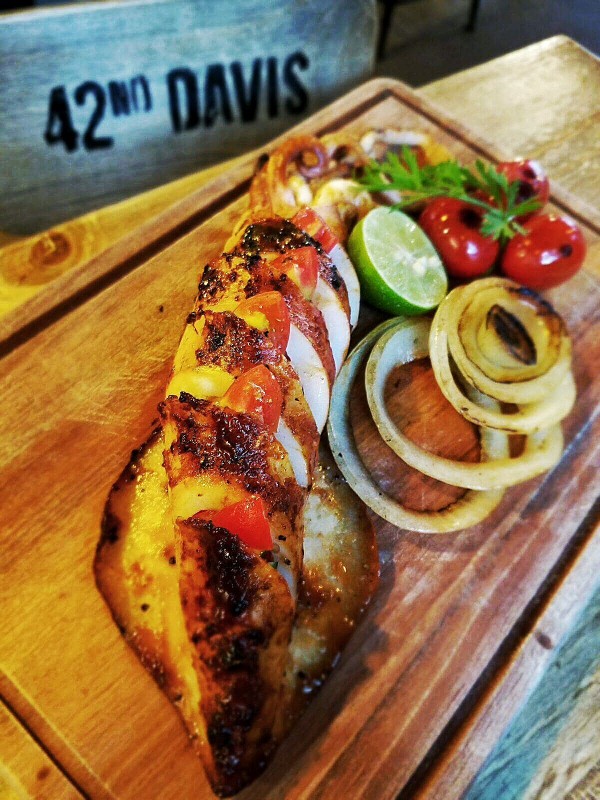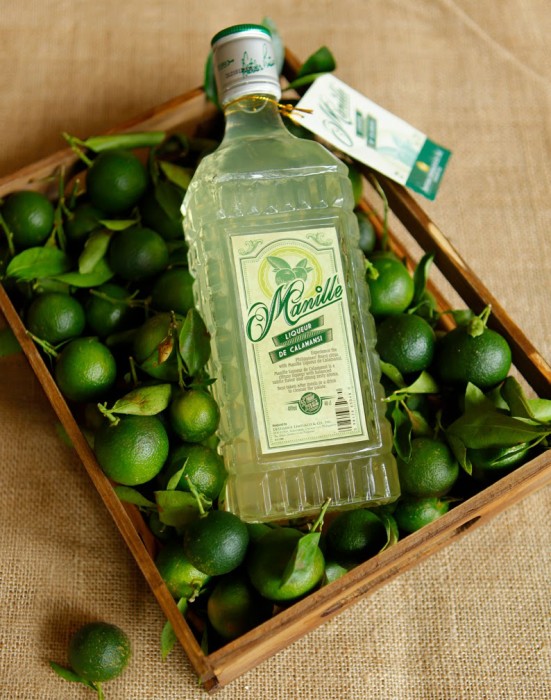 Guests are also in for a very special treat from the Philippines' lechon diva, Dedet Dela Fuente of Pepita's Kitchen, whose truffle rice stuffed suckling pig has received accolades from CNN International, Forbes.com, The Guardian UK and most recently, Adam Richman of popular TV show, "Man vs. Food," who described it as ,"Lechon with the most decadent crispy skin stuffed with truffle rice."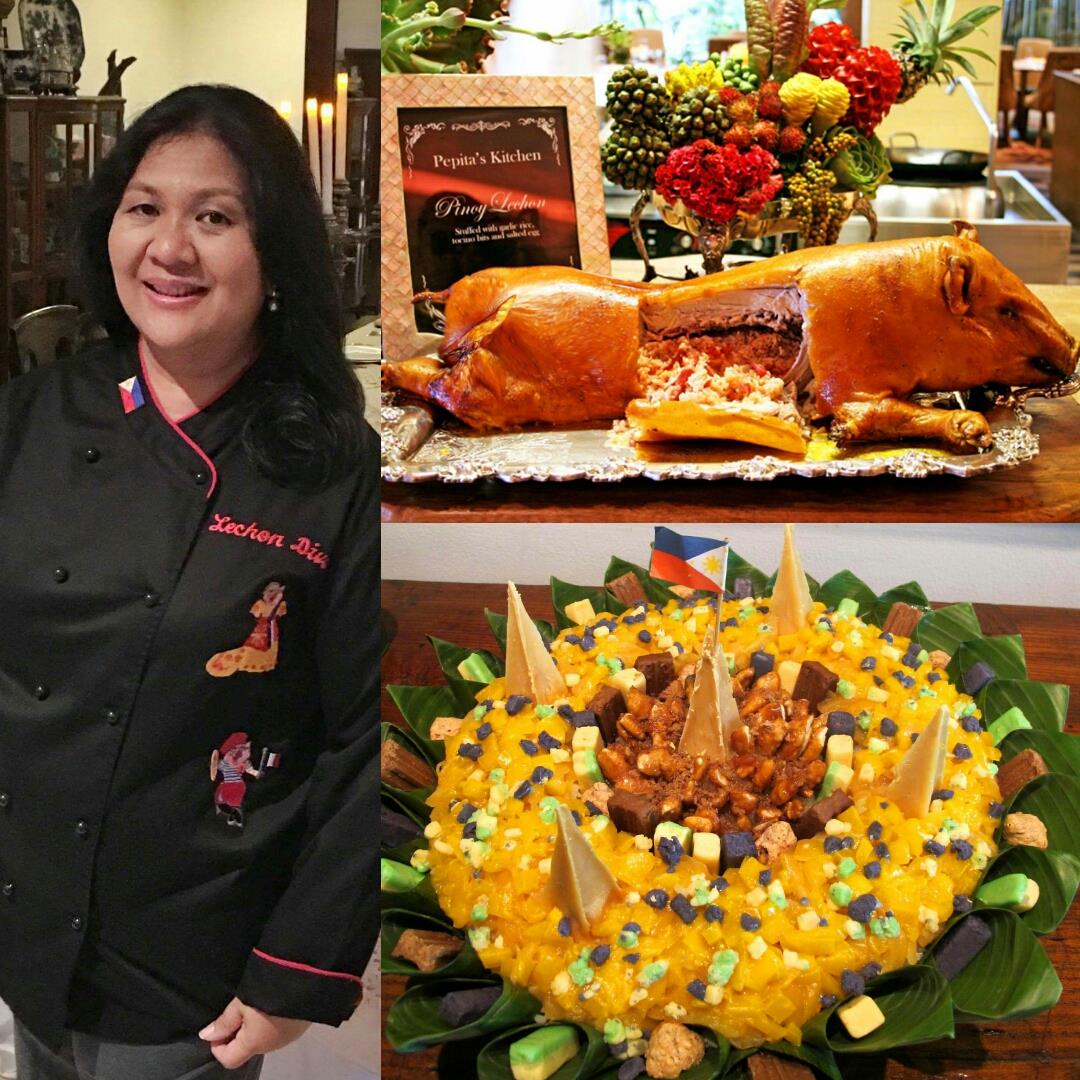 Eight fabulous courses + cocktails + special handcrafted truffles from Manila Chocolatier for only HKD588 + 10% service charge. Cocktails begin at 7PM and dinner at 7:30PM. Reservations can be made at crossculturesbycheryltiu@gmail.com and from there payment details will be sent.
The event is in partnership with I-Remit, Inc., the largest non-bank, Filipino-owned remittance company, and Destileria Limtuaco & Co,. Inc., the oldest distillery in the Philippines. It is supported by Forks & Spoons, Hong Kong's leading F&B consultancy group, Manila Chocolatier, premier handcrafted truffles, and Mini Hotel.
Here's the full menu to whet your appetite. Make sure to book your seats ASAP as they are running fast. See you then! XX (Visit our Facebook page HERE and our Instagram page HERE for more information and photos!)
Cross Cultures by Cheryl Tiu
A Filipino Feast Menu (July 13 & 14)
Memz Premium Pork Chicharon
—
Jimlie Catapang |Linguini Fini
Chicken Wings Inasal
Organic Beef Tapa, Pickled Radish "Atchara" and Quail Egg
—
Jerome Santos | Rocco's Pizzeria
Ginataang Alimasag (Crabs cooked in Coconut Milk)
Sisig in Phyllo with Calamansi Aioli
—
Roy San Antonio | 42nd Davis
Inihaw na Pusit (Grilled Squid) with Tomato Mango Salsa and Toyomansi (Soy Sauce with Calamansi Juice)
—
Roy Ocampo | 42nd Davis
Pinakbet (Mixed Vegetables Stew) with Homemade Bagoong
—
Dedet de la Fuente | Pepita's Kitchen
Pepita's Kitchen signature Lechon with Truffle Rice
Super Suman
—
Manila Chocolatier Pralines
White chocolate with sampaguita-infused dark chocolate ganache
Milk chocolate with ube (purple yam) ganache
Cocktails by Joe Villanueva
Pinoy's Cup
Manille Liqueur de Calamansi, lemon juice, carbonated salabat
Tropical Quencher
Paradise Mango Rum, mint, lime, pineapple syrup, pilsner beer
Flan de Kape
Amadeo Coffee Liqueur, Very Old Captain Rum, Joe's leche flan