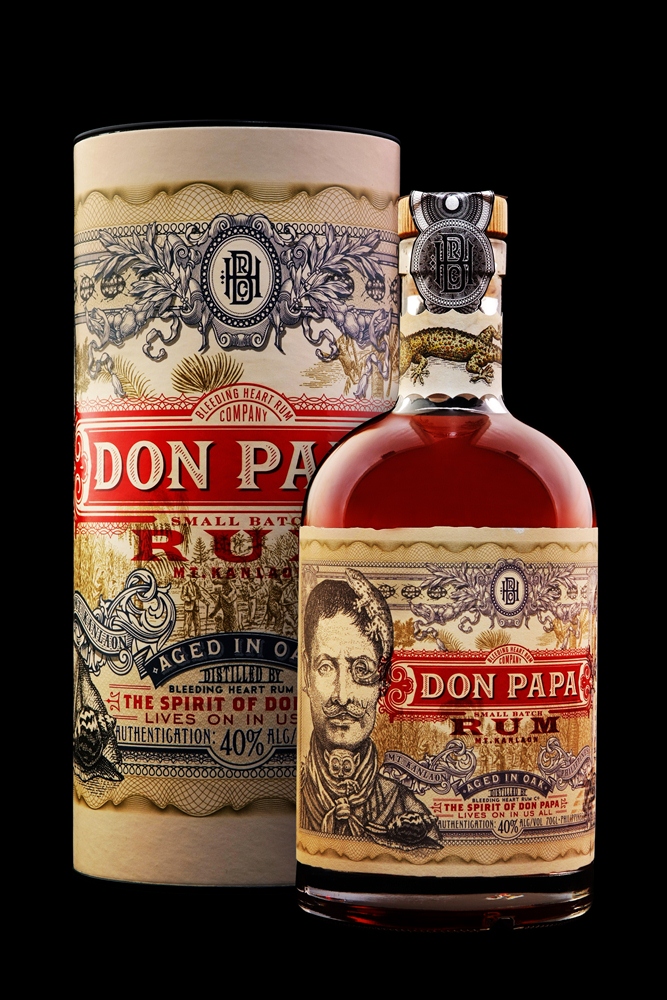 "A year ago, Don Papa Rum was launched in the Philippines—in Bacolod," says Stephen Carroll, founder of Bleeding Heart Rum Company, maker of Don Papa Rum. "One year later—today—it is now available in France, Belgium and the Czech Republic."
The 100% purely Pinoy rum that makes us beam with pride has now caught the attention of the international audience. The premium aged small aged batch single island rum from Negros is distilled from some of the finest sugar cane in the world. It is aged for over seven years in American oak barrels on the foothills of Mount Kanlaon, before selected rums are carefully blended to perfection. The result is the flavors of vanilla, honey and candied fruits– incredibly fragrant on the nose, smooth and delicate on the mouth, and with a long textured finish.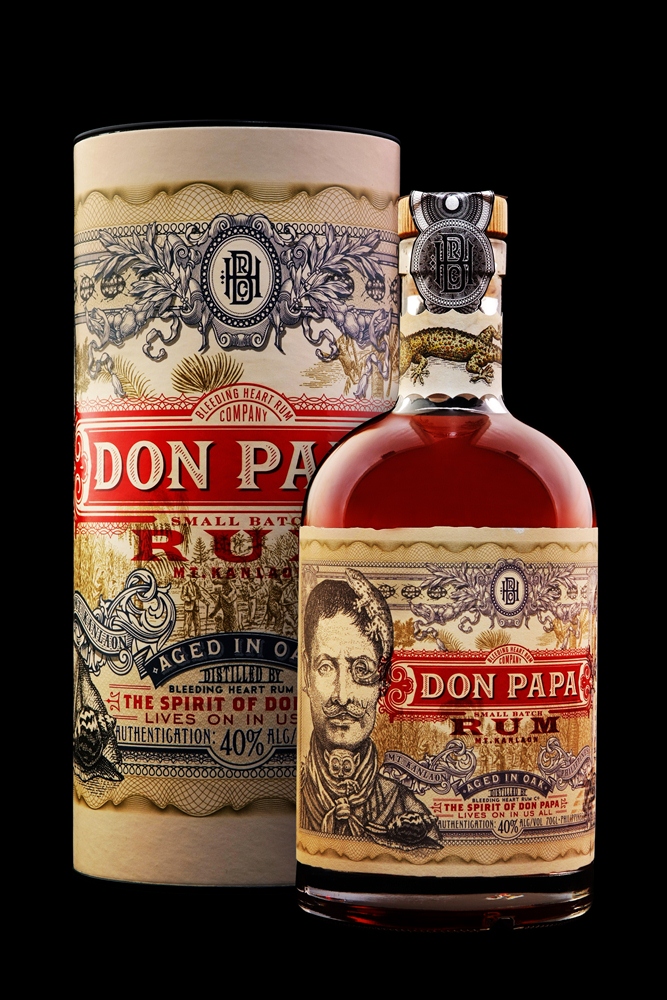 I am completely in love with the packaging. It's old world, Filipino and global all at the same time. (Did anyone notice the tarsier coming out from his collar?) Apparently, the brand was inspired by the story of Dionisio Magbueles, also as "Papa" Isio, who played a key role in the late 19th century Philippine revolution in freeing Negros from Spanish rule.
New York-based graphic design firm Stranger and Stranger designed the label, putting a twist to images of animals and insects (there are over 50 of them!), as well as old Spanish landlords. It does not come as a surprise to know that it has won several international awards: 2013 Los Angeles International Spirits Competition (Gold in Overall Package, Gold in Illustration, Gold in Graphics and Package Design Best of Show); 2013 San Francisco World Spirits Competition (Applied Arts Design); Communication Arts Design Awards' 54th Design Annual for Packaging.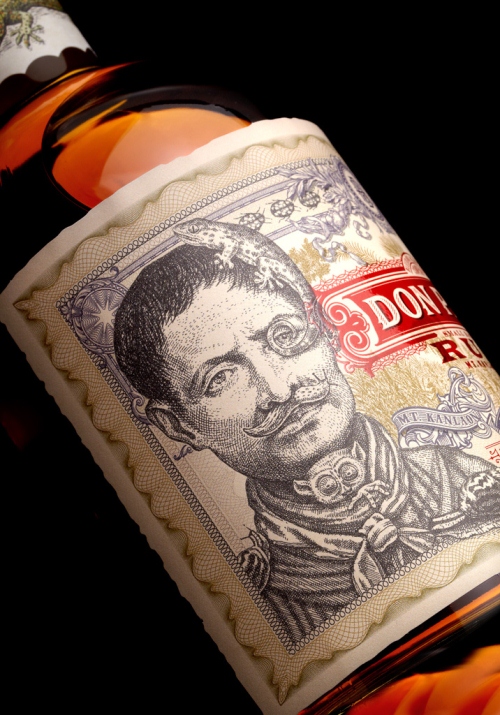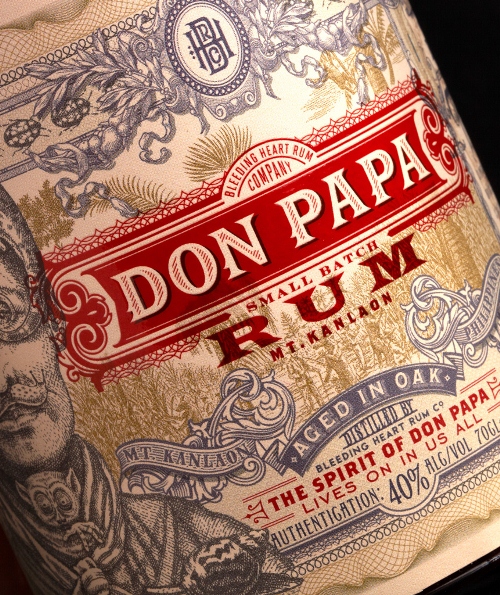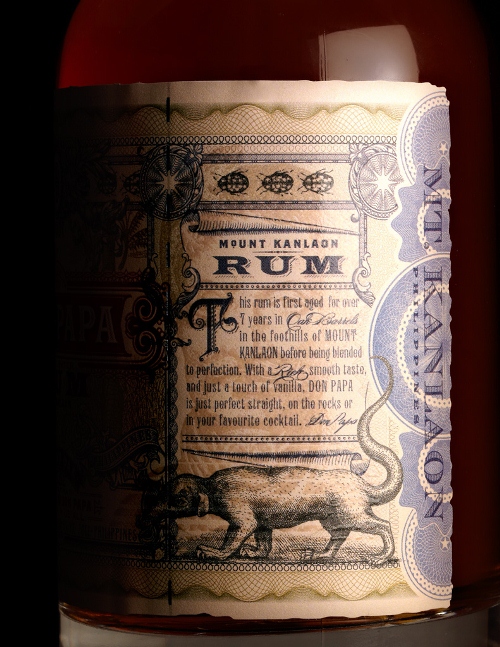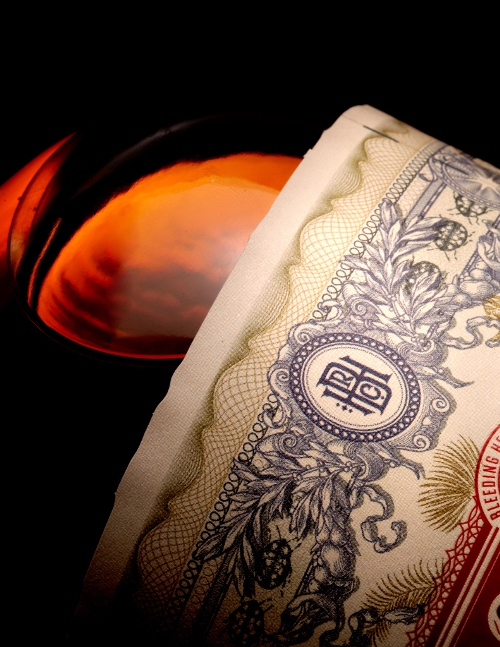 Last Tuesday, Don Papa Rum had an afternoon of cocktail curating at Las Flores. Dubbed "Curio Cocktails," they flew in visiting French mixologist, Matthias Cadeac D'Arbaud of the speakeasy Bar Zelda in Paris for the occasion.
A few things worth noting: 1) Bar Zelda was named after F. Scott Fitzgerald's wife, and photos of the couple adorn its walls; 2) Matthias  played Lauren Conrad's French love interest in "The Hills," and is the guitarist of French rock band Rock & Roll, who fronted Roberto Cavalli's Spring/Summer Menswear Collection in 2008. Their album cover was photographed by Karl Lagerfeld; 3) He had a pop up bar serving Don Papa Rum cocktails at the largest Philippine exhibit in Europe last April, Archipel des Échanges, at the Quai Branly Museum in Paris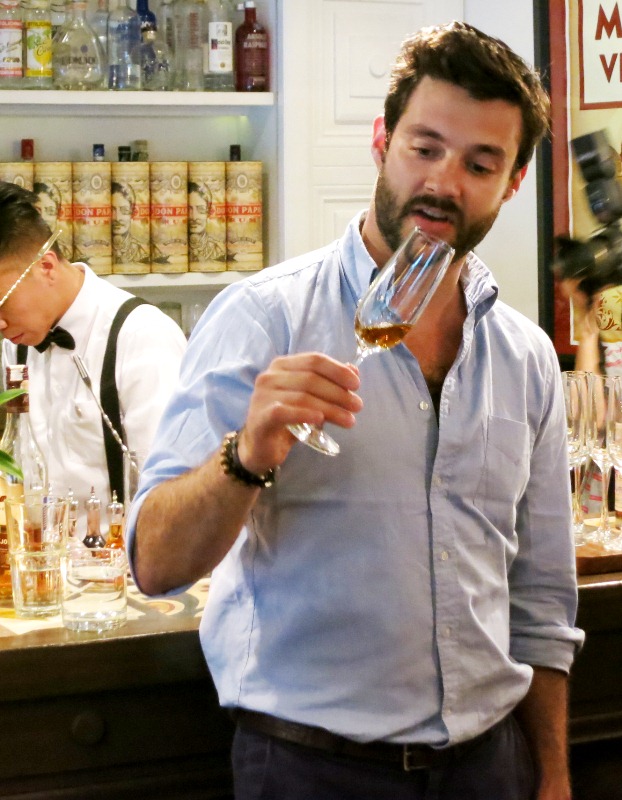 Matthias discovered Don Papa over a year ago and uses it at Bar Zelda, as it is important for him in mixology to have premium rum. It is well-balanced and neat, and very easy to drink on the rocks, but at the same time, can be a base ingredient for craft cocktails as well. Matthias shared four signature new Curio Cocktails that will be highlighted in cocktail events from September to December at Las Flores, Rocket Room, Aracama and Raffles Makati's Long Bar. (I particularly liked The Destroyer, and the Don Papa Old Fashioned. :))
Now you can make them at home, too!
BLACK SAND
"Inspired by the colors, sounds, textures and of course the wonderful atmosphere of Zambales. Black sand beaches by the sea; and rich green dense mountain forests. It's an homage to the Philippines with a French touch."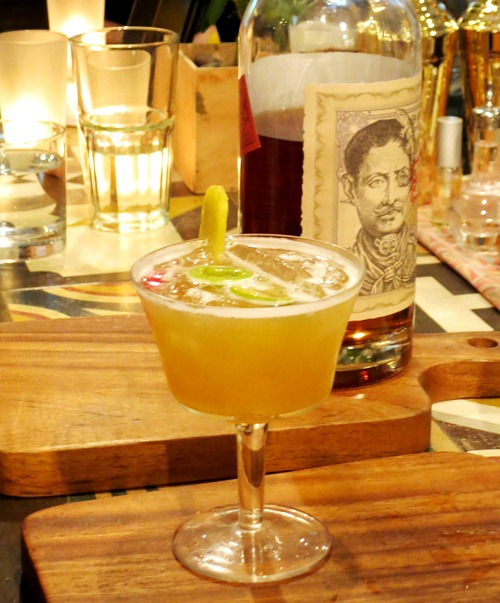 1 part Don Papa Rum
2 parts pineapple juice
1 part calamansi juice
Shake until the shaker sweats. Serve in a rock glass. Add crushed coffee beans and green pepper for garnish.
THE DESTROYER
"The Destroyer is intense. It was inspired by an early 20th century drink rumored to be made from rum and passion fruit. This is a modern take on this long lost classic."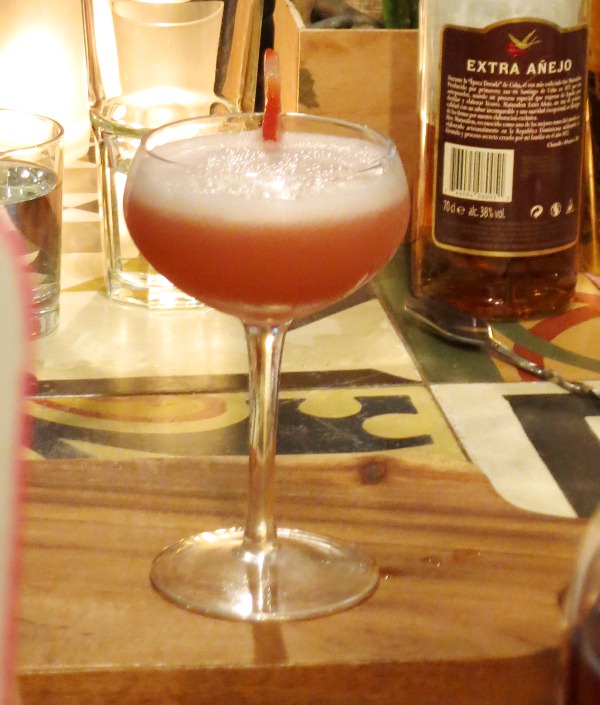 5 cl Don Papa Rum
1 cl Amaretto di Saronno
1 dash calamansi juice
1 dash apricot brandy
Half a passion fruit
Shake until the shaker sweats.  Serve in martini glass.  Add a star fruit for garnish.
DON PAPA OLD FASHIONED
"The old fashioned is an all-time classic cocktail, served in the best bars for over a century. This Don Papa based Old Fashioned is designed to highlight Don Papa's magnificence."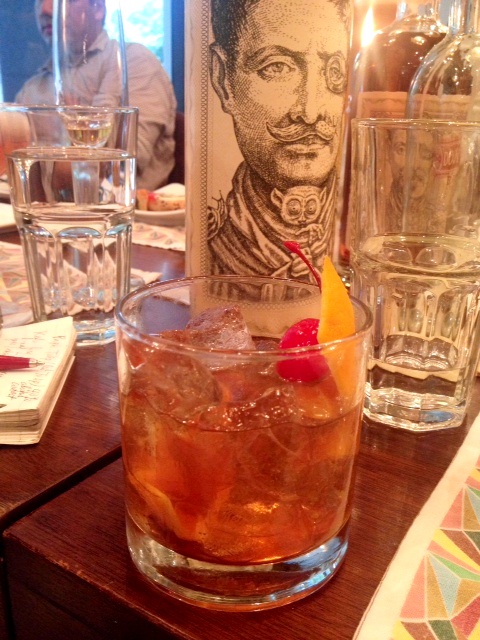 5 cl Don Papa Rum
1 cl liquid brown sugar
1 drop maraschino
2 drops hopped grape fruit bitters
1 drop orange bitters
2 slices of orange rind
ice
Take a rock glass, cover the bottom with 1 cl liquid brown sugar.  Add 1 drop of maraschino, 2 drops of hopped grape fruit bitters, 1 drop of orange bitters and 5 cl Don Papa.  Add 2 slices of orange rind and slowly add ice to rim while stirring all the time. Serve.
THE DON PAPA JULEP
"This goes right back to the origins of the word julep which comes from the Farsi word 'galep.' In Persian they use galep to mean 'as easy to drink as orange blossom water'. This variation on the classic Mint Julep is a fabulously refreshing drink and a wonderful expression of Don Papa's versatility."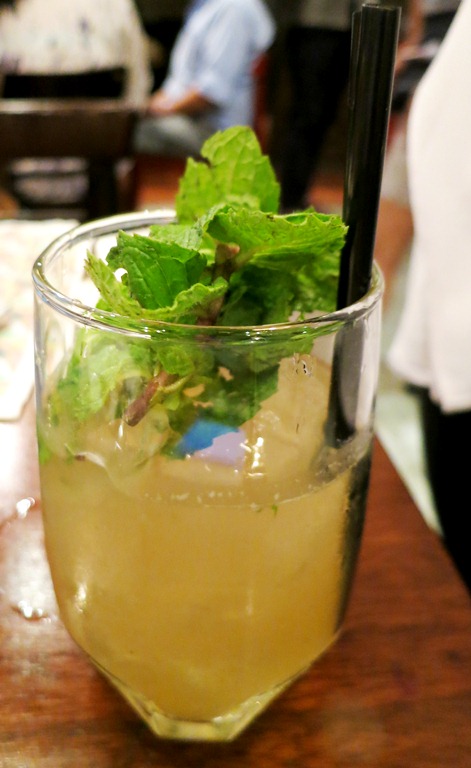 5 cl Don Papa Rum
2 cl calamansi juice
2 cl liquid brown sugar
1 bunch mint leaves including the stalks
2 lime leaves
Crush the mixture with a pestle in a shaker then shake until the shaker sweats.  Filter and serve in a long glass full of ice.  Garnish with a sprig of mint and add 2 drops of Thai bitters.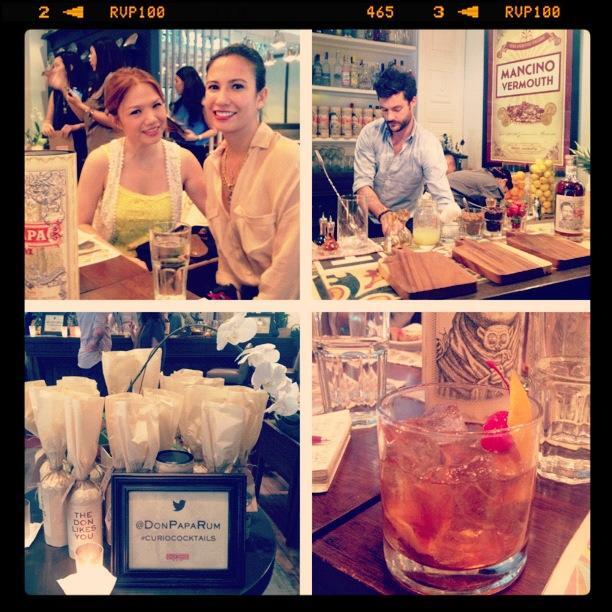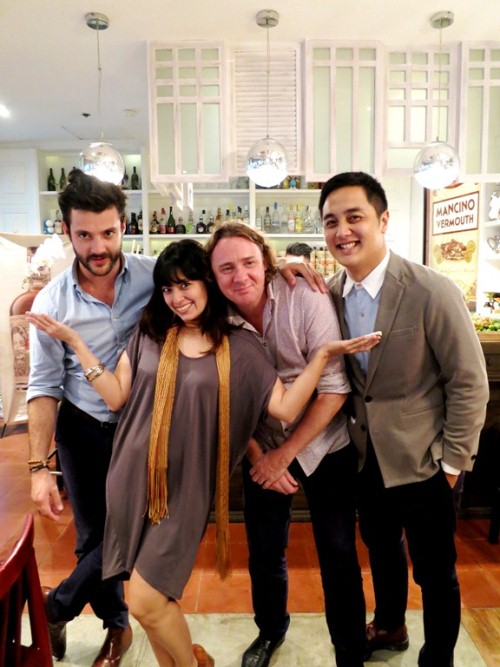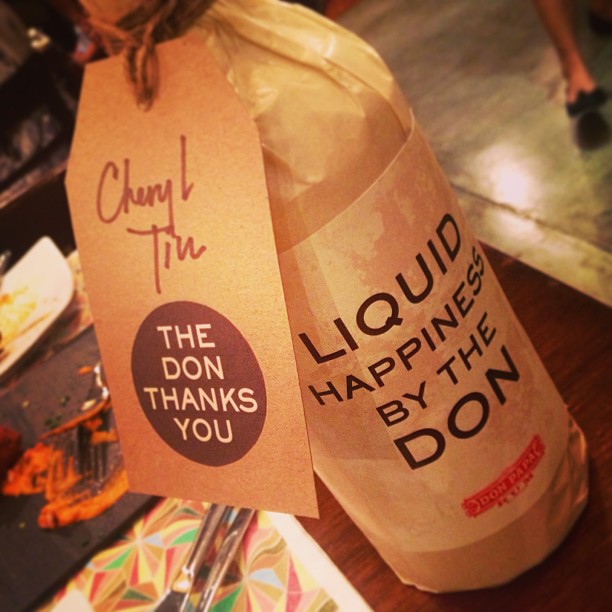 Don Papa Rum is available nationwide at major supermarkets like SM, Shopwise, Rustan's, S&R, Landmark and Robinsons's and wine stores like Raph's and Harry's Liquor, and also in Duty Free shops