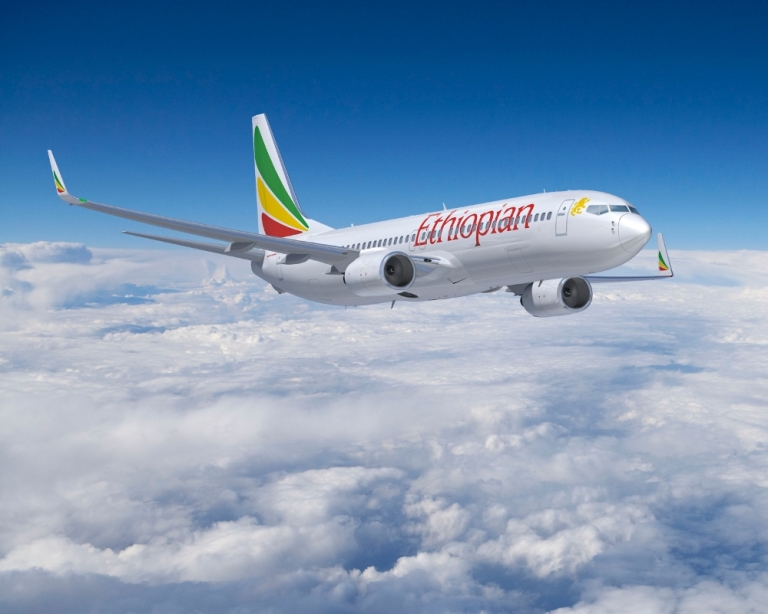 I often advise my friends that if they really want something, they should "The Secret" it. This is in line with the law of attraction that the best-selling book and film advocates, that with the power of believing, manifesting and positive thinking, you can get what you want.
My recent trip to Ethiopia is the perfect example of how I (unknowingly) "The Secret"-ed something.. and got it!
Most people who know me are aware of my obsession with Ethiopian food. I first tried injera (made from an organic, gluten-free super grain endemic to Ethiopia called 'teff') and wot (sauces and stews that can range from chickpeas, beef, chicken, lamb, etc.)  in Amsterdam (Addis Ababa) in 2005, fell in love with it, and since then made it my mission to eat Ethiopian whenever I visited a city that has a restaurant– in New York City (Massawa) in 2009, in Capetown (Addis in Cape) in 2014 and in London (Asmara) this 2015.
I watch documentaries on Ethiopia on CNN, have frequent talks about Ethiopia with my photojournalist-restaurateur friend Todd Darling, who is also in love with the country, and stalk a few Ethiopia accounts on Instagram. Most recently, when I was in the Hong Kong airport transiting from London to Manila, I looked out the window and saw an Ethiopian Airlines plane parked by the terminal. "Oh, Ethiopia…" I remember wistfully murmuring to myself before continuing on to my gate.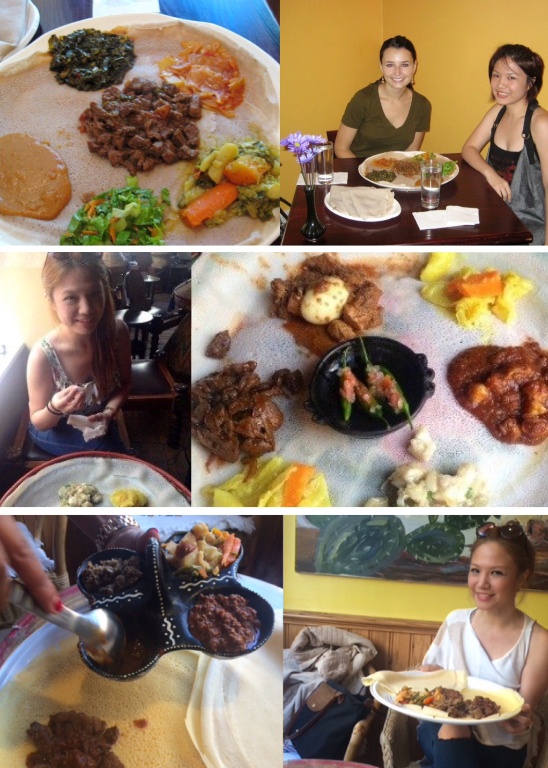 Two days after I landed in Manila, I receive a message from Geiser Maclang brand architect Amor Maclang. "I want you to meet the country manager for Ethiopian Airlines, Mr. Solomon Bekele." Say whaaaat?! Since when did Ethiopian Airlines fly to Manila?! Well, apparently, on July 9, 2015, it will launch a direct flight from Manila to capital city of Addis Ababa, the first African airline to fly directly from the Philippines!!!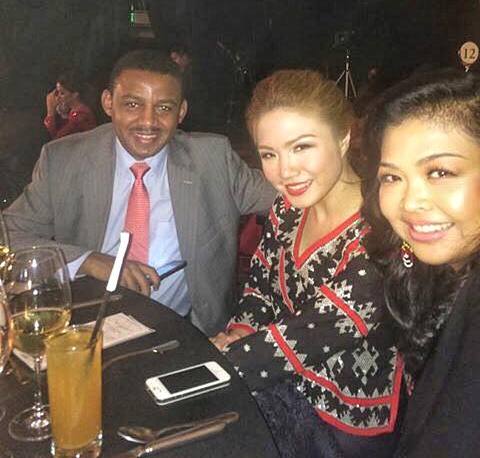 A few days later, I find myself on an Ethiopian Airlines plane to… my dream destination, Ethiopia!!! How amazing is that??! See, dreams to come true!!! <3 And just for your info, Ethiopian Airlines is a member of Star Alliance— along with Singapore Airlines, Thai Airways, United Airlines and Turkish Airlines, among many others.
We took the 1:35 AM flight from Hong Kong to Addis Ababa (approximately 9 hours), after a Philippine Airlines flight from Manila to Hong Kong (approximately 2 hours), making the total travel time around 11 hours ++ (the same travel time from the new direct flight from Manila). Business class, which they call Cloud Nine, was comfortable and nationalistic— seats and blankets are red, yellow and green– the colors of the Ethiopian flag. Seats are large and spacious and fold out into a flat bed. In-flight entertainment is touch screen and relatively current. I wanted to know more about the country I was visiting so I watched an Ethiopian love story, "Batemecheme Keterign," before a documentary on a day in the life of Mario Batali and then Taylor Swift's 1989 on repeat.
My seatmate, filmmaker and Philippine Star Supreme Editor in Chief Pepe Diokno, remarked that it was one of the best touch screens he has encountered. It also has all the sockets and plugs to charge your phone, laptop and electronics. Champagne onboard is Jacquart, and if you wish to try Ethiopian wines, they have Rift Valley Chardonnay and Cabernet Sauvignon, and their popular Saint George beer. There is also a selection of imported liquor, juices and sodas. Some flights serve Ethiopian food but sadly not this leg, although crossing my fingers they will soon!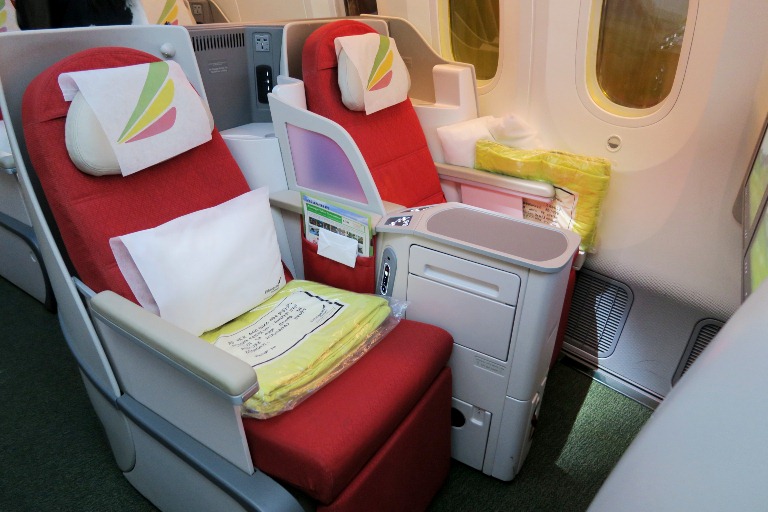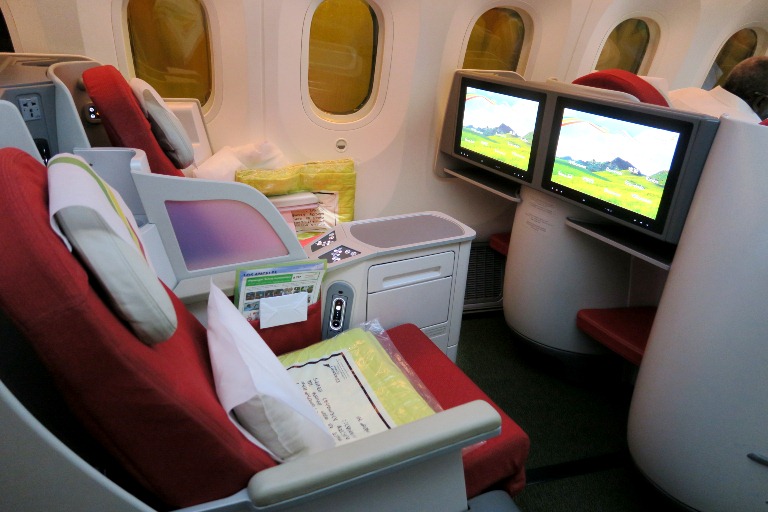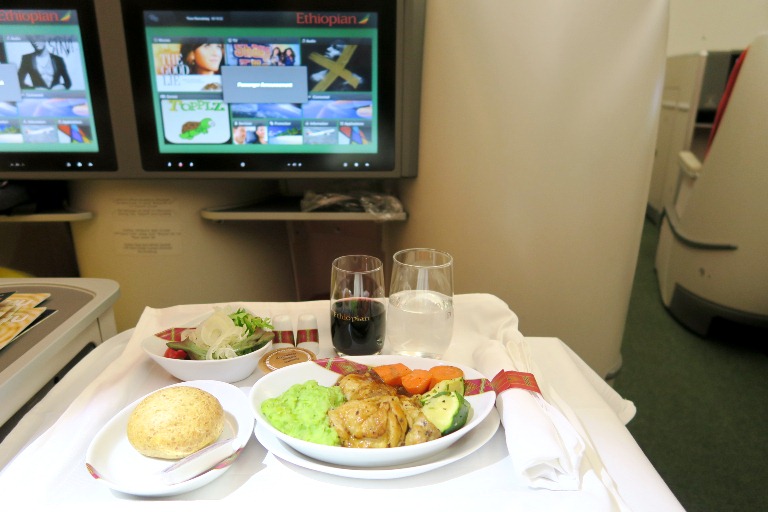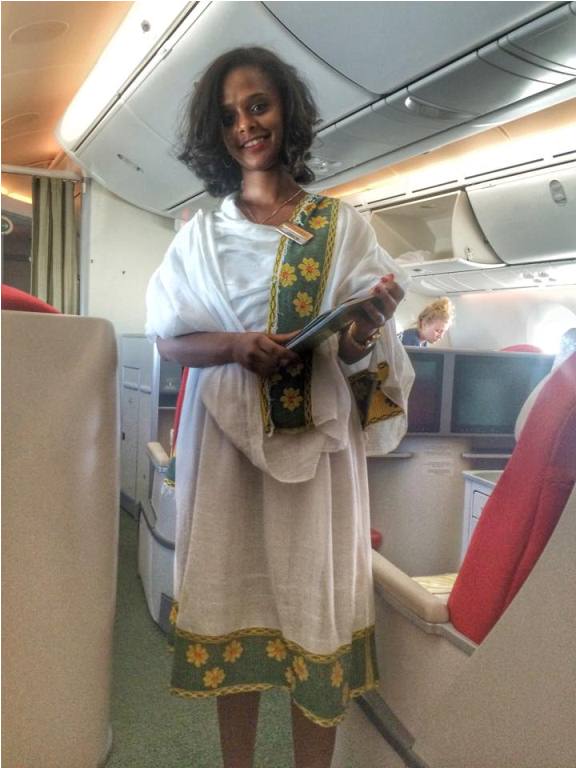 Touchdown, Addis Ababa! Good morning!!!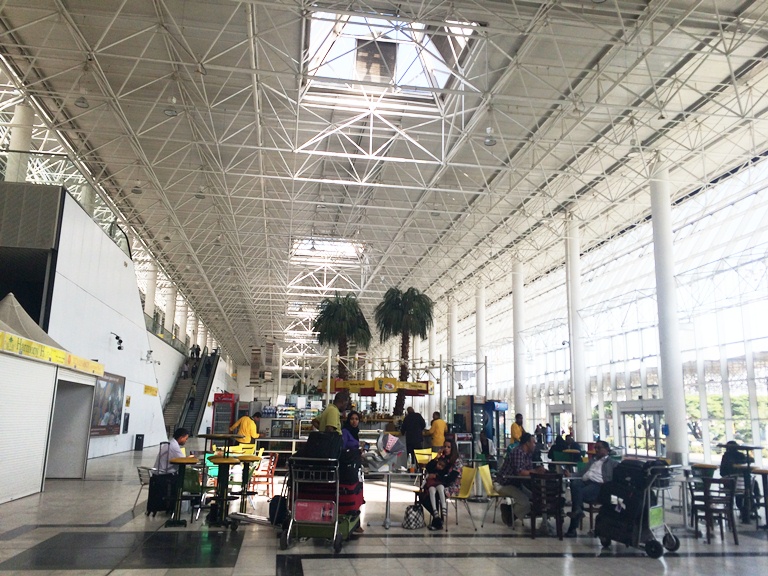 From Addis Ababa, we had another flight to catch to Axum. But after flying for 11 hours, and with a time difference of 5 hours (the Philippines is ahead), we needed our coffeeee! And it makes perfect sense as Ethiopia is the birthplace of coffee! Here, having coffee follows an almost ceremonial ritual. (Check out the caption of my photo for specifics!)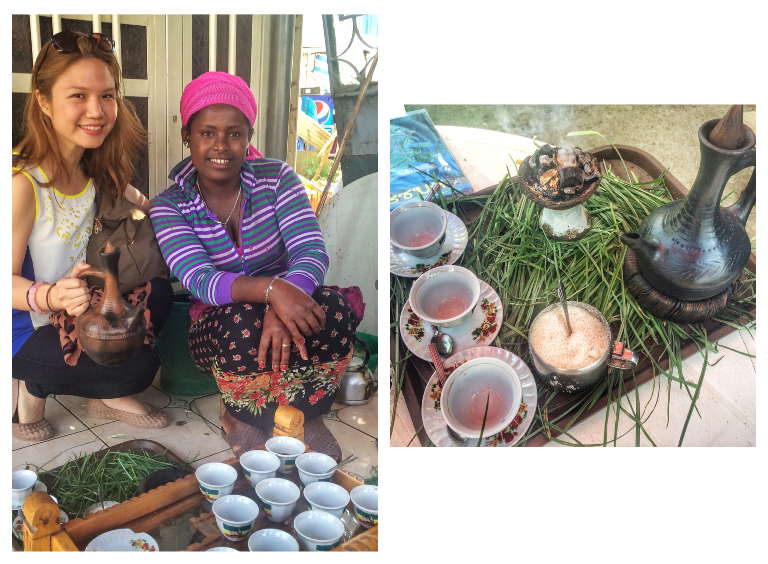 And of course… finally eat my beloved Ethiopian food.. in Ethiopia!!! You can't even imagine how happy I was! :)))
Some quick facts about Ethiopia:
It is projected to be the #1 country in the top 10 fastest growing economies of the world, with a projected GDP CAGR of almost 10% (2014 to 2017) (Source: Business Insider)
The World Bank forecasts growth for this year at 9.5% while the Ethiopian government expects a growth of about 10% by the end of the 2014-2015 fiscal year. (Source: Reuters Africa)
Ethiopia is the seat of the African Union
It is the only African nation to never have been colonized
It is recognized for its rich history– as the birthplace of coffee, where the remains of Lucy (the oldest humanoid in the world) are, the supposed location of the Ark of the Covenant as well as the land of the fabled Queen of Sheba, among many others
Ethiopian Airlines will be the first African Airlines to fly directly from the Philippines. It is a gateway for travel around the African continent, and even to South America. The new flights to Manila, approximately 11 hours from Addis Ababa, will be operated with Ethiopian Boeing 767-300 aircraft with 24 seats in Cloud Nine (business class) and 211 seats in Economy.
TIMETABLE OF FLIGHTS
From Manila to Addis Ababa (via Bangkok)
Tuesdays/ Thursdays/ Saturdays
Depart Manila at  22:00
Arrive at Addis Ababa at 06:30
From Addis Ababa to Manila (via Bangkok)
Tuesdays/ Thursdays/ Saturdays
Depart Addis at 00:40
Arrive at Manila at 18:45
PROMO RATES FOR TRAVEL UNTIL SEPTEMBER 30, 2015
All-inclusive economy USD 999. All-inclusive business USD 2300. Visit <ethiopianairlines.com> or your nearest travel agency
Stay tuned for my next blog posts about my time in Ethiopia– I traveled through three cities: Axum, Lalibela and Addis Ababa!  They will make you want to fly there pronto, trust me!

Read about my visit to the sacred city of Axum in Northern Ethiopia here. 
And read about my visit to the pilgrimage city of Lalibela, also known as the "second Jerusalem" here.