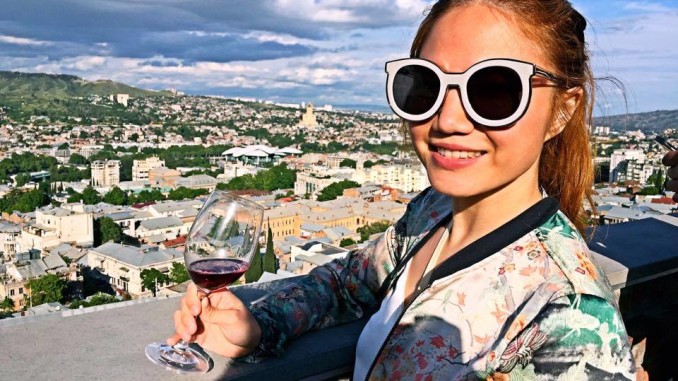 I truly believe in the power of "The Secret.  Georgia (the country) has always been one of my dream destinations and I was ecstatic beyond words when the opportunity to visit came up courtesy of Georgia's National Wine Agency, Tourism Board and Taste Georgia.
When I posted on my Instagram that I was in Georgia, *everyone* asked me, "What's it like there??" Well I'll be answering all the questions right here!
Why you should go: It's not only absolutely stunning; think– a capital city that juxtaposes a picturesque and walkable old town with the modern; snow-capped Caucasus mountains; wineries that are still boutique, warm and personal (a community still with a heart, rather than commercial where money is the name of the game)… coupled with an incredibly rich history teeming with an 8,000-year-old wine culture (yup, the oldest in the world– it's even on UNESCO's Intangible Cultural Heritage list), and of course the food! If you want a more concrete description, most of you who have traveled through Eastern Europe will notice a similar charm. (PS Conde Nast Traveller, Vogue and New York Times have also named Georgia one of the top places to visit for 2017.)
How to get there: I flew from Manila, Philippines via Qatar Airways with a stopover in Doha before a connecting flight to Tbilisi (there's a one-hour-stopover at Baku, Azerbaijian but you don't get off the plane). Travel time (flying) takes about 15 hours total. *As for visas, Filipinos can apply for e-visas online, and should receive it within 5 days.
Best time to go: Mid-May to early July, and early September to mid-October are generally warm and sunny. Early autumn (late September to late October) is usually when they harvest at the the wine region of Kakheti.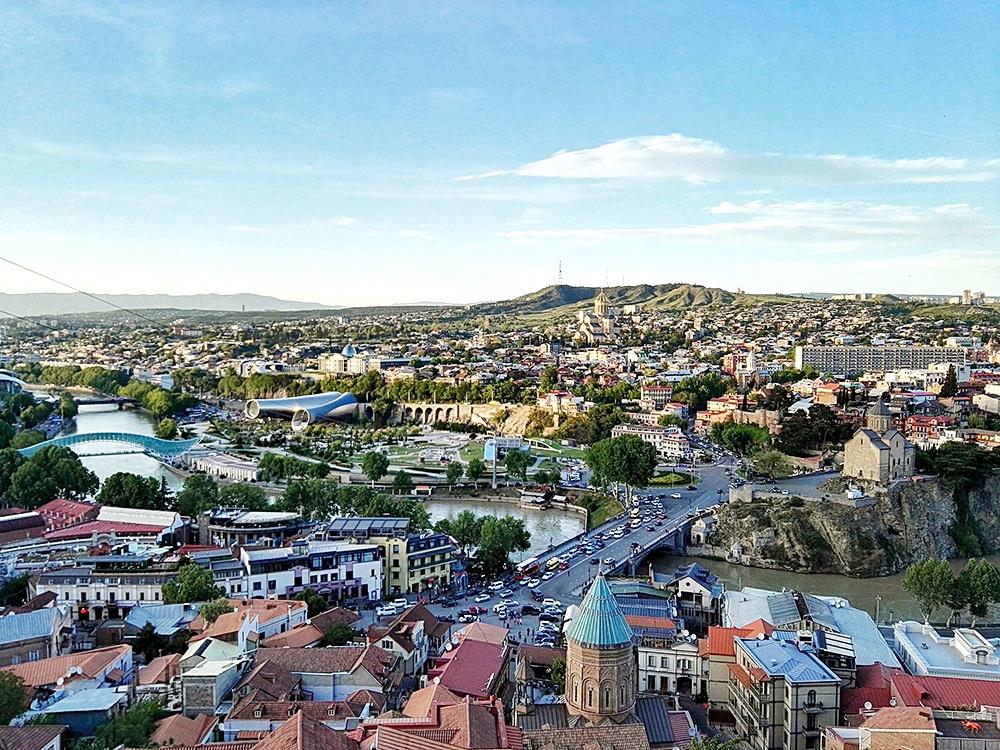 How to get around:  It might seem daunting for first-timers but luckily Taste Georgia,  run by Sarah May Grunwald, organizes tours and your itineraries very similar to what I experienced. They go beyond the usual touristy-tours and can include dinners at winemakers' homes, cooking classes, hiking, lots of eating (you literally taste Georgia!), among others. So you can customize it based on what you want to see and do—if you want to stay within Tbilisi, travel out of town, how many days you have, etc. etc. etc.
A few things you should know:
Georgia is super safe, even for females. (Trust me, I travel a lot.) Women are treated well in Georgia. Plus, they regard tourists as gifts from God. In fact the wifi at the Tbilisi Airport— you will notice upon landing is– Tbilisi Loves You.. so sweet! And on that note, you can get a prepaid sim card there with data running on 4.5G (LTE-Advanced) for around 20 gel (around USD8.31 or PHP417); I got Magti— it's the fastest and works in the mountains.
It's a relatively conservative country so don't dress scantily, even while exploring the city. Bring shawls when visiting churches and monasteries.
The predominant tourists there are Russians, Turkish, Indians (in the mountains) and… get this, Middle East-based Filipinos! (This is because Filipino residents of the Middle East can just get their visas upon arrival at Georgia.) There are also a lot of Americans living there as expats.
Taxis are a common way to get around, however, most drivers don't speak English, so best to have a local tell them where you want to go. (I've literally stopped people in the middle of the street and they've so kindly help me do this!) Just make sure you agree on the price before the journey and not at the end. I've heard stories of some drivers that may try to rip you off. 5 gel (around USD$2 or PHP100) can usually get you around most places in the city. Unfortunately, they don't have Uber.
Here's a quick video on what Georgia is like in 60 seconds! It's a snippet really as it's impossible to compress the majestic country into a minute. But it will give you a better idea of what it looks like. Also, just press the play button on this blog, so you can watch it on your phone, too. (If you click on Youtube, it can only be viewed on a laptop or computer because I used a mainstream commercial song as my background.) It's the first video I've ever done, and I did it on my PHONE, so be kind. :-D)
Now for your first visit to Georgia. If you only have a few days, these are your top 3 places to visit. Don't worry, Taste Georgia will sort everything out for you! xx
TBILISI
Some people will tell you, you can see Tbilisi in 2 days. I will only support that statement if you have limited time in Georgia; otherwise, I say, stay as long as you can– it's an amazing juxtaposition of old world with pops of modernity in places you wouldn't expect. Plus there are so many great restaurants and wine bars! (*More on that on an upcoming blog post.)
I loved the Old Town, it's where Tbilisi began in the 19th century. My favorite is Narikala Fortress, which dates back to the 4th century as a Persian citadel. It has the best views of the city– almost all of my photos of Tbilisi were taken from there. Also, located there are the: Botanical Gardens is an oasis of calm, where you can wander around aimlessly, unconsciously forgetting about time (a great place to make muni-muni); and Mother Georgia, holding a sword in one hand and a cup of wine in another. According to Lonely Planet, "it's a classic metaphor of Georgian character– warmly welcoming guests and passionately fighting off enemies." You can hike up to the Fortress from Meidan, a square located at the foot of the fortress surrounded by loads restaurants, bars and hostels– it's great exercise; just wear flats or sneakers. If you're too tired, they have a cable car option, too.
*Oh! I was surprised that I couldn't get my morning coffee earlier than 8AM (when most coffee places open there). I got my daily intake at Coffeesta, which is kinda like their version of Starbucks.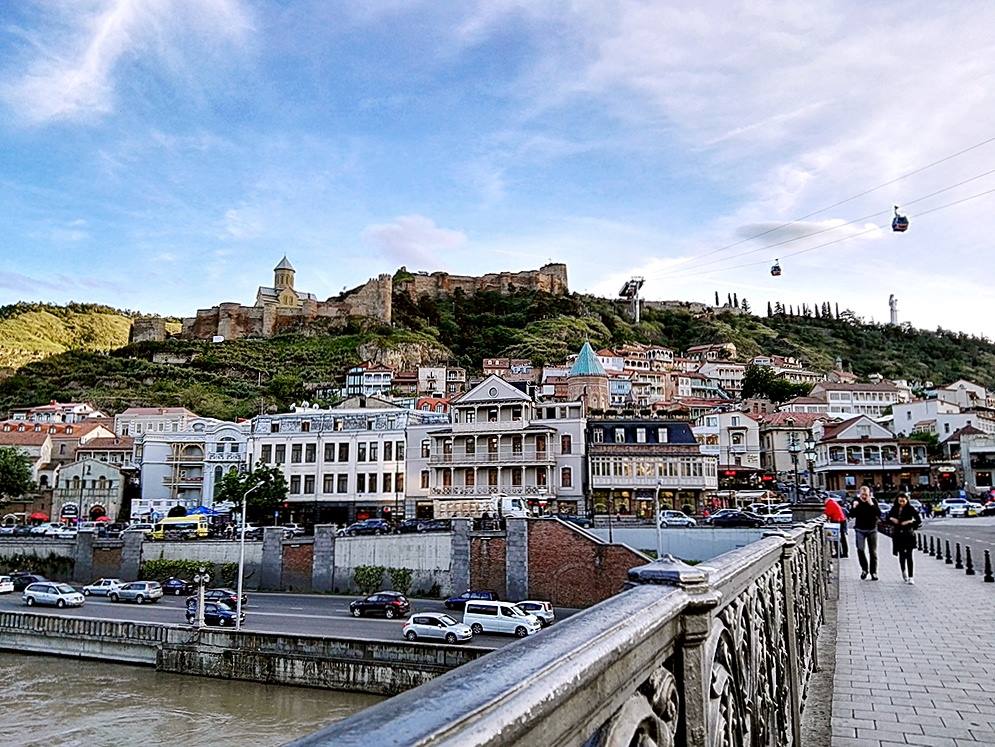 Rustaveli, which starts from Freedom Square, is often considered as the city's main thoroughfare as it is home to the Parliament Building, the Georgian National Opera Theater, and a number of other political, business and cultural buildings. Another modern side of Tbilisi is the pedestrian-only Davit Aghmashenebeli, which is lined with trendy restaurants and bars (all in a similar pastel color palette) and people hanging out. If you're looking for antiques and little knickknacks, go shopping at the flea market at The Dry Bridge. Even if you don't buy anything, just looking at the things for sale at the flea market– like Soviet gas masks– is pretty interesting. The steel-and-glass LED-illuminated Bridge of Peace over the Mtkvari River is another stark symbolism of modern Tbilisi. You can pretty much walk the core of the city.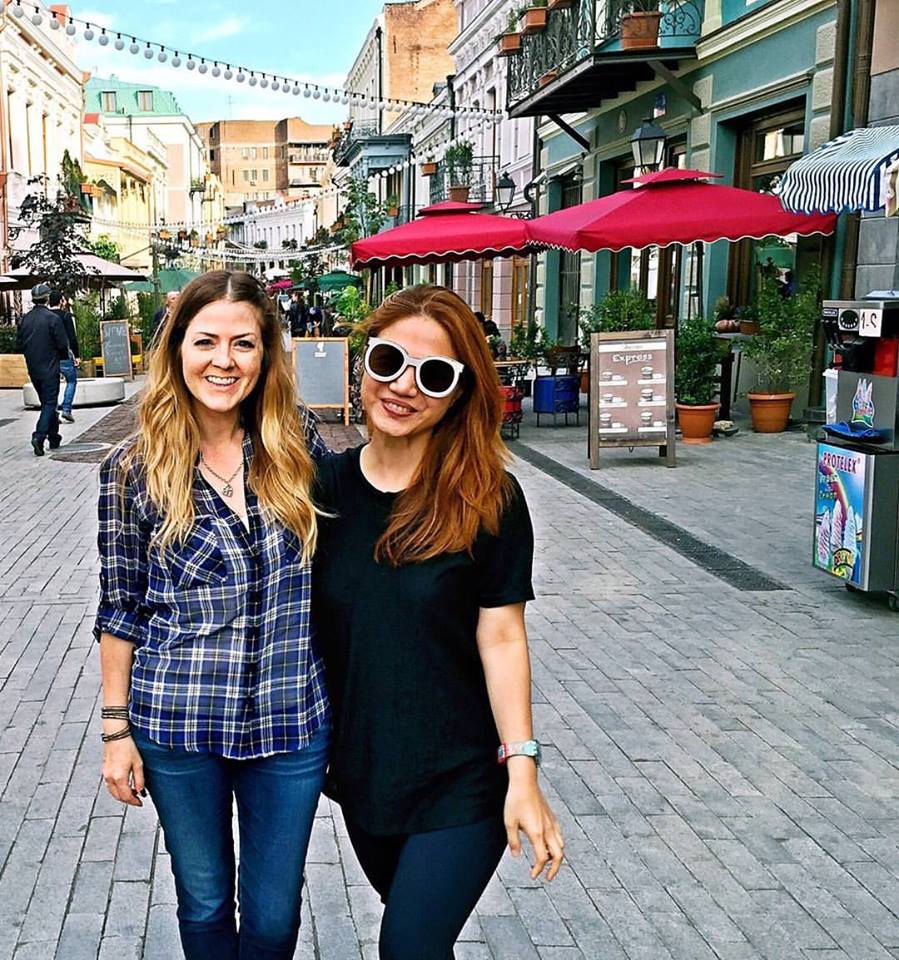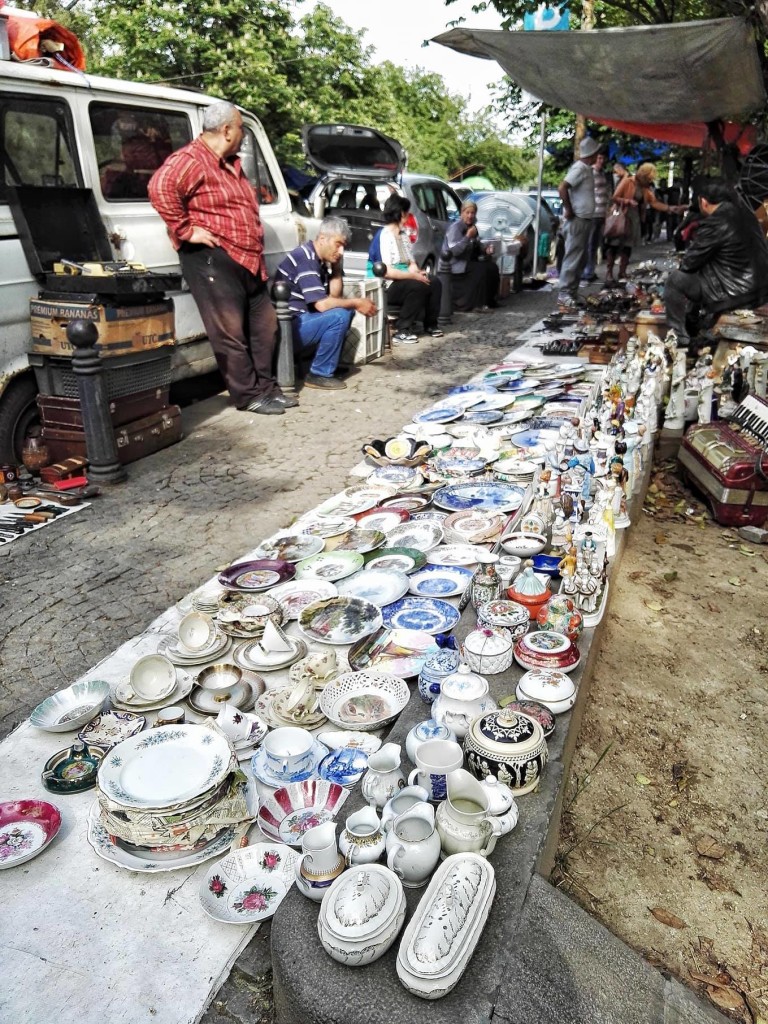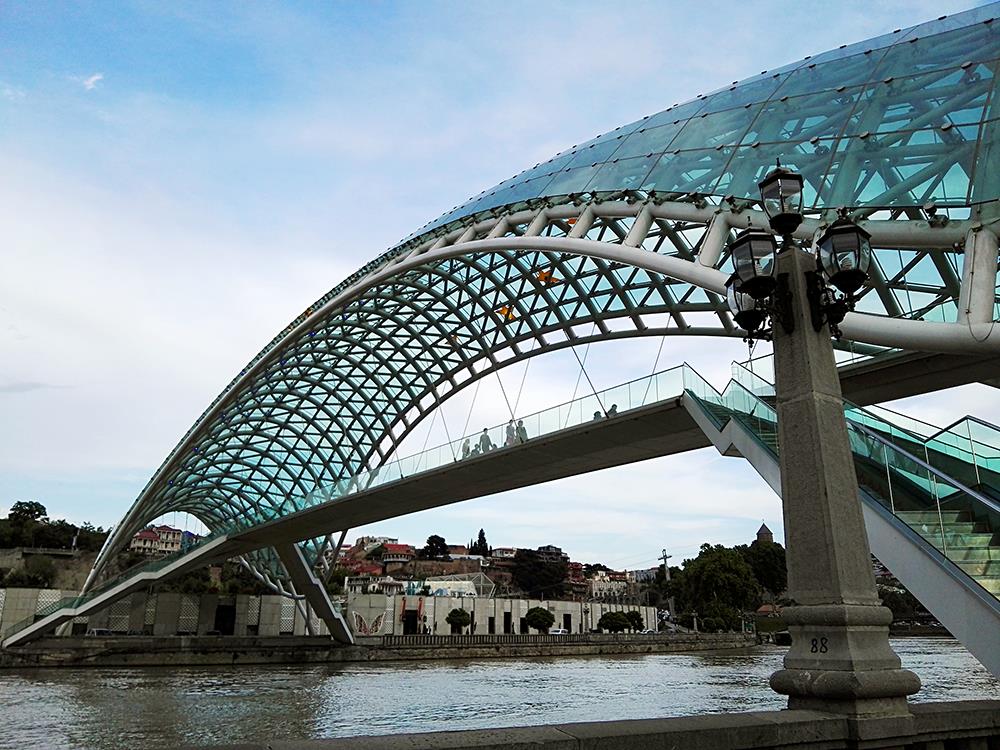 I loved how on every street corner, especially on Leselidze (now known as Kote Abkhazi), there's a wine bar! I was told by my Tbilisi-based Filipino-American chef friend Rex Francesco Manalo that Georgians can drink anywhere and at any time of the day— even while walking on the street, outside a wine shop, on the steps leading up to Narikala Fortress, etc. "The city is super cool for long walks with a wine buzz," he said. "Everything is both old and new; it's like a giant museum park of antiques." It's amazing. (I'll be posting about my top picks on where to eat– and drink in Tbilisi– soon!)
KAKHETI
Kakheti in the east is Georgia's premier wine-producing area. While it is kinda like the Napa and Sonoma of the country, it's really more village and community, than commercial. Georgia is most known for their wines made in traditional qvevri method from 8,000 years ago, which they still practice today. Grape juice is fermented with the grape skin in this clay pot vessel (the qvevri!) buried under the earth. There are also some wineries that make their wine in modern European-style (stainless steel tank) techniques, but personally, go for the qvevri wines; you won't find them anywhere else in the world. It took a couple of days for me to start appreciating it but after that, I was obsessed. My chef-friend Francesco Manalo  described it accurately, "Georgian wine will shock you if you haven't had it before. It's different and distinctive. It's fresh, tannic, uber unique and juicy."
Its largest town Telavi has a lot of beautiful churches and castles– like the famous Alaverdi Monastery— where monks make wines under their Alaverdi Marani winery. We also visited Schuchmann winery- where they make wines both in qvevri and  European-style, and have a restaurant overlooking their vineyards; and a lovely artisan winery, Orgo, where I bought some on the spot to take home. Coincidentally, they've also been rated 90 points by Wine Enthusiast and Wine and Spirits Magazine. (*Trivia: Gogi Dakishvili is the head winemaker at Schuchmann winery. Orgo is the label he produces in partnership with his son Temur.)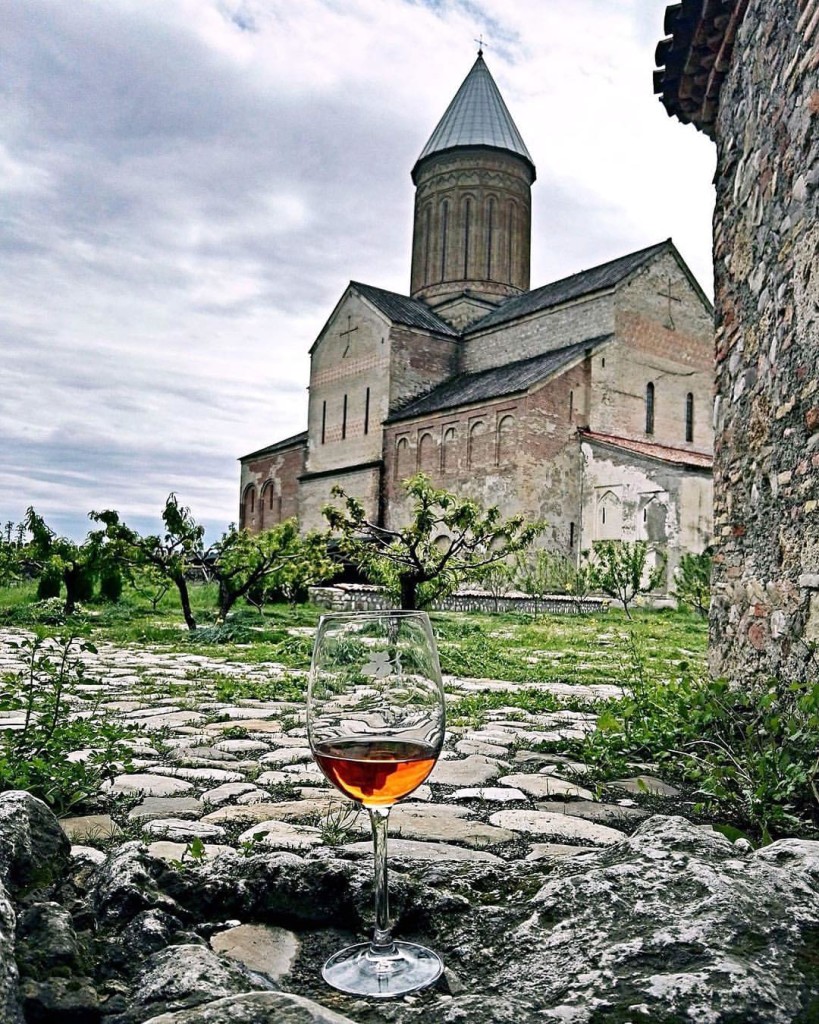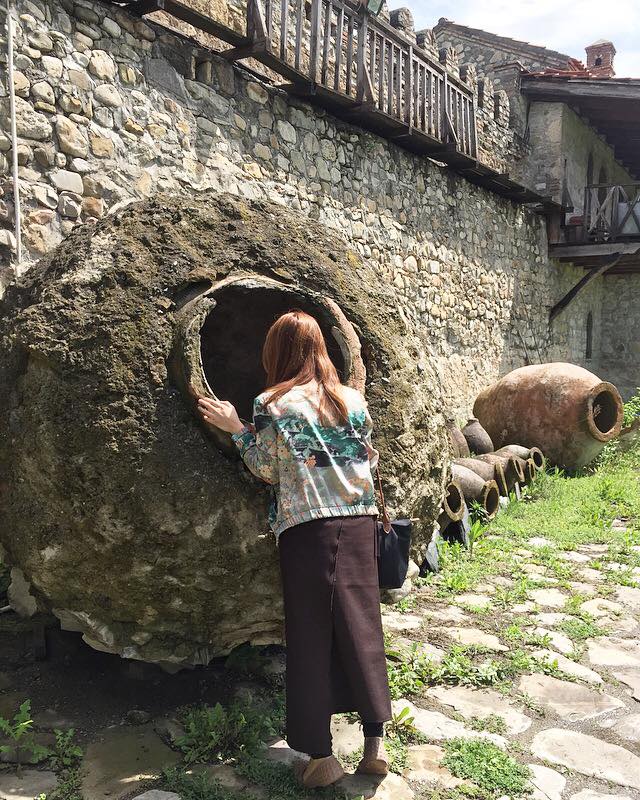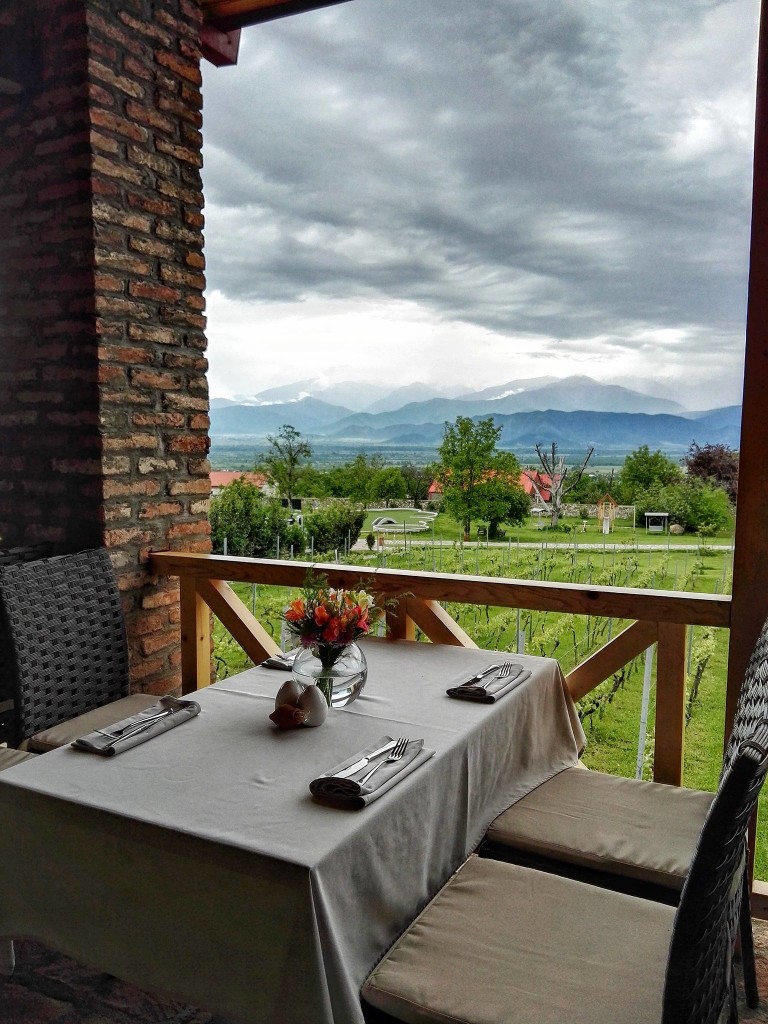 Sighnaghi on the other hand is often considered the prettiest in Kakheti, with quaint cobblestone roads, lush greenery, and 18th- and 19th- century architecture. (We spent a night here before driving back to Tbilisi.) Pheasant's Tears, another popular winery and a restaurant with fresh, delicious food, is located right here. (More on my visit to Georgia's wonderful wineries HERE!)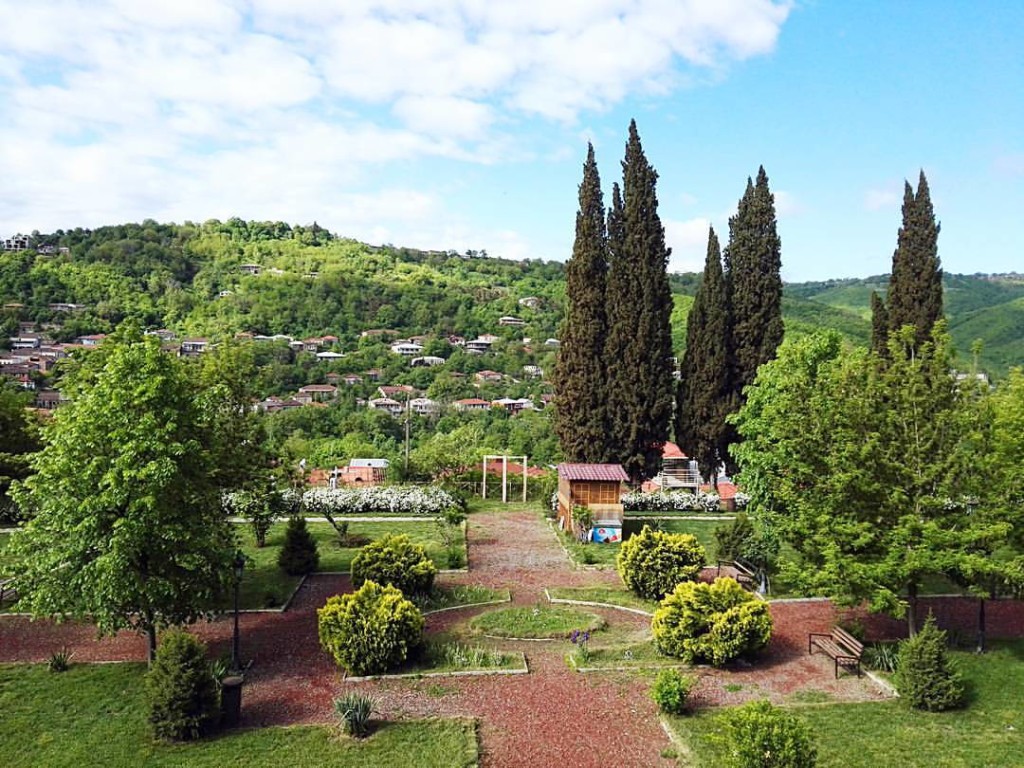 KAZBEGI
A visit to Georgia's Caucasus mountain region is a must while here. Spectacular snow-capped  mountains and scenery make for the most Instagram-worthy photos. Kazbegi, which is about a 3-hour drive from Tbilisi  is the most accessible of the Great Caucasus. It's a steady climb (although if the weather is bad like when I went, you'll need a thick, rain-proof jacket—it's much colder than Tbilisi—and maybe some shots of cha-cha. This was the only time I saw the truly value of Georgia's version of brandy/ grappa—previously I thought the digestif was too strong– but in fairness, it had some great warming properties.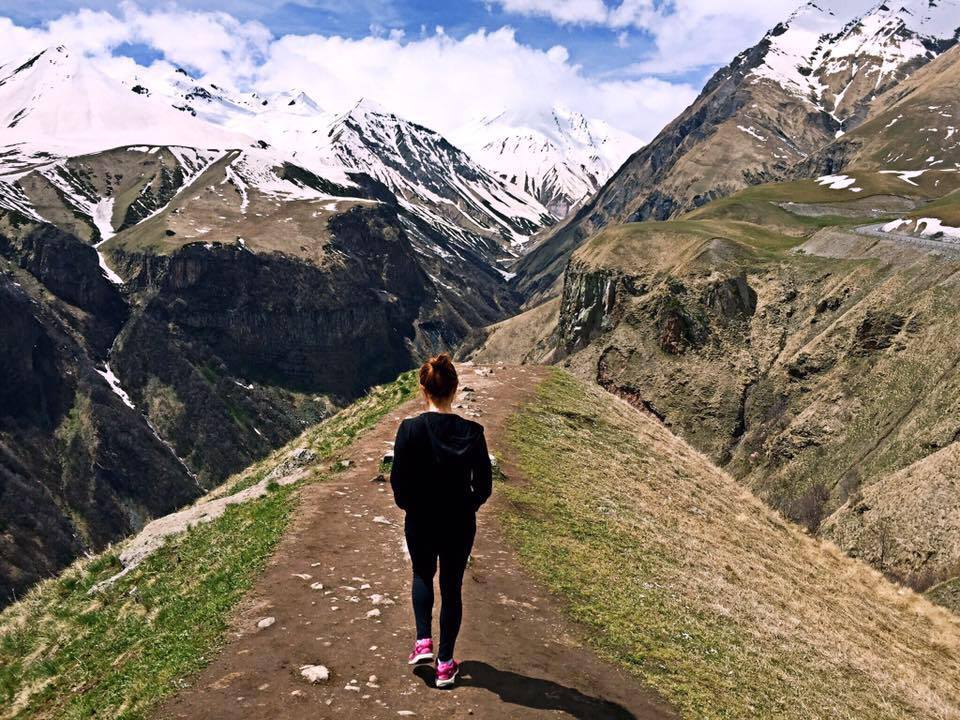 Tsminda Sameba Church (Holy Trinity Church) is known as the "church above Kazbegi" located against the stunning backdrop of the Caucasus. It's also a waypoint for hikers and can be reached by climbing for 3 hours or driving for 30 minutes on a rough windy road. Unfortunately as the weather was bad, I couldn't take any decent photos of the church, but managed their small Baptism area.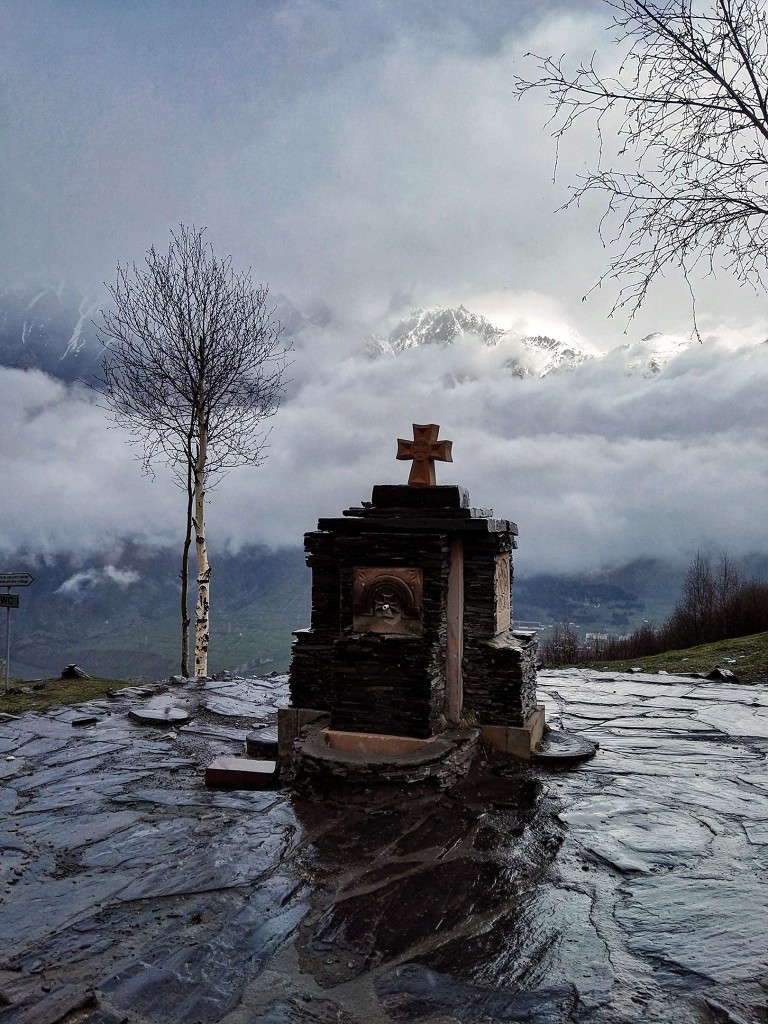 After that hike– if you're just there for a daytrip– you MUST reward yourself with a drink at Rooms Hotel Kazbegi, which is very Wallpaper* in terms of aesthetics– alot of dark wood, and a library-style lounge. Just looking out to the Great Caucasus, sipping on Georgian amber wine (or a cocktail) is the best pastime activity to ponder about life and how truly beautiful it really is.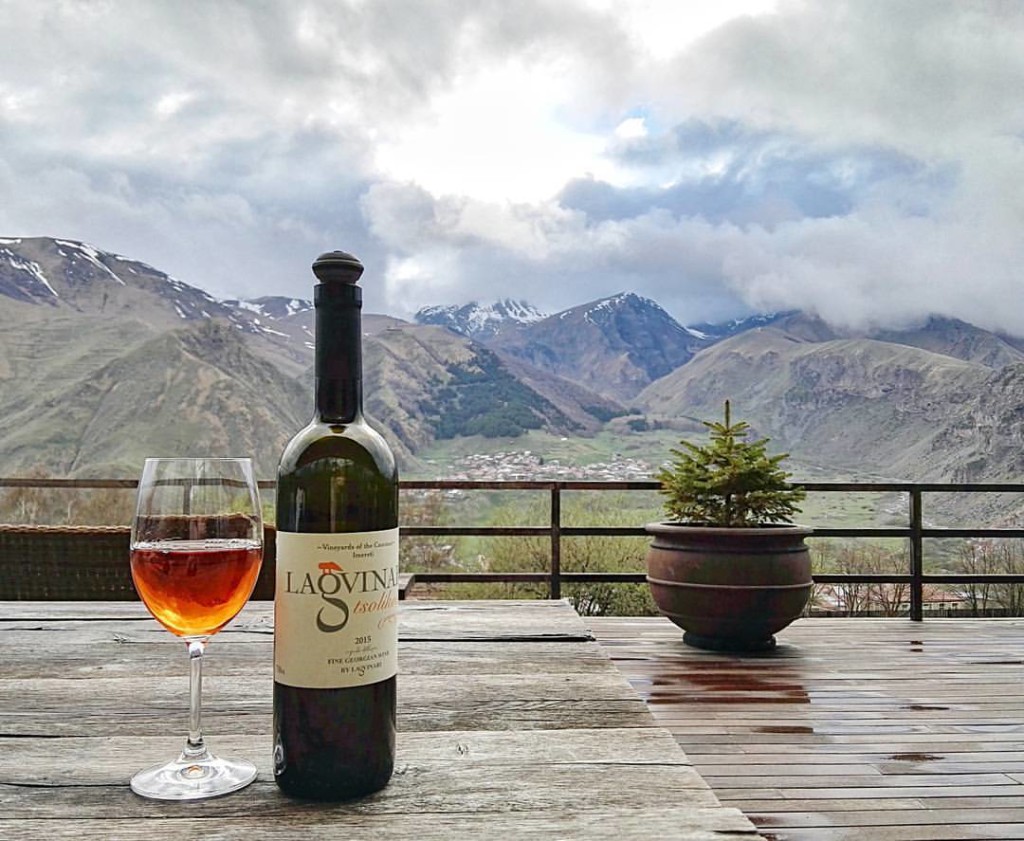 Soooo… what are you waiting for?  Book your next holiday to Georgia now!! I promise you'll have an AMAZING time– I myself am dying to go back– and I just came from there! 😀 Let's go!!! xx
*For more on Georgian wines and the wonderful wineries we visited, click here.