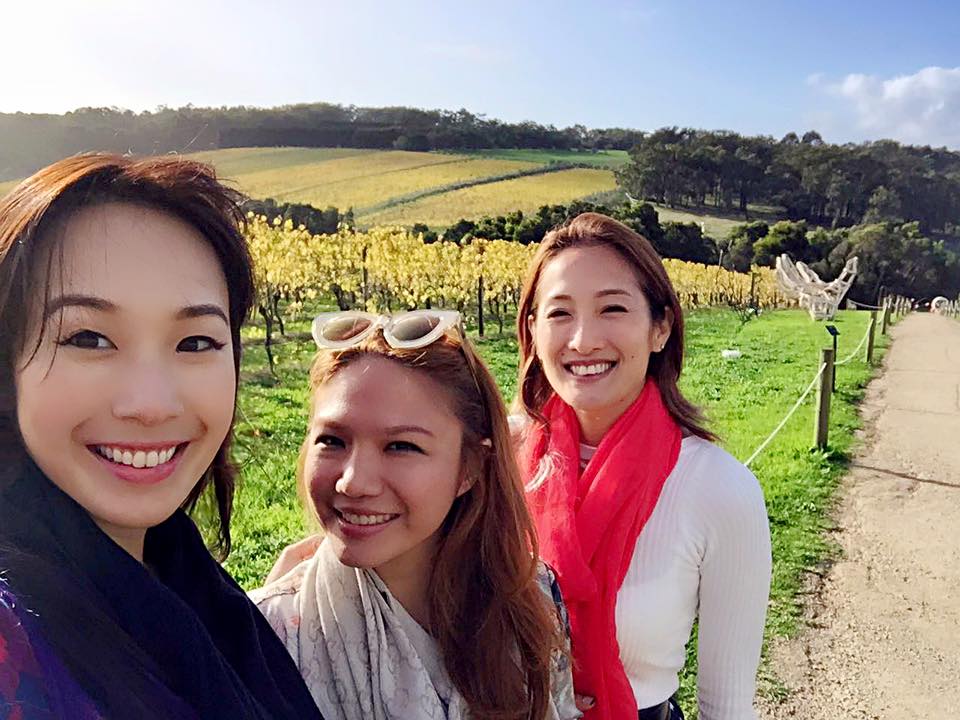 Because life is full of surprises, I found myself in Melbourne several weeks ago on a girls' trip with these awesome Singapore influencers, Victoria Cheng and Xindi Siau. It was my first time in Australia, allowing me to tick off my 6th continent (only missing Antartica now!)
In partnership with Publicis Singapore, Scoot Airlines and Tourism Australia, Victoria invited myself and Xindi on a three-night-four-day "Hen's Trip" (Read: Bachelorette). Xindi had just gotten proposed to recently so it all fell into place.
We did a ton of fun things: 1) ate fresh produce (kale, avocado toast and my fave– HALOUMI everyday) at (my personal favorite) restaurants like Cumulus, Gazi and Taxi, 2) enjoyed a hearty breakfast and excellent Australian coffee at St. Ali, 3) did a dessert degustation at Om Nom at Adelphi Hotel— and broke the swinging bench because of our weight, lol! 4) Enjoyed the hot springs at Mornington Peninsula— before a gorgeous lunch at Montalto Winery, which has an art trail– and also fantastic pinot gris, 5) explored Melbourne's famous wine country, Yarra Valley.
But apart from all, I really cherished getting to spend time with these wonderful ladies, having girly bonding time over copious amounts of red wine til 3 in the morning (yeah, we prefer staying in to going out!) at our excellently located and spacious apartment-hotel, Mantra on the Park. Special thanks to Samantha Caffin of Tourism Victoria who was our guide and patiently drove us everywhere; and likewise the patient, super polite, respectful and easy to work with crew from Singapore: Ryan from Publicis Singapore, Lawrence and Bernie from the production team.
Here's the campaign we shot—a 3 minute capture of our 3 days in Australia. And some "behind-the-scenes" photos from our trip. Enjoy!! xx
PS It's a great itinerary for a very wholesome hen's night/ trip, so do get ideas! I highly recommend!