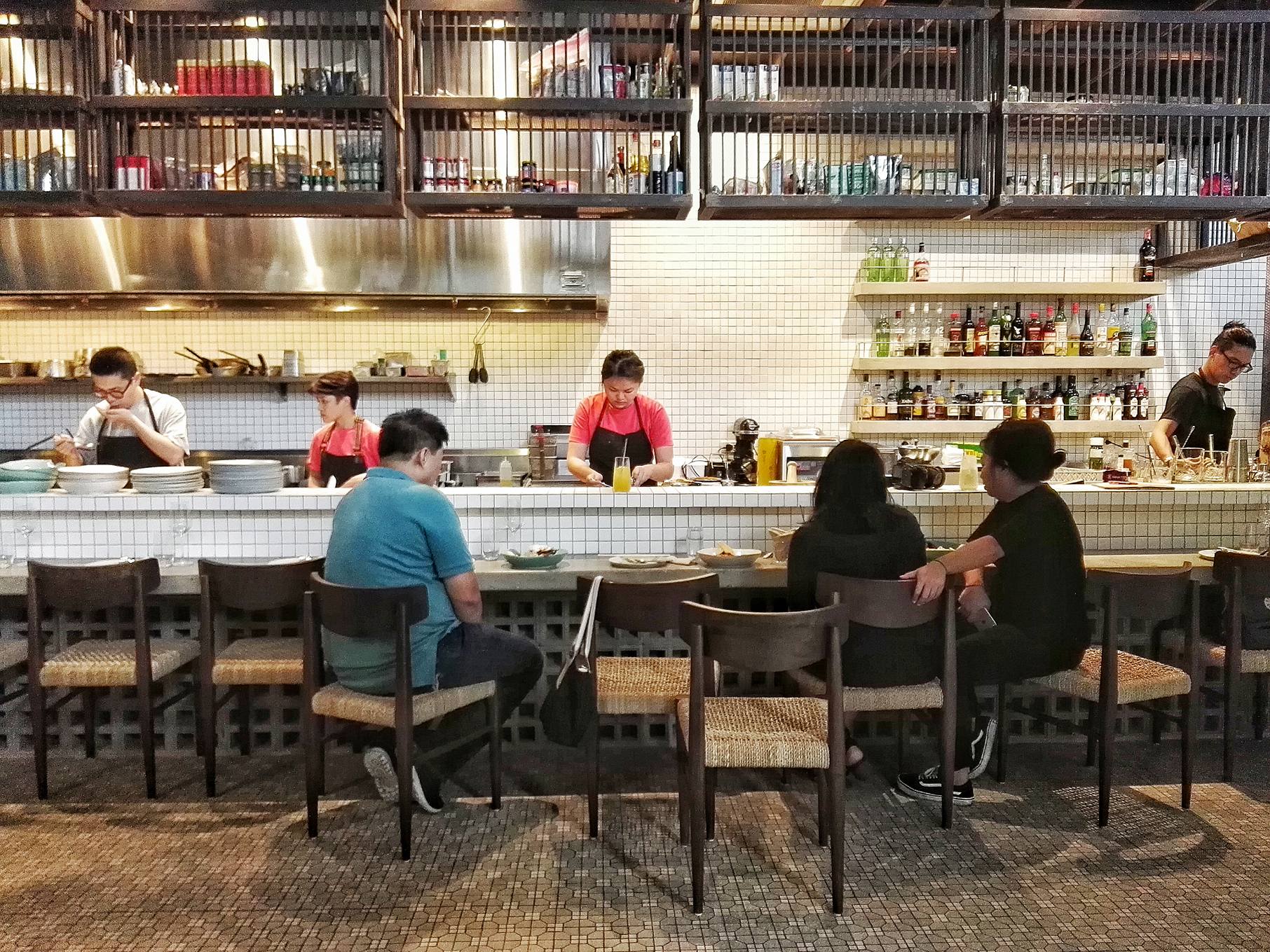 When I walked into Hey Handsome, the newest restaurant to open at Net Park at Bonifacio Global City (on August 17), I felt really…. old. Every one in the kitchen looked really young– as in, fresh-out-of-college-very-early-20s– a wonderful human resource (aka young talent) to advocate and support. Some of them came from sister restaurant Your Local in Legaspi Village, and others, regular customers who applied as soon as they heard about this new restaurant. In an interview with CNN Philippines, chef-partner Nicco Santos described them as being "an extension of my creativity and passion."
He trains them to be triple threats. For instance, when I first met Quenee Vilar, it was several months ago while I was dining at Your Local. She went up to our table, introduced herself and engaged with my friend and I on our dinner– how we liked it and if there was anything they could do to improve. Since then, I had always thought she was a manager or part of service team, but then I found out just the other day she was Your Local's sous chef– and now, Hey Handsome. It's a wonderful skill set to develop so that you are never left handicapped.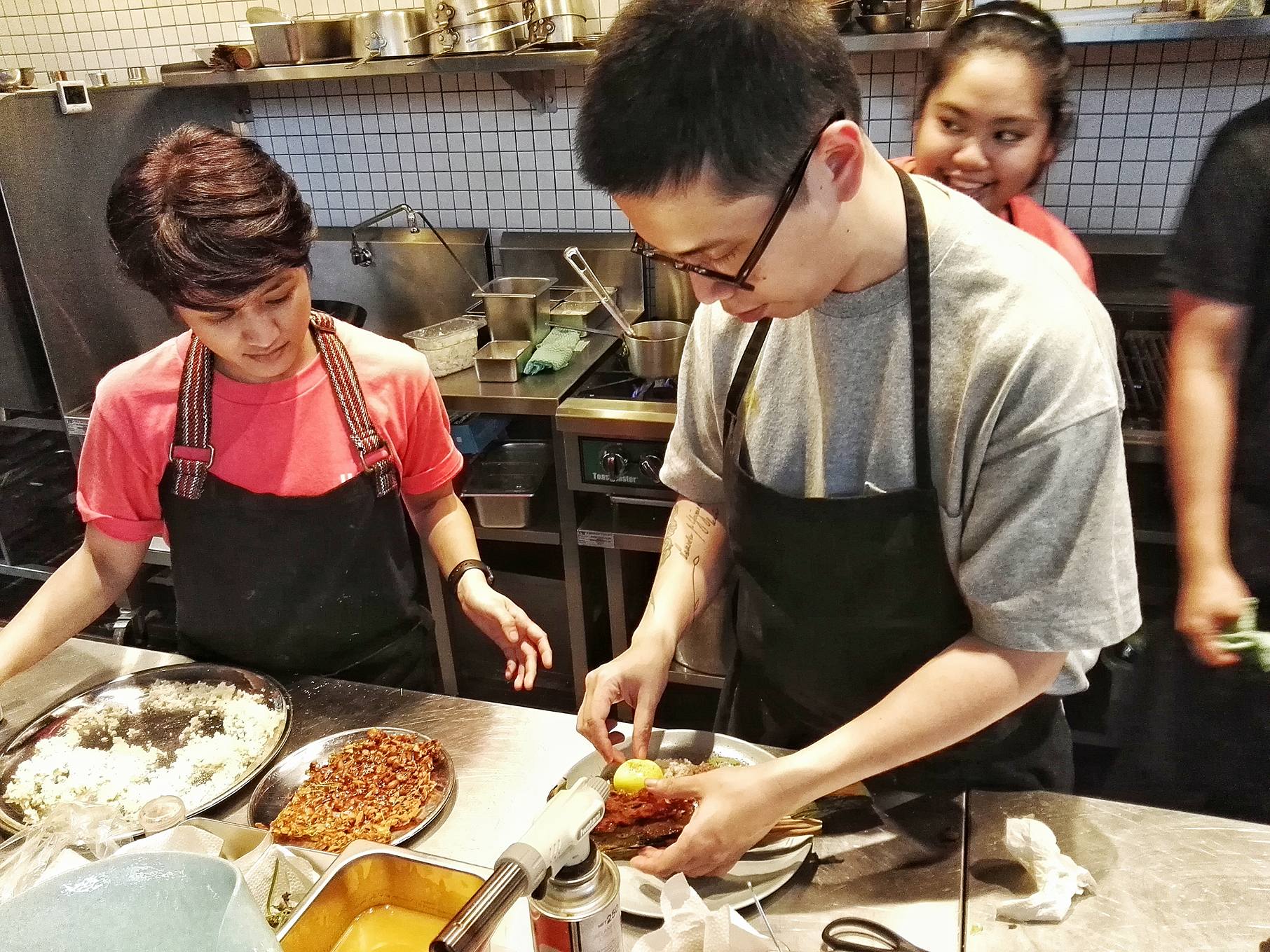 And because Your Local has become such a success story– possibly the first "neighborhood bistro" to serve Southeast Asian flavors in a fun and modern way that actually works (plus, flashback to Madrid Fusion Manila earlier this year when they  reinvented the balut into this form)– the clamor behind their second restaurant is huge. Interiors-wise, there are similarities– as in a semi-industrial feel, an open kitchen and white-tiled walls — but here, tables are a mix of high and low, the patterned floor intentionally chipped (for a more lived-in feel) and a focal point: green-tiled walls.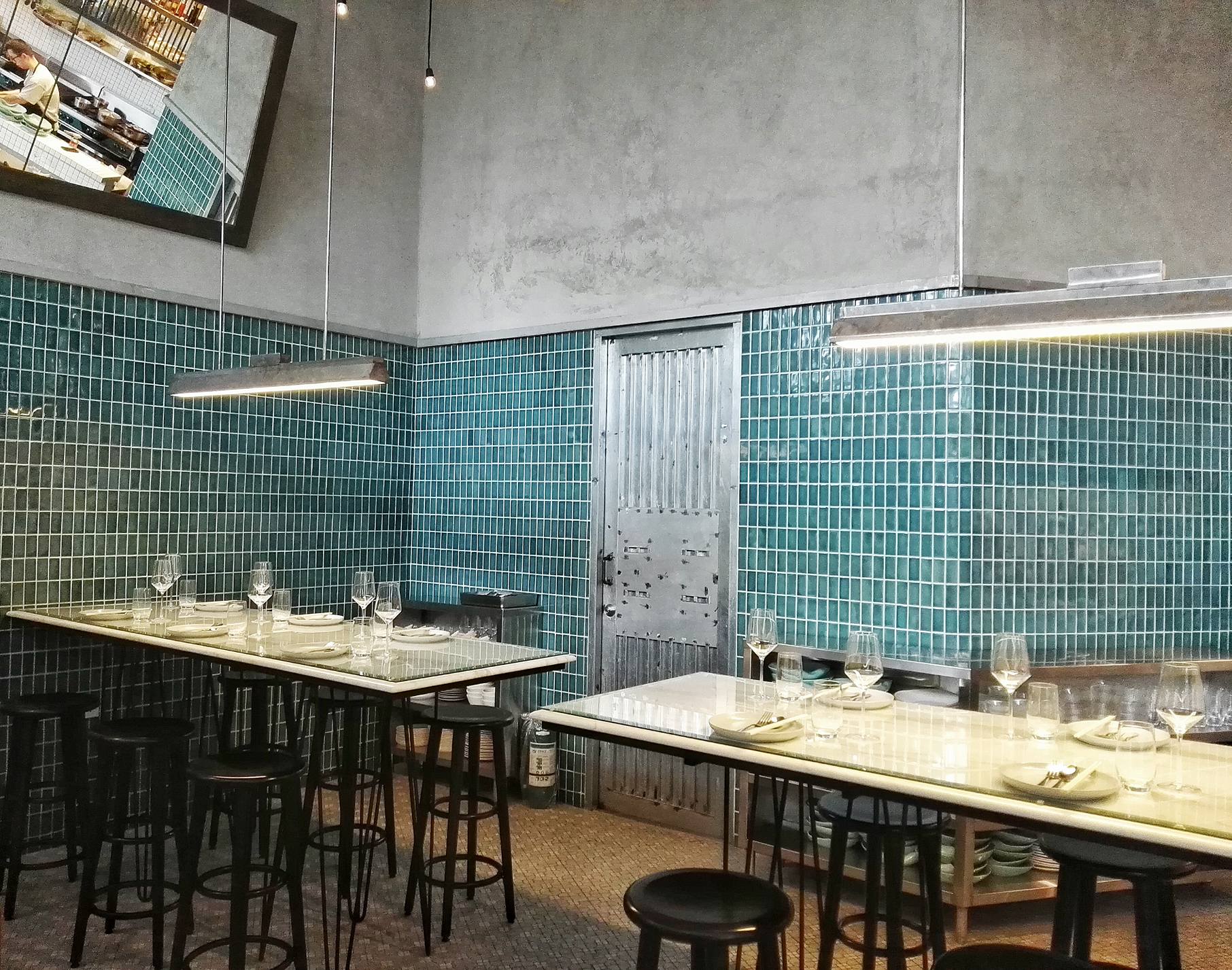 This element of green is a tribute to the Peranakan culture— the focal point of the menu in this restaurant. "It's more adventurous," says chef-partner Nicco Santos, "Here, it's more Peranakan— a cuisine I'm obsessed with– a mixed marriage type of cuisine— Singaporean, Indonesian, Malaysian, Chinese and Indian; Hokkien and Teochew– because today, people are emerging, people are collaborating, and mixing things up." Nicco spent some time in Singapore and in Malaysia, where instead of training at a restaurant, he made it a point to get to know and dine with local families living there, and learning their family recipes. He also spotlights Northern Thai cuisine on the menu here as it's one not readily available in the Philippines. So you can expect to see alot of keluak (Indonesian black nut), galanggal (a type of ginger root that's sharper in taste) and sambal (a spicy relish in Indonesia and Malaysia made with a variety of chilies)  in the dishes.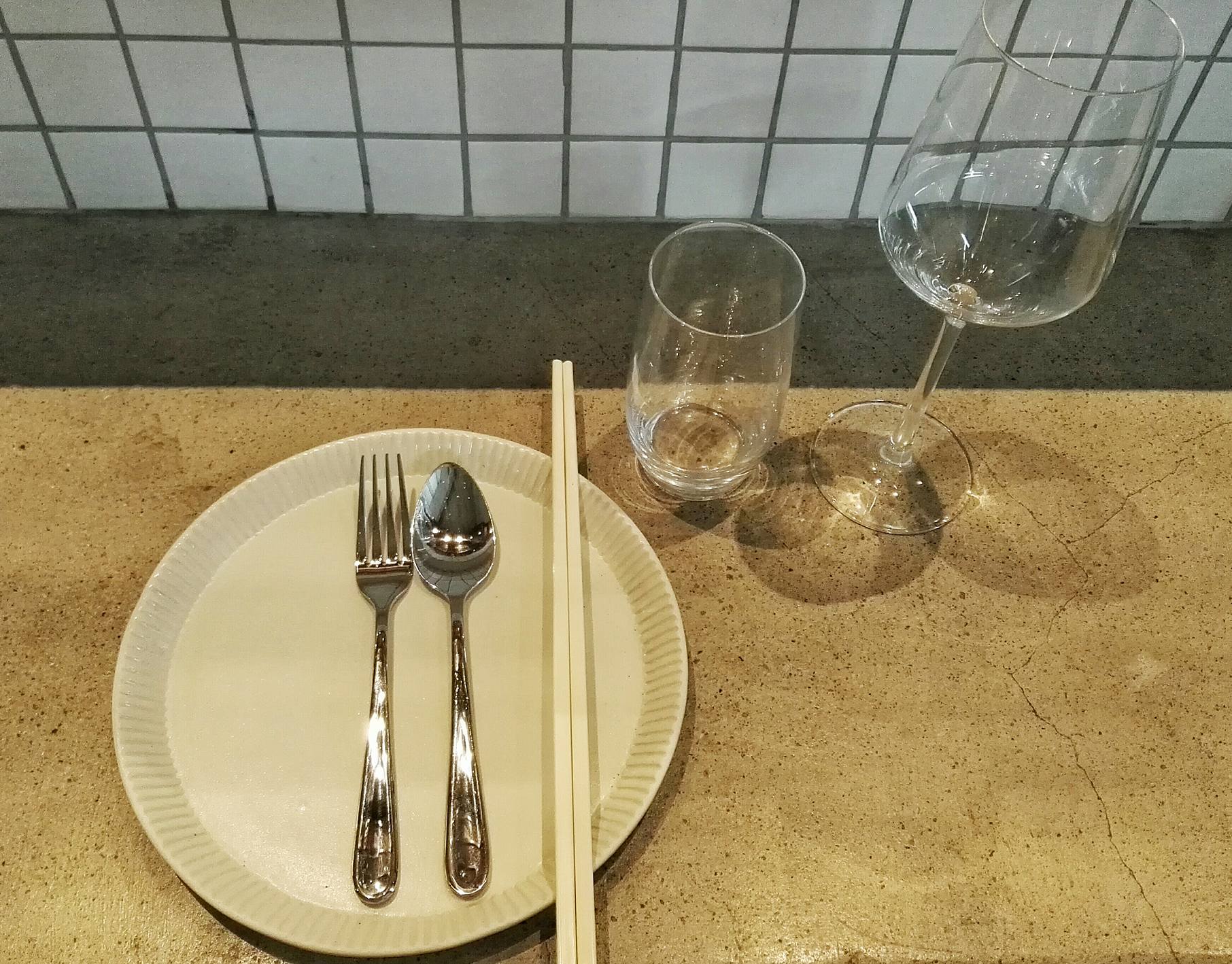 And the story behind the name? "While queuing in hawker centers in Singapore, people would get grumpy after waiting so long. So to break the ice the hawkers call out to them, 'Hey, handsome!' to break the ice and try to make them feel good," shared Nicco. "I want this place to be a feel-good place, also with buzz and energy."
You can really feel the difference between a chef who's not only passionate about cooking but has a crystal clear idea of what he wants to do versus one who… well, does not.
Here are 5 dishes to look forward to when Hey, Handsome opens on Friday, August 12, 2016:
*Take note of the plating! It's hard to make saucy, predominantly brown dishes look good but Nicco has done an excellent job with the ceramic plates customized by Crescent Moon, and by adding a pop of color in each dish.
*Price points will range from P300-below P1,000 per dish
1.Beetroot Paneer 
A gorgeous, colorful vegetarian dish that replaces the the traditional palak paneer (Indian cottage cheese in spinach curry) with beetroot– as Nicco wanted something "meatier." It's served with quinoa tabouleh, mushrooms, grilled onions, homemade yogurt and papagum.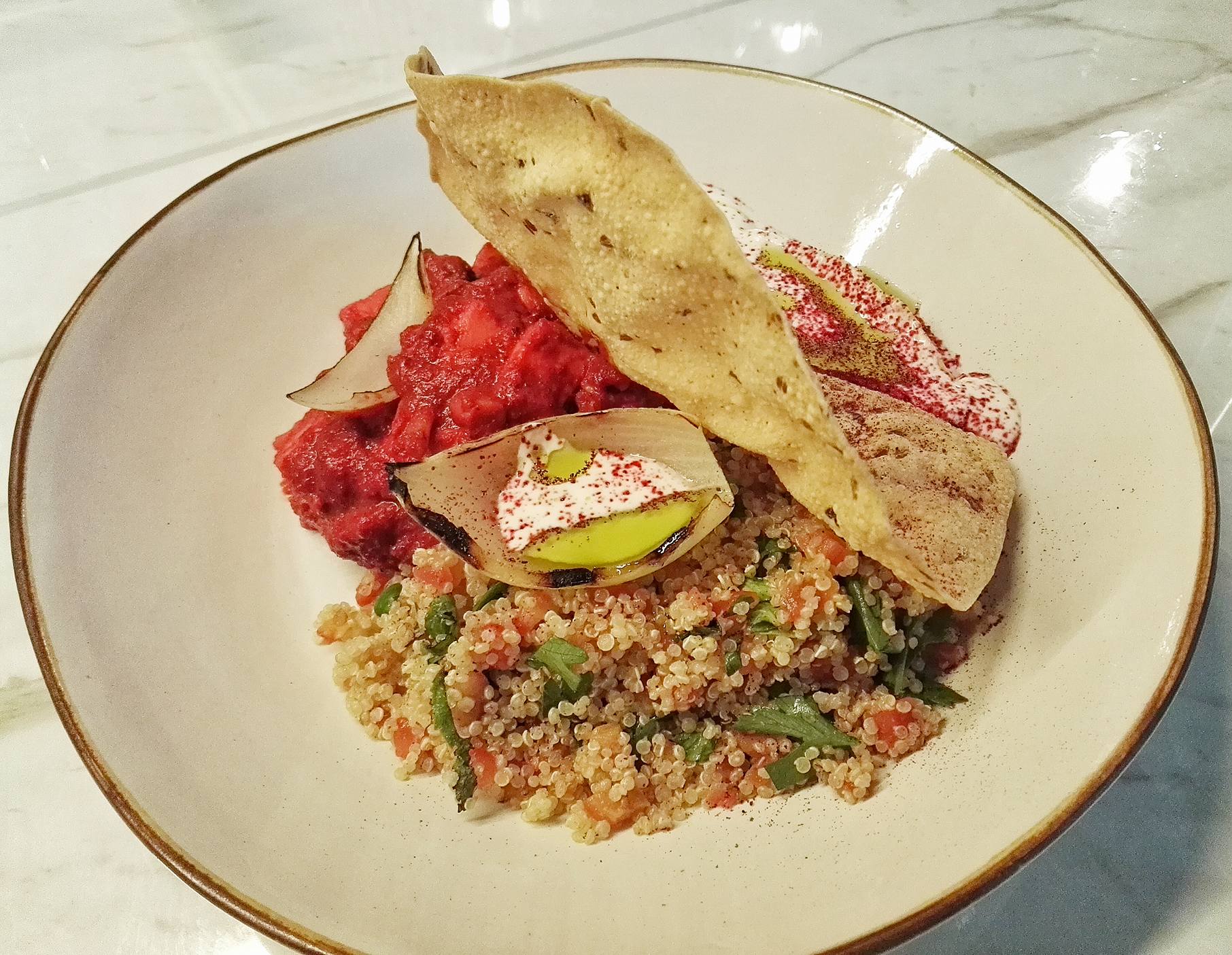 2. Bebek Penyet
The recipe for this Indonesian fried duck came from two Indonesian families. The duck is cured with a spice-salt mixture of toasted coconut, galanggal, turmeric and curry leaves overnight, and then cooked sous vide for 12 hours, and then dried for a couple of hours. After frying, it's dipped into a sauce called kecap manis, an Indonesian sweet soy sauce made in-house and infused with the same spices as in the curing process. It's served with nasi ulam— herbed salad rice with turmeric leaves, betel leaves, red amaranth, kaffir, cilantro and dried fish, fried duck egg, and achar (Malaysian atchara made with chili, turmeric and coriander).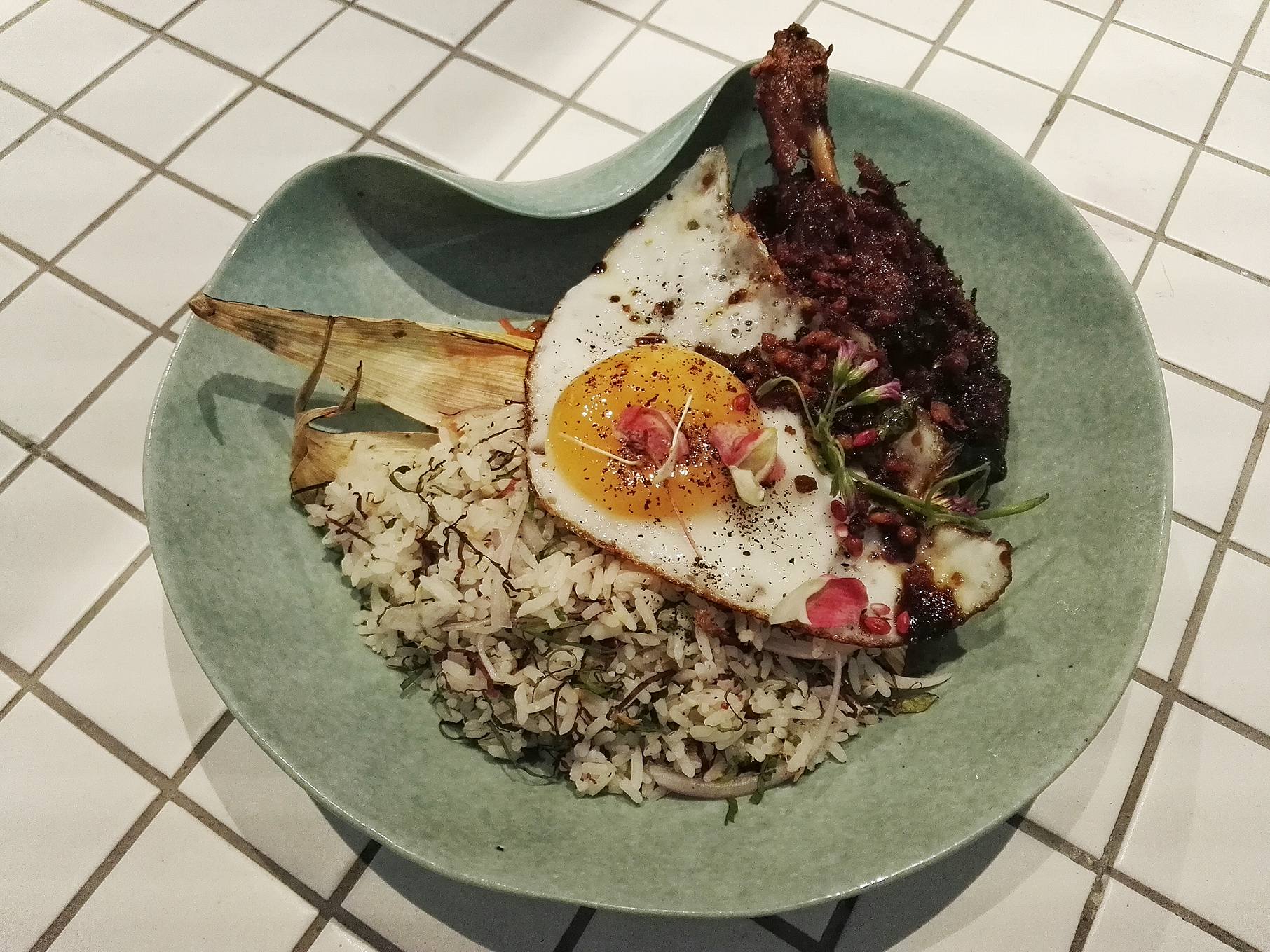 3. Nam Tok
Nam Tok is a dish from North Thailand, which translates to "waterfall" in Thai. (Apparently, it's because when it's cooked, the oil drips out of the fat of the meat, causing it to resemble a waterfall.) The braised beef short ribs is served with khao man (coconut rice) enveloped in banana leaves and som tam (papaya salad). You get a full range of flavor profiles when everything is eaten together at the same time.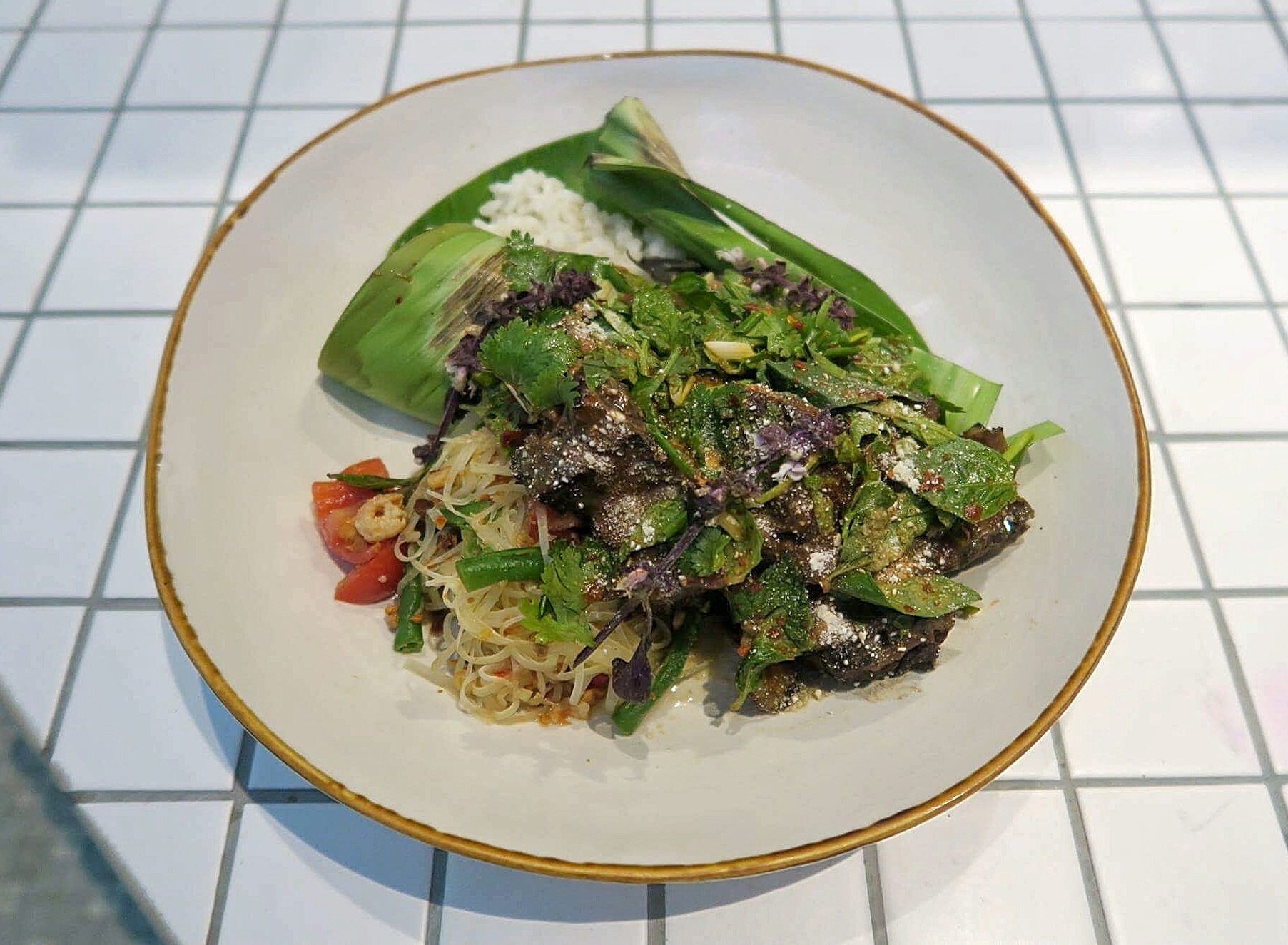 4. Nasi Lemak
Nasi Lemak, a Malay fragrant rice dish, at Hey Handsome is served with seabass otah (grilled fish cake made from fish paste and a blend of fresh herbs and spices, ikan bilis (dried anchovies), and a stunning pickled egg, its bright color yellow coming from turmeric).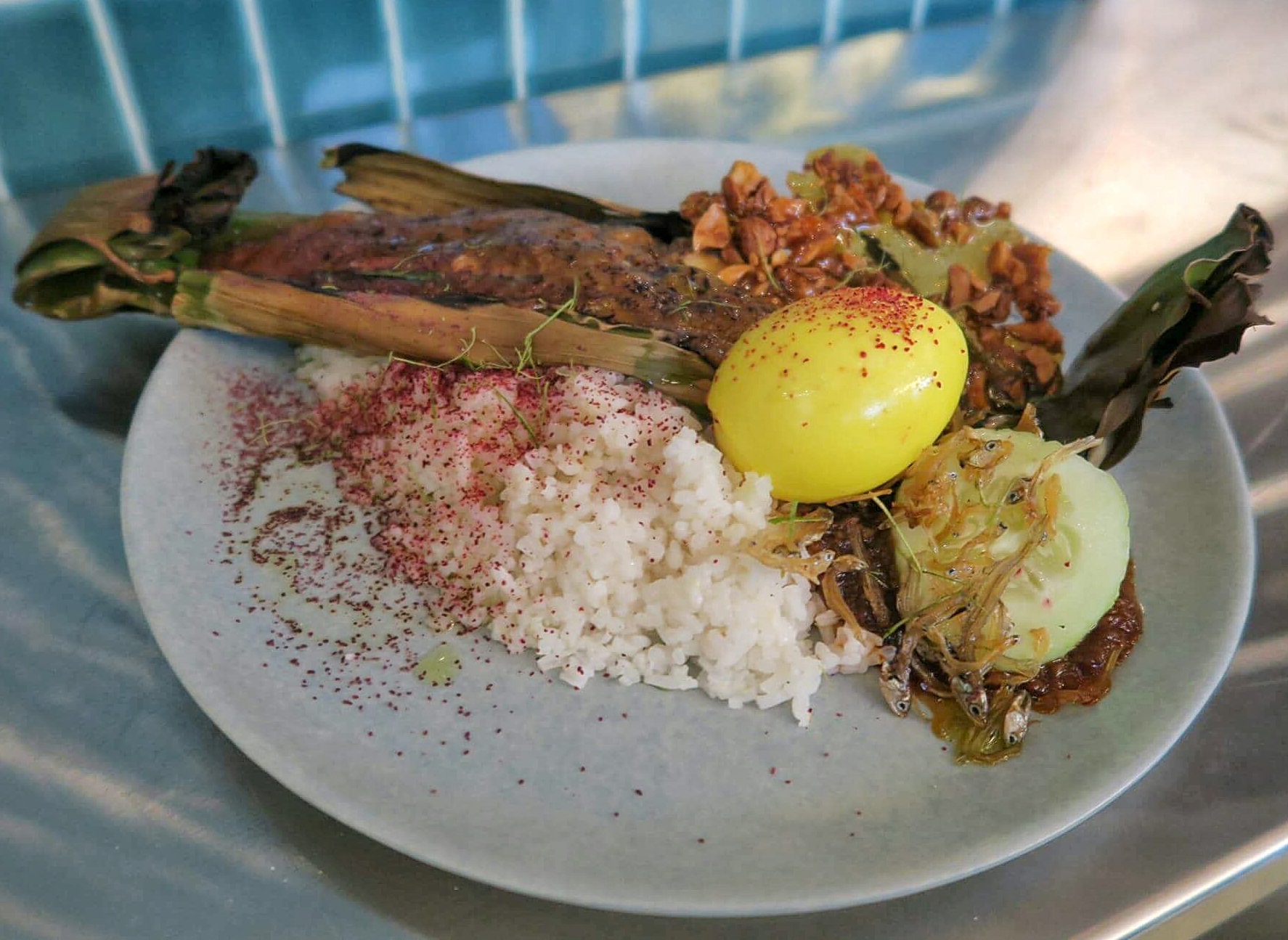 5. Dessert courses of Kueh Dadar 2 Ways and Fresh Yogurt with Black Sesame 
The Kueh Dadar (rolled crepe or pancake) is done two ways here, first as in its original form, and as a macaron, but both rose desserts have the same fillings: Indonesian gula melaka (palm sugar), toasted coconut and galangal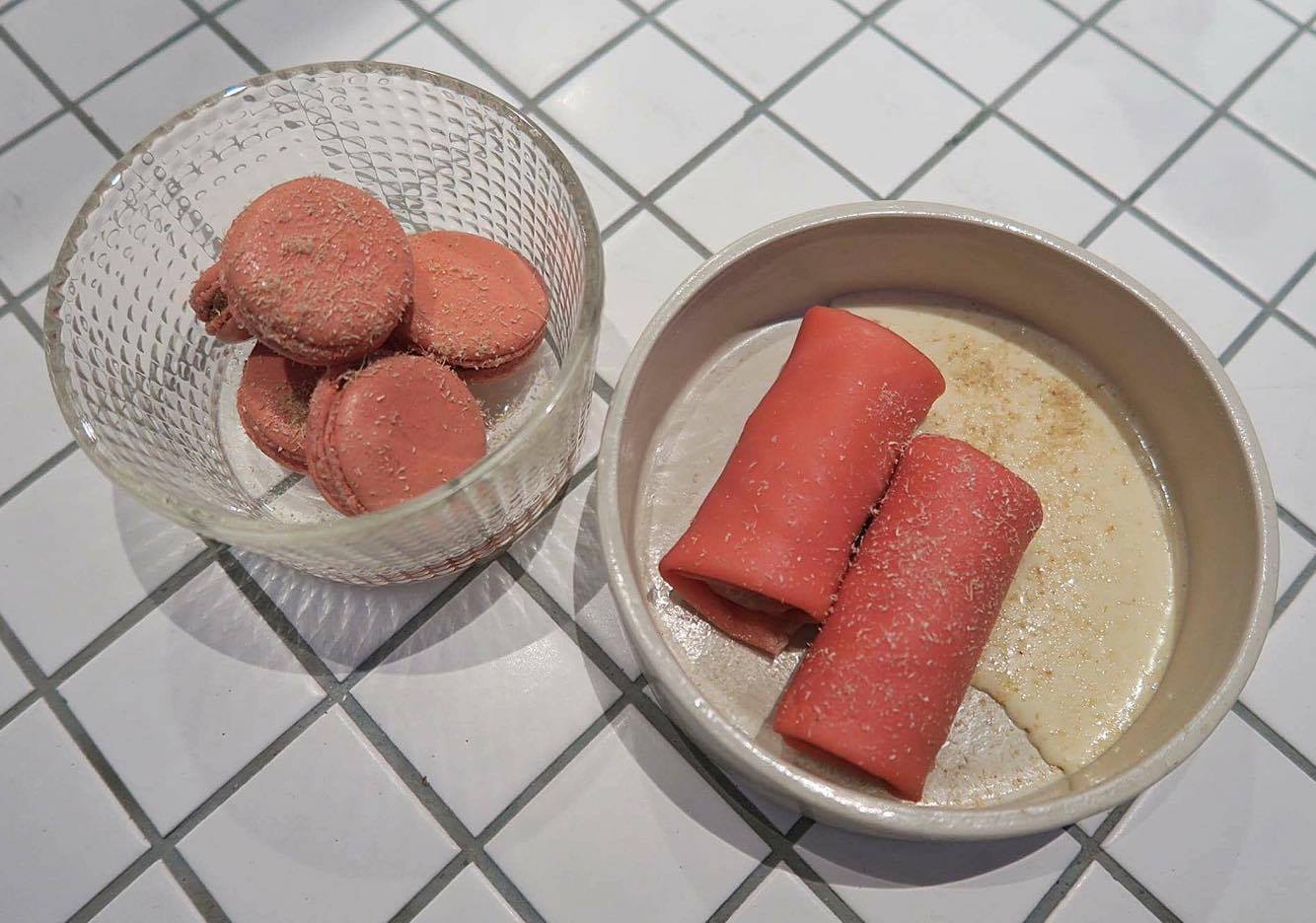 If you have room for only one dessert, you must MUST MUST have this fresh yogurt with black sesame twill by Phoebe. It's phenomemal.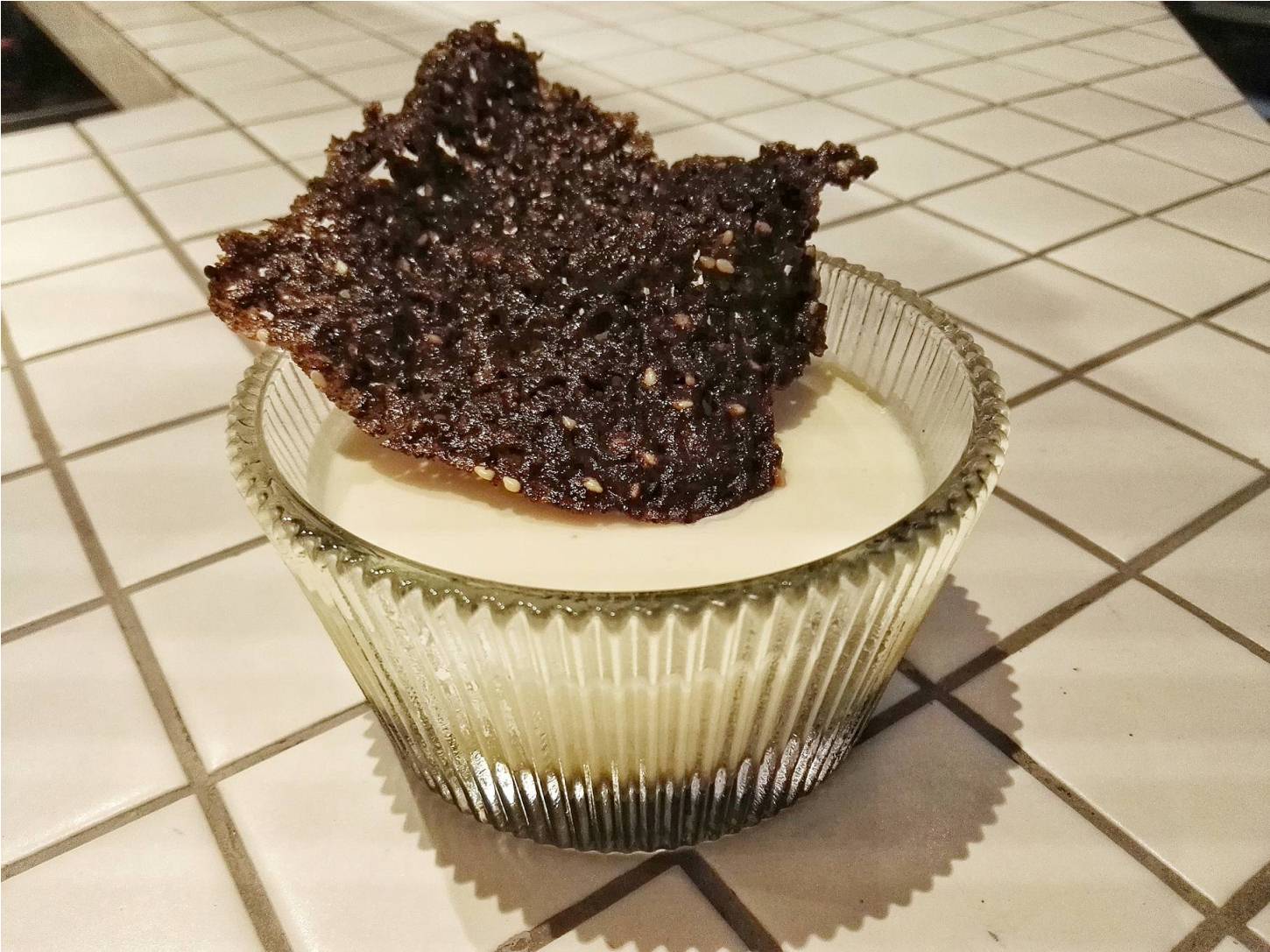 Hey Handsome will be open for lunch for the first month. It is located at the ground floor of Net Park, 5th Avenue Bonifacio Global City Taguig, Metro Manila. (It faces The Fort Strip). For more information, phone +632 946 3815 or email info@heyhandsome.net