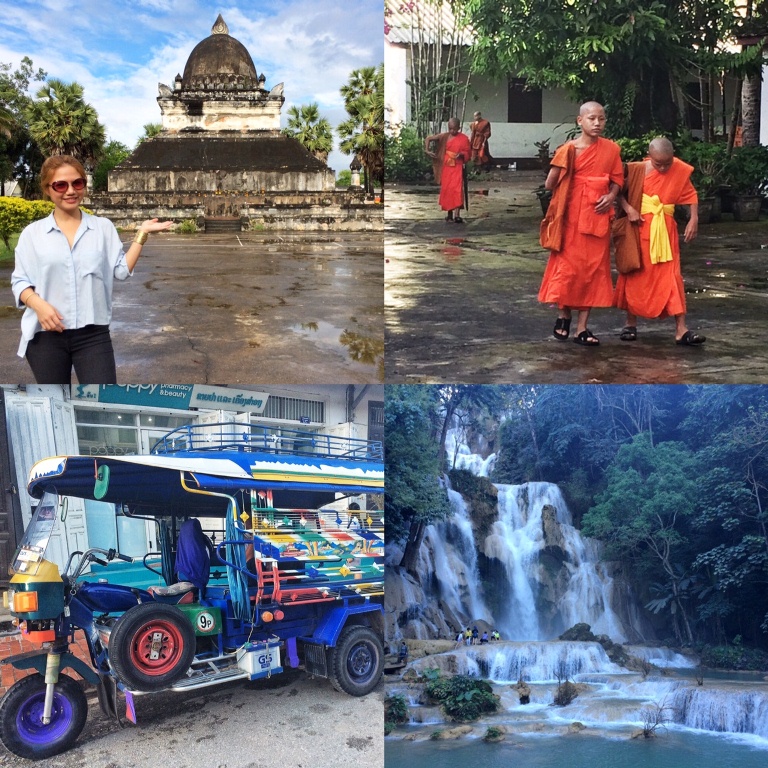 "Excuse me, can you take a photo of me?" A Japanese tourist approached me at Pak Ou Caves, a two-hour boat ride away from the center of Luang Prabang. "Sure!" I took her Iphone and snapped a photo of her with some of the 3000 different-sized Buddha statues as backdrop, framed by the limestone cliffs overlooking the Mekong River the cave was perched on. "Thank you very much," she reached into her bag. "This is an origami from Japan." She bowed her head and left. I looked at it and noticed that it was a bird—or a crane—which symbolized good fortune and longevity. This was a first for me and I took this as a sign of good things to come, and embraced the beauty and magic of Laos' second largest city, known for its spirituality, serenity and history—which was designated a UNESCO World Heritage Site in 1995.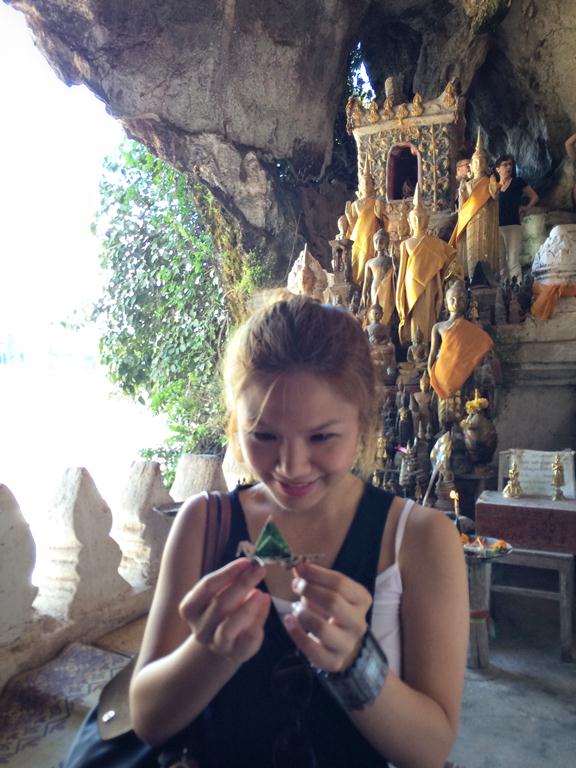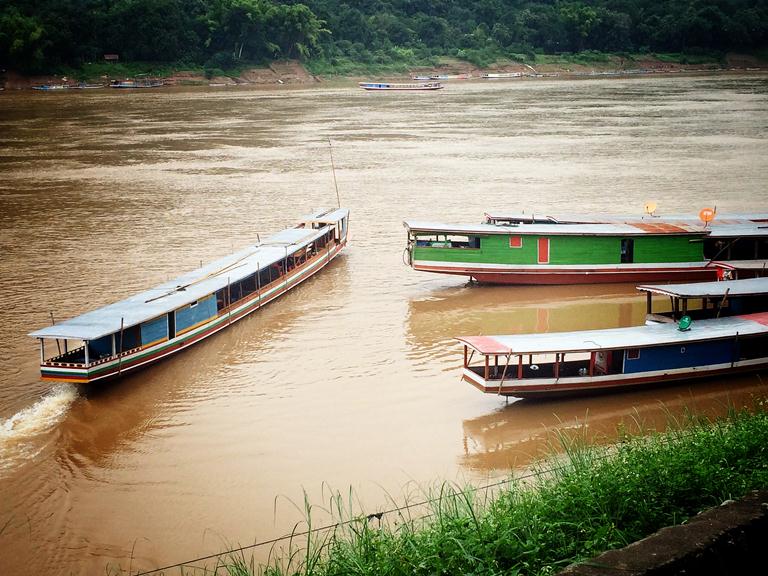 There are many reasons to visit this city in northern Laos, now made more accessible from Manila by a one-hour-and-35-minute direct flight on Thai Airways from Bangkok. Firstly, they say that according to legend, Buddha smiled when he rested in Luang Prabang for a day during his travels, prophesying that it would one day be the site of a rich and powerful city. Today, the city which sits in between the famous Mekong and Nam Khan rivers, teems with beautiful wats or temples— including the Pak Ou caves—some dating back to the 16th century.

Wat Xieng Thong is often highlighted for its elegantly ornamented roof that evokes a bird displaying its colorful wings. Wat Wisunarat is Luang Prabang's oldest temple, which served as a home for Prabang's Buddhas before being destroyed during Chinese invasion in 1887. It has a large stupa called That Makmo, which is commonly known as the watermelon (Makmo) because of its shape. Inside, I was was quite fascinated to see that it's Buddhas' hands that indicate what they are praying for. Both arms down at sides, palms against thighs reveal that he is calling for the rain; while two hands with palms facing outward means that he is telling the Lao people to stop fighting over water for their farms.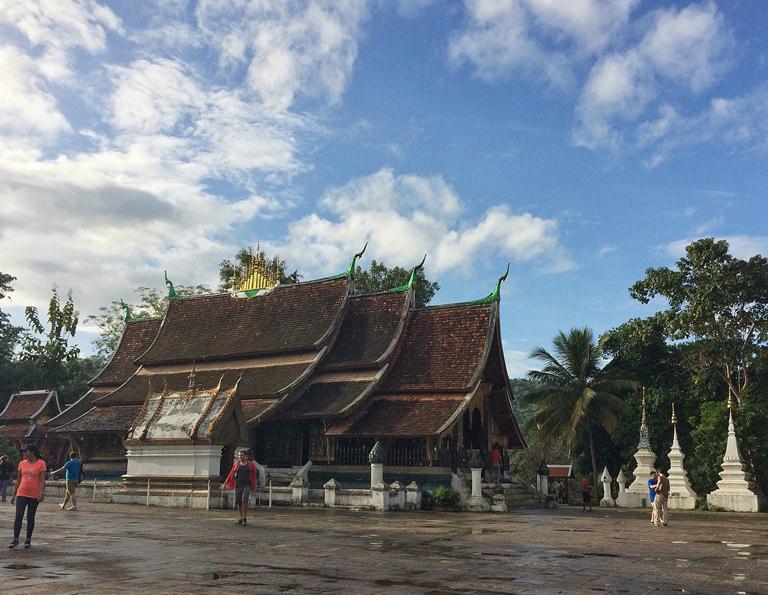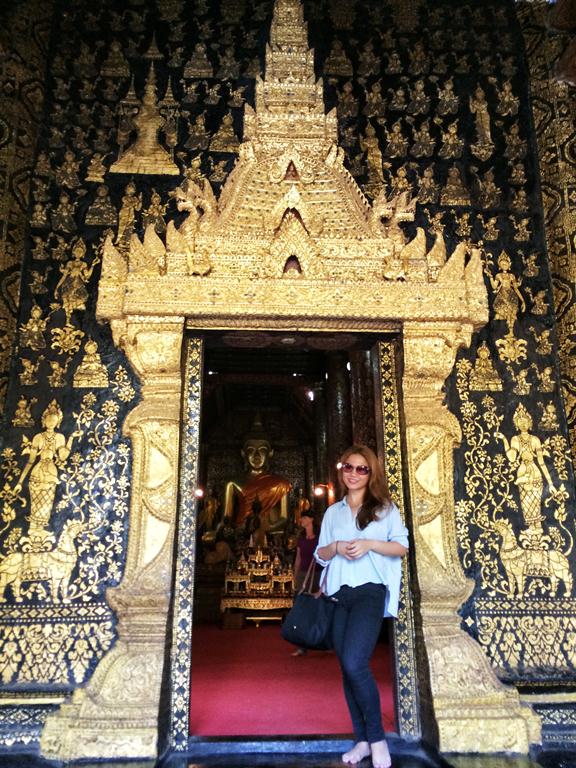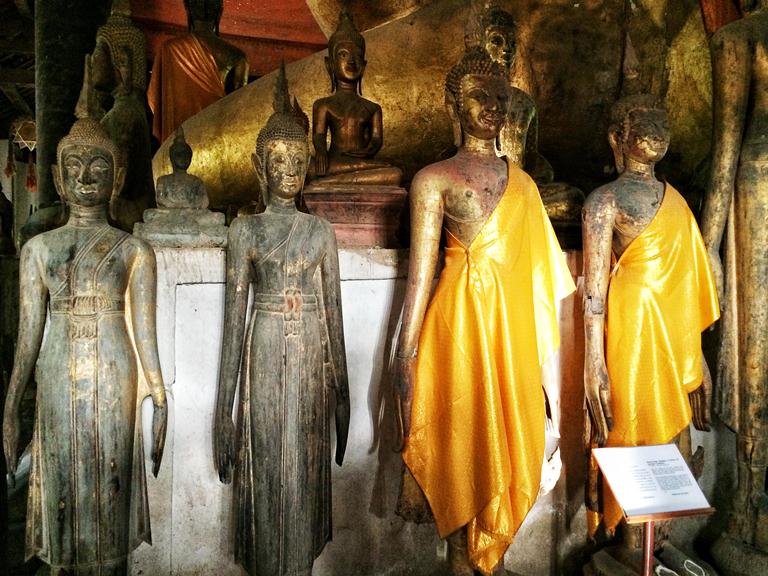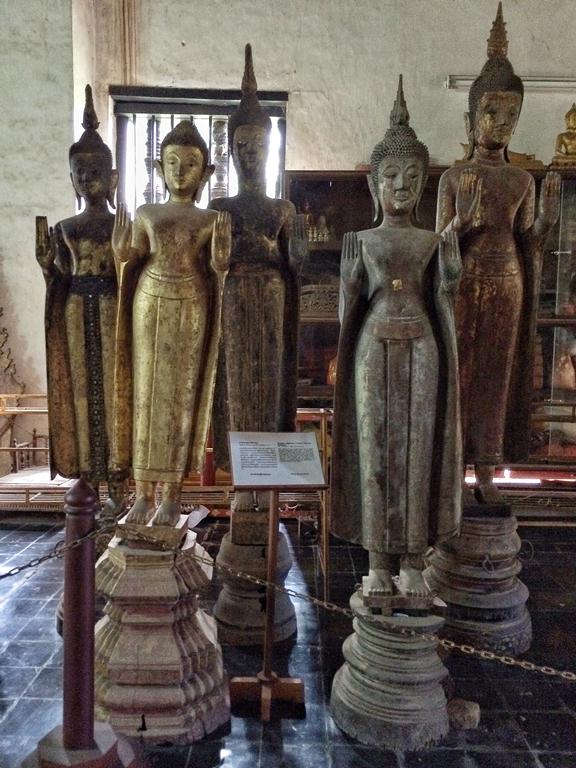 The charm of the city comes from the juxtaposition of timber Lao houses and European colonial architecture, populated by quaint cafes and restaurants and hotels that come in the form of sprawling villas.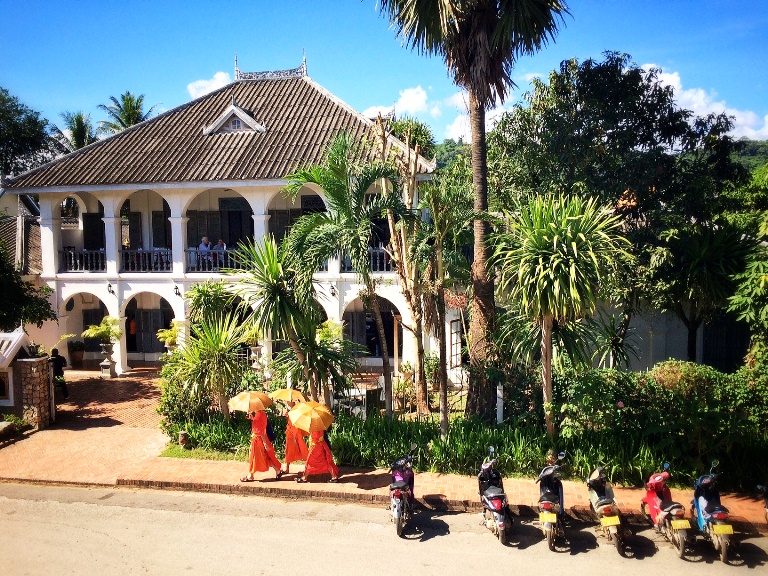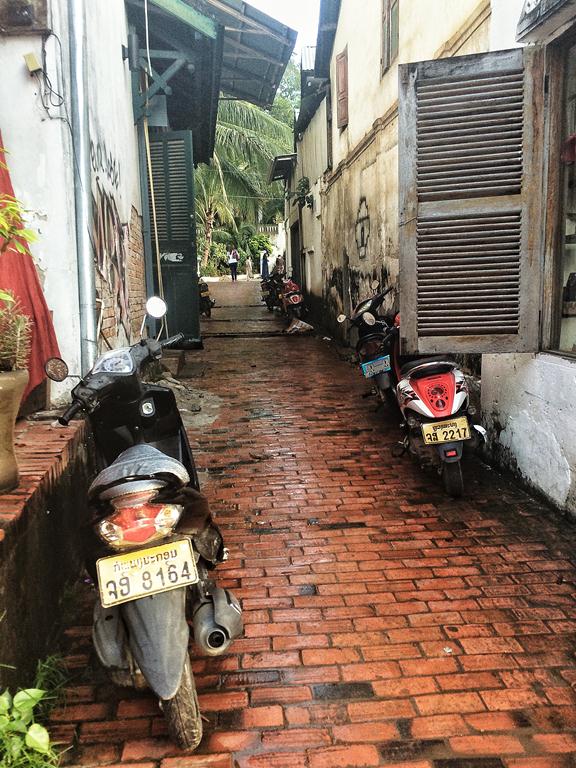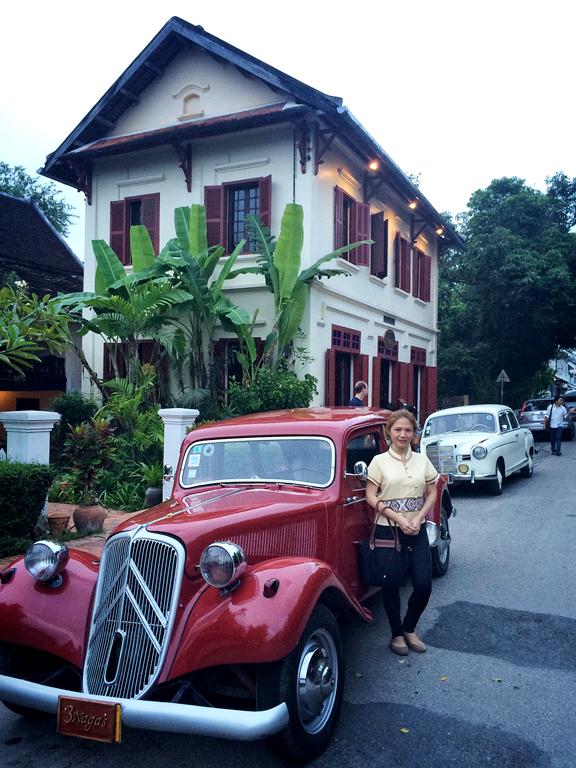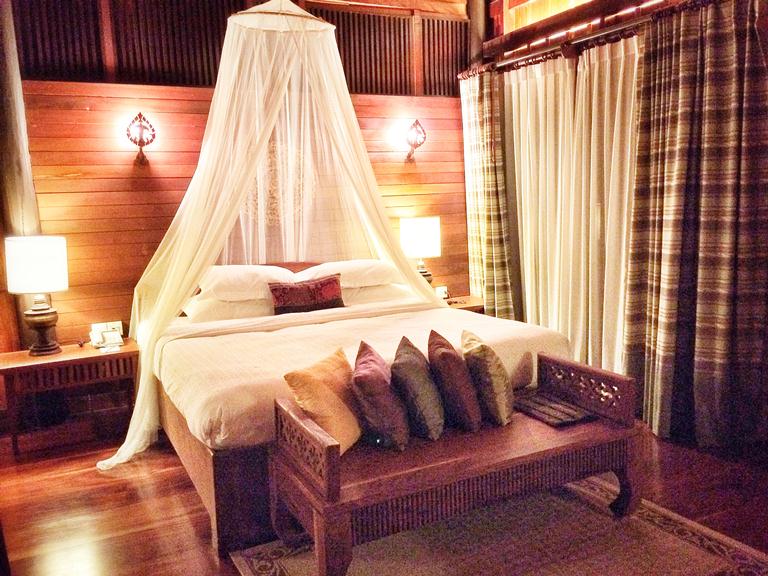 A hike up 328 steps to the nearby Phousi Hill offers high-energy cardio workout, after which you are rewarded first, with a 360-degree panoramic view of the city (as in the panoramic photo of the city in the beginning of this blog post), and secondly, after making your way down, with a vibrant night market. Here, both shoppers and non-shoppers will enjoy combing through comfy elephant pants, pretty handmade pillowcases, ethnic handicrafts and delicious Lao coffee or rice wine to bring back home as souvenirs—all without even denting the wallet. (Just as long as you haggle).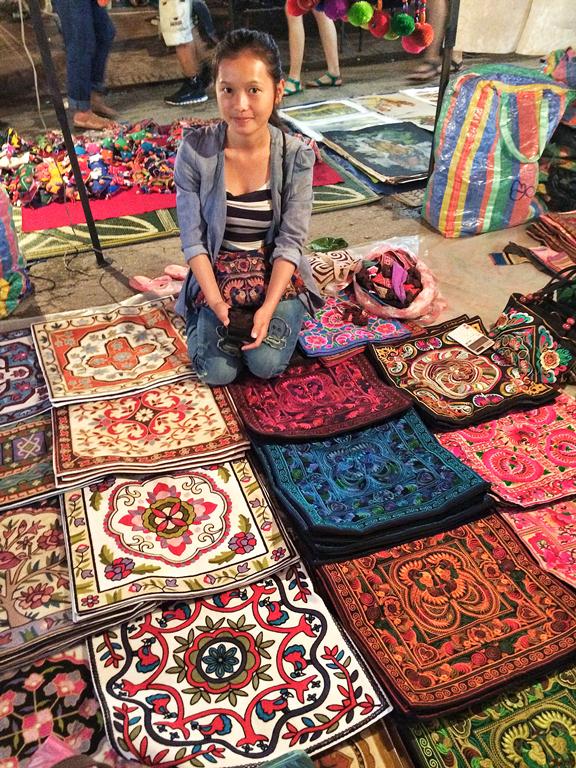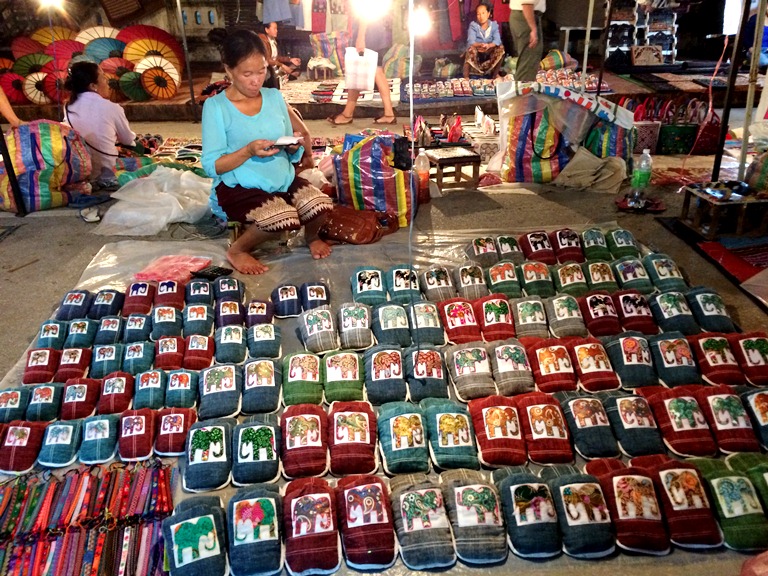 Now moving on to the simple life… tak bat or alms-giving is a sacred tradition done just before dawn. Every day at 5:30 AM, Buddhist monks walk in silence around the city for their morning collection of food. Before the Black Flag attacks of 1887, Luang Prabang had 67 temples from which monks emerged before daybreak to collect alms. Today, the monks come from the city's remaining 35 temples while local laypeople and tourists wait in the dark, kneeling on the sidewalk, basket of sticky rice, crackers and money in hand.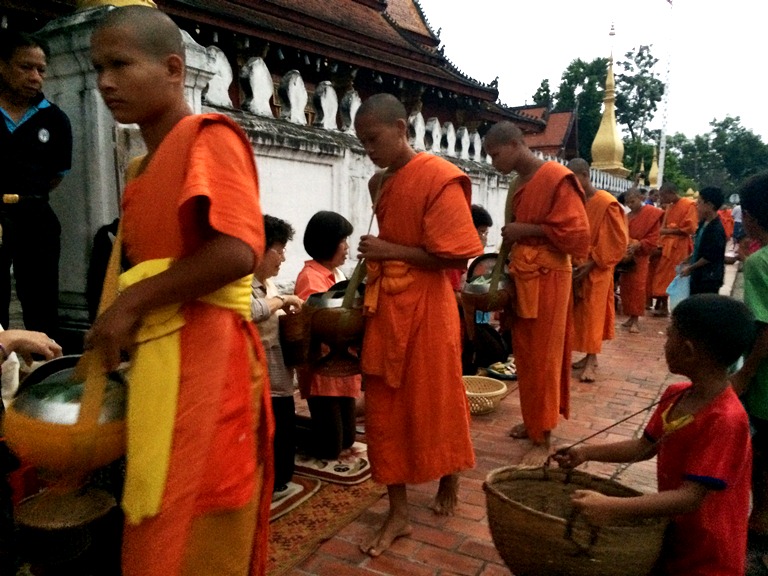 Sometimes it's these odd hours during the day—where elsewhere in the world we would still be fast asleep—that make for some of the most magical moments. In this simple city, where time seems to go by slowly—no fast food chains or convenience stores; where cellular networks are forever 'searching…' and Internet connection spotty—beauty is found in simplicity—and in the present. It is here that one of Buddha's most famous teachings on mindfulness (Do not dwell in the past, do not dream of the future, concentrate the mind on the present moment) is best experienced—body, mind and soul.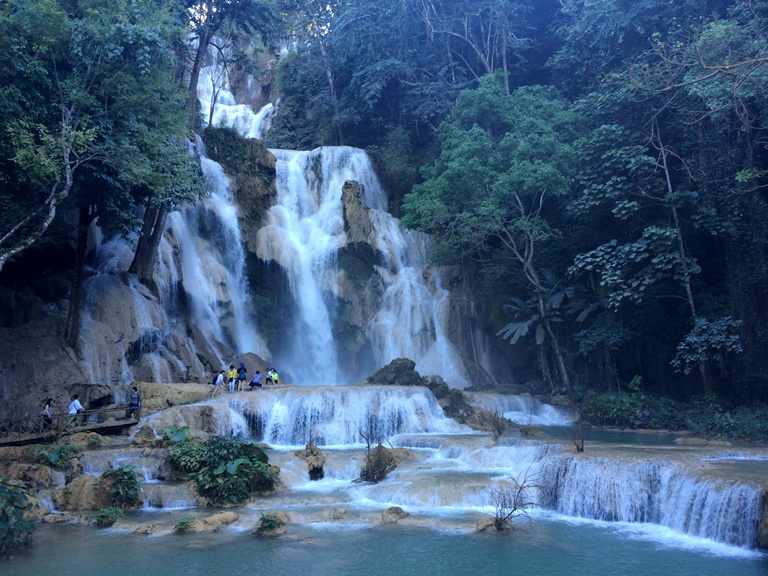 Thai Airways operates four flights weekly (Tuesdays, Fridays, Saturdays and Sundays) from Bangkok, Thailand to Luang Prabang, Laos). For more information, visit <thaiairways.com>. Special thanks to the Tourism Authority of Thailand <tourismthailand.org>
*The original version of this story is in the April issue of Lifestyle Asia which you can download anywhere in the world via Magzter.