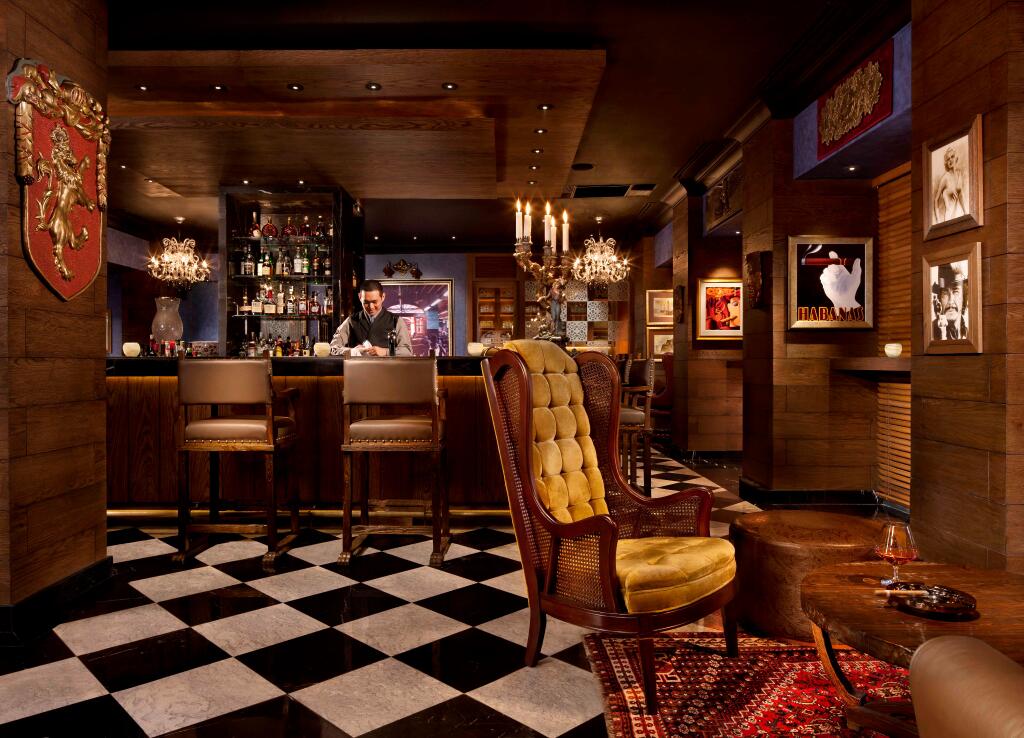 My friend Erika and I find ourselves at the Peninsula Manila's The Bar at least once a week. In the most practical sense, we consider it our "neighborhood bar" because it's very close to where we live.  But whether it is for happy hour (buy one take one from 5-7PM daily) to unwind after a long day at work; or to have our private girl talks, or because we want to "go out," (yup, we've reached that age group where 'going out' no longer means being on a list just to elbow with the rest of Metro Manila, vodka Red Bull on hand, screaming your lungs out in order to be heard.)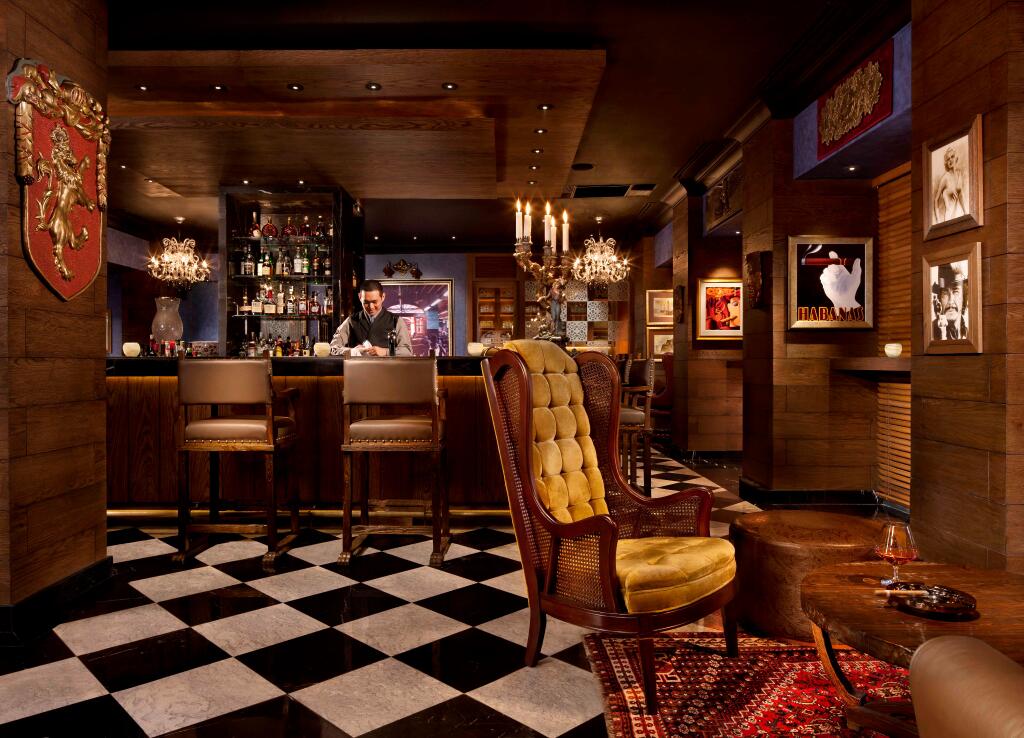 At The Bar, we sit by the bar—we love long bars, and unfortunately in Manila, there's only a few where a female can sit comfortably without the opposite sex getting the wrong idea, or the rest of the bar crowd thinking you're antisocial or a loser. At the Pen, nobody really minds you, you get your privacy, your own little nook, because everyone else is busy unwinding or catching up with their friends themselves.
Our "usual" is a glass (actually, two) of the Marques de Riscal Verdejo. Verdejos are a great alternative to Sauvignon Blancs, produced in Rueda, the northeastern part of Madrid. They are fresh, vibrant, and fuller than a sauvignon blanc, but with less acidity… plus go extremely well with the chichiria (popcorn, cornicks, vegetarian chicharon—my favorite!) they serve at The Bar! In fact, so well that sometimes I disgust myself by how much I can actually consume just by sitting there for an hour.
We love The Bar because it's dim, private, quiet (except for Friday nights), people can smoke, (not my thing but the smoking population will be happy), you can talk about whatever you want and you don't feel like people are looking over trying to eavesdrop. It's just really comfortable, and it feels like unwinding at an old world library at home.
Proof that we love our Verdejo:
A glass of the Verdejo is P390,, but after all the taxes and service charge, it comes out to about P550. A lot of people think hotel bar prices are expensive, but take note that they do come with complimentary—and unlimited chichiria, which a lot of other bars don't offer.
If this is expensive, come by on Thursday, Friday, Saturday and Sunday nights for Free-Flow at The Pen Bar. For P980—NETT **They've now raised the price to P1,280 NETT** (as in, no more taxes or service charge!). You can choose from a selection of beers (San Miguel, James Boag, Victoria Vitter and Corona), cocktails (Martini, Margarita, Mojito, Singapore Sling, Mai Tai, Daiquiri), three kinds of white wine (they occasionally change, but this includes our precious Verdejo), three kinds of red wine (they also rotate, but usually with a Cabernet and a Malbec), and liquors (Glenmorangie 10 years, Glenfiddith 12 years, Johnnie Walker Black, J&B Rare, Camus VSOP, Remy VSOP, Kahlua, Baileys, Drumbuie, Beefeater, Smirnoff Red, Stolichnaya, Cuervo Gold, Fundador).  Paging single malt lovers, this is a STEAL.  On this day though, The Bar is, not surprisingly, packed to the brim, and it invites a younger, and more stylish set, too.  You really must come early—especially on Friday—to secure a seat.
I'm actually quite impressed because apart from Free-Flow, the place has a roster of great deals all week, too, as part of their Carpe Noctem ("seize the night") Apart from their daily happy hour, they have:
Margarita Monday
Choose from a selection of classic or flavored margaritas prepared straight up, frozen or on the rocks for P250
Take Two Tuesday
Get two for the price of one from their selection of cocktails and standard drinks
Whiskey Business Wednesday
35% discount on a selection of whiskeys
MarTINI Thursday
P250 on a selection of martinis
Free Flow Friday
P980 drink-all-you-can on local beers and standard cocktails
And you know what, because the reception of the Free Flow Friday has been pretty good, F&B Director Javi Berenguer-Testa decided to extend the Free-Flow to the entire weekend, so it's now 3 Flow Free Flow!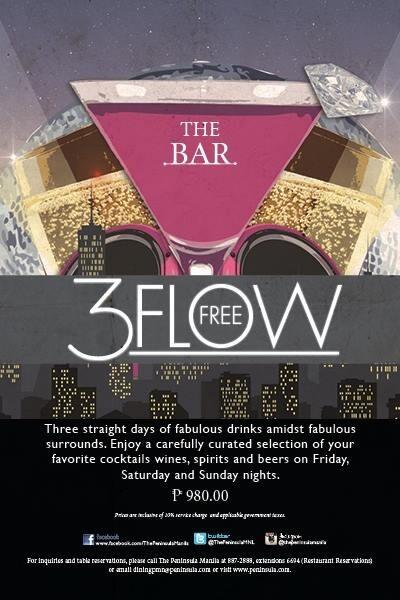 Isn't it obvious that we're here like, (almost) everyday?
Peninsula Manila, Corner Ayala and Makati Avenues, Makati; For inquiries and reservations, +63 2 887 2888