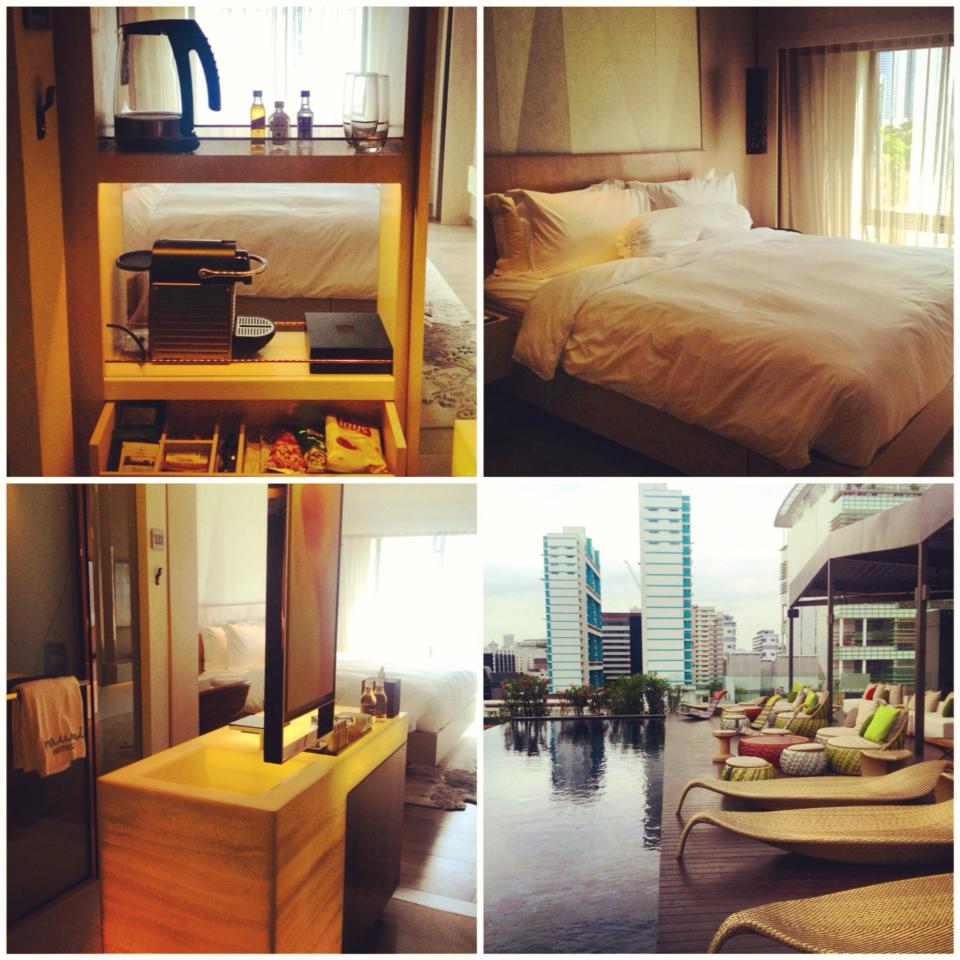 When I was in Singapore for the Asia's 50 Best Restaurants weekend, I had booked at Naumi Luxury Hotel and got a really good deal via Agoda. When people asked me where I was staying, they were all like, "Wow!" or "Let us know how it is, we've been hearing a lot about it." While Naumi, a member of the Small Luxury Hotels of the World, has been around since 2007, it underwent a year-long multi-million dollar renovation and opened its doors officially only last November 1, 2013.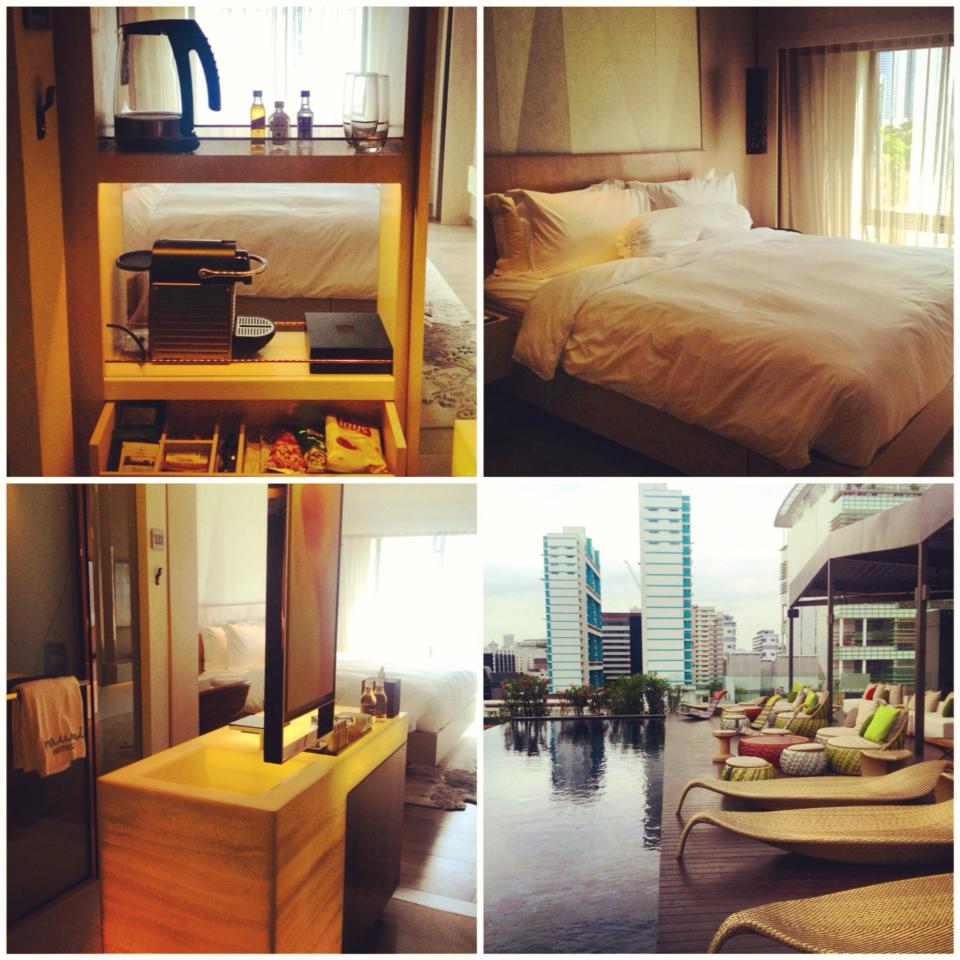 Coming from the Philippines, I was especially proud to see that their Cloud 9 rooftop infinity pool, which has a lovely view of the Singapore skyline (more specifically, the CBD high rises and the sweeping Raffles property literally across the street) is furnished completely with outdoor furniture from Dedon!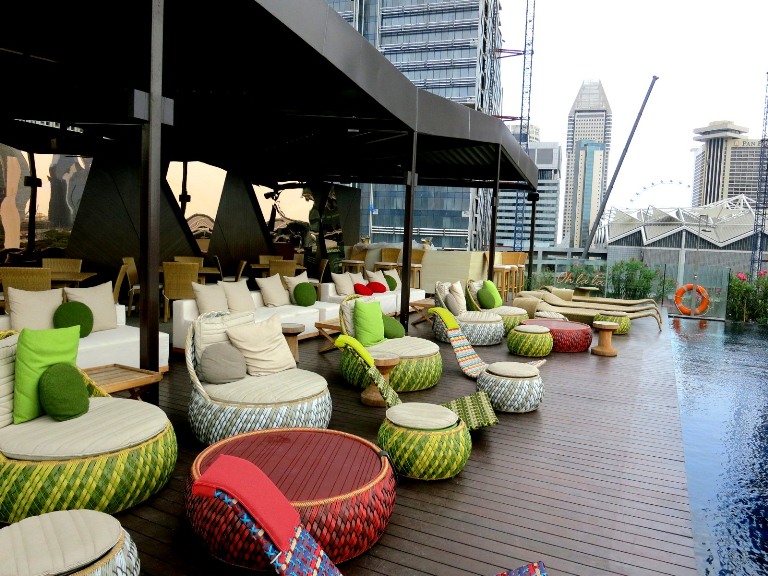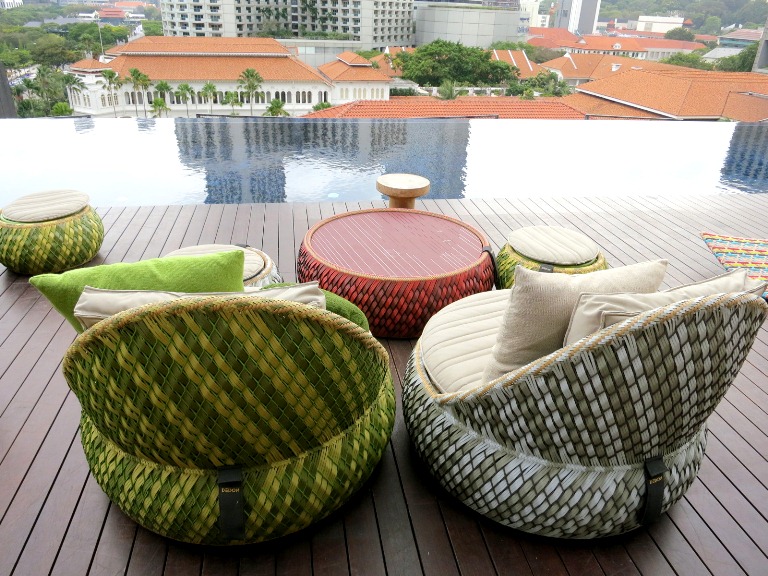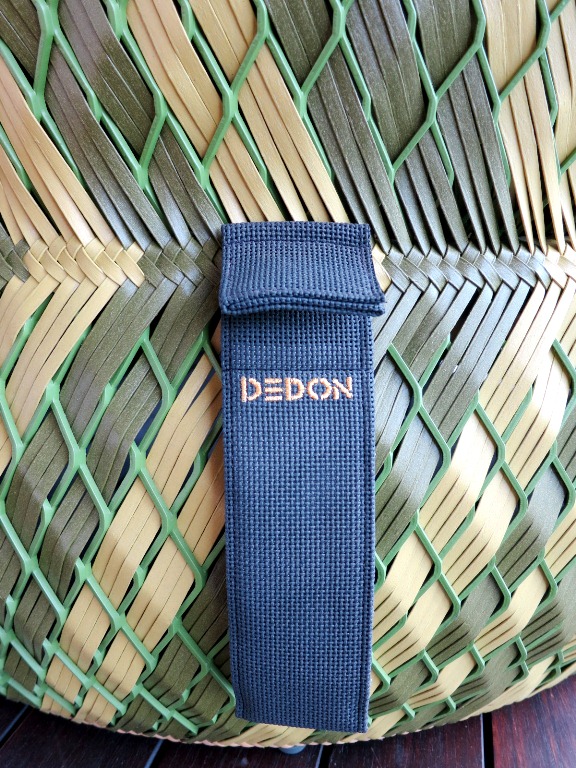 This is what the Cloud 9 rooftop infinity pool looks like at night. Sometimes the venue is booked for private parties. The pool, however,  is open only until 10PM. Totally understandable, as safety first!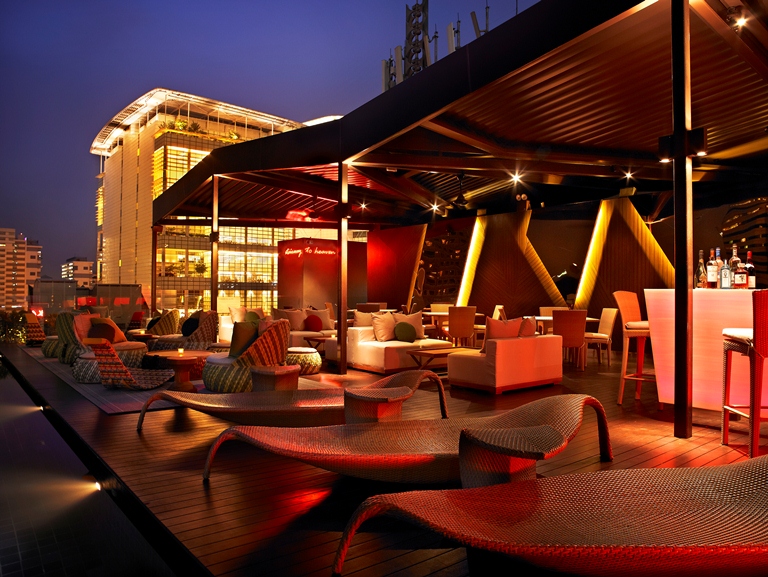 All 73 guestrooms have been redesigned by Singapore design firm White Jacket in neutral earth tones, and finished with a blend of natural wood, glass and LED lighting. Design elements also include pieces by Tom Dixon, B&B Italia and Poltrona Frau, sitting alongside specially commissioned work by Singaporean artists.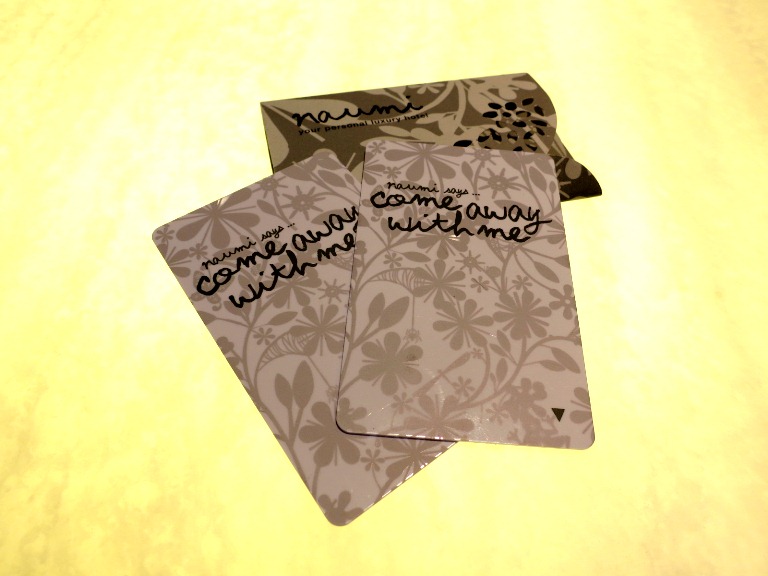 The corridors on each floor have fun, sometimes cheeky messages. Mine begins with "C'est…" and if you turn the corner, continues on with, "…magnifique." Cute! Also, the room numbers are not on the door, but on the floor.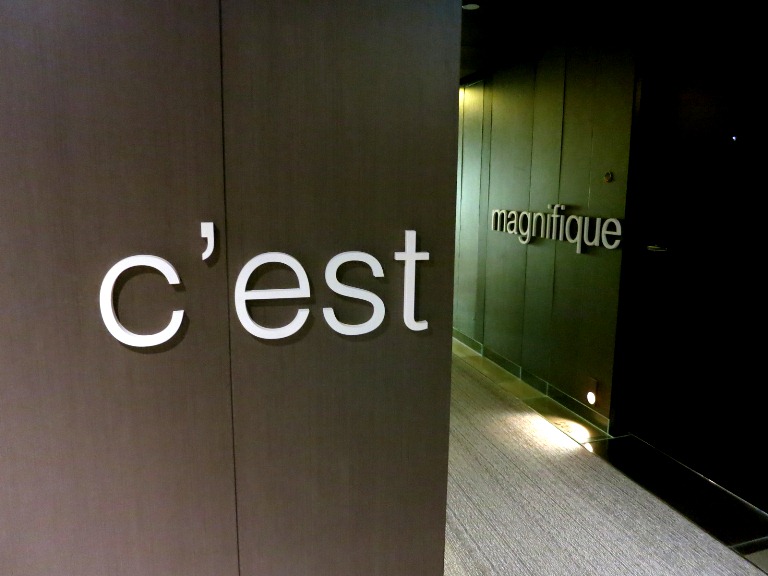 I got the Habitat Room. Apart from the neutral, earthy tones and LED lighting, it is also entirely sound-proofed by a Parisian sound expert.  It also features magic glass panels in the bathroom that go from transparent to opaque at the touch of a button.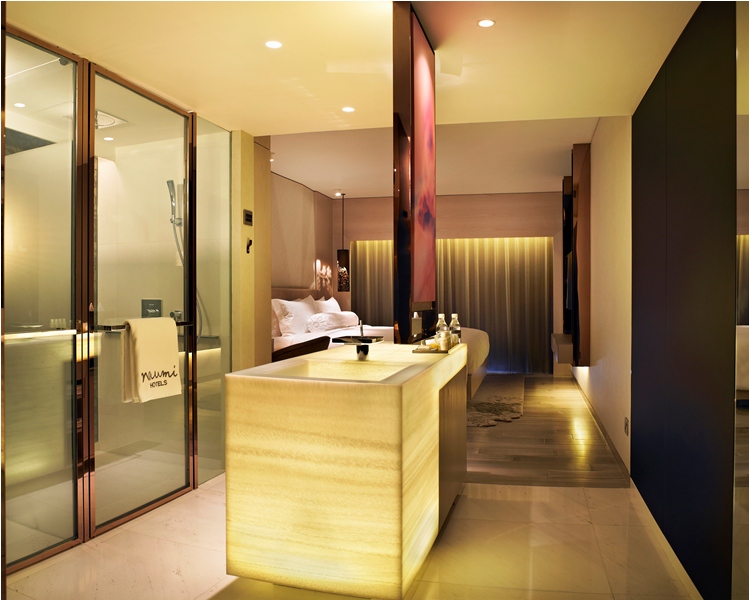 It's also very functional. In the photo above, you don't see it, but by the wall next to the shower, there's a "hidden" bar in the form of a three-layer shelf that you slide out. This houses the Nespresso machine, complimentary mini bottles of spirits (during my stay I had Smirnoff Vodka, Johnnie Walker Red Label, Gordon's London Dry Gin), complimentary nuts and chips. (Actually, the entire mini-bar is complimentary!) You slide it back in when you're done!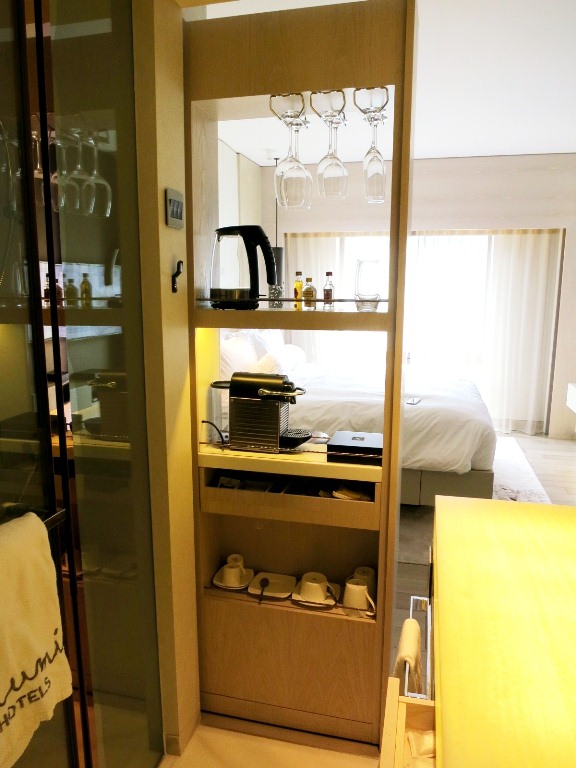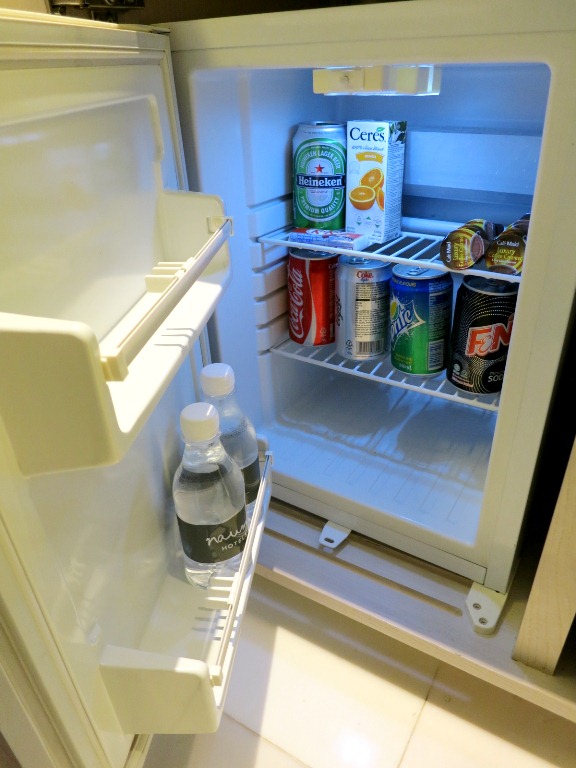 The piece de resistance, of course, is the uber comfy seven-layer bed in 400 thread-count Egyptian Cotton! It was so hard to get up in the morning! And going back to functionality, underneath the bed, is a hidden compartment housing an iron board, and a yoga mat. It's really nice how they cleverly utilize the space.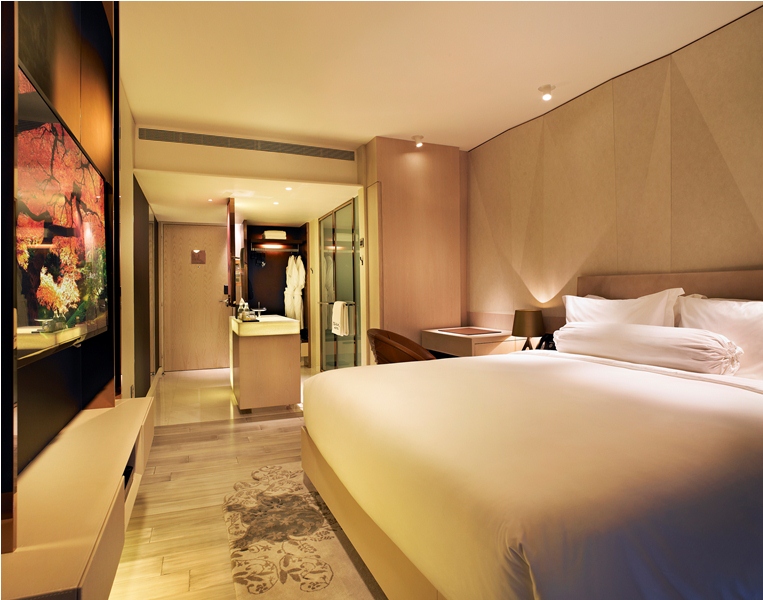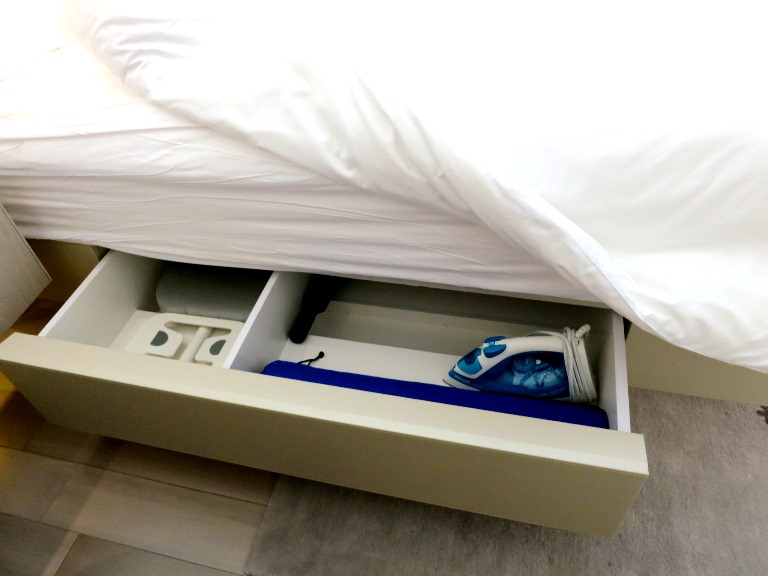 Apart from complimentary high-speed WiFi and free local calls (to both Singapore land lines and mobile phones) each room also has an Apple TV with airplay mirroring that allows you to stream whatever Apple device you have on the screen. You can also borrow an XBOX 360 or Nintendo Wii from reception.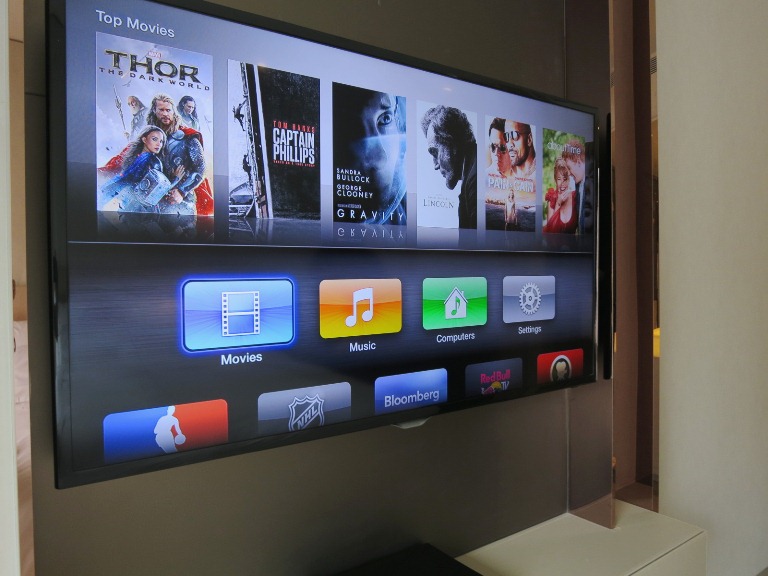 Apart from these, there are built-in chargers for all kinds of Iphones (specific plugs for 4s and 5) and other smart phones so you can conveniently charge everything at the same time– and not have to alternate/ share plugs, which is what I often find myself doing when I'm abroad!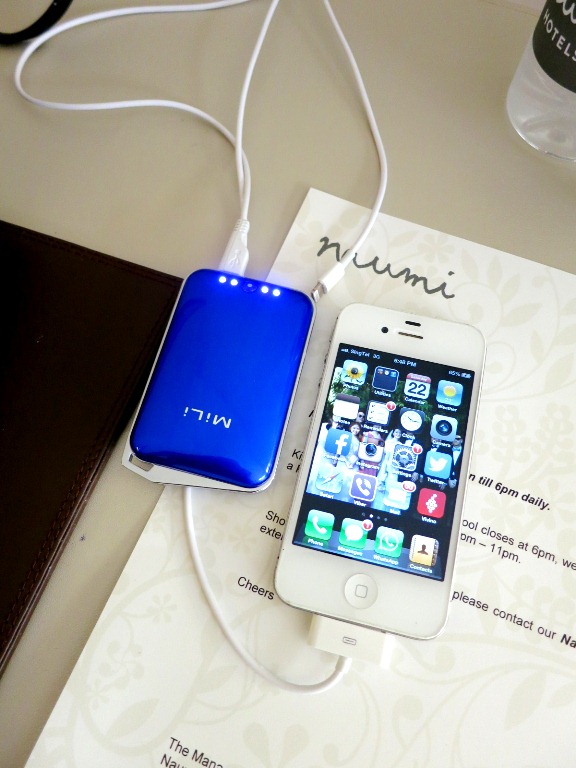 Bath amenities are all from New York-based apothecary, Malin + Goetz.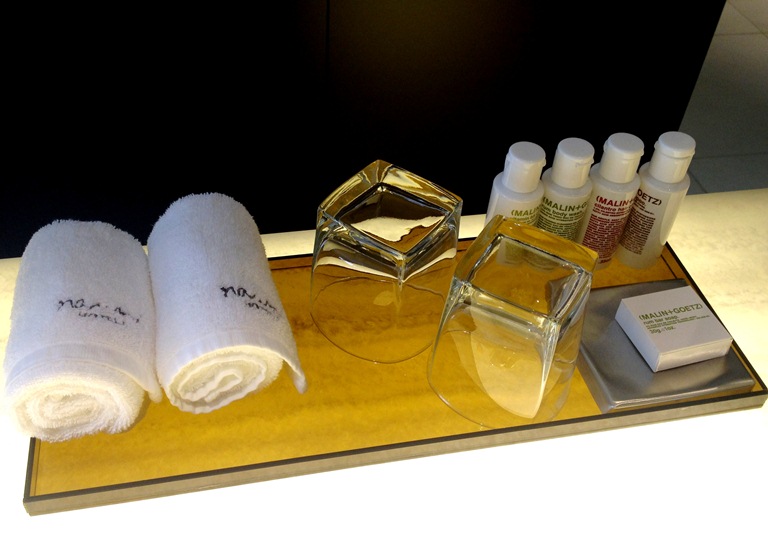 Cheeky laundry bag, haha!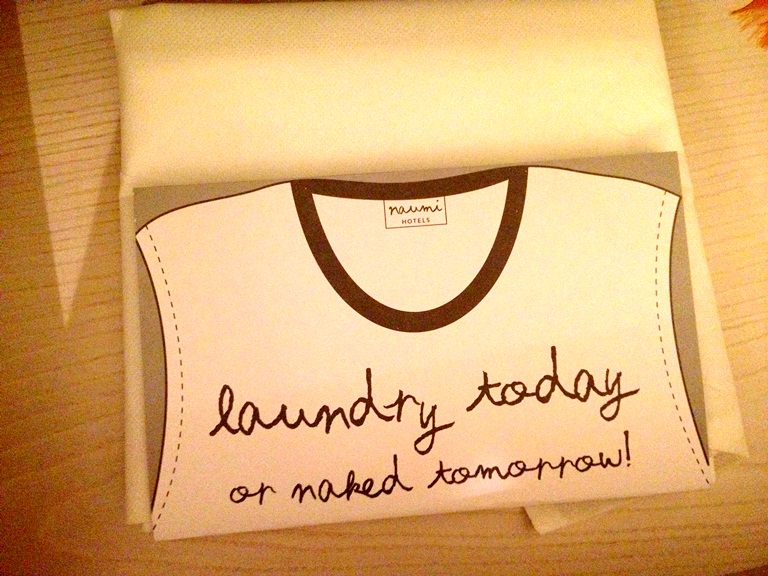 Naumi's most opulent suites are themed to Andy Warhol and Coco Chanel.
The Andy Warhol-themed Eden and Nirwana suite features interesting shapes and dramatic pops of color. If you look closely, you can see the iconic B&B Italia "La Mamma" arm chair paired with floor lamp, "Fork" by Diesel Foscarini. The space has been designed to resemble a New York penthouse apartment with a dramatic circular bathtub encased by a revolving screen.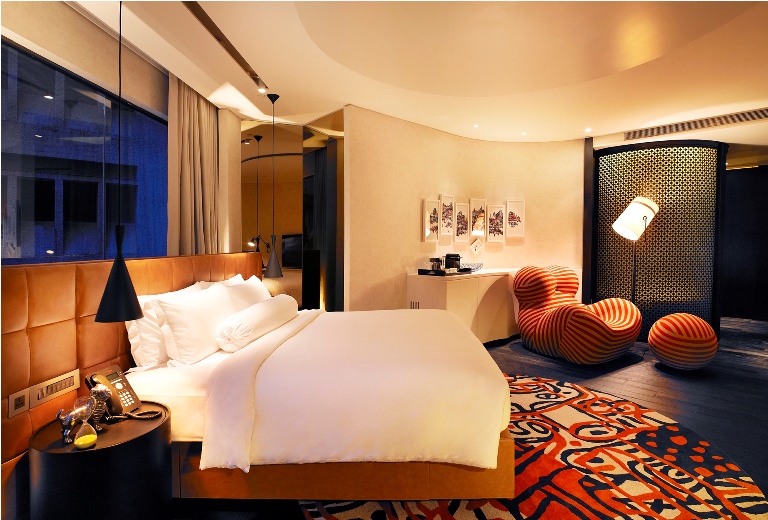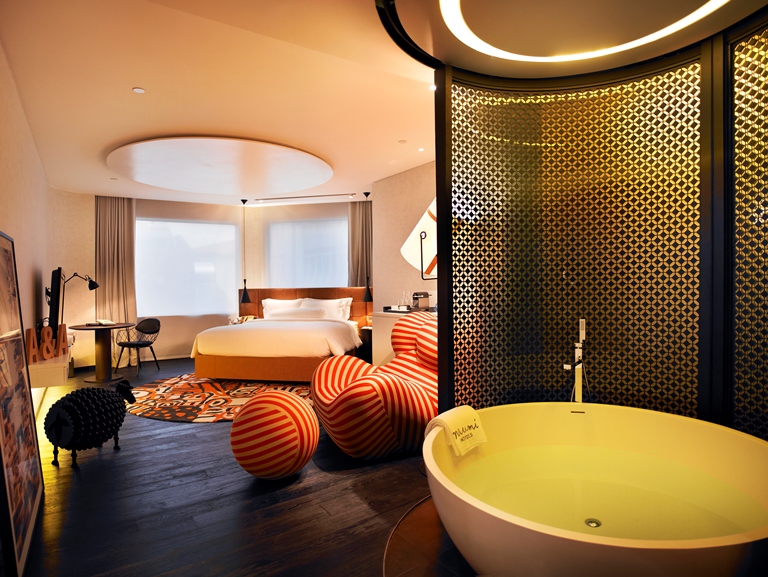 The Coco Chanel-themed Gabrielle and Camellia is bedecked in a chic monochrome palette with touches of pale green accessories. Artistic interpretations of Coco Chanel's iconic flower, the Camellia, line the walls. The bathroom features a rain-shower, a freestanding bathtub and a smokescreen bathroom glass panel, which can switch from clear to frosted at the touch of a button.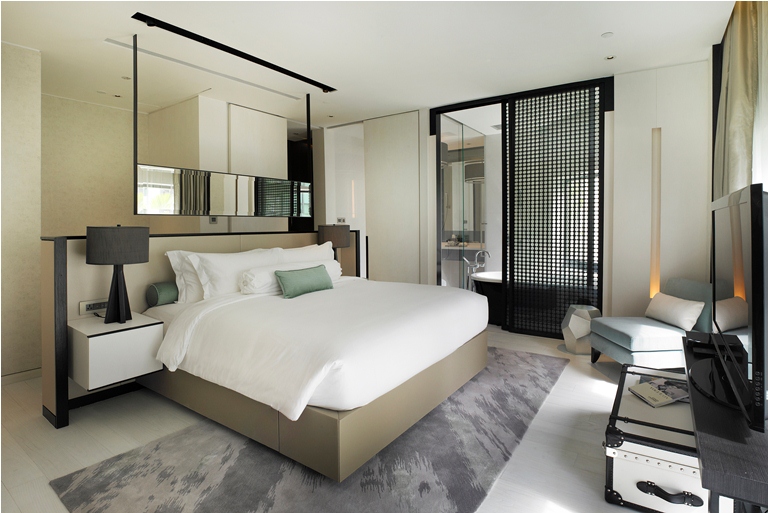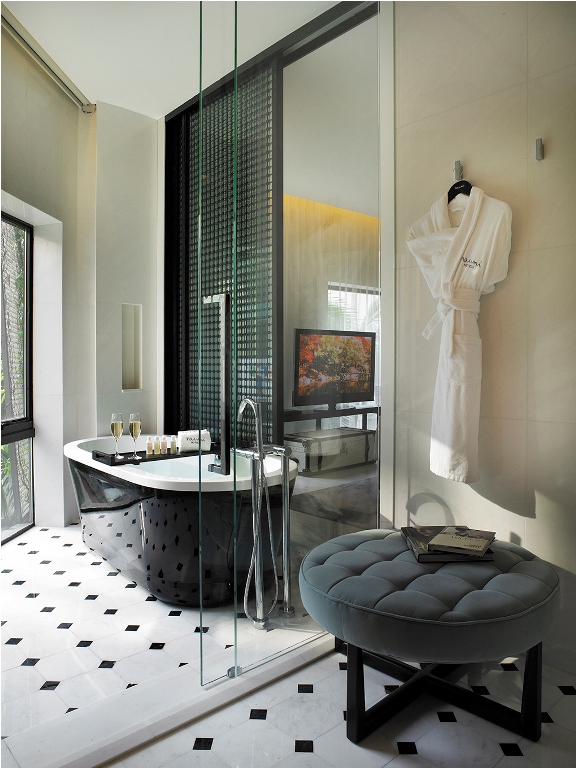 The famous Rang Mahal is now the in-house restaurant at Naumi. Apart from serving contemporary Indian cuisine, for Sunday breakfast, they also serve up free-flowing Chandon. They also put chia seeds in their water to aid in digestion.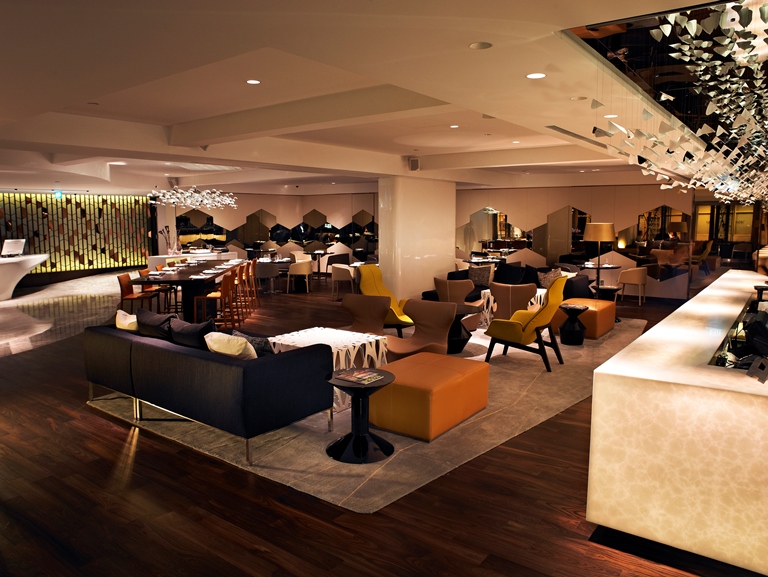 The staff is very friendly and laid-back and don chic, royal blue uniforms designed by Singapore-based Depression.) Special mention to Pinay receptionist Lizette Tima-an who really took care of me throughout my stay– we even went to mass together!

 Another plus for Catholics, it's only a short (less than 10 minutes) walk to St. Joseph's Catholic Church.
Today, March 17 is celebration of Holi, an ancient Hindu festival, also known as the "Festival of Colors." It's a time when people take to the streets, throwing of powder paint and colored water to celebrate the victory of 'good' over 'bad' and also the triumph of devotion to god. Naumi gives back in a big way today. The hotel will proudly donate up to SGD$15 for every eligible room stay on this date to the Breast Cancer Foundation. Rang Mahal will proudly donate 10% of the total bill of any patron who dines at the restaurant today.
"This initiative is for the most vulnerable people in our society," explained Mr. Surya Jhunjhnuwala, the Managing Director of the Hind Group. "It is important
for corporate organizations like us to fulfil our social responsibility by assisting those less fortunate."
I highly recommend Naumi on your next visit to the Lion City– most especially if you're a boutique hotel junkie, or a design enthusiast!

Naumi Hotel is located at 41 Seah Street, Marina Bay, Singapore. Phone +65 6403 6000 or visit www.naumihotel.com. For the best room rates, visit Agoda