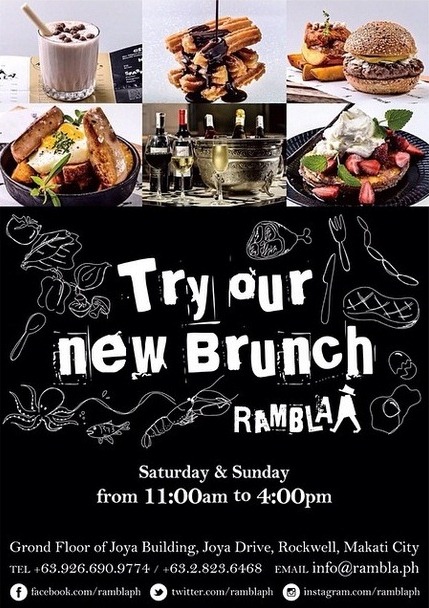 Rambla opened last year at the Joya Building at Rockwell. No bias, it's become one of my favorite places for dinner, cocktails, quiet wine nights (and fun, lively wine dinners!) not just because the owners are really good friends of mine, but because the food, cocktails, ambiance and vibe are great– and really laid-back! In fact, their Ricotta Gnudis made it to my  annual Top 10 Food Finds for 2013 column in Philippine Star, and their Aged Tequila Old Fashioned has become one of my fave cocktails as of recently.
Today, May 3, 2014, they have launched their Brunch Menu, which runs from 11 AM to 4 PM on Saturdays and Sundays.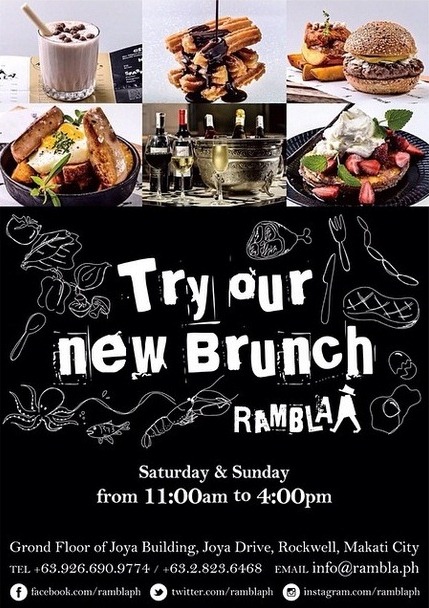 Here are some of the brunch items we tried out:
1) Egg Benedictine with Smoked Salmon & Crispy Jamon Serrano (P425)
An interesting almost "deconstructed" kind of take on the egg dish, where as the base (smothered in hollandaise sauce) is a big blini/ pancake underneath, and topped with smoked salmon and really, really crispy jamon serrano!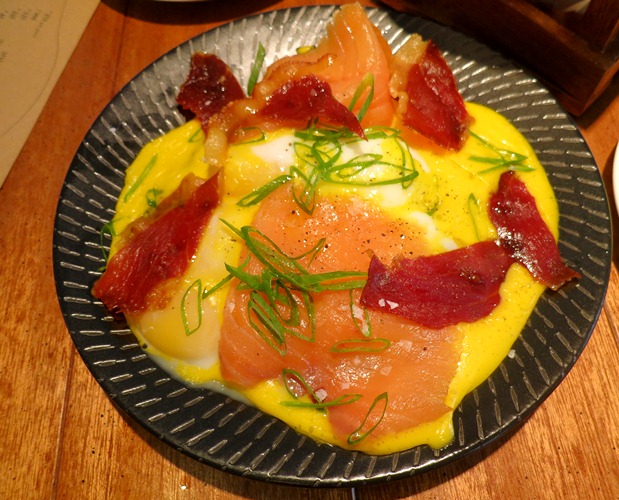 2) "Estrellados" with French Fries and Foie (P595)
**This is part of their Eggs menu. So all of the items can be had "estrellados" aka sunny side up, or "revueltos" aka scrambled (see photo #3).
The Foie is the most decadent of them all! Pan-seared foie gras for brunch, whoo! They call them fries on the menu but these are actually potato wedges– large chunks of potatoes crisp on the edges and tender and soft in the middle. Share this dish if you don't plan to have a dizzy spell afterwards ;p
3) "Revueltos" with French Fries and Chistorra (around P195)
This is the other way they serve the eggs dish, and is slightly cheaper than the sunny side up version. It's easy, simple scrambled eggs topped with my favorite chistorra!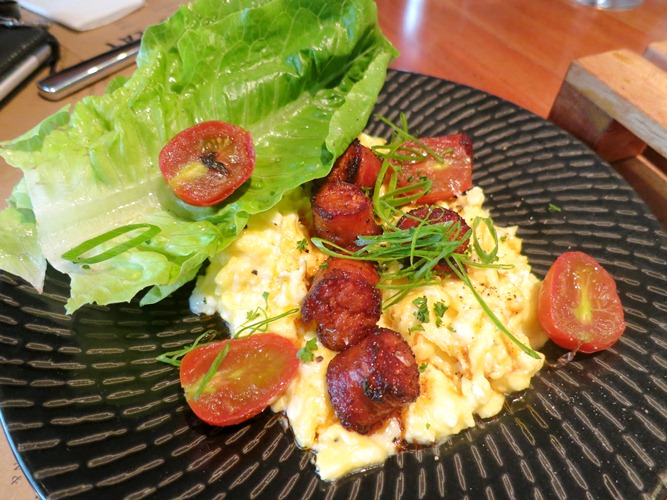 4) Burger & Goat (P695)
A hunky 200 grams of 100% Wagyu beef served with grilled goat cheese, fried egg, romaine lettuce, sliced tomatoes and Rambla's special tomato basil sauce! The potato wedges are topped with romesco sauce– a delicious Catalan sauce made from almonds, peppers, tomatoes and garlic.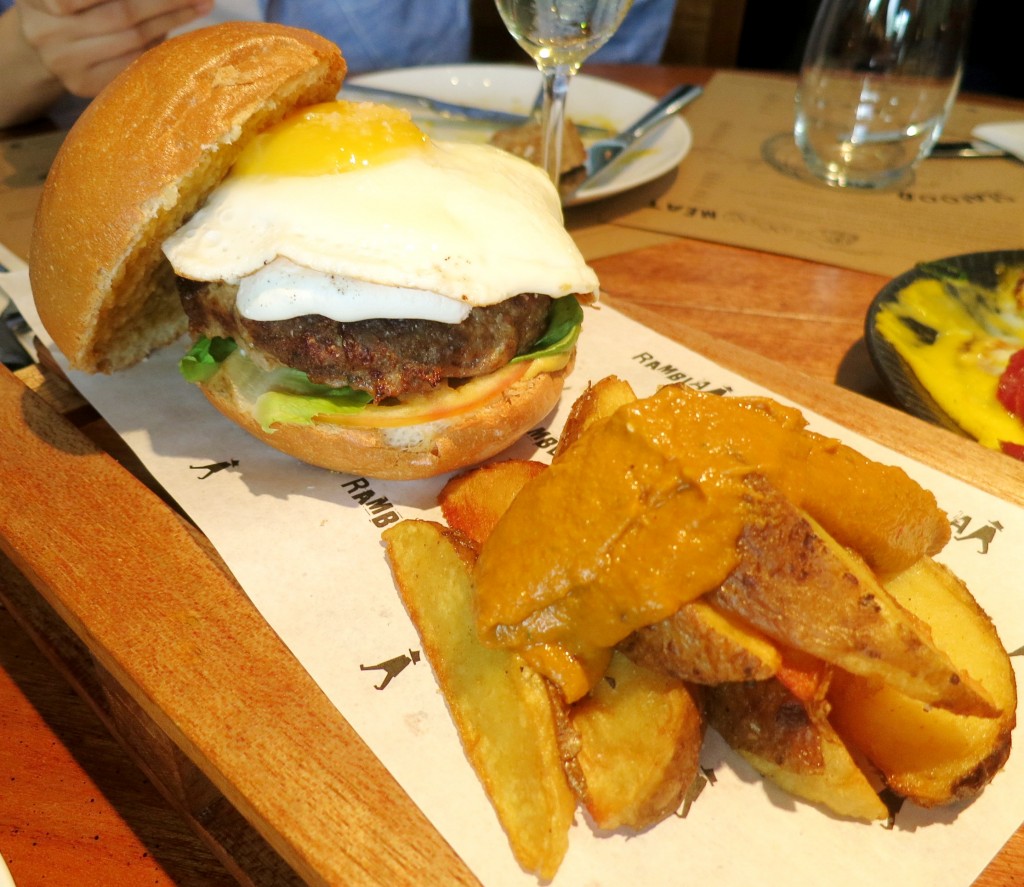 5) Pancakes, Honey, Strawberries & Cream (P395)
That's three layers of thinly sliced pancakes topped with a cream that hints of citrus and honey. Definitely a sweet ending!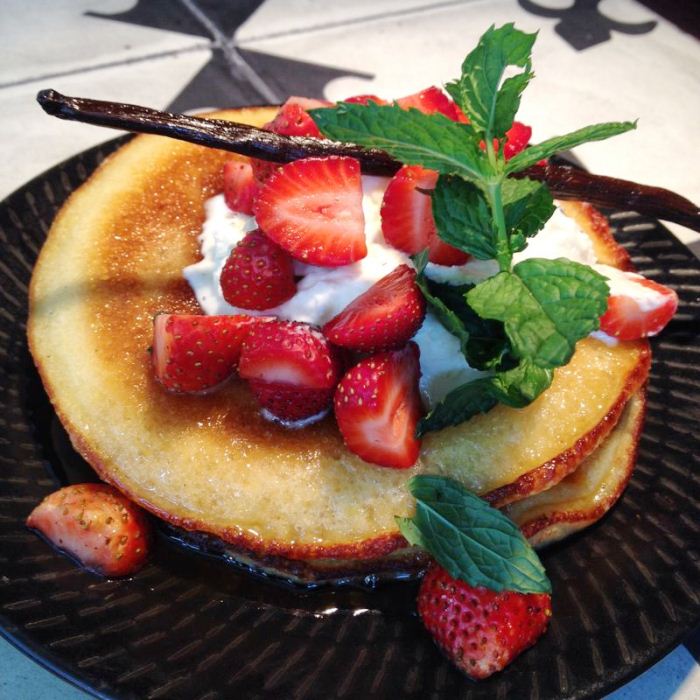 They have some pretty interesting drinks, too, like the Milo Cup (P245) which is Half & Half and Milo shaken, topped, with of course, Milo chocolate cereal balls! It's a thick, milkshake type concoction that kids will love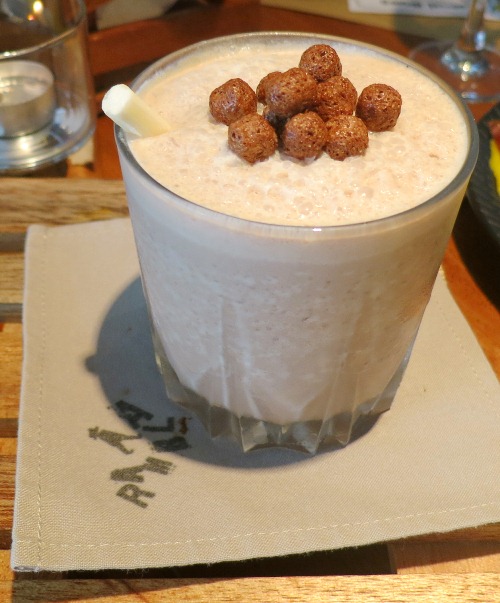 The best part though– at least for me– is the FREE-FLOW CAVA/ SPARKLING WINE for only P595!!! Seriously, we all work so hard during the week that nothing beats starting off the weekend with lots of bubbles 😀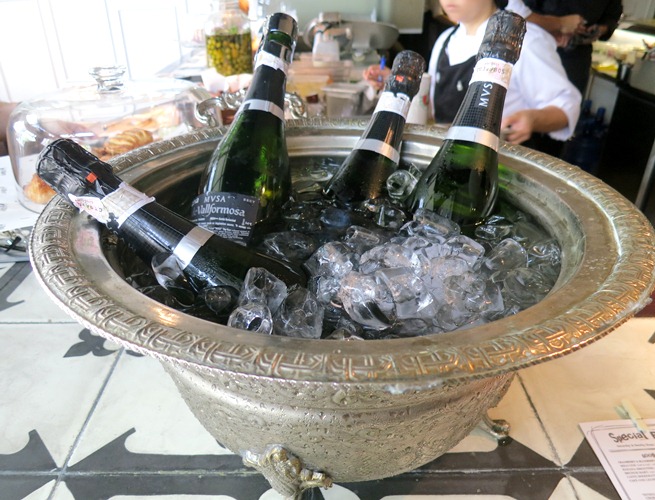 The man behind Rambla's excellent culinary creations is head chef Pepe Lopez, enjoying a glass of cava himself!
And of course, congratulations to my buddies, Rambla/ Las Flores partners Dani Aliaga, Uri Singla and Sergi Rostoll, who are always aiming creatively push Manila's dining scene!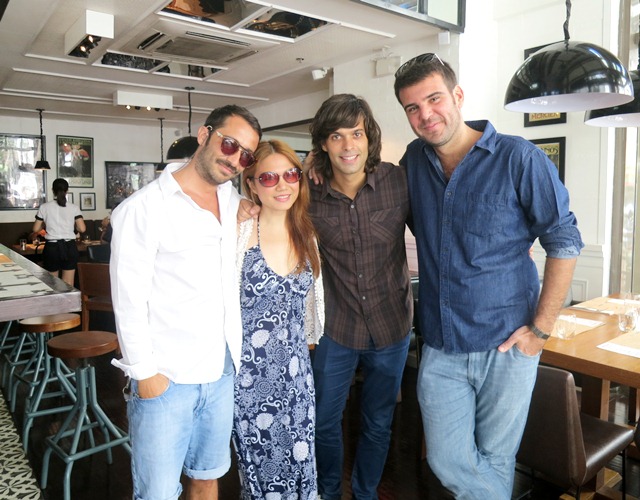 I'm gonna leave you with the full Brunch Menu, so all you have to do is make your way to the Joya Building at Rockwell 😉 Happy weekend!!!