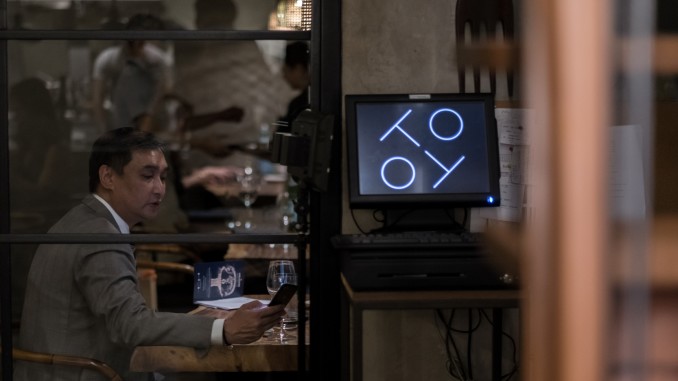 My events platform Cross Cultures hosted our first ever 3 Michelin-starred collaboration with Hertog Jan from Belgium, and one of my favorite restaurants in the Philippines, Toyo Eatery  during the period of Madrid Fusion Manila, as part of the Dinner with the Stars and Flavors of the Philippines. *Hertog Jan also recently just jumped up to land the No. 61 spot on the World's Best Restaurants list!
The collaboration officially began with a trip to Malipayon Farms in Silang, Cavite (we left Manila at 5AM,  whew!) where Hertog Jan's chef-owner Gert de Mangeleer and sous chef Jef Poppe sourced for local vegetables, for their salad dish, "A Walk Through The Gardens of Manila." They handpicked over 40 ingredients that included fennel, alugbati, baby amaranth, baby corn, carrots, sweet potato, mango, papaya, cashews, peanuts for our event three days later.
The event was very intimate– only 30 (very coveted) seats– a request from Gert to keep quality control in check. He meticulously prepared everything himself, and never left the kitchen, only until after all the dishes had been served, which were paired with wines from Sommelier Selection and free-flowing sparkling and still waters from San Pellegrino and Acqua Panna, officially distributed in the Philippines by Werdenberg International.
I'll let all of Tristan Dehesa's stunning photos do the talking (all photo credits by him, except for 2 photos I took!) and I want to say that it was a beautiful exchange of cultures between Belgium and the Philippines, and also between two chefs who both share the common denominator of using modern techniques to highlight the excellent qualities of their produce. "Planning the menu was done over a period of time," shared Jordy, who had developed a real bromance with Gert after just meeting for the first time this trip.  (They event met up in New York the week after!) "When team Hertog Jan arrived, we spoke about their plans with the products they brought over from Europe, and team Toyo just decided on what we felt best paired with the dishes from their menu. It was easy to decide on the menu because there was really good communication on both ends."
"It was a wonderful experience to combine Philippines products with our Flemish products," Gert said,"I didn't expect the Philippines to have such a fine cuisine and such beautiful products. We are also happy to have made [new] friends."