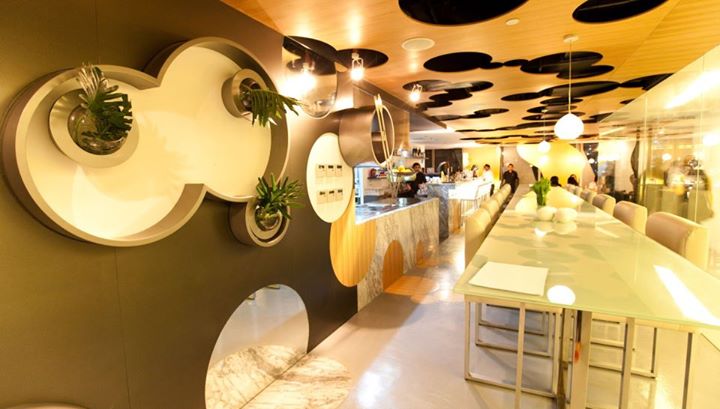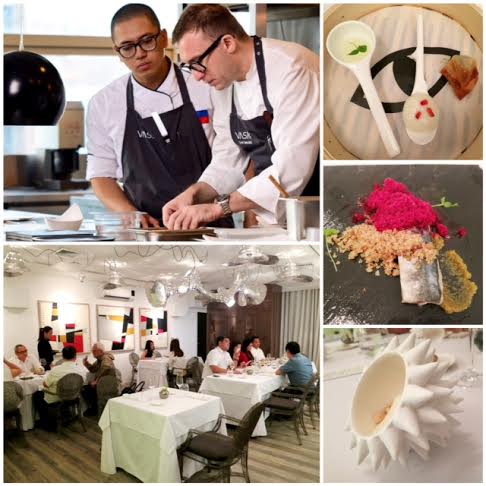 They say that in order to survive, or live a long life, in any cut throat industry, you have to constantly evolve with the times. People are now more discerning than ever, and are always looking for something new and exciting to pique their curiosities. In the Philippines for example, restaurants that thrive on the "pwede na 'to sa Pilipinas" attitude ("This is okay for Philippine standards,") soon find themselves dying a slow death, because now, more than ever, the Philippines has risen to become a global player in many levels.
VASK at The Fort has moved to push boundaries in the food industry in the Philippines,  both with their cuisine and their restaurant aesthetics, by infusing modern gastronomy into traditional tapas, and creating an ambiance of dining within art—case in point a ceiling inspired by perforated emmental cheese, and giant fork and spoon seesaws.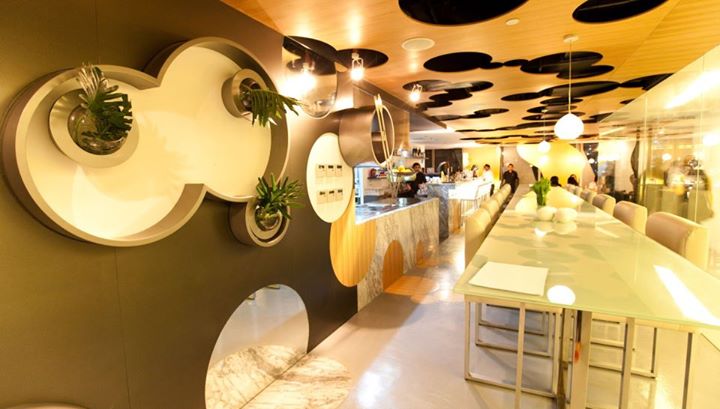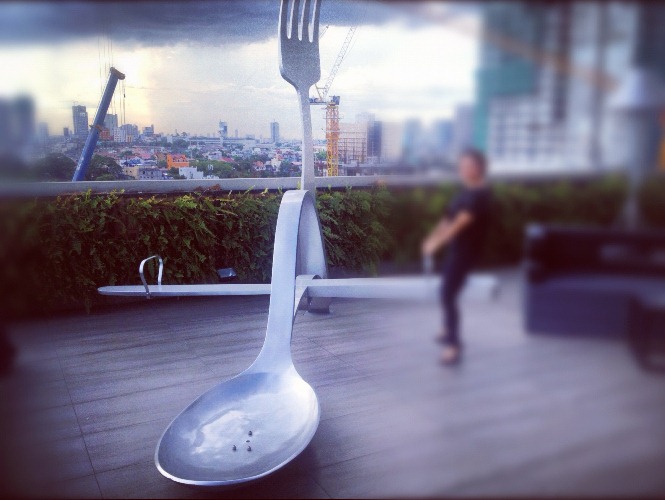 At the Vask deck, play seesaw on an extra large fork and spoon as created by Carlo Calma
Everyone knows that Chef Jose Luis Gonzalez or "Chele" as we call him has worked in the legendary El Bulli in Roses, Spain but here's a new trivia: he's also worked for the current #1 (El Celler de Can Roca in Girona), #4 (Mugaritz in San Sebastian) and #8 (Arzak in San Sebastian) best restaurants in the world by the 2013 World's 50 Best Restaurants by San Pelligrino and Acqua Panna.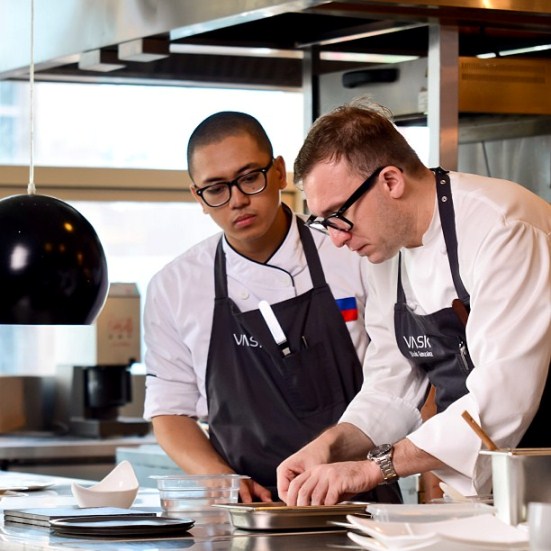 Now, Vask has taken it to another level with the opening of their new fine dining restaurant at the gallery next door called GALLERY VASK. The space, built door. The space, constructed with Kent flooring and punctuated with photographs by UK-based Italian artist Girolamo Marri, was formerly a mini gallery and events space.  Designer Amina Aranaz launched her Delujo collection, and Francesca Balaguer-Mercado held her "Blame it on the Heat" exhibit here. Now, it has finally unfolded to what it was supposed to be—a fine dining restaurant.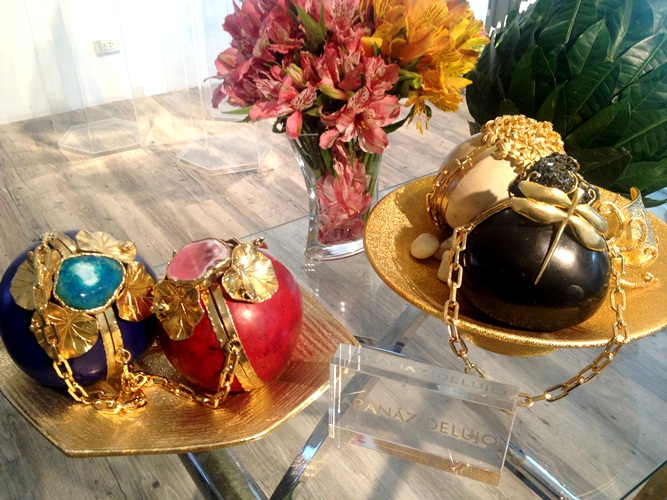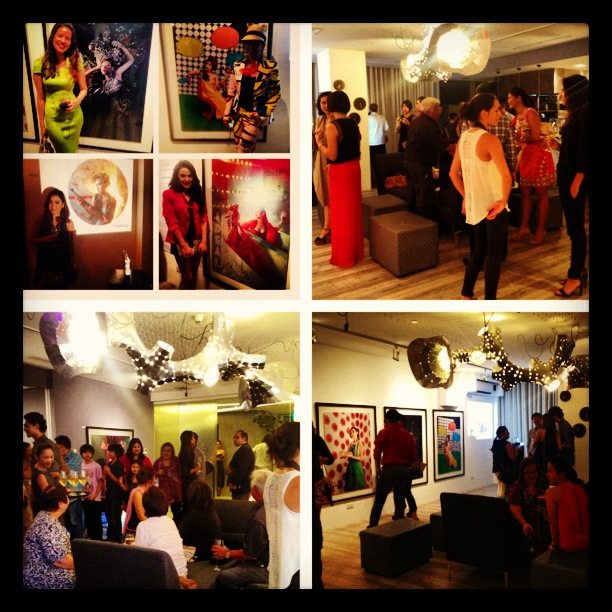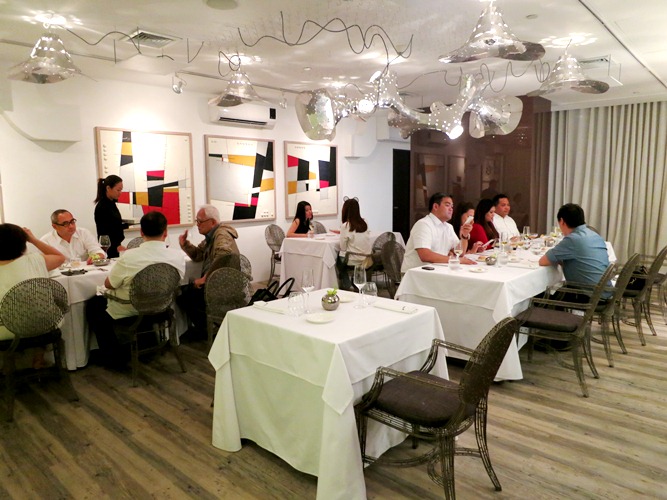 The 14-course menu (currently priced at P4,900 per person, inclusive of 12% VAT; from October 1-15, this includes a complimentary bottle of Parxet cava for your table) features an array of dishes that mix textures and temperatures in a dish—with a change plates and cutlery that accentuate each dish– the first of its kind in the Philippines. After each course is set before you, Chef Chele comes out from behind the kitchen to explain each dish, and the inspiration behind it. Most of them have an Asian connection, as inspired by his recent trips around the region.
Now let me take you on a journey to VASK Country. Each ingredient comes in an unconventional form.. so I will save my commentaries from this post, and allow  you to experience it yourself. All I can say is that if you are just looking to quench your hunger, don't bother. It's an experience that needs to be savored and enjoyed. I don't recall any restaurant in this country that has experimented to this level.
As the table napkin says, first, relax. And then open…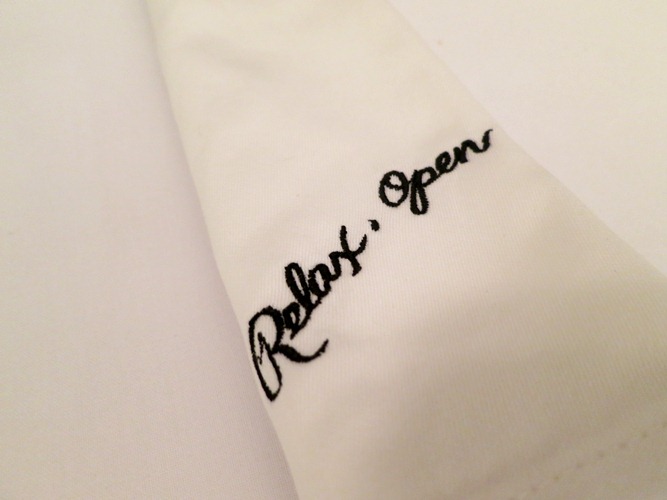 …your mind. Explore your senses. Enjoy your journey to the VASK country.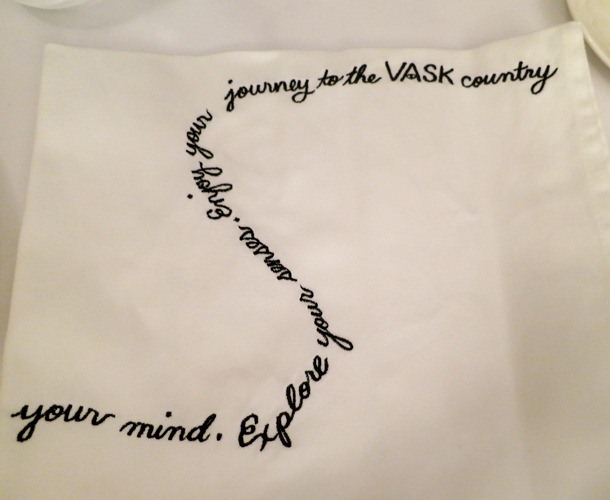 Dinner begins with a welcome drink of vermouth rouge served with orange peel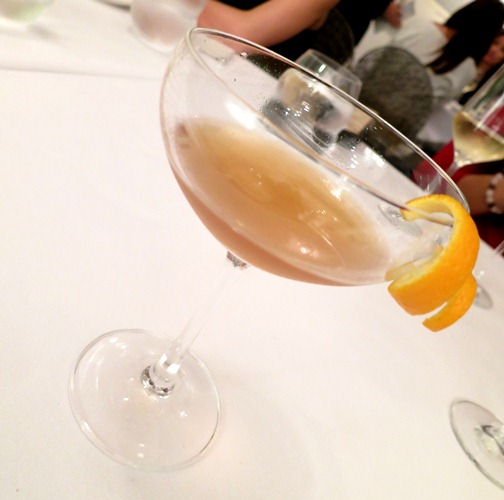 #1: Magellan's Dimsum: Parmesan Xiao Long Bao, Gorgonzola Moshi, Apple Wanton
This is what lots of Magellan's Dimsum (without the apple wanton) look like all together– so cool! So many eyes!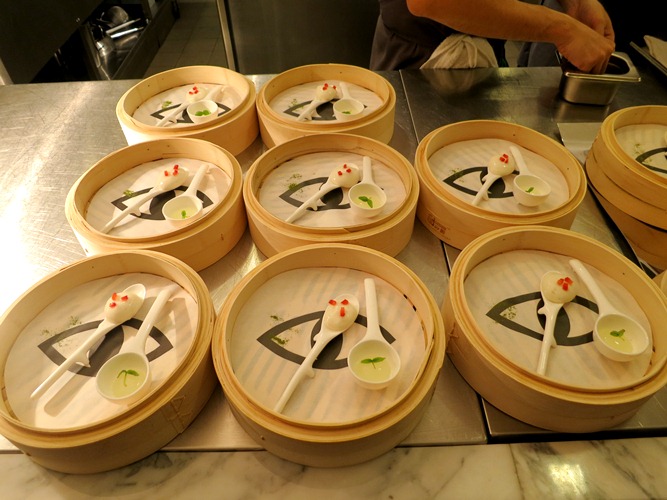 #2: Tuna Pod: Kalamanta Olives, Basil, Tuna, Lemon Grass Ice Cream, Moroccan Sauce
#3: Boquerones: Kalamansi, Marinated Anchovies, Beetroot, Frozen Powder, Olive Marmalade, Bread Crumbs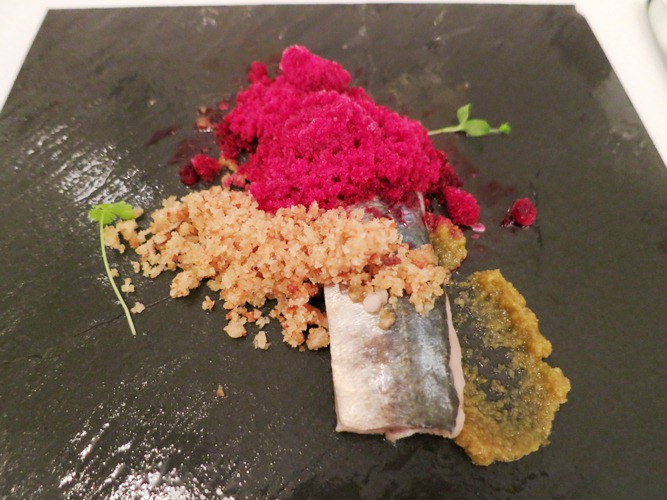 #4 Beer Urchin: Sea Urchin, Beer Clams, Foie Gras, Orange 

The next dish uses these awesome cutlery.
Here's a preview of it…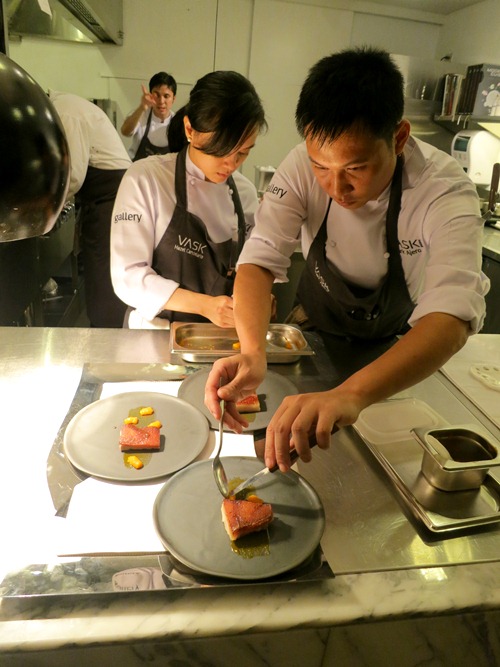 #5: Cochinillo: 16 Hour Sous Vide Baby Pork, Pumpkin Gnocchies, Vanilla Sauce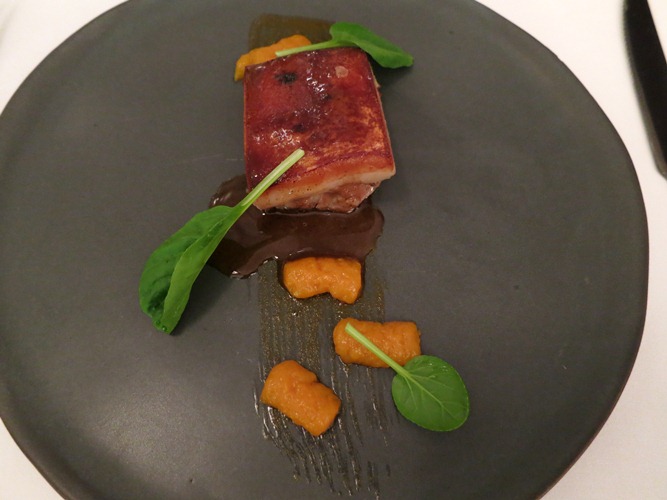 #6: School of Peas and Toothfish: Grilled Seabass, Green Peas Basil Jus, Iberian Tocino, Spherification Peas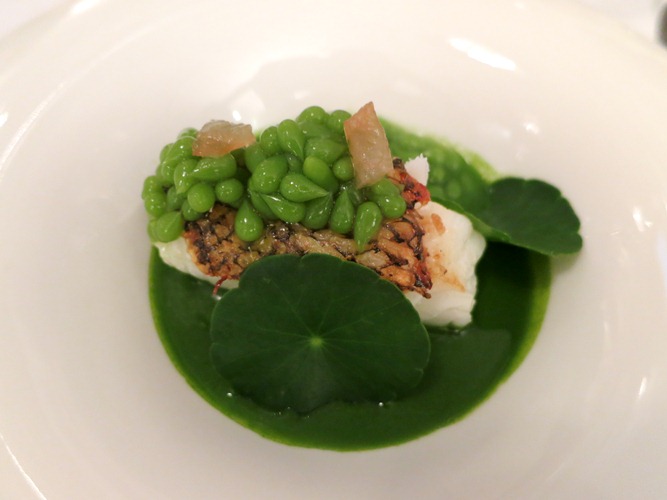 #7: Palm Crisp: Coconut Sorbet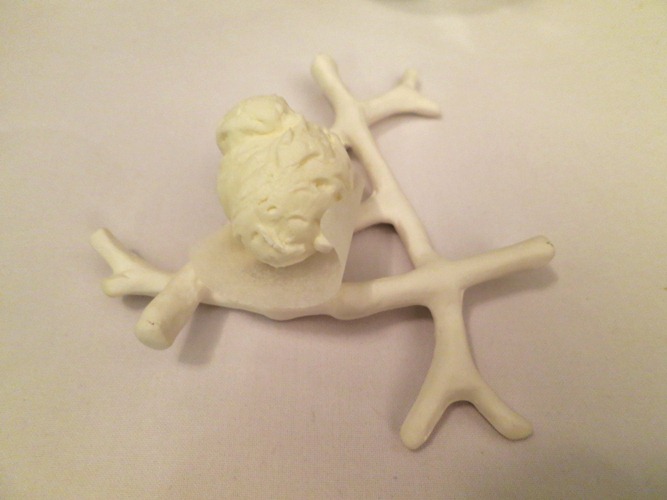 #8: Foie in a Rock: Banana Textures, Chips, Coffee Sauce, Grilled, Foie Gras, Sous Vide, Smoked
 #9 Radish Garden: Wagyu, Apple Wasabi Sauce, Radish, Steamed, Sliced
#10: Roger Rabbit (Baby Carrot Sous Vide, Nutmeg, Greek Cardamon, Yogurt, Truffle Crumbs, Tomato Basil Sorbet)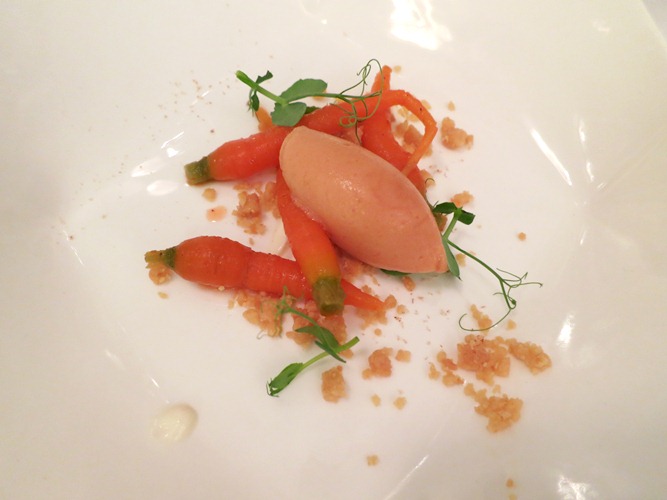 #11: Cheeze: Fondue, Ice Cream. Snow, Cheese, Membrillo Cream, Apples, Nuts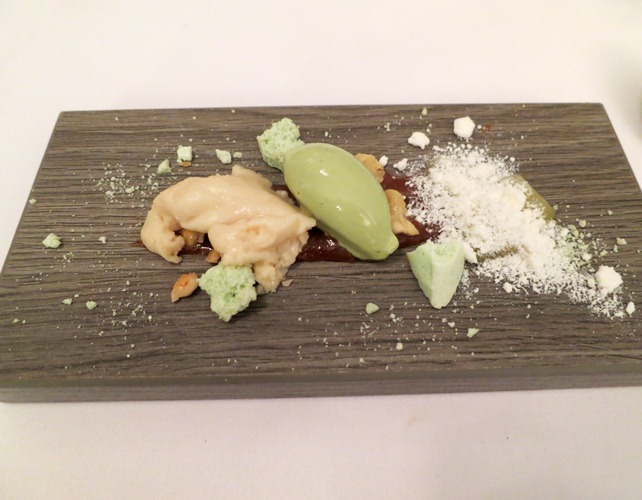 #12: Shooters: Warm Chocolate Balls, Strawberry Oregano Coulis, Ginger Ice Cream, Mangosteen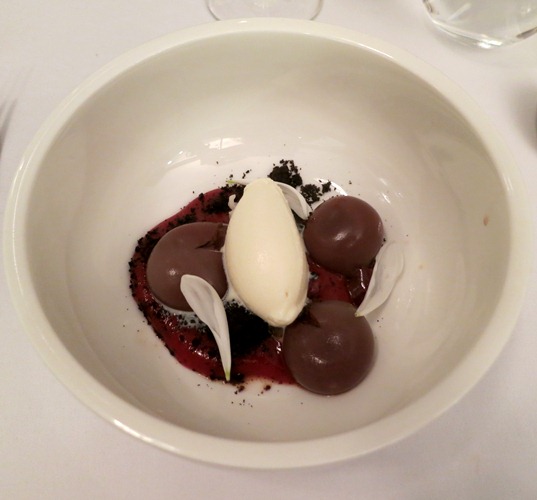 #13: Summer Breeze: Creamy Tapioca, Cafe, Cardamon, Violet, Kefir, Lime, Green Tea Ice Cream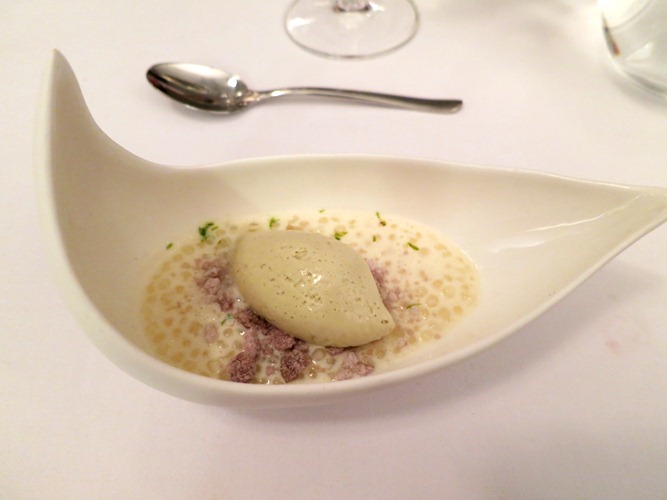 #14: Chocolates, chocolates, chocolates… on these lovely, mirror plates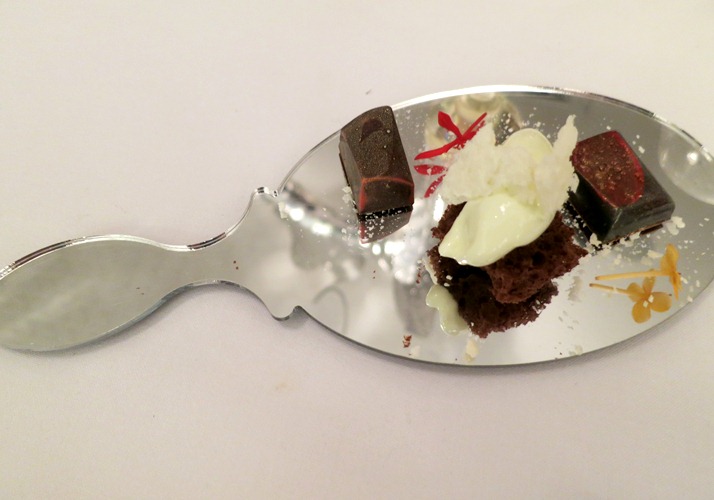 Look for Gallery Vask's ever gracious and friendly manager, Besay Gonzalez, when you are there. He is the best.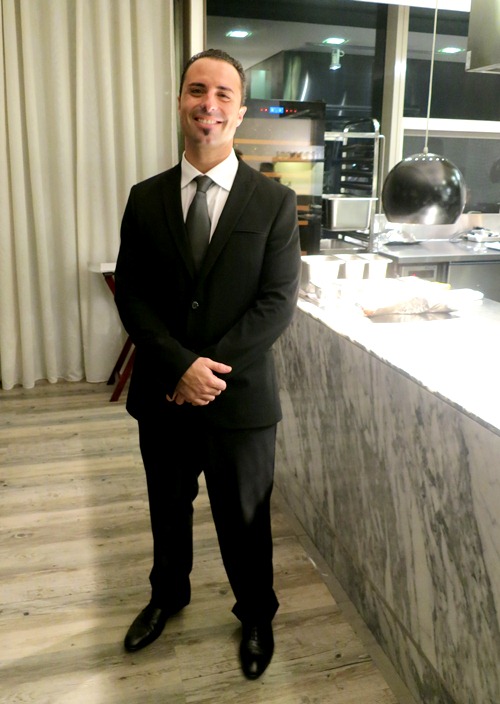 Our dinner mates for the evening:
VASK partners Jerico and Pia Fernando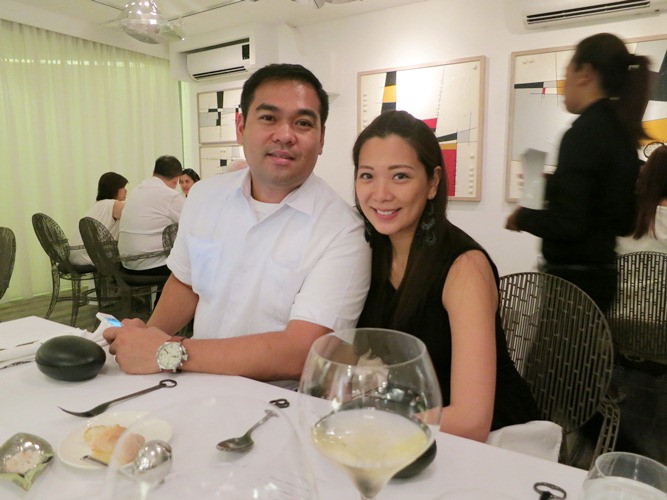 Cupcake Lab's Cay Cuasay and Our Awesome Planet's Anton Diaz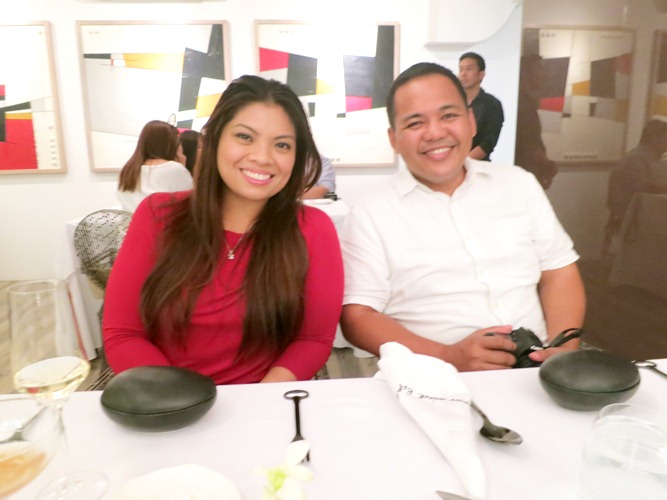 VASK partners Jean Fernando and Carlo Calma… and me!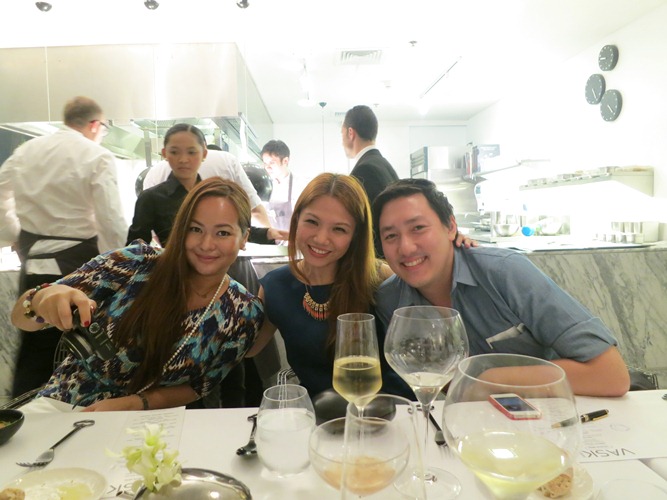 And at the next table…
Pabling Calma (Carlo's Dad) and FURNItalia's William and Florence Ko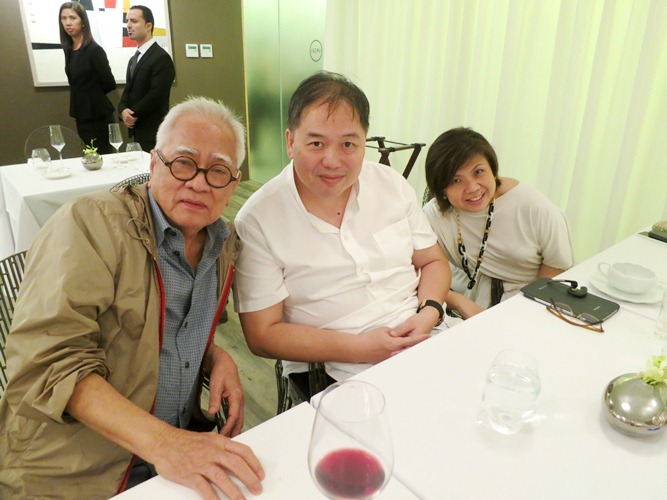 Suzanne and Architect Ed Calma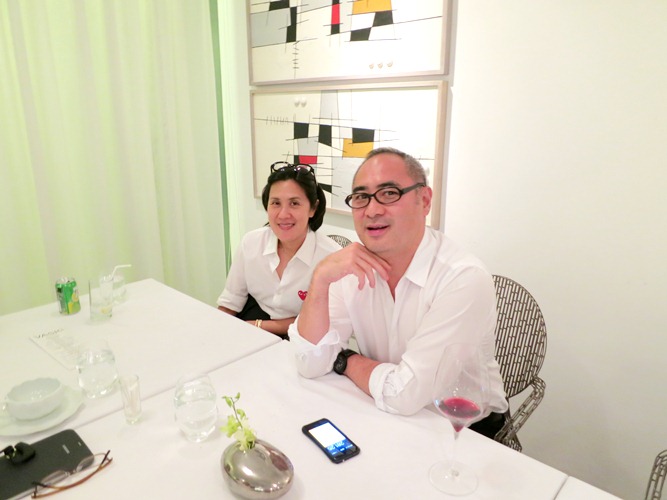 GALLERY VASK's 14-course degustacion tasting menu has 14 seats every Tue-Sat. From October 1-15, receive a complimentary bottle of cava for your table during their soft opening period. For reservations, phone (0917) 546 1673.
GALLERY VASK is located at the 5th floor of the Clipp Building, 11th Avenue, corner 39th Street, Bonifacio Global City, Taguig. It is right next to VASK Modern Tapas.