I come to Singapore around three times a year, and I am always looking for new places to visit, explore and try.
For this particular trip, I was thrilled to have been billeted at the St. Regis —one of my favorite hotels in the city. I've dined at their Chinese restaurant Yan Ting (great eat-all-you-can dimsum brunch on Sundays), had afternoon tea at Brasserie Les Saveurs (the best scones ever), and brunch at the The Reading Room (the flakiest, melt-in-your-mouth croissants—and an incredible lobster laksa!)—but this is the first time I am staying there.  It was the first time I had my own butler service, too. While he was giving me a tour of my room, the doorbell rang, and I was about to bolt for it when he politely gestured, "Allow me." I was told they can unpack and pack your luggage, too, if you want. Plus, Instead of having a Nespresso machine in the room like most five-star hotels in the city, freshly brewed coffee is delivered to your room upon request.
St. Regis also just recently launched their patisserie in their lobby, so now they have their own truffles, pralines and cookies. I bought a couple of these boxes of 12 for presents to take back home.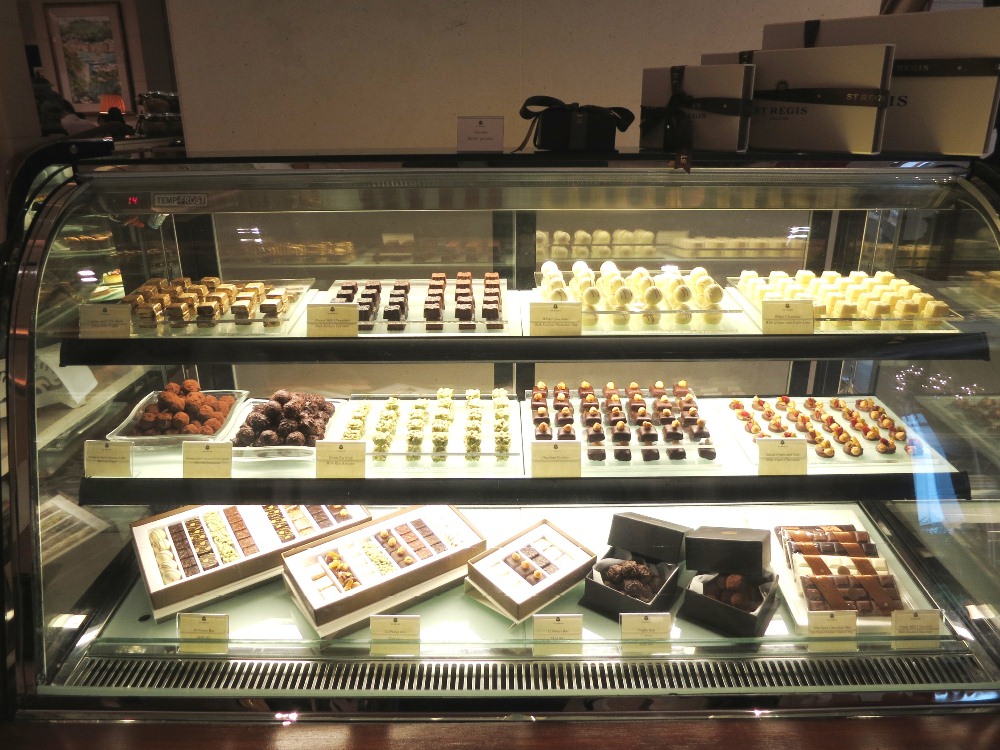 While I was there, I also had the chance to catch up with my girlfriends, and also check out some new places. Wednesday in Singapore is ladies' night and most bars have an open bar for the ladies. At the relatively newly opened Chameleon Club in Dempsey, it was free flowing lychee martini all night. They were slightly watered down, of course, and tasted more like juice, but then again, it was free. I can't really complain.
My friend Jordyn and I wanted to have one last drink before calling it a night, so we retired back to my hotel. Trivia: Did you know that the Bloody Mary was invented at the Astor Bar at the St. Regis in New York? And at the St. Regis in Singapore, they have their own Asian version of this Bloody Mary (called Chili Padi Mary) made from lemon grass, chili padi and ancient Chinese ginger. We were warned that it's extremely, extremely spicy, and since my eyes tend get puffy when I take on too much spice the night before, I opted for the original one– made from vodka, tomato juice, lemon Worcestershire sauce, and cayenne pepper– which I must admit was still quite potent.
I love the plush leather chairs and the old world feel of the Astor Bar, though! Really the best place for conversations and nightcaps.
(And guess what, since the St. Regis invented the Bloody Mary, guess what they serve for breakfast at Brasserie Les Saveurs? The Virgin Mary! Pretty nifty, I must say.)
I've heard and read lots of great reviews about Joel Fraser's Cufflink Club in Chinatown, and glad to finally make the trip. On weekends, apparently, it's packed to the brim and you can't move. We went on a weekday so it was perfect—a good steady crowd and still conducive to some sort of conversation.  I love the feel of the bar—comfortably dim lighting, long green-tiled bar, black leather seats, feel-good upbeat music, and Alan Partridge talking to you while you're in the bathroom.
My girlfriend Krissy who works there told me about For Whom The Bell Tolls, a tribute to Hemingway, which has a page of the book fastened into a paper airplane as an accessory to the rum-based cocktail laced with grapefruit and lime. I thought that it was absolutely brilliant. It's no longer on the menu, but you can still ask for it.
Being a bourbon fan, I also tried Boys and their Toys (old fashioned bourbon, bitters, sugar and orange zest), which I found so interesting because they freeze the toy soldier into the ice cube… boys… and their toys. Get it. Amazing as well.
And just because it was my last night in Singapore, and I loved cocktails, I had to have one more drink—even though I will admit it's a bit pricey. So I had the Porn Star (vanilla vodka, passion fruit, pineapple, citrus, butterscotch), served with champagne on the side.  So you can either alternate between sipping the cocktail (predominant pineapple taste) and then the champagne, or you can pour the bubbly right in and have a party in your mouth! I can see why the place is jam packed all the time. Cocktails are done well, and cleverly, too. I highly recommend it.
We capped of the night with a little dancing at the newest Japanese-inspired club in Chinatown called Kyo. I read somewhere that because of its Japanese aesthetics, it's the only bar in town that's pretty both at night—and during the day. (I don't have good photos so these photos are taken from their official website, clubkyo.com)
I look forward to more exciting new escapades when I'm back!
St. Regis Singapore
29 Tanglin Road
Singapore
Phone: +65 6506 6888
Email: stregis.singapore@stregis.com
Website: http://www.stregissingapore.com/
Chameleon Club at Dempsey Hill
22 Dempsey Road
Singapore
Phone: +65 6479 9929
Email: info@chameleonclub.sg
Website: http://www.chameleonclub.sg/
The Cufflink Club
6 Jiak Chuan Road
Singapore
Email: info@thecufflinkclub.com
Website: http://thecufflinkclub.com/
Kyo
133 Cecil Street, Keck Seng Tower #B1-02
Singapore
Phone: +65 8299 8735
Email: reservations@clubkyo.com; events@clubkyo.com; info@clubkyo.com
Website: http://www.clubkyo.com