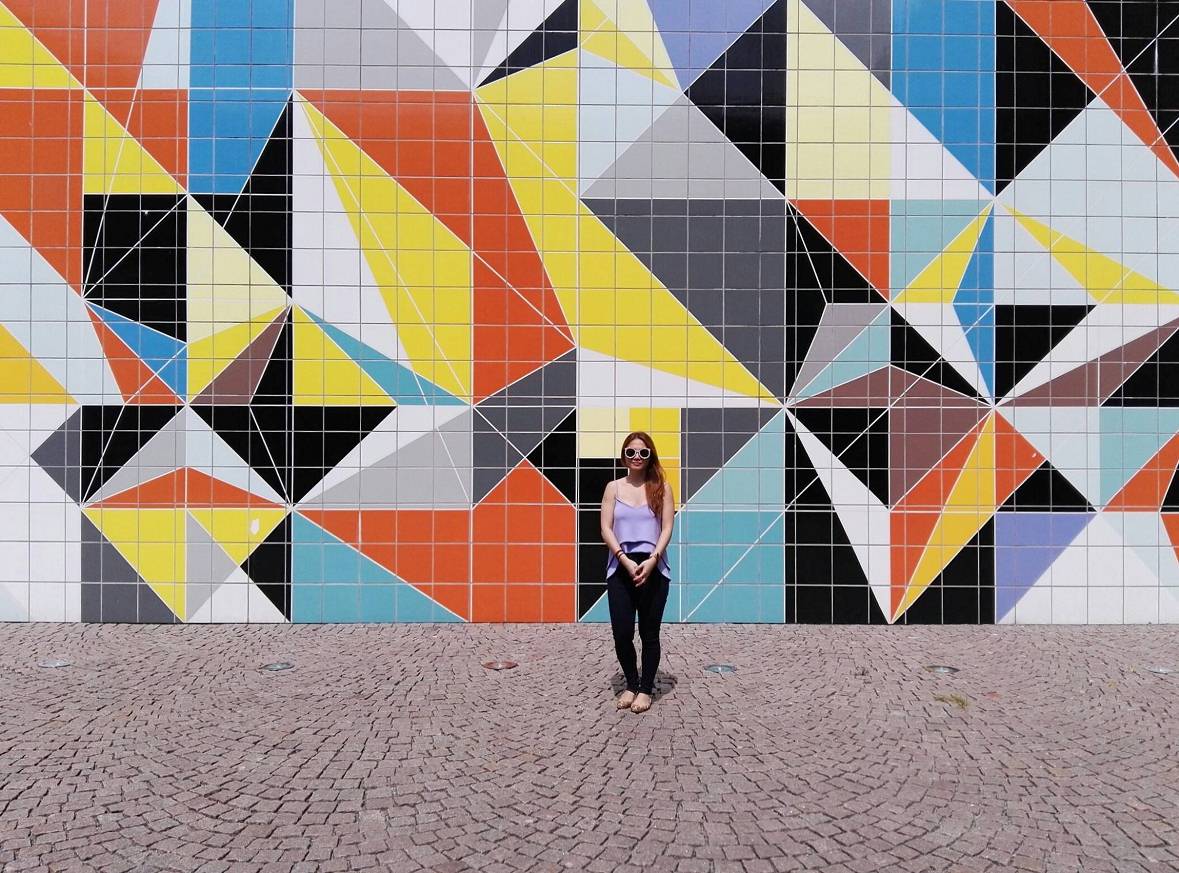 Admit it, when you first heard Dusseldorf, the first thing that crossed your mind was trade fair. Yes, Dusseldorf hosts a lot of trade fairs yearly– as of this August 2016, there are 82 (!!!) trade fairs happening until the year ends— but on my recent trip to the capital of North Rhine–Westphalia on Singapore Airlines' inaugural flight to the third largest airport in Germany, I discovered lots of wonderful things to do in this clean, green and beautiful city, where people are so well-dressed and well-mannered (every single person automatically stepped back when they saw us taking pictures, so as not to interrupt.)
So next time you make this your gateway to Europe, don't just make it a stopover. Here are 10 things to do in Dusseldorf:
1) Stay at the historical Breidenbacher Hof– A Capella Hotel– located right in the heart of Königsallee.
Breidenbacher Hof is a beautiful 5-star hotel owned by the Pearl of Kuwait Real Estate Company, and managed by the Capella group of hotels. Not only is it so centrally located– right by luxury shopping district Königsallee (more on this on #7), but everything about it was perfect: plush beds, soft pillows, a complimentary minibar (with daily UNLIMITED San Pellegrino and Acqua Panna!) and Nespresso.. and they have a unique service called "personal assistant"– which is a notch above a concierge. A personal assistant can accompany guests shopping, play board games (and once, even tennis) with guests, help arrange fantasy wedding proposals. etc.
Winston Churchill, Henry Kissinger, Cher, George Clooney, The Rolling Stones and Pink were just a few who have called the 200-year-old hotel their home. *When I was there, I saw German rockstar Udo Lindenberg a few times. Apparently, he used to work there and remains a regular guest.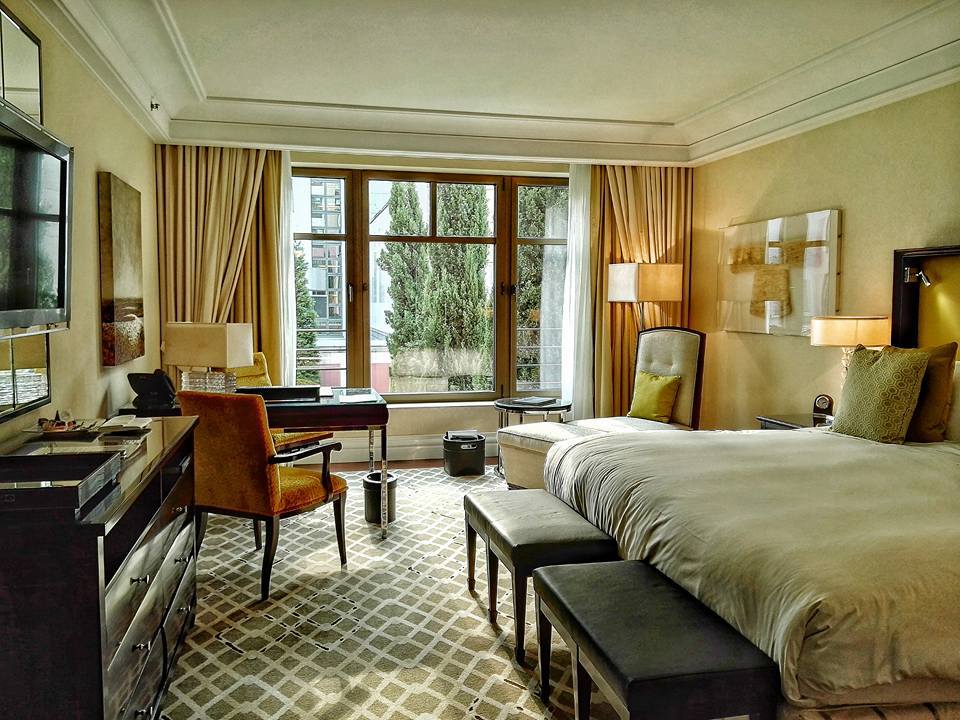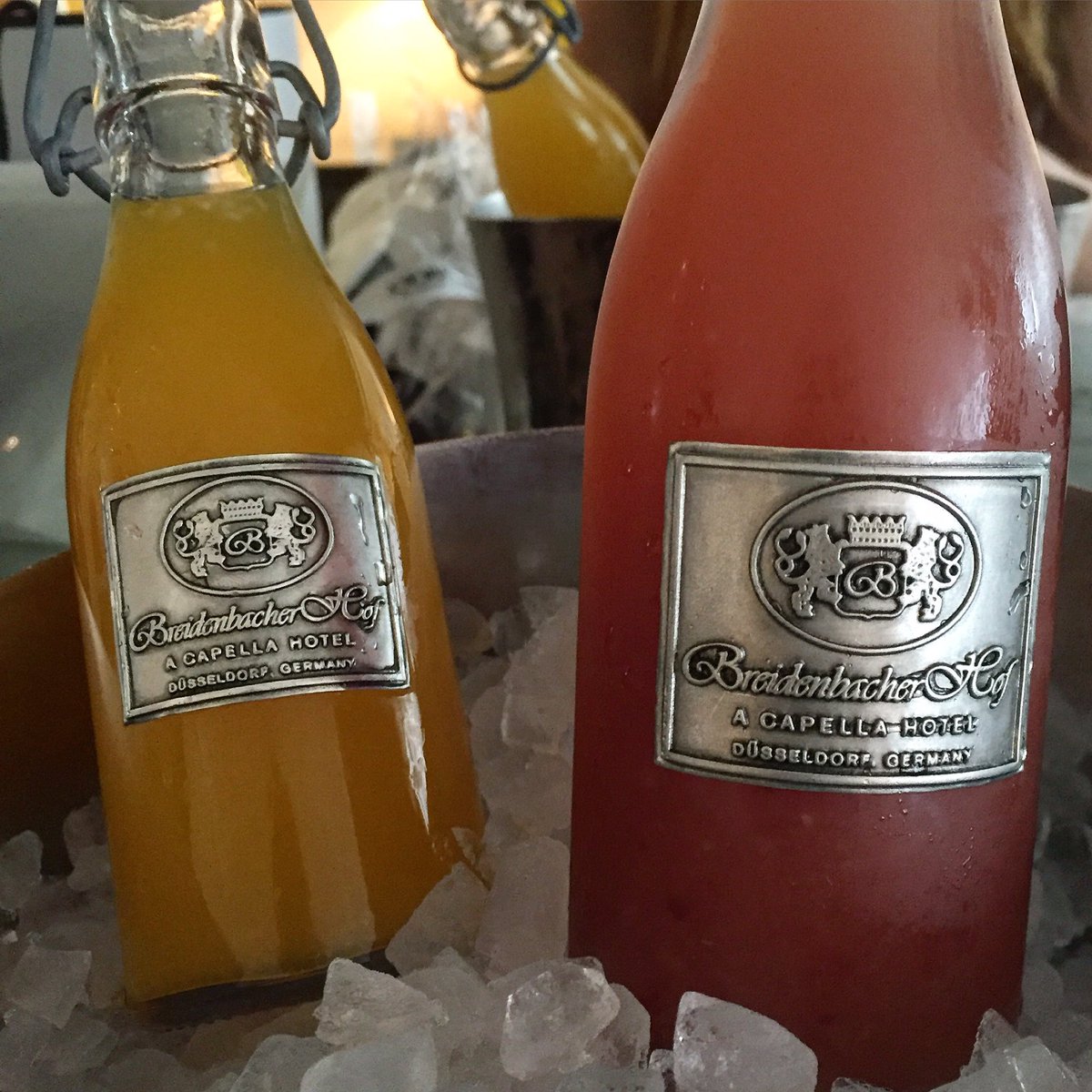 2) Wander around and explore Dusseldorf's architecture.
Dusseldorf has incredible architecture and the best part is it can be admired… for free! Canadian-American starchitect Frank Gehry's postmodern Neuer Zollhof complex has three "leaning" buildings by the Rhine. Polish-American starchitect Daniel Libeskind bridged urban space with park space in his Kö-Bogen building, a mixed use retail and office space. And around the city, there are lots of walls and murals that make for great photo opportunities.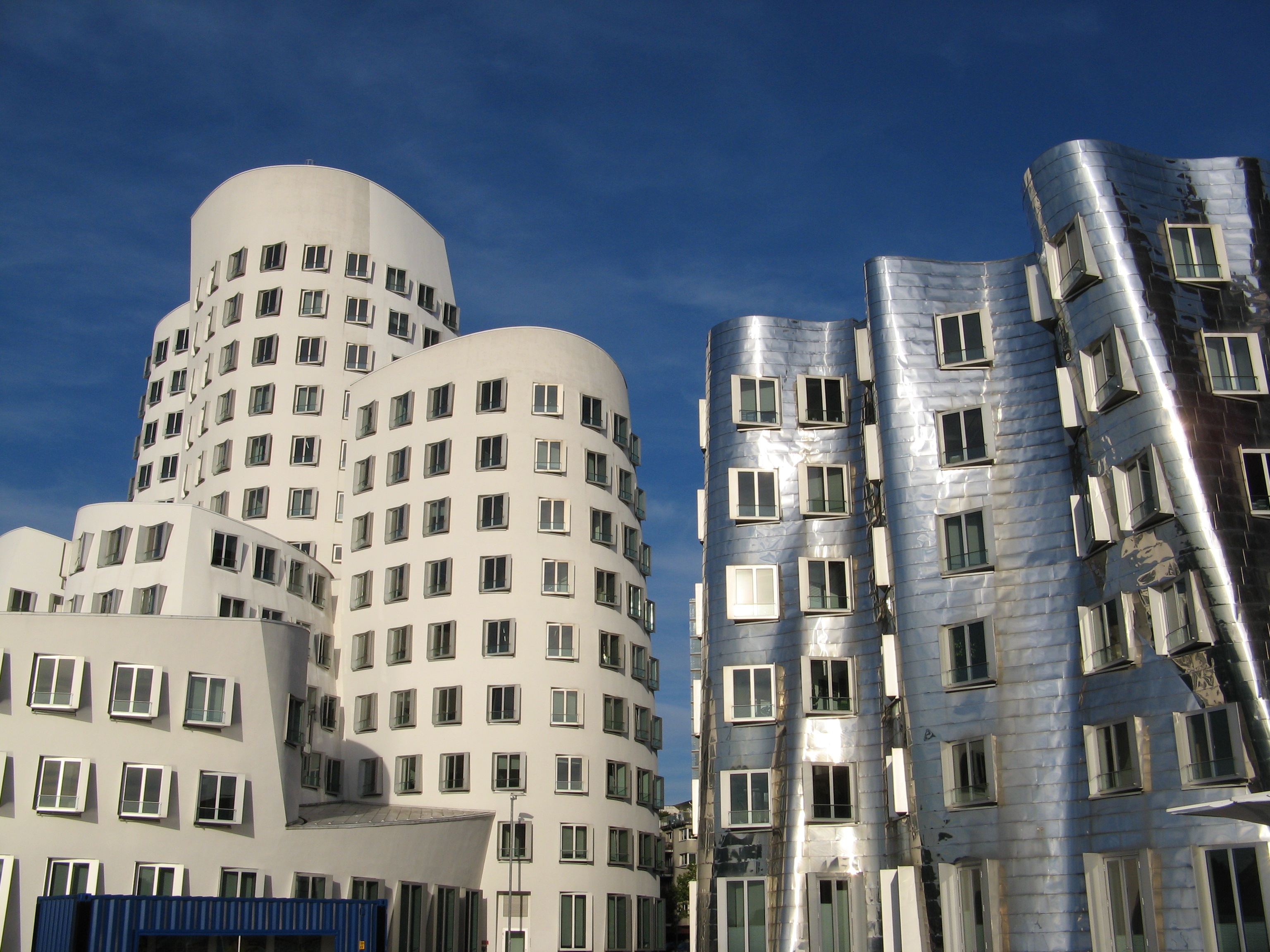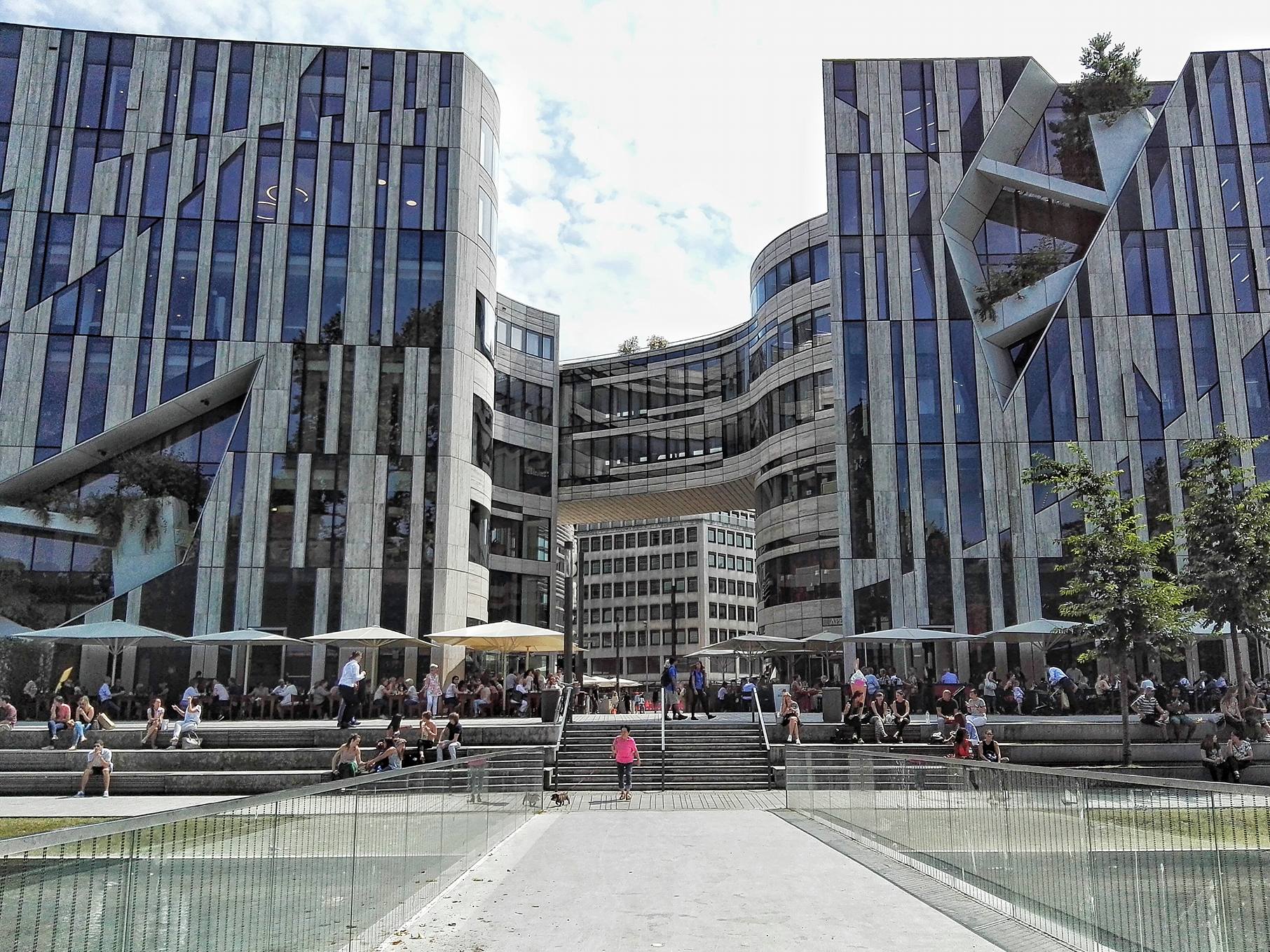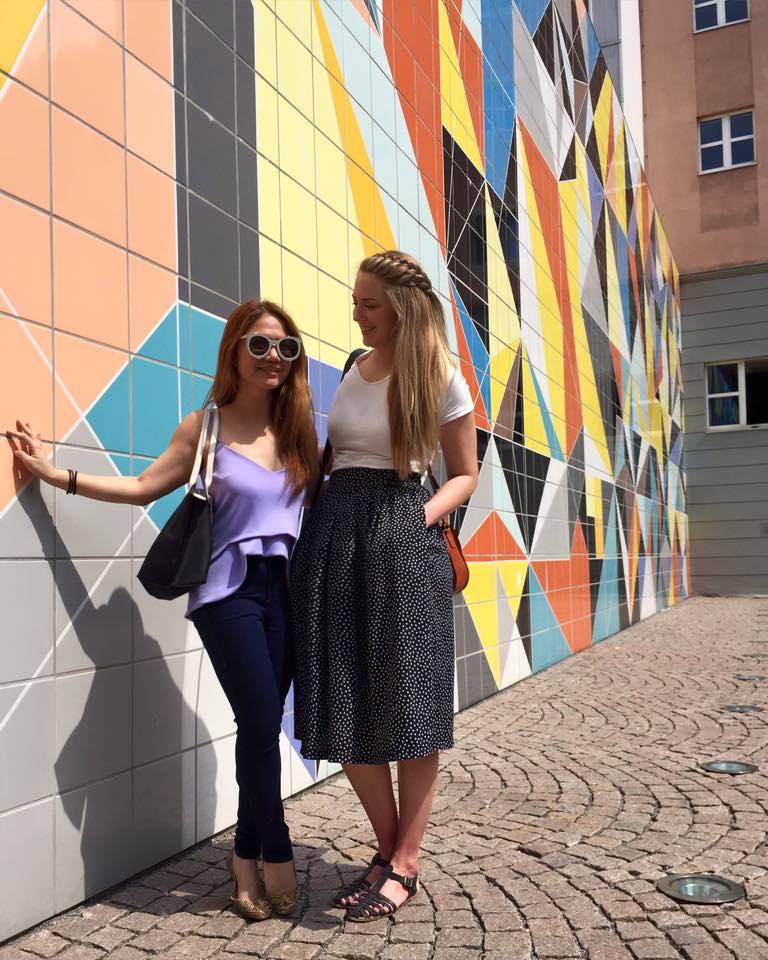 3) Have some alt bier at Alstadt, "the longest bar in the world."
Dusseldorf's Altstadt (Old Town) is often referred to as "the longest bar in the world" because it has over 300 bars, supposedly with each one's bar counter connecting the one next door. The city's drink of choice is a top-fermenting beer called alt bier. It's a brown ale, and "alt" which means "old" in German, as this beer is conditioned longer than others, producing a smooth,  drinkable brew.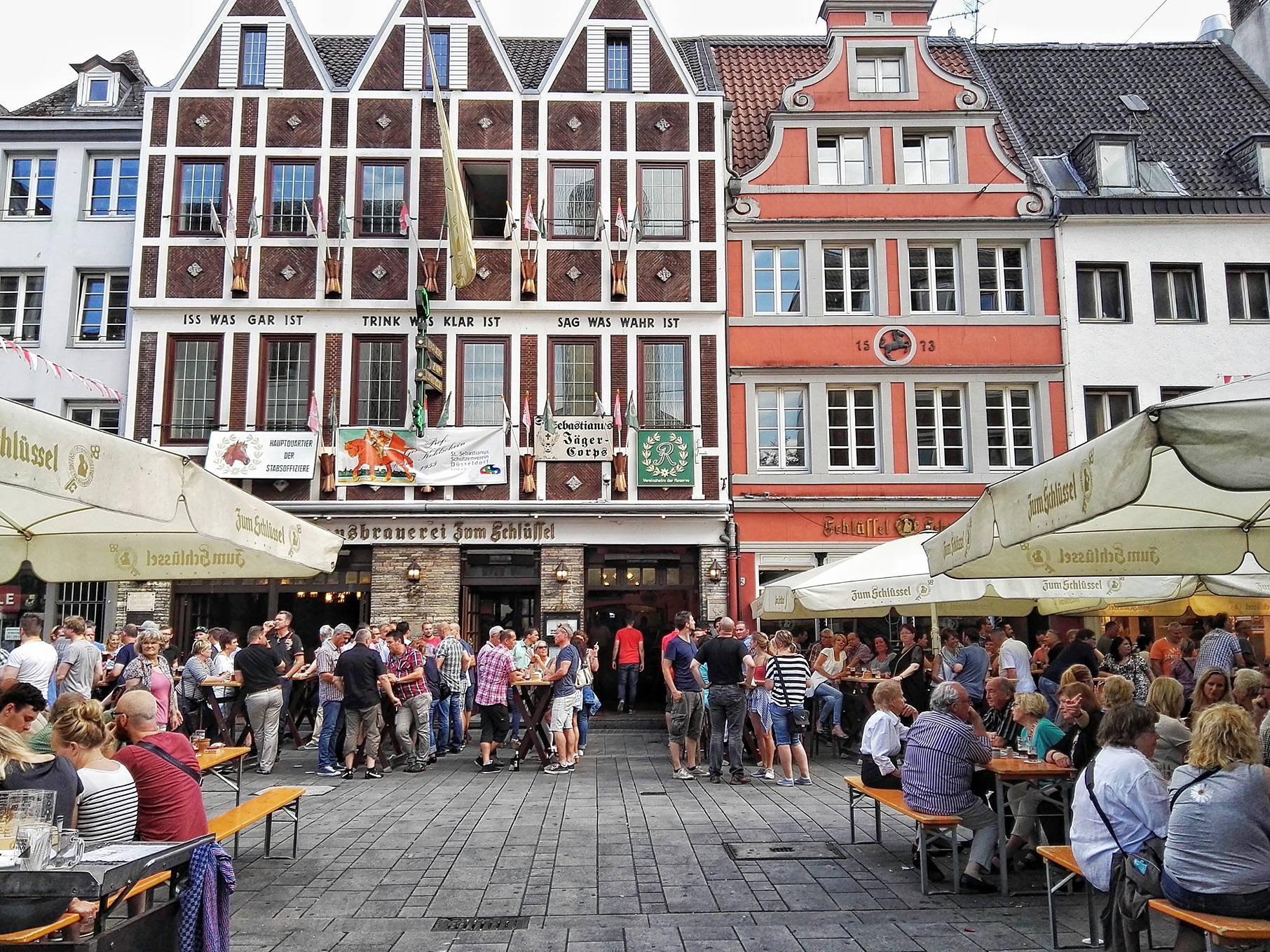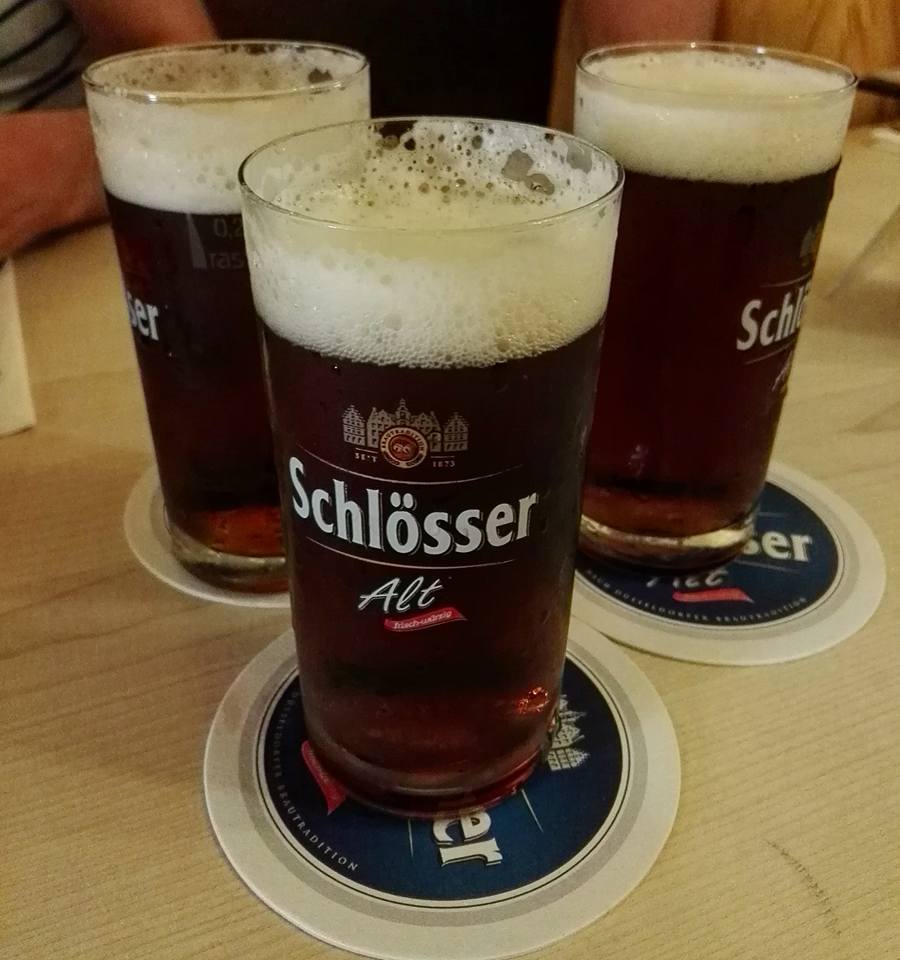 4) While you're at it, have some German fare, like a massive grilled pork knuckle with sauerkraut and potatoes, at Dusseldorf's oldest restaurant, Brauerei zum Schiffchen.
Apart from alt bier, the breweries at Altstadt are also a great place to have traditional, home-style German fare. For my first German meal on this trip at Brauerei zum Schiffchen (which got a mention in the Michelin Guide 2016 for its over 350 years of history– even Napoleon dined here!) I opted for this grilled pork knuckle bigger than my face (!!) with sauerkraut and potatoes. It was delicious and with the crispiest, crackling skin to boot! (Tip:  If you order the boiled version, it won't have the crispy skin– so get the grilled one!)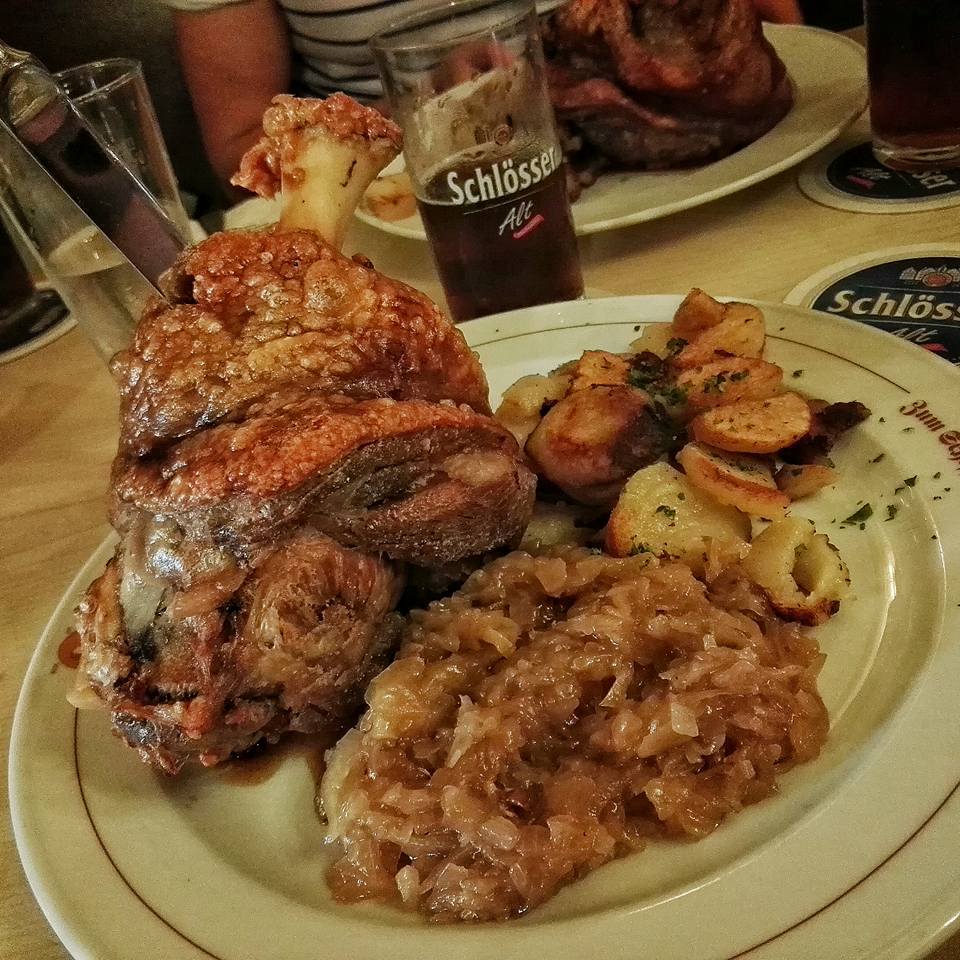 5) Say a prayer at St. Lambertus Church.
St. Lambertus is the main and oldest church in Dusseldorf's old town, built in 1206, with really beautiful architecture (Lower Rhine brick Gothic). It is a Roman Catholic church, and I'm happy I was able to stop by and say a prayer of thanks to the Lord for all His blessings. PS It ranks #16 on the Top Things To Do in Dusseldorf.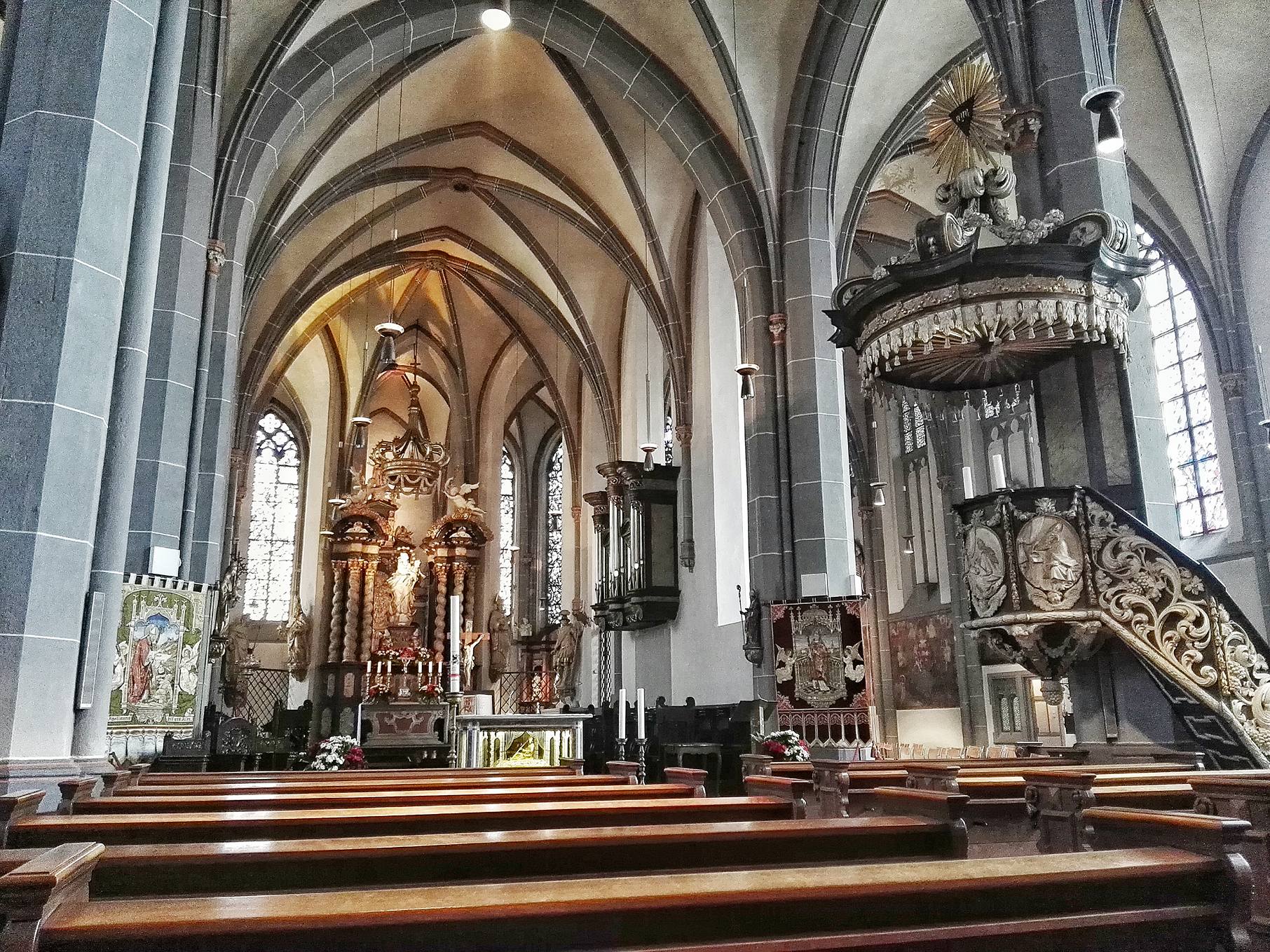 6) Go on a boat cruise on the Rhine River.
Another great way to see the city is by a boat cruise on the scenic Rhine River. While ours was organized by Singapore Airlines, KD Deutsche Rheinschiffahrt AG also offers tours. Click here to see what our gorgeous view was as day turned into night.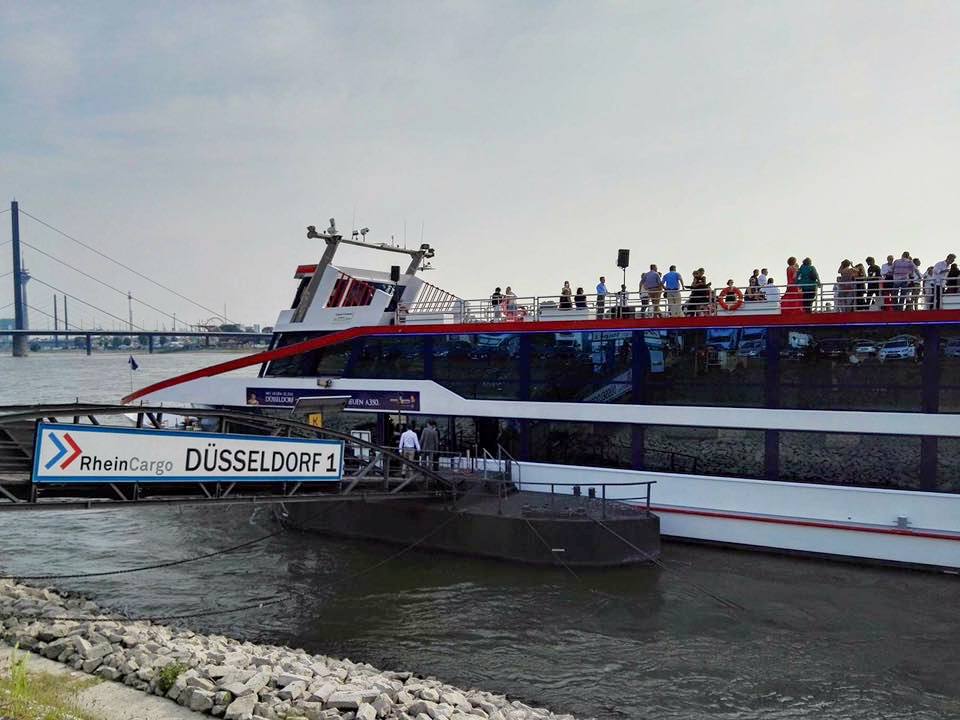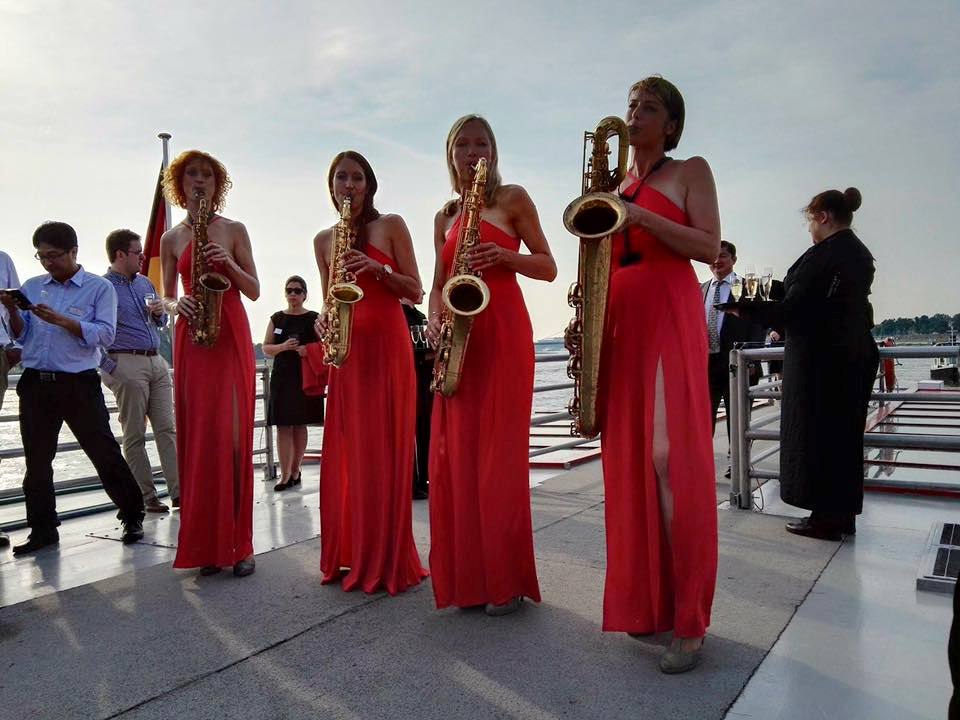 7) Shop luxury at Königsallee– or more affordable at Schadowstrasse.
Königsallee (also known as Kö) is a popular luxury shopping thoroughfare in  Dusseldorf which has the largest concentration of branded shops in all of Germany. Hermes, Tod's, Chanel, Prada, Dior, Bulgari, Tiffany, Ferragamo, Harry Winston.. you name it, they're ALL there. Nearby, Schadowstrasse, on the other hand has fast fashion stores like Primark, Esprit, C&A, etc.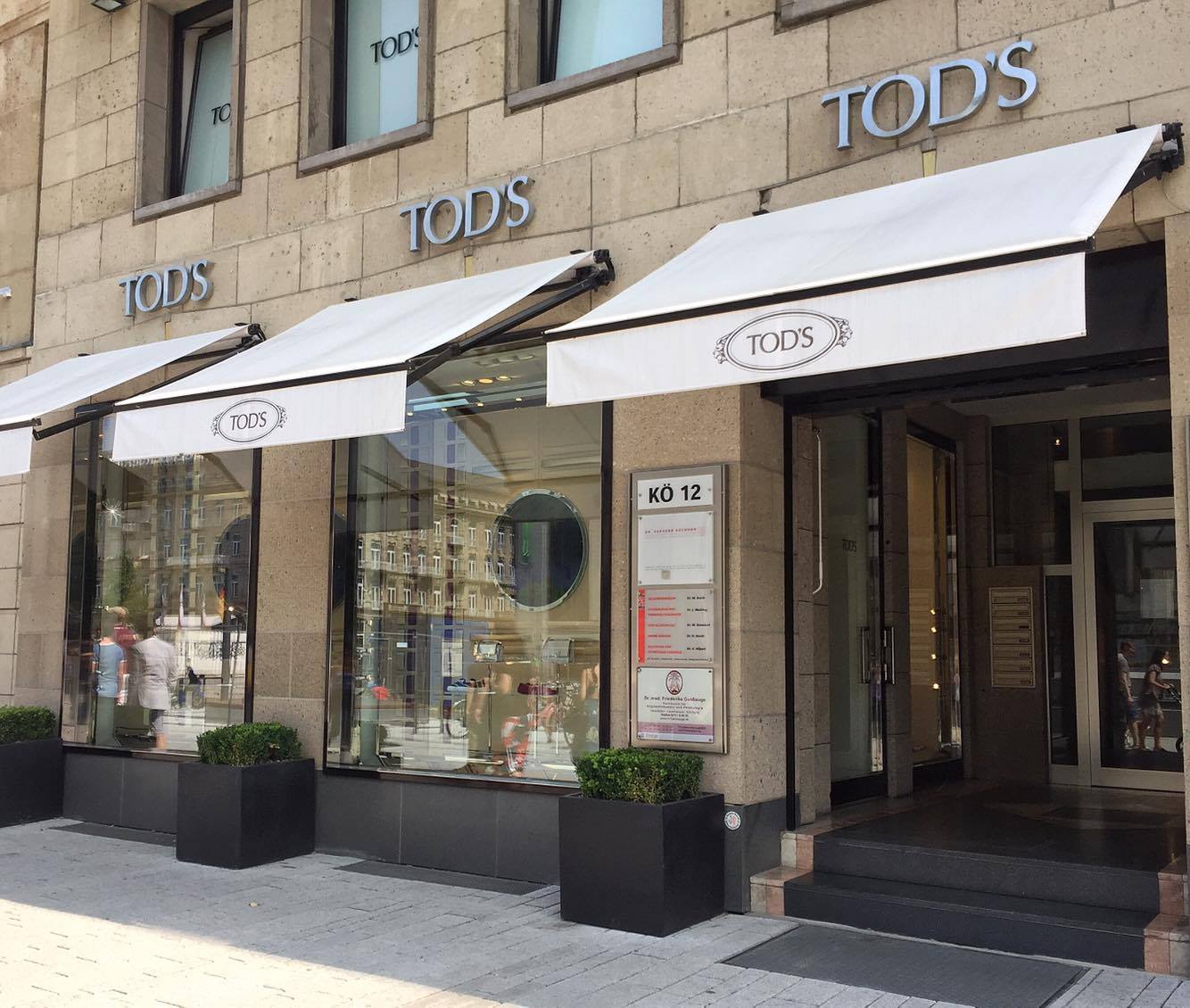 8) Visit the farmer's market at Carlsplatz.
Within the "tourist" or pedestrian shopping area is a permanent farmer's market in Carlsplatz. There are 60 stalls selling everything from fresh produce, fruits and vegetables, cheese, bread, flowers, coffee and even street food, and is open everyday (except Sundays) from 8AM to 6PM (weekdays) and up to 4PM on Saturdays. The potato stall is one of the more popular ones, selling over 40 kinds of potatoes sourced from around the world!
9) Go on an off-the-beaten path adventure to the graffiti houses-lined neighborhood of Kiefernstrasse.
This is a side of Dusseldorf that you won't read about in guidebooks; that they don't really promote; and a lot of locals don't even know about. Kiefernstrasse was notorious in the 1980s for squatting and had connections to the Baader-Meinhof Gang (Red Army Faction). Today it is an isolated street of residential housing, home to 800 people from 40 nations… and has become one of the biggest graffiti "walls" in the world. This was for sure one of my major highlights in Dusseldorf, although I would advise to come early during the day when the sun is still out, and preferably with a friend. (Big thanks to Fairfax New Zealand's Hamish Nicoll McNeilly for taking me here!)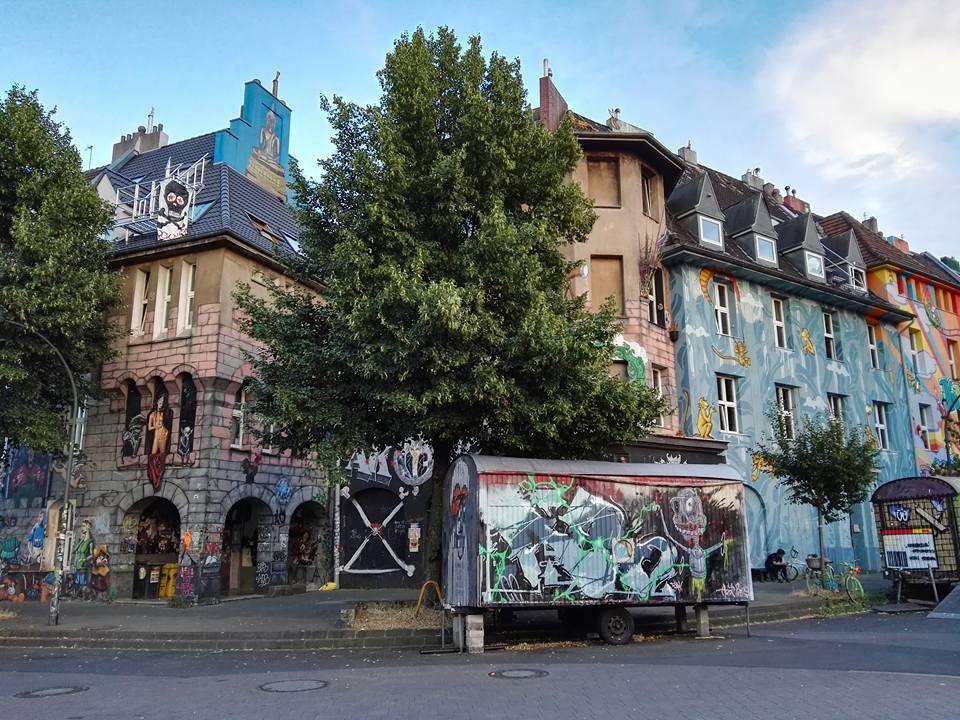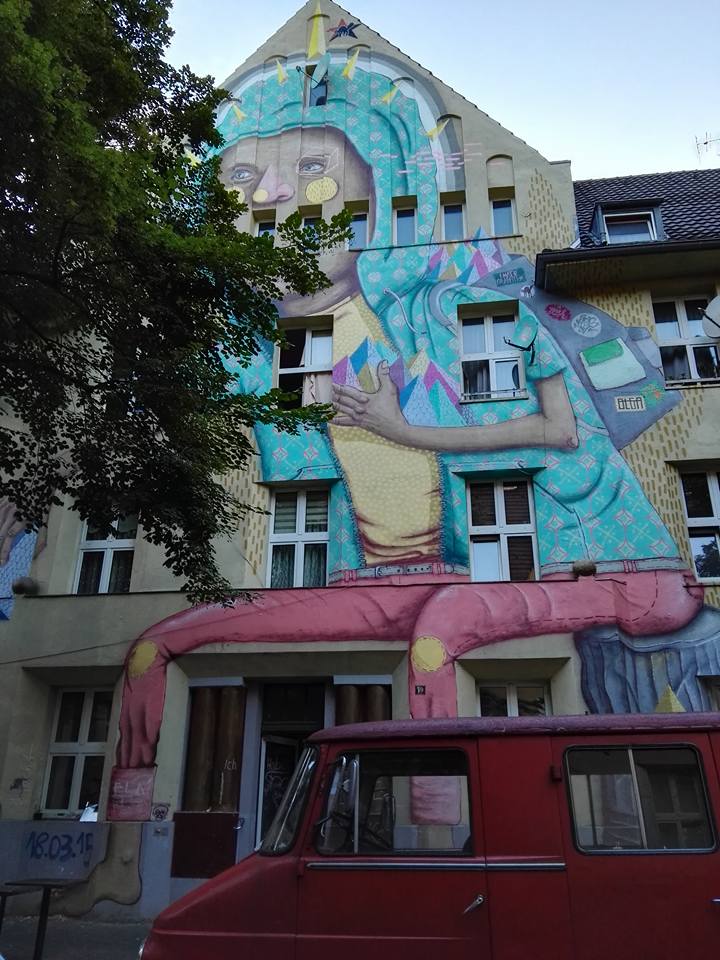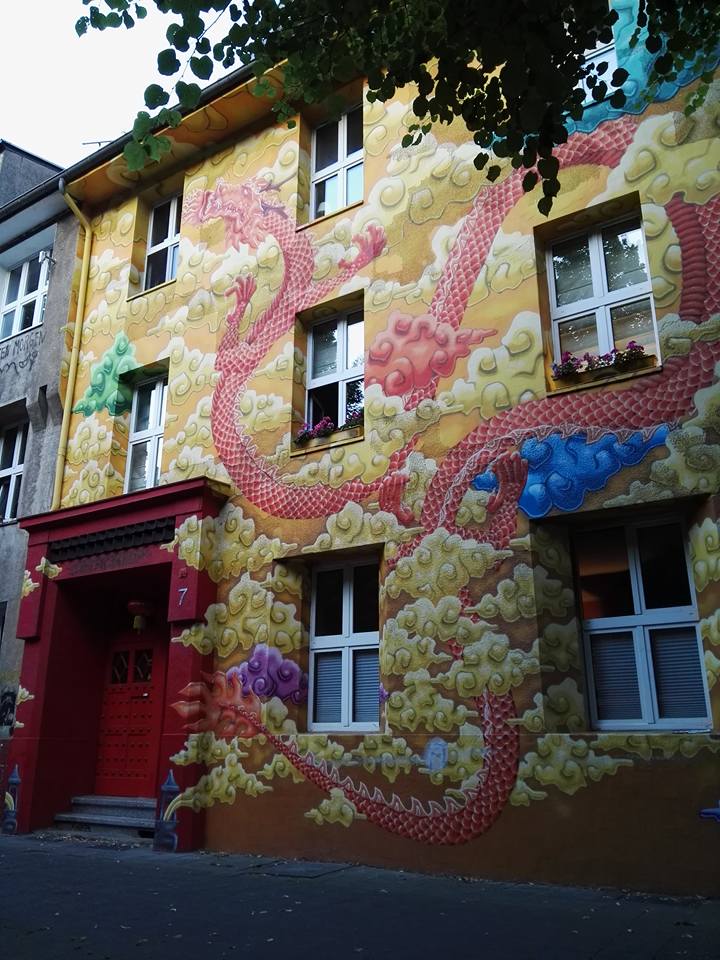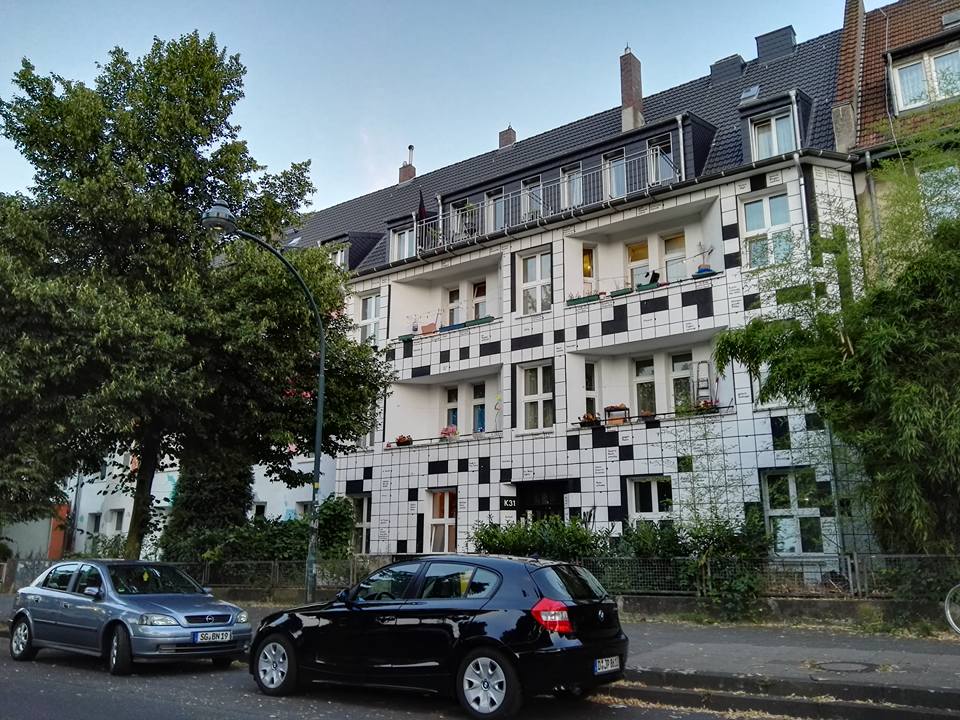 10) Look for Pokemons at  Girardet Bridge– I mean, the mayor of Dusseldorf just closed the bridge for Pokemon Go!
The tree-lined Königsallee is home to Girardet Bridge, is now more popularly known for being a Pokemon Go hub. Throngs of people sit here all day as there are PokéStops on both sides, all of which can be accessed by being on the bridge. In fact, the Mayor of Dusseldorf has decided to block off the bridge so the players can safely be on it. They've even brought in portable toilets and garbage cans to be more hospitable towards players.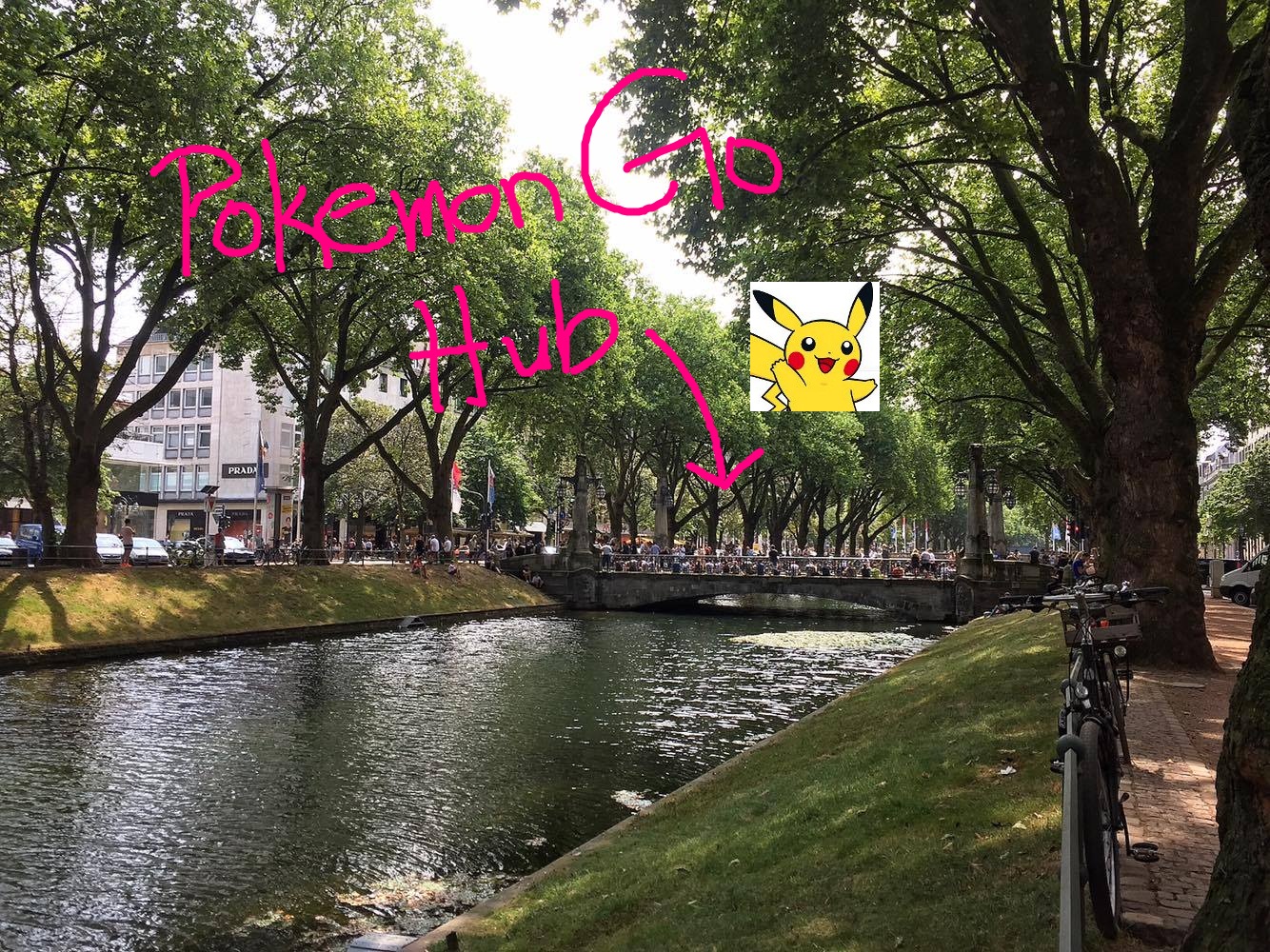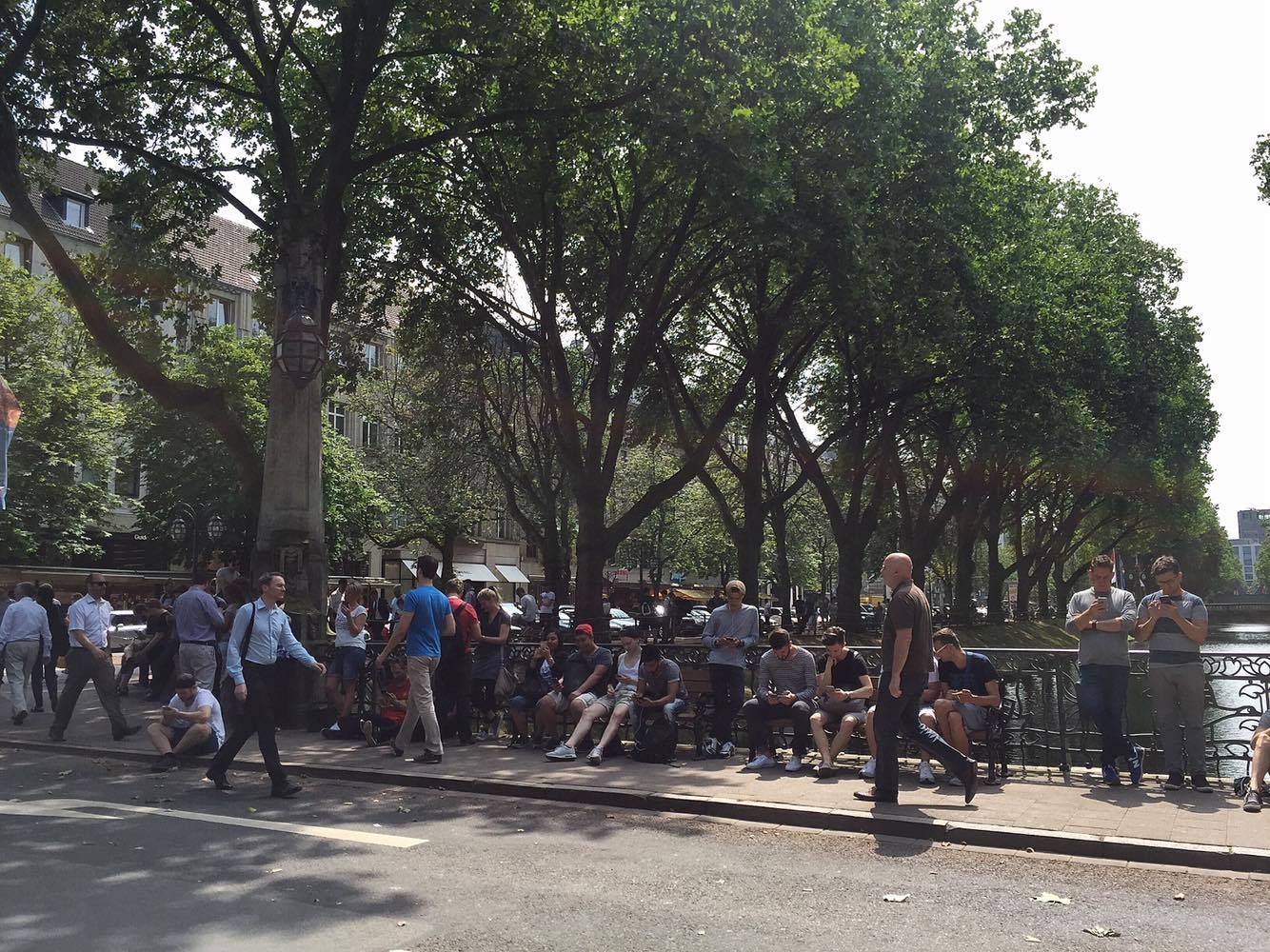 Singapore Airlines flies to Dusseldorf three times a week on SQ338, departing Singapore on Monday, Thursday and Saturday at 11:30 PM, and arriving at Dusseldorf at 6:30 AM the following day.
Singapore Airlines flies from Dusseldorf to Singapore three times a week on SQ337, departing on Tuesday, Friday and Sunday at 11:30 AM and arriving at 6:10 AM the following day.
Read about my actual flight experience from Dusseldorf to Singapore onboard Singapore Airlines' new Airbus 350-900 HERE.