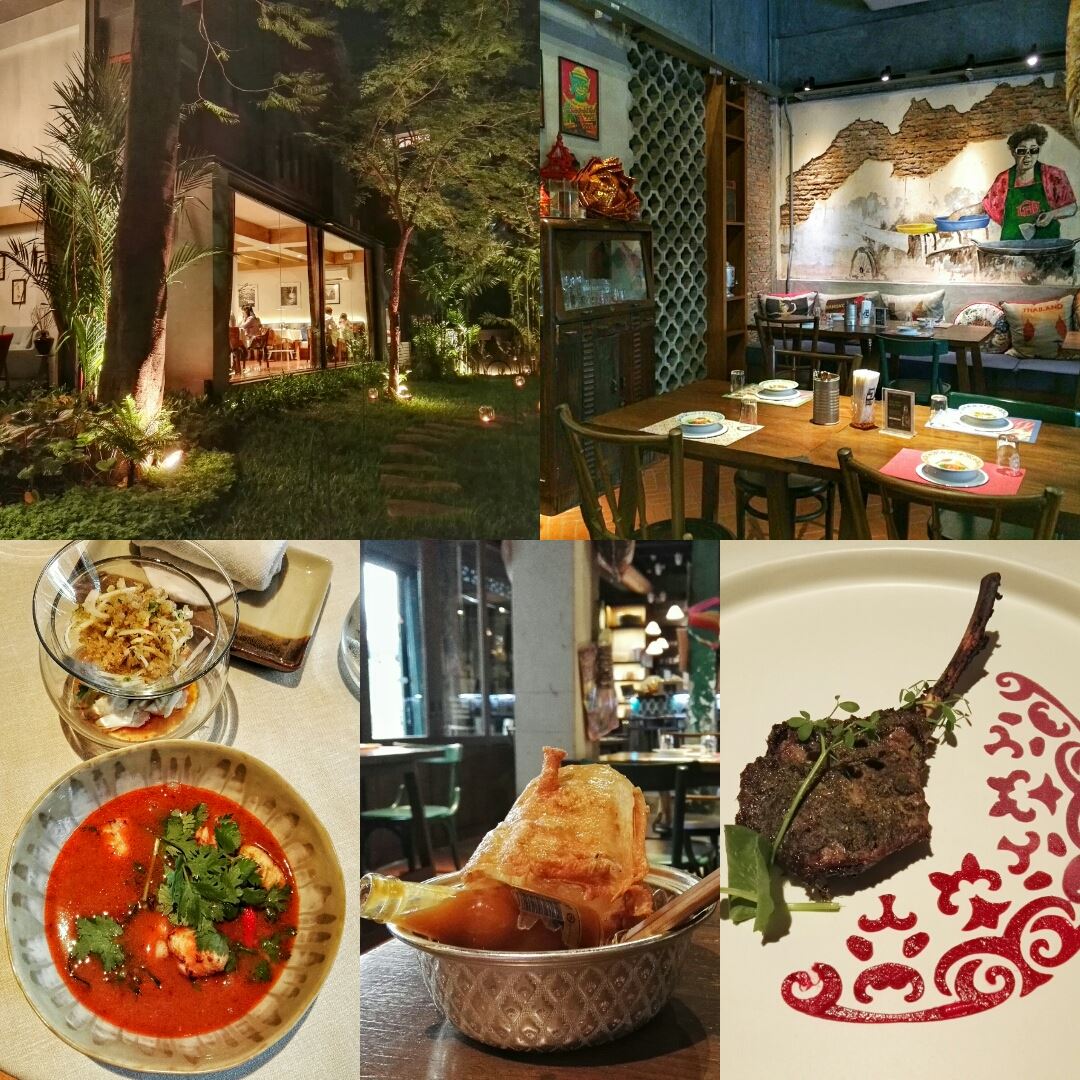 I recently spent 7 days in Bangkok– the longest I've spent in the Thai capital without flying off to Phuket or the Phi Phi Islands. I was there the weekend before the the fourth Asia's 50 Best Restaurants awards ceremony, and decided to extend my stay til the following weekend so I could attend the 50 Best Explores Thailand Gala Dinner, the culmination of  a trip up to the Royal Thai Project in Chiang Mai where Joan Roca (El Celler de Can Roca), Ashley Palmer-Watts (Dinner by Heston) and Peter Gilmore (Quay) explored the terrain and produce and immersed themselves in local culture.
While I've been to Bangkok many times– visited the temples, did the Chao Praya river cruise, shopped at Chatuchak market, ate grasshoppers on Khao San Road– I've never really properly explored the restaurant scene. This trip, I found out it was incredibly vibrant, exciting, and with probably some of the best value tasting menus in the world (Hey, some even cheaper than Manila!)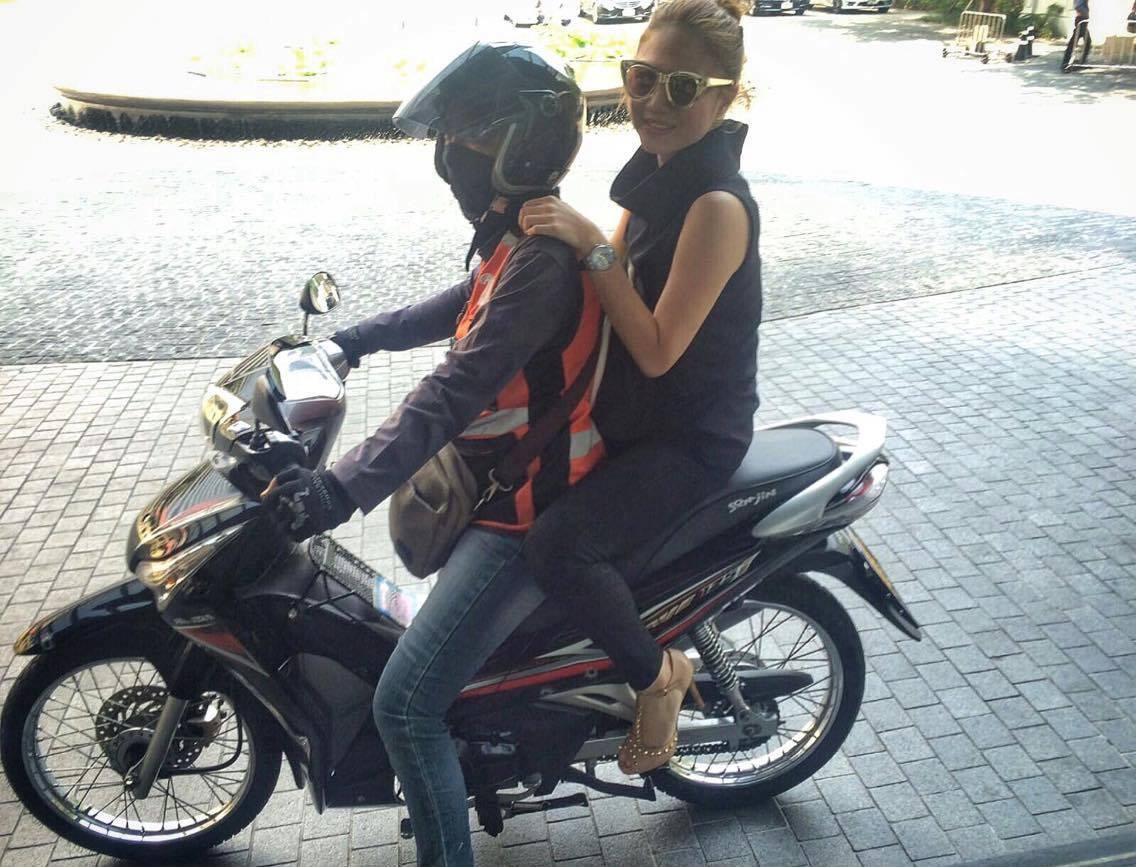 Here are my Top 9 restaurant recommendations in Bangkok for your next visit. (I know, I know, 9 is such an odd number, I could've made it 10 but I would be forcing it if I did!) And if you're looking for a place to celebrate a milestone– whether it's a birthday, anniversary, etc.– this is a great city for it. (*Note: These were all my faves from my most recent trip to Bangkok, and I unfortunately didn't get to have any street food this time around, so street food purists– stop right there!)
1) Gaggan
Most of you probably know that my events platform Cross Cultures, brought Gaggan to Manila for a collaboration dinner with Gallery Vask last October 2015. I've always loved what Gaggan Anand and his team (special mention to the guys, head chef Rydo Anton, R&D chef Sergi Martinez, chef Garima Arora, and of course, brand manager Meenakshi Kumar, who I got to know when they came to Manila) are doing with Indian cuisine– that it can be had not just as street food but also as fine food. So imagine how fast my heart was beating at the recently concluded Asia's 50 Best Restaurants awards ceremony… — and so thrilled that Gaggan is once again Asia's #1 restaurant— the first one to remain on the number one spot for a second year!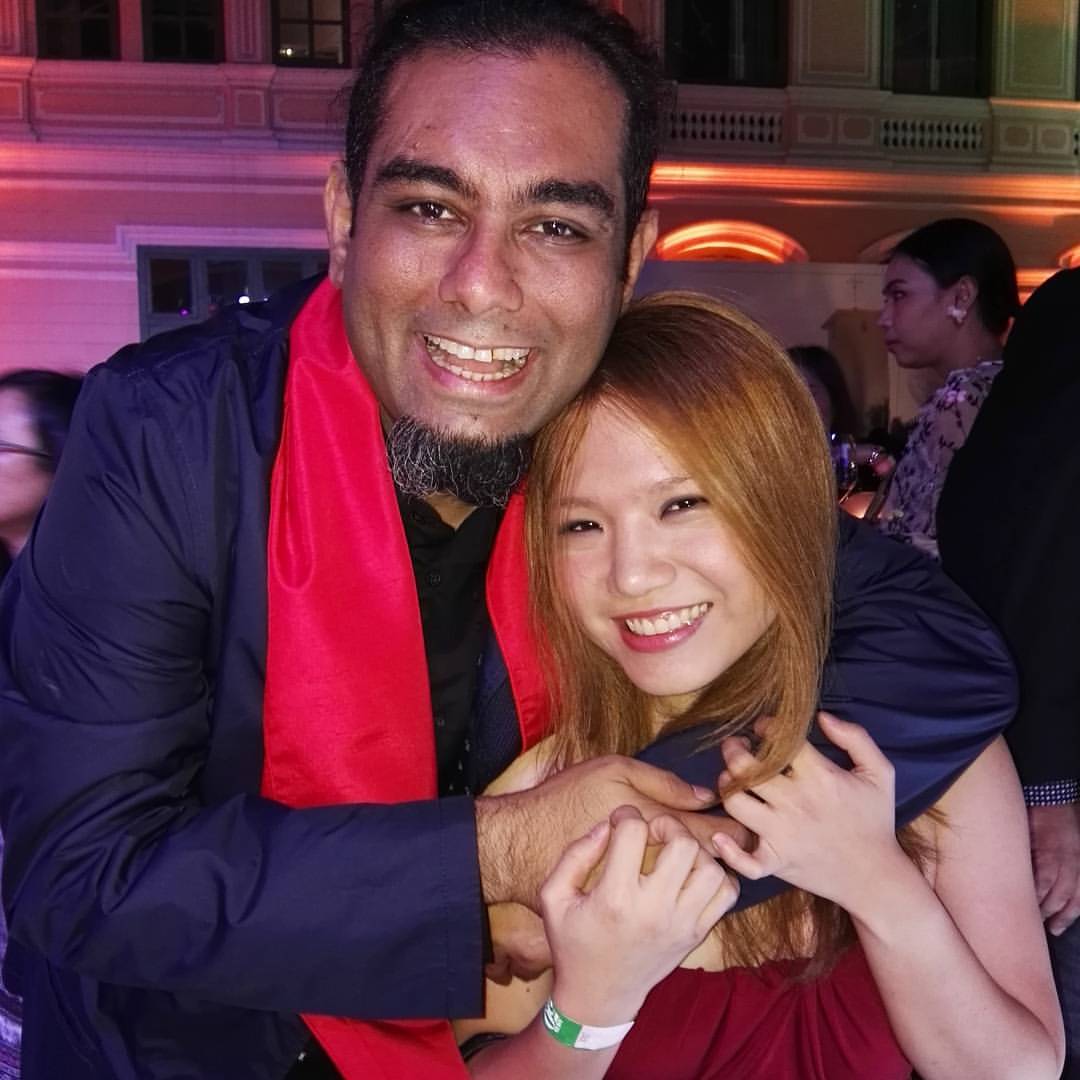 The last time I dined at Gaggan for my birthday, they had three menus. Now, there is only one: The Gaggan Experience (so reasonably priced at 3,500++ baht for 19 courses for the number 1 restaurant in Asia!) Some of the dishes from the previous menus are retained– the one-bite finger foods, the signature surprise "charcoal" dish, but they've also injected new dishes that have been inspired by their travels  (Japan especially)– and quintessential Indian comfort food– as in green chicken tikka masala curry and the BEST NAAN IN THE WORLD. They also have a new sommelier, Vladimir Kojic who is not only knowledgeable about wines but is also quite the entertainment (he loves his San Miguel beer, too).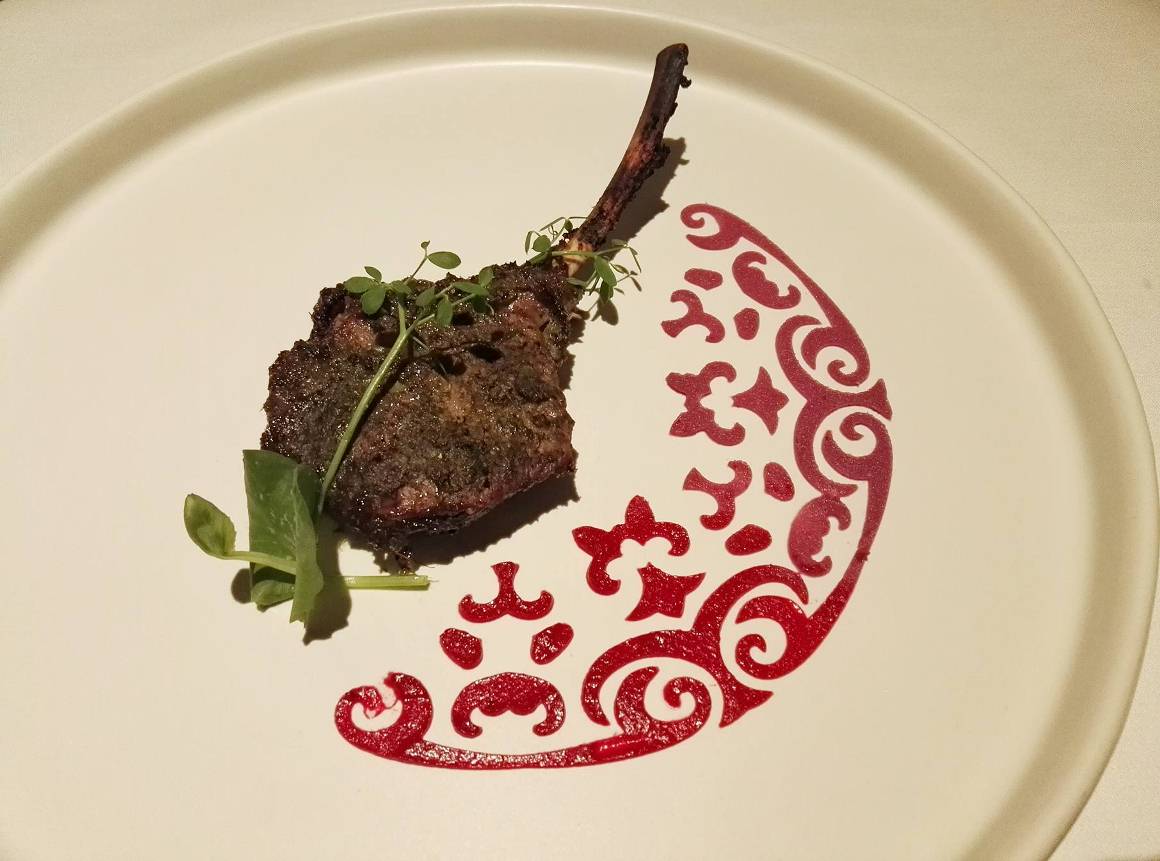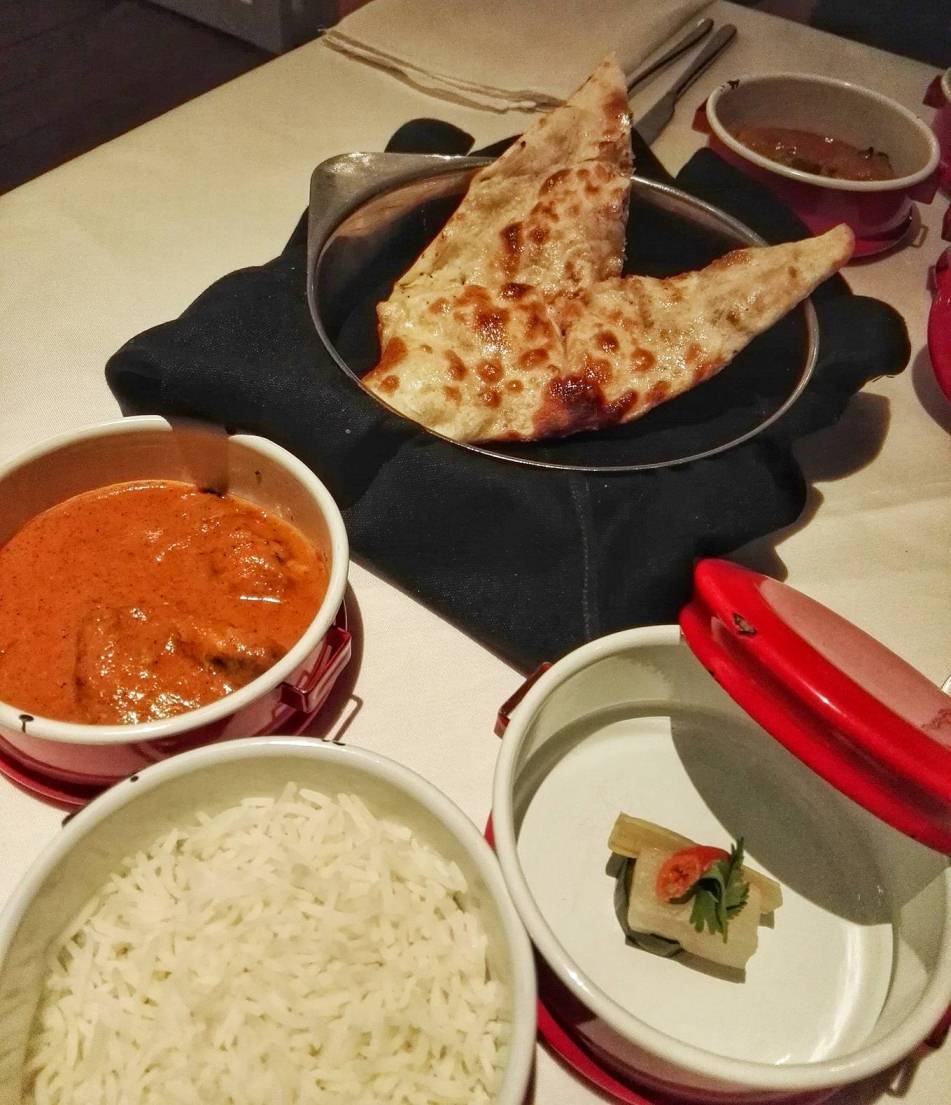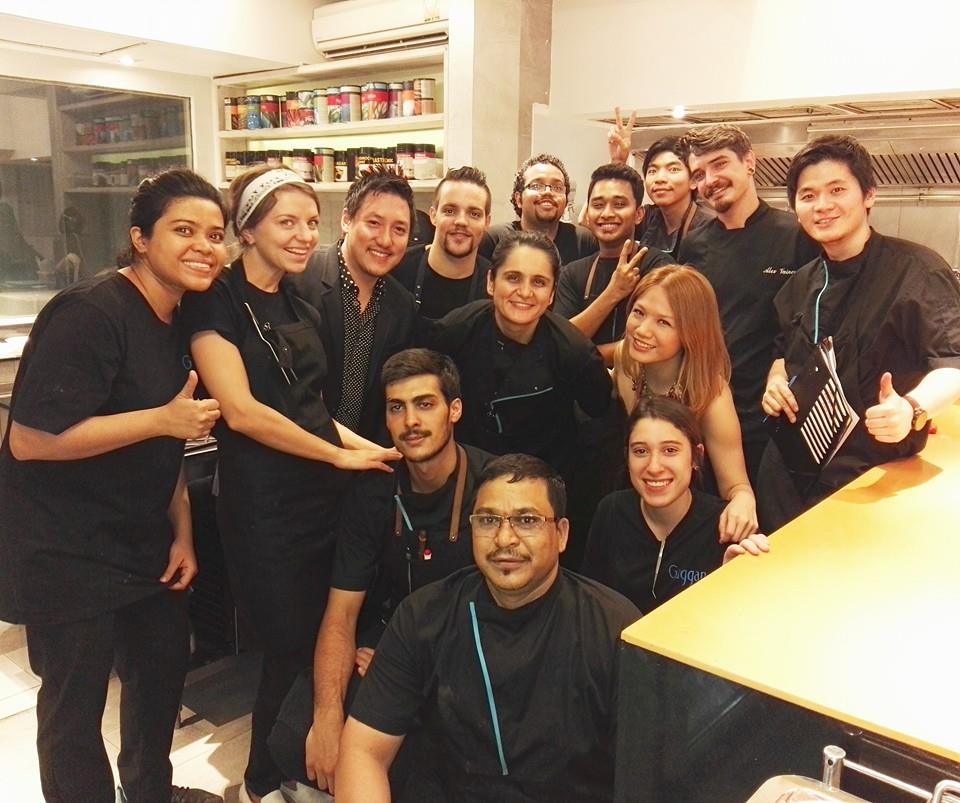 68/1 Soi Langsuan, Ploenchit Road, Lumpini, Bangkok, Thailand. Phone +66 (2) 652 1700, email <reservation@eatatgaggan.com> or visit <eatatgaggan.com>
2) Suhring
I've had a lot of European tasting menus but never German– and especially not German progressive. The Suhring twins, Mattias and Thomas, are quite known in Bangkok, having previously helmed Mezzaluna at Lebua. But frequent Lufthansa business and first class fliers may have had a taste of their dishes as they used to do the airline's menu a couple of years ago. Now, they've opened their own place in one of the most stunning houses in Bangkok set within a residential area and with its own lush garden. The dishes they do here are German in flavor but modern in technique— as in refined snacks like a one-bite Caesar salad where the "chicken" is fried chicken skin used as a base and the Caesar dressing turned into a "sphere"– and a Waldorf salad that has the walnut whipped into an espuma topped with walnut sand, celeriac cups and sour green apple sorbet.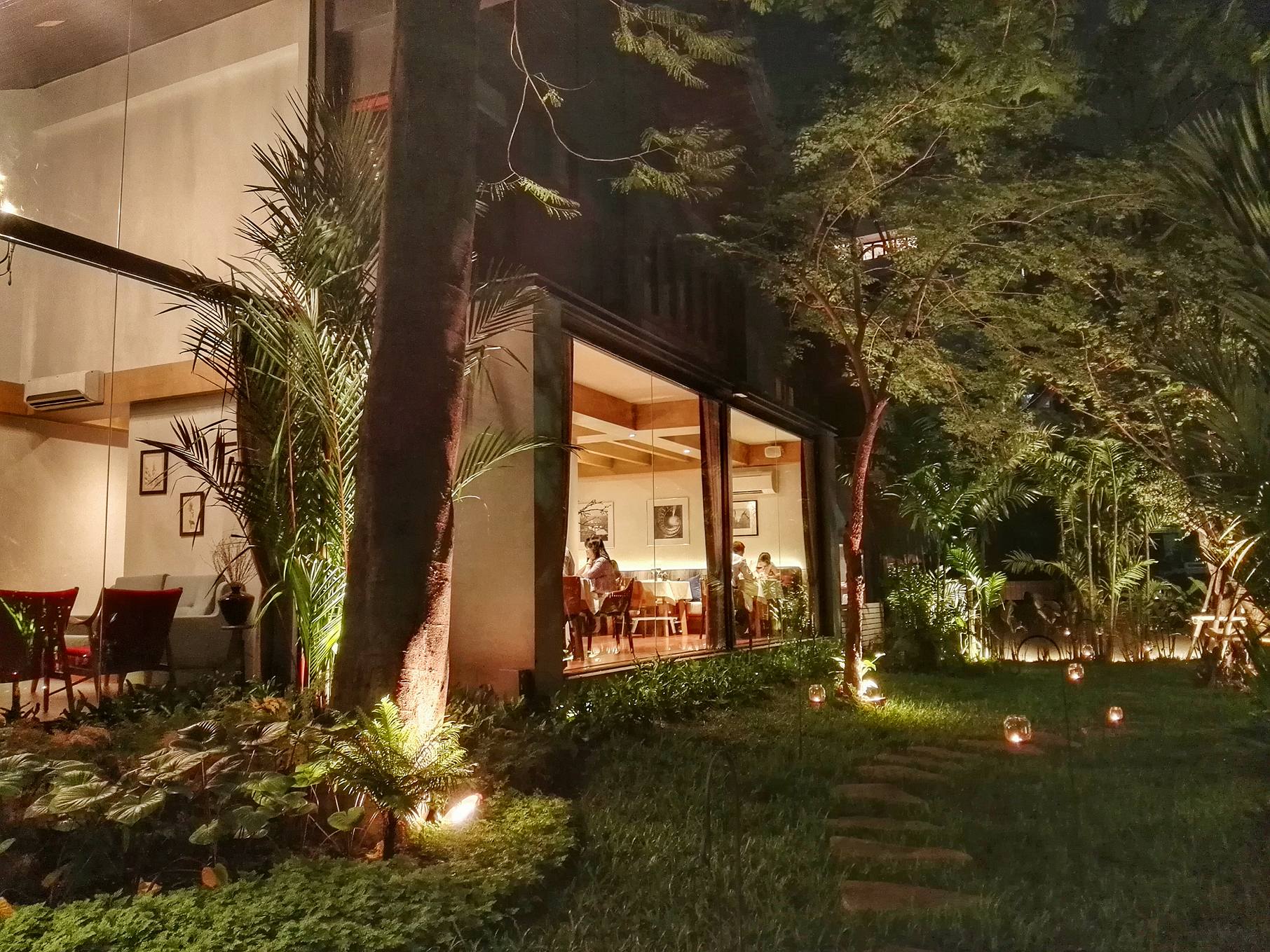 My personal favorite course though is the "Brotzeit," which literally translates to "bread time," an integral part of German culture. It's so quintessentially  German– as in homemade sourdough bread (cultured for a year) and pretzel, plus cold cuts on a board, and pickles and onions in a jar– but with dashes of modernity. Obatzda, a Bavarian cheese spread made with aged cheese, paprika and cumin, is done molten as in a dip. And then Oldenburger butter is mixed in with burnt butter for a double layer of flavor– these dips were amazing! Forceps are served with this course so you can mix and match these elements depending on your preference. It is just opening this March 2016 so do check it out. I predict it to be the next hottest restaurant in Bangkok! (And honestly, it's so well-priced at 2,500++ baht for 12 courses!)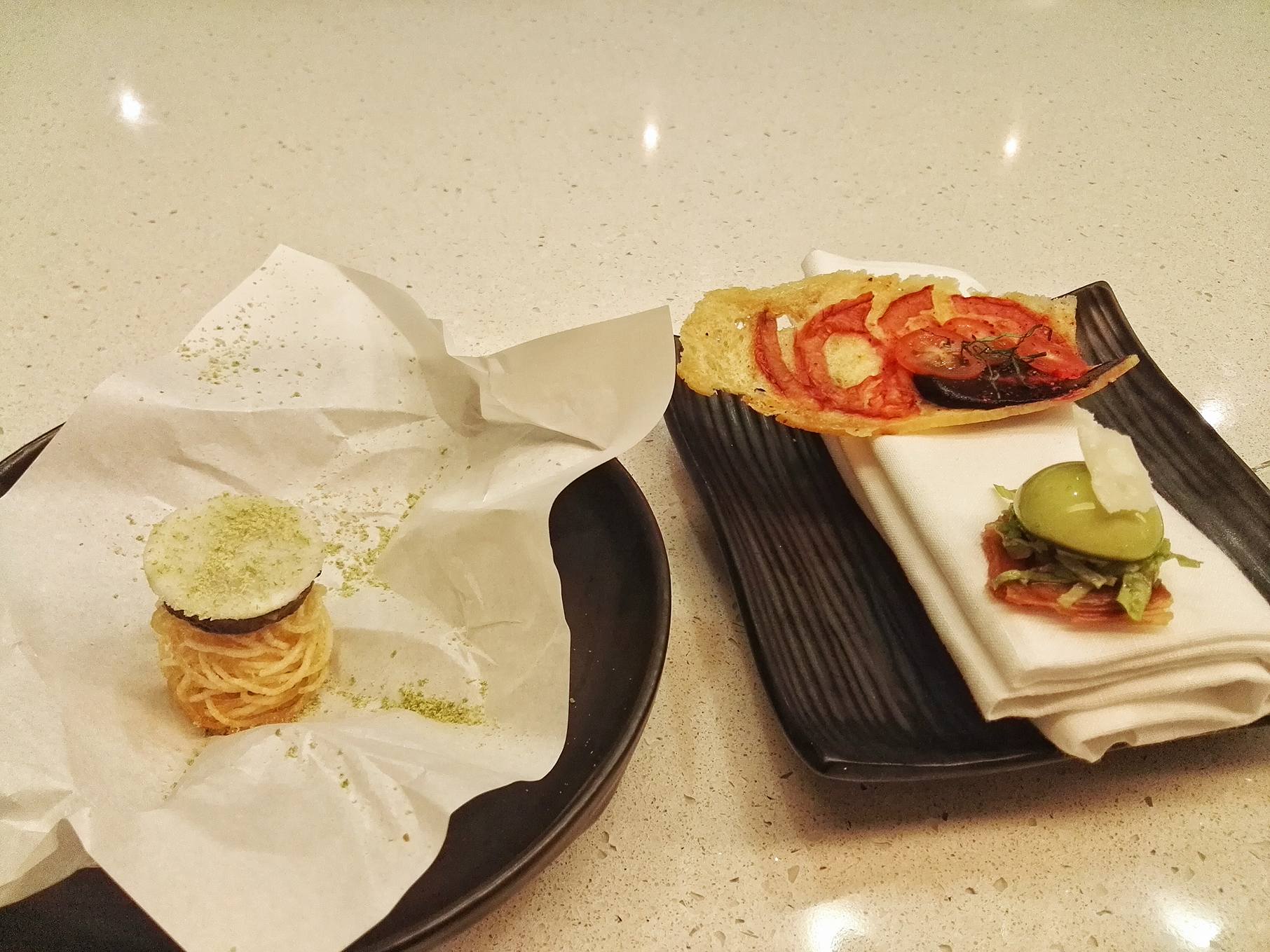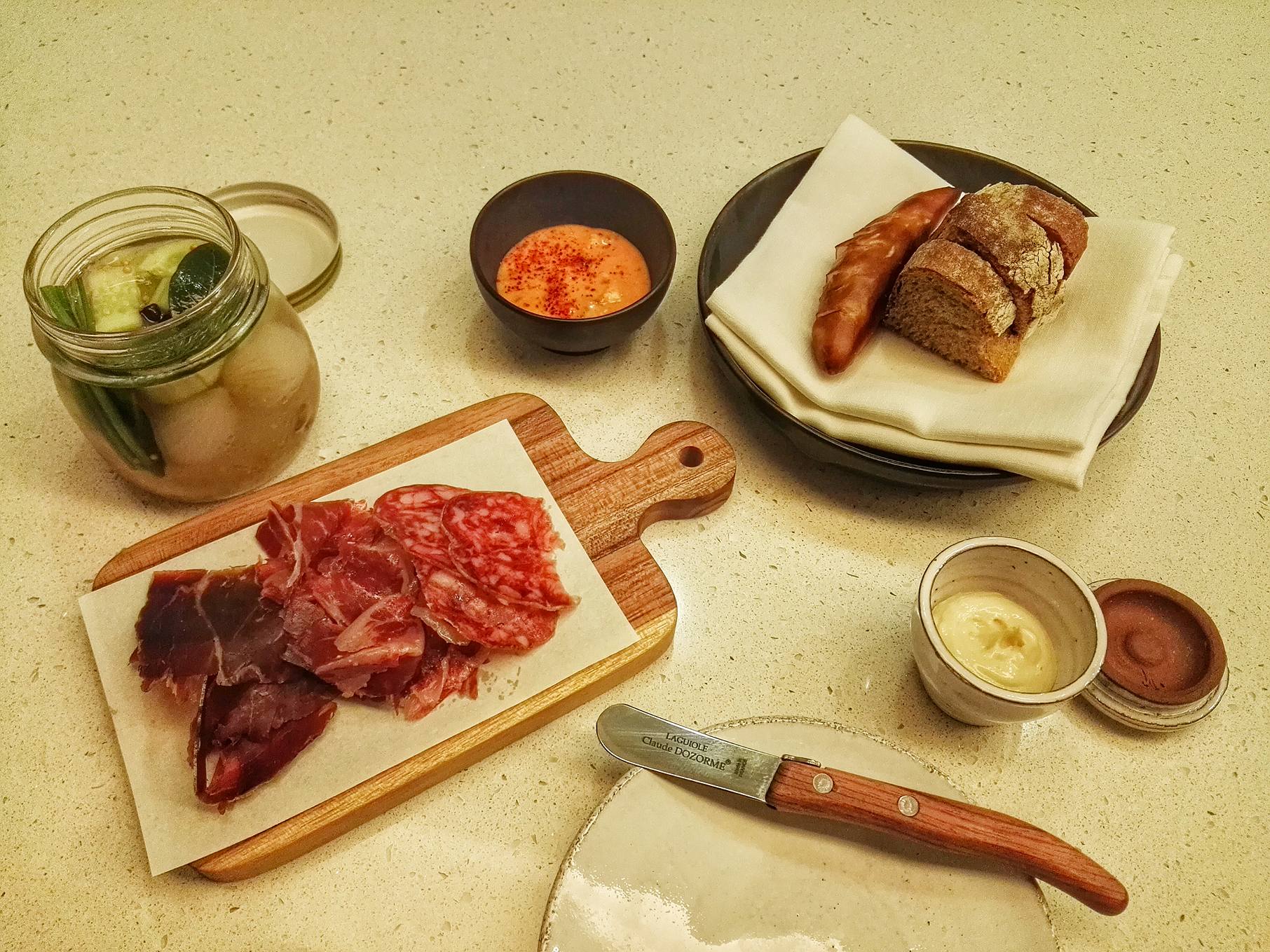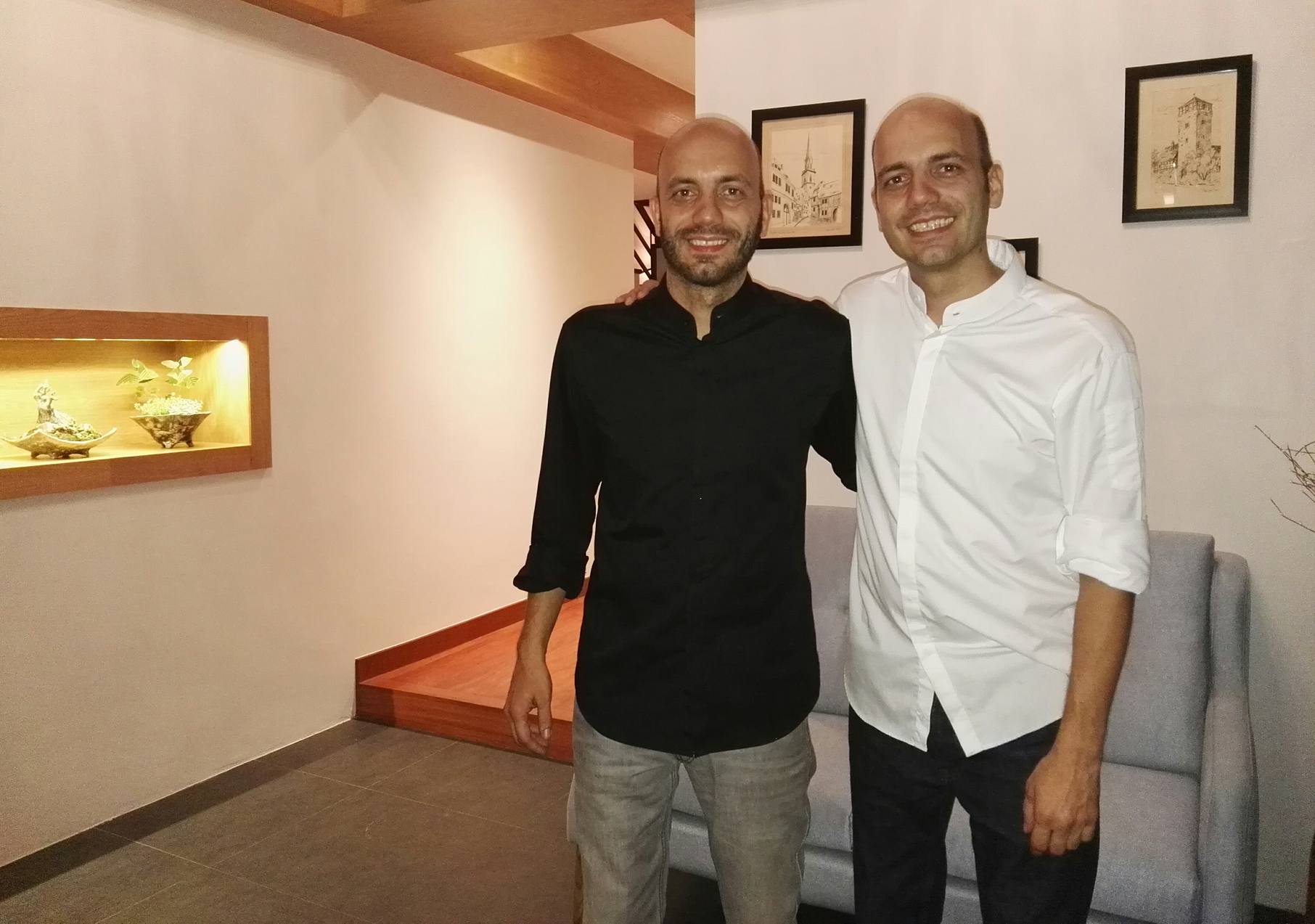 10 Yen Aksat Soi 3, Chongnonsi, Yannawa, Bangkok, Thailand. Phone +66 (2) 287 1799, email <reservation@restaurantsuhring.com> or visit <restaurantsuhring.com>
3) Benjarong
The BEST Thai food I had in Bangkok this trip was at Benjarong at the Dusit Thani. Flavors were completely intact, spice levels solid but technique and presentation a notch above. For example, these 2 dishes are a play of hot and cold– Tom Yum soup with twice cooked prawn, galangal and lemon grass, paired with Yum Pla Duk Foo– deconstructed crispy catfish salad that you pour into the crab meat and tom yum custard. Excellent! Likewise, the Crispy Sweet Pork Ribs and Salted Sriracha Cabbage— fall-off-the-bone that accurately had all flavors and textures in its description! Dusit Thani International group chef Morten Boejstrup Nielsen is a tattooed Danish (formerly of Nahm in London and Sra Bua by Kiin Kiin in Bangkok) who credits learning how to cook Thai food from David Thompson. Morten is now based in Guam where he is revamping the Dusit property and possibly later this year, Manila.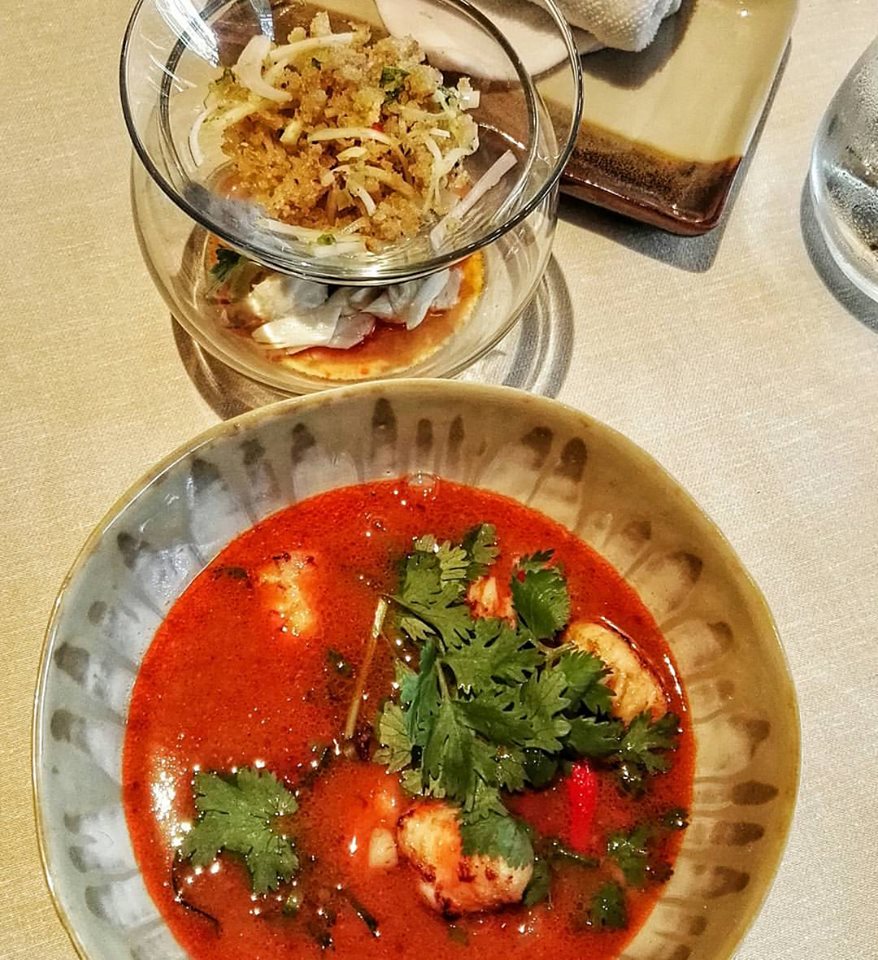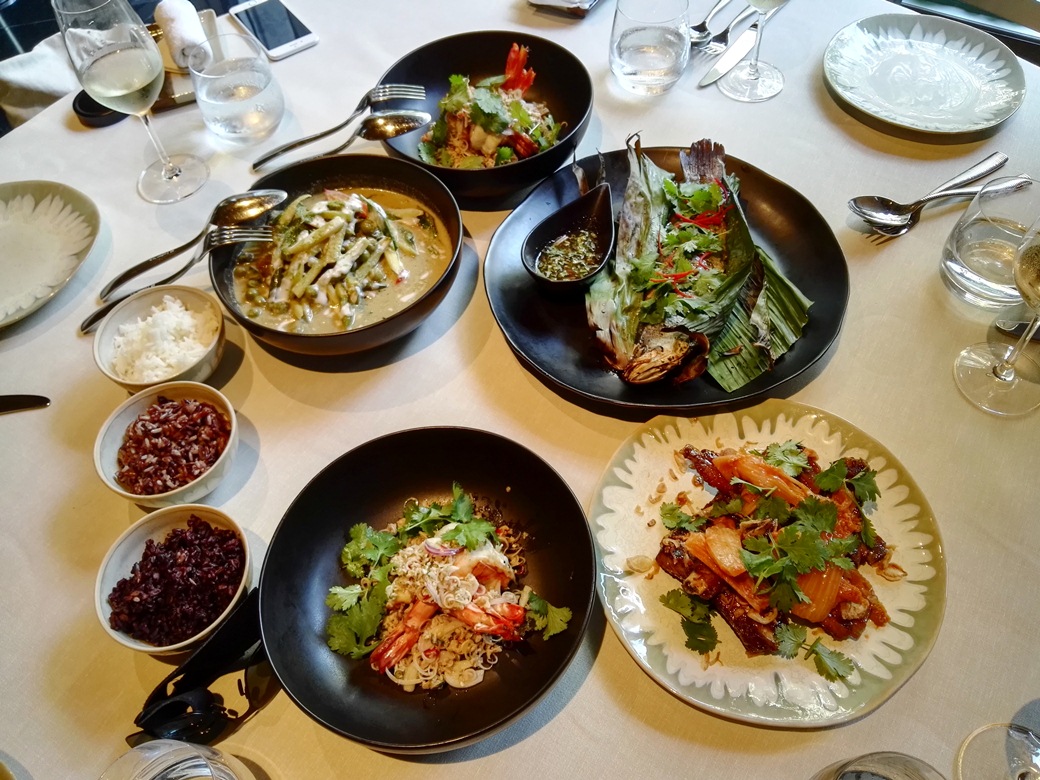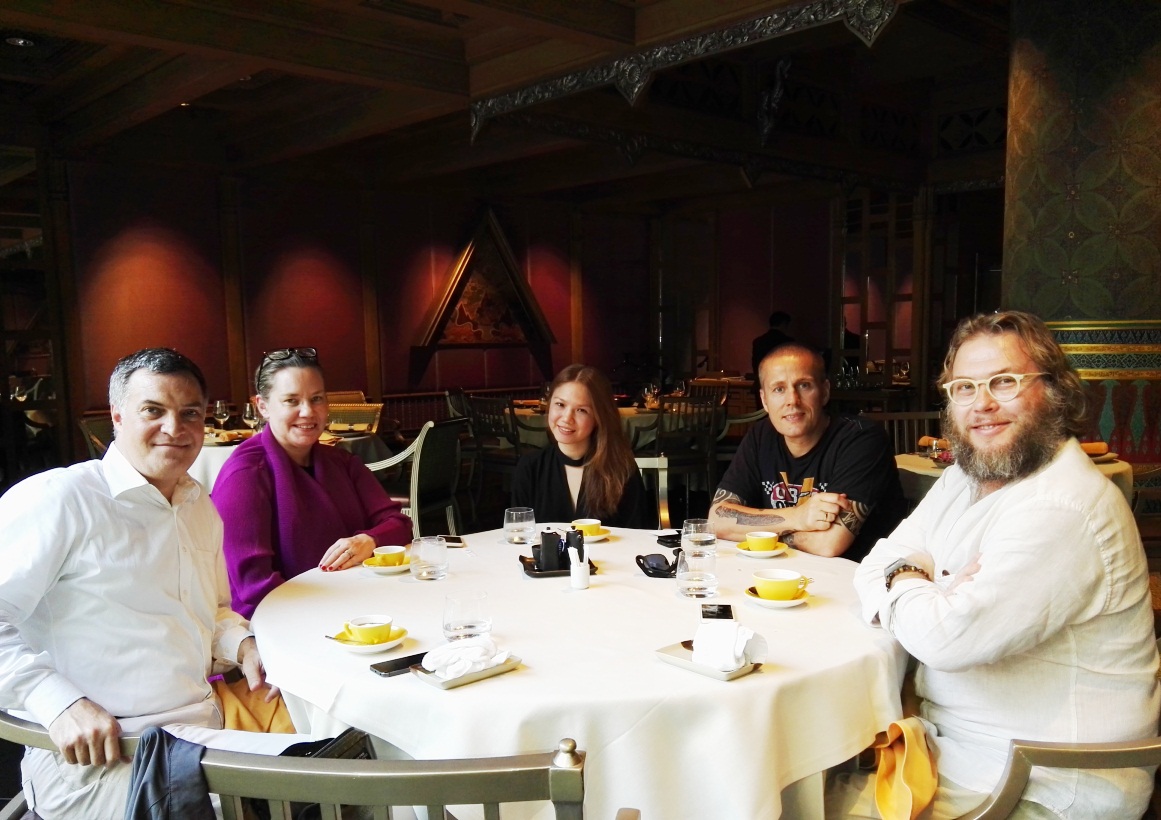 46 Rama IV Road, Bangkok, Thailand. Phone +66 (2) 200 9000 or visit <dusit.com>
4) The House on Sathorn (The Dining Room)
The former Russian Embassy next to the W Bangkok has now been reincarnated to The House on Sathorn— a restaurant, a bar, a courtyard bistro (which was also the venue for the cocktails and post-awards party of the Asia's 50 Best Restaurants celebration), and soon will also have its own lounge. At the awards, Turkish chef and director of culinary Fatih Tutak made some really delicious kebabs w/ sumac-onions served w/ pide. At his restaurant, The Dining Room at the House on Sathorn, the tasting menu (3,900++ baht) is crafted based on his favorite gastronomic memories and travels, wielding both traditional and modernist techniques.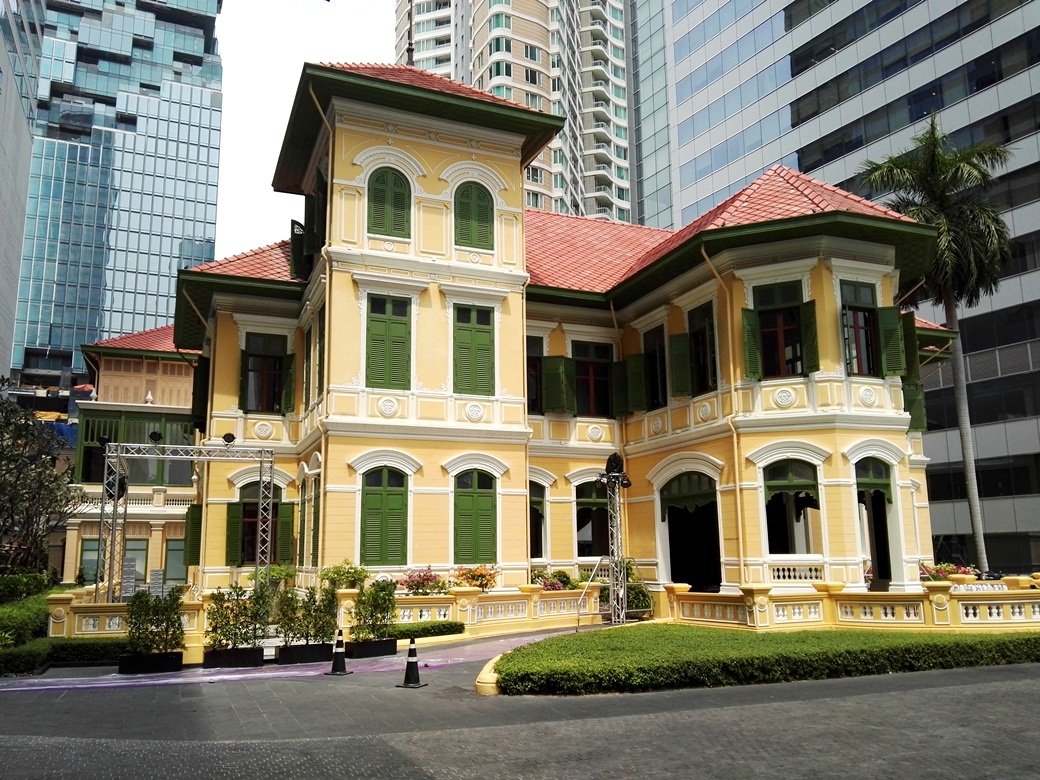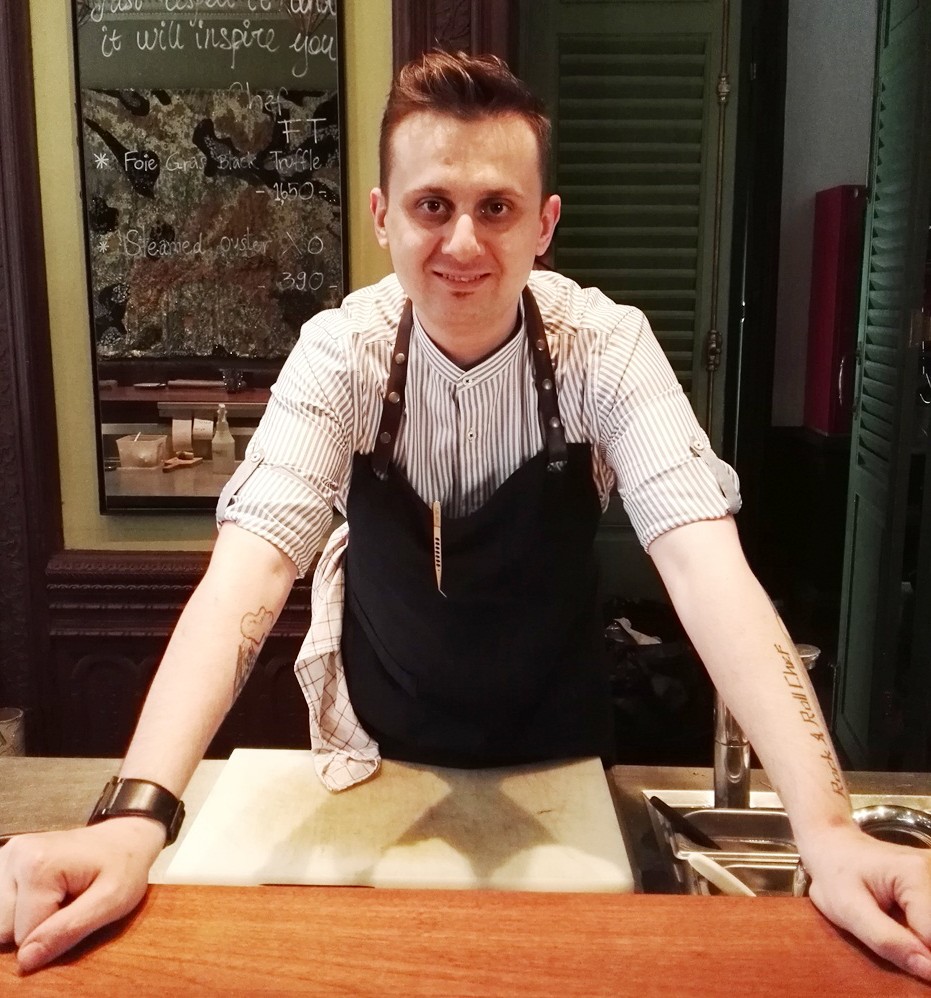 Red Parfait is foie gras done in parfait style encased in a thin layer of beet root, served with a perfectly toasted brioche and a dollop of 16-year-old balsamic from Modena. We've all had foie gras a million times but this was really, really nice and delicate and no umay factor because he uses 80% goose liver & 20% chicken liver. Also, he serves a blow-torched tuna chutoro with kristal caviar, yuzu, miso and avocado, on top of a single solitary lotus leaf, a throwback to his early mornings at the Tsukiji market in Japan (in a dish called Early Morning at Tsukiji Market Vol. 4) — a country where he's never had a bad meal at.
PS The best cocktail I had in Bangkok, The Garden, was also here– at The Bar at The House on Sathorn.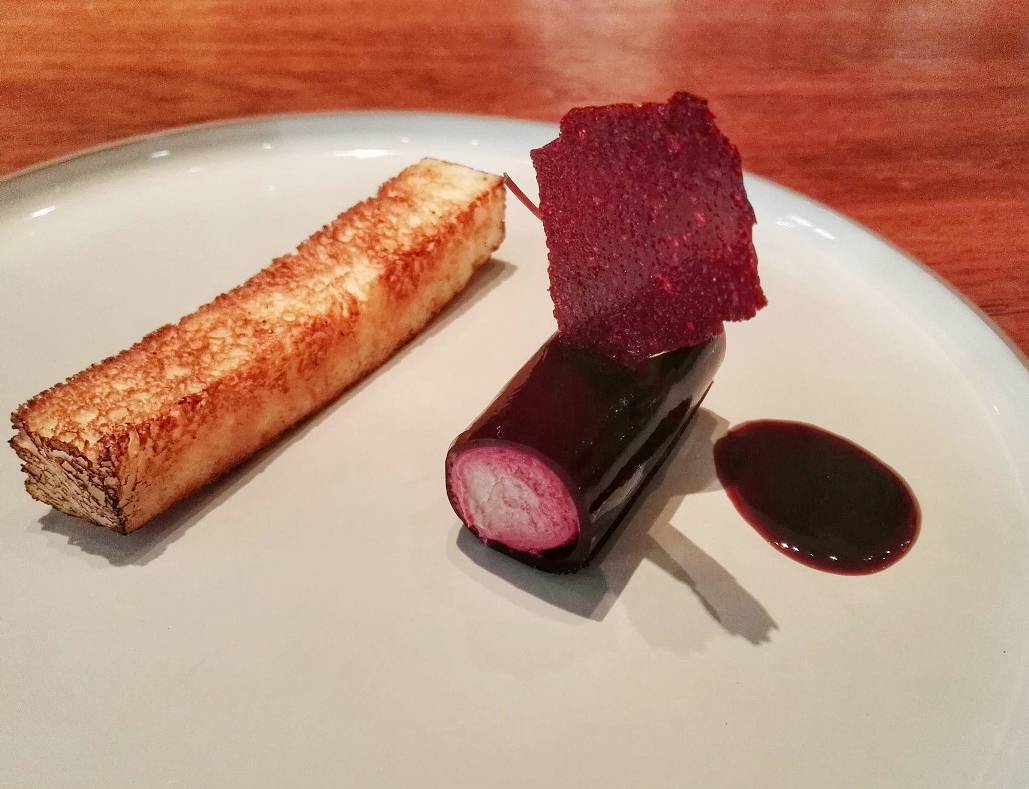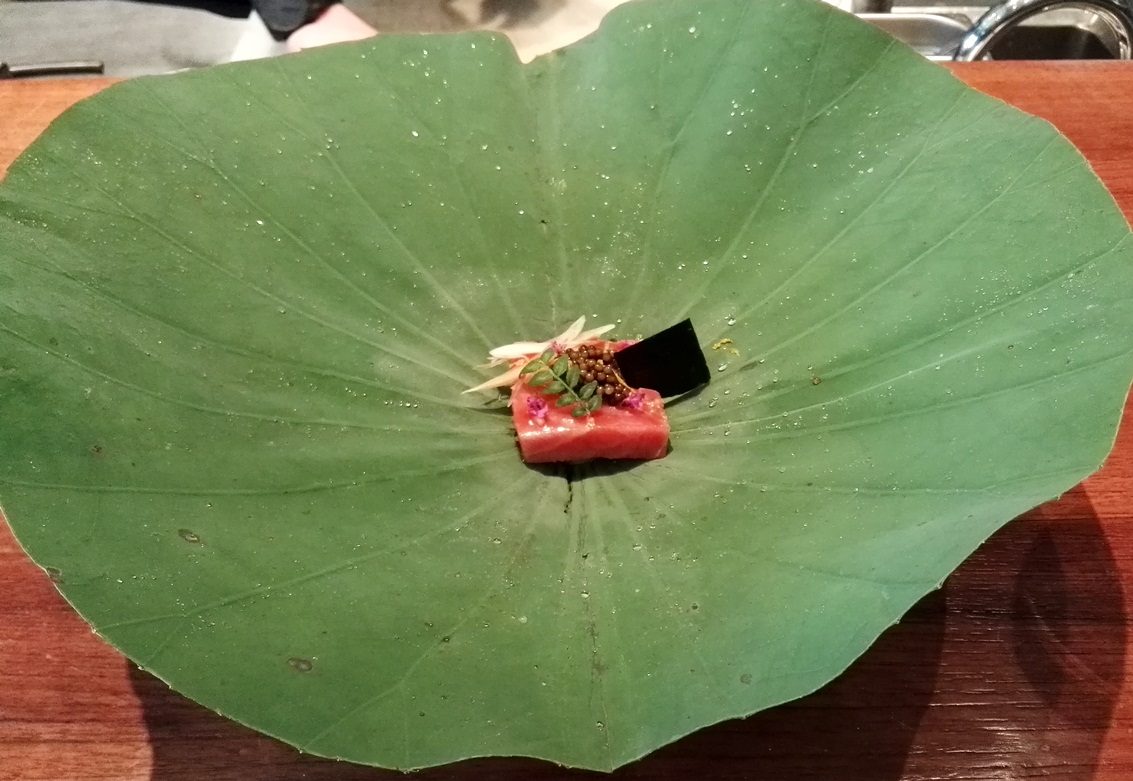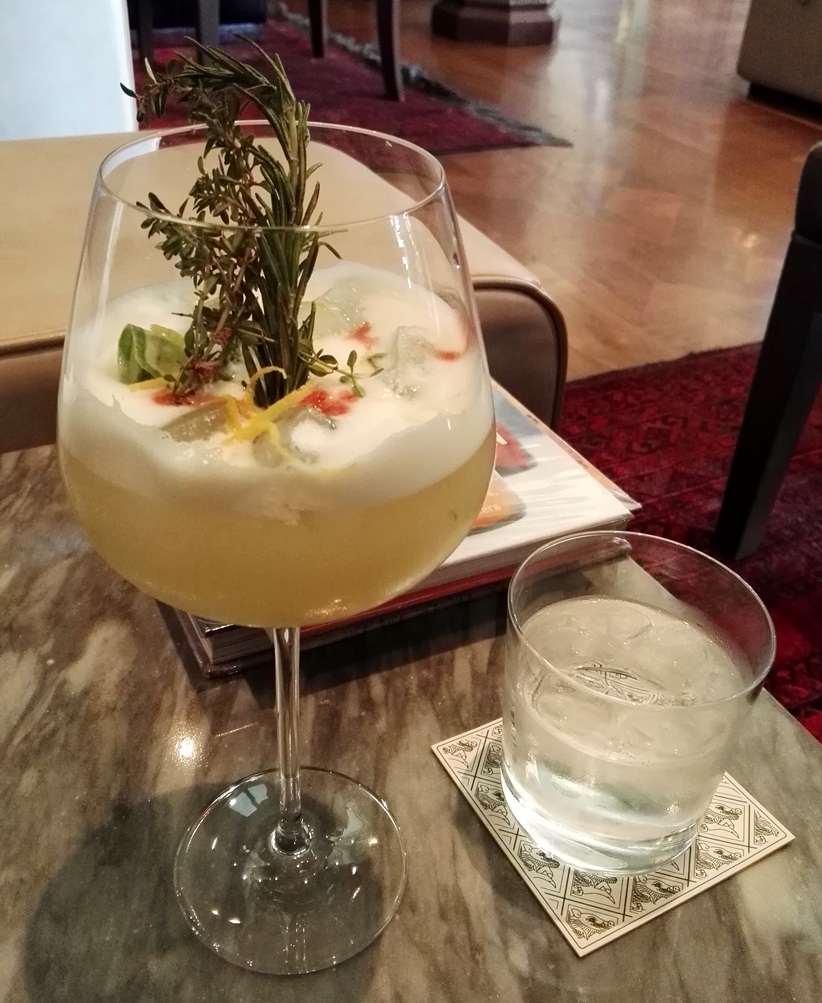 106 North Sathorn Road, Silom, Bangrak, Bangkok, Thailand. Phone +66 (2) 344 4000, email <thehouseonsathorn@whotels.com> or visit <thehouseonsathorn.com> 
5) Eat Me 
If you lived in Bangkok, Eat Me is one of those places you would frequent on a regular basis. Tim Butler's restaurant situated in an art gallery moved up two spots to #23 at this year's 2016 Asia's 50 Best Restaurants Awards. Fresh produce, cooked with hints of Asian flavors– not fusion– but just a tinge– enough to remind you that you are in fact in the region– result in overall delicious, comforting dishes that don't tire the palate. I especially loved the stunning white asparagus sitting on saffron sauce, and topped with caviar, manchego and jamon. So simple but executed perfectly. It's also one of the few places with kitchens open til late– around 1AM.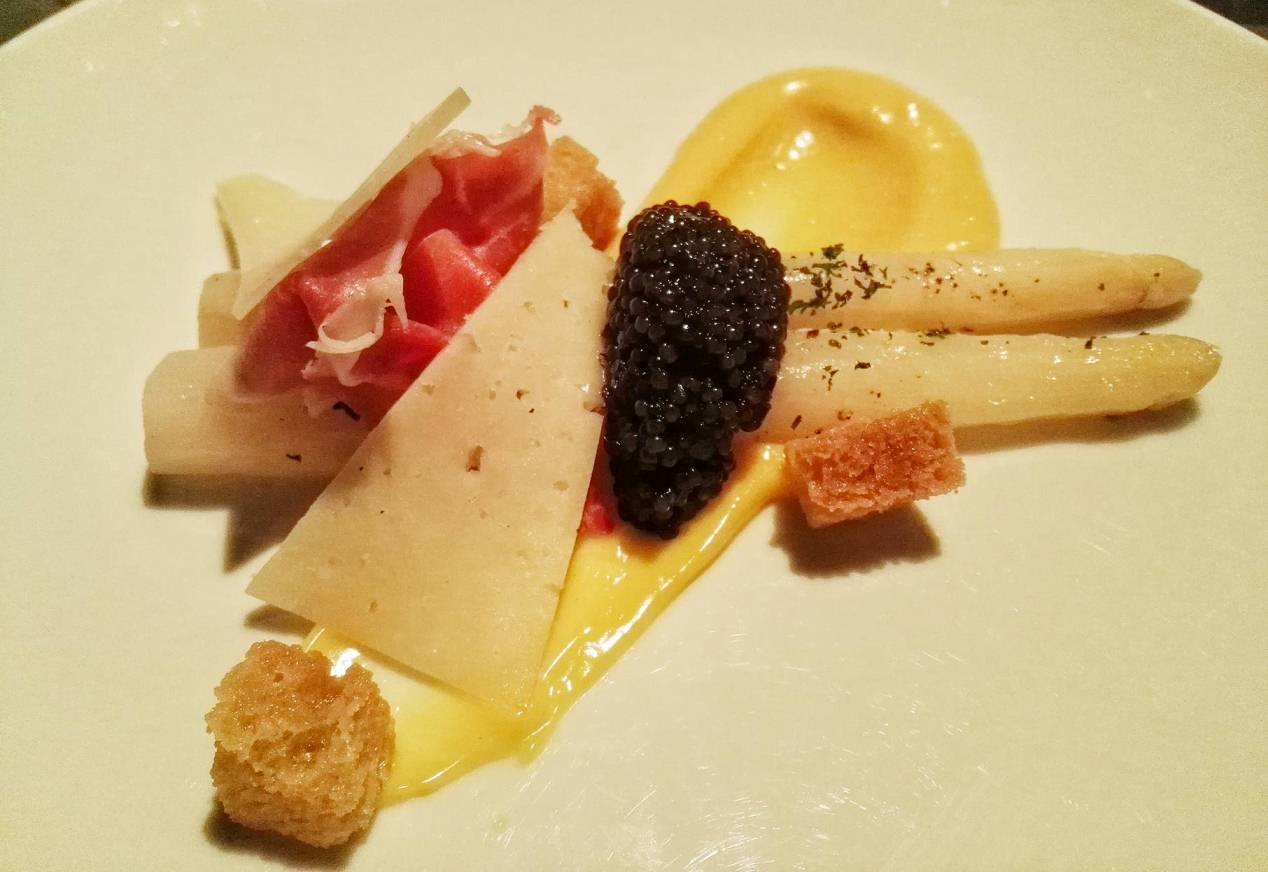 20 metres off Convent Road, (in Soi Pipat 2), Silom, Bangkok, Thailand. Phone +66 (2) 238 0931 or visit <eatmerestaurant.com>
6) Issaya
Issaya Siamese Club is so charming, colorful and beautiful, situated in a century-old Bangkok villa within a residential neighborhood. I realized what an institution it was as it was the only restaurant that had signs on random streets saying "Issaya this way" as we were navigating with a taxi. (My next advice: go with Uber.) My first visit was at a garden party as part of Asia's 50 Best festivities, where stands were dressed up in greenery, and Issaya's signatures were passed around. They're #19 this year, a big 20-step leap from last year, big congrats!
This garden is important as chef Ian has been a strong advocate of organic and farm-to-table dining. So he sources his produce right here, and likewise at an organic farm in Chiang Mai to create his dishes that have a contemporary and sustainable approach to Thai cuisine.
I then returned for a lunch date with my Bangkok-based Korean girlfriend Hazel Han. We really enjoyed the banana blossoms and heart of palm salad, made-on-the-table grilled pork shoulder w/ toasted Jasmine rice dressing, steamed summer rolls stuffed w chicken, goon Chiang sausage & Brussels sprouts. The restaurant has a gorgeous backdrop, too– great for photo ops– a whimsical, Victorian-inspired, multi-hued upholstery, juxtaposed with antiques designed by Hans Bogetoft Christensen, a Danish designer living in Chiang Mai.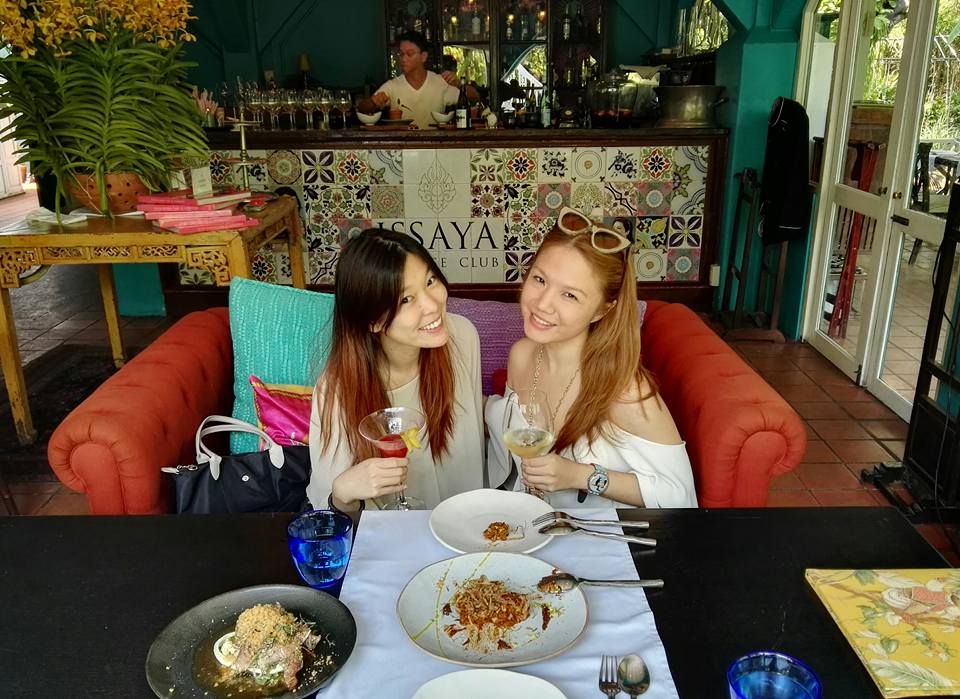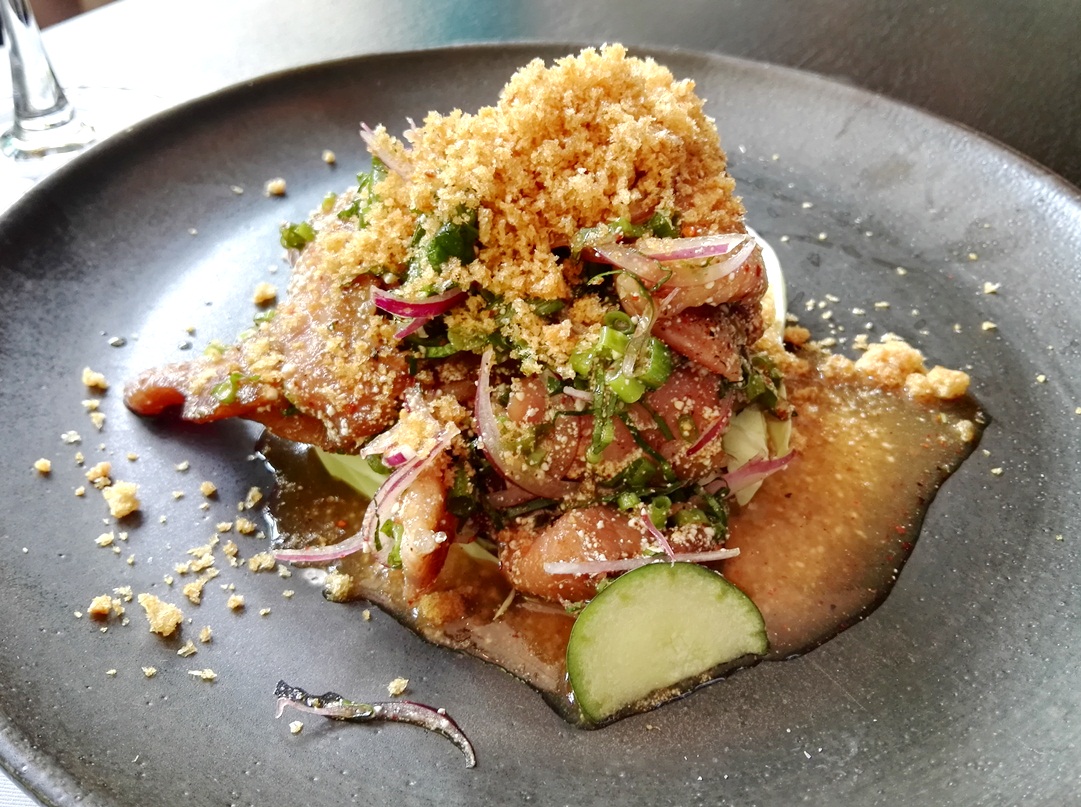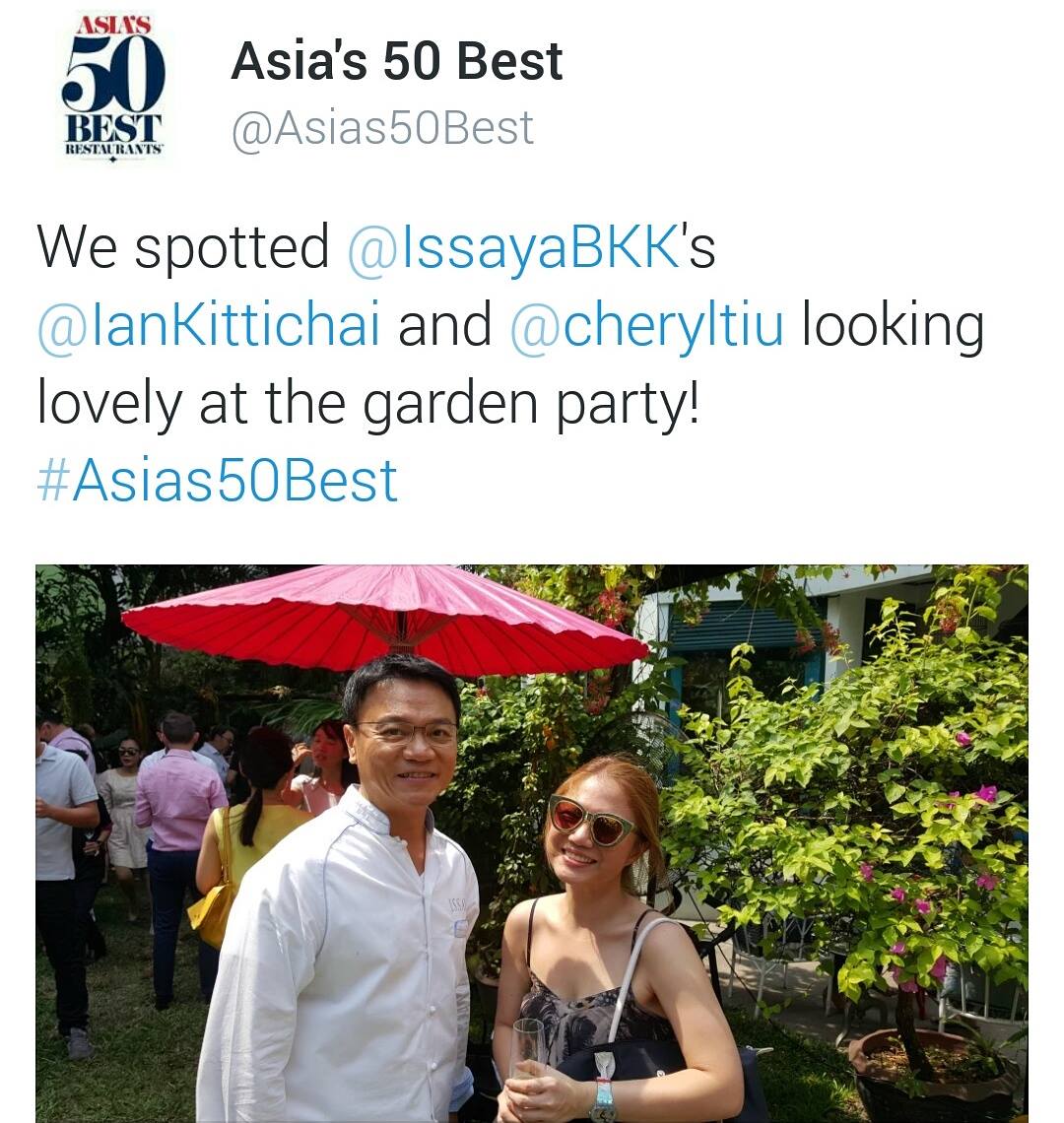 4 Soi Sri Aksorn, Chua Ploeng Road, Sathorn, Bangkok, Thailand. For reservations, phone +66 (2)  672 9040-1, email <contact@issaya.com> or visit <issaya.com>
7) Meatlicious
Gaggan's beautiful Thai wife, Pui, runs the three-month old Meatlicious, situated in a gorgeous house in Ekkamai, where everything is cooked on charcoal grills and wood-fired ovens, led by head chef Pierre Tavernier. While the name already indicates the stars of the menu (we had the Argentine grain-fed tenderloin dressed in chimichurri sauce), I was happy to find plenty of seafood and vegetable options too. My faves were the Hokkaido scallops in truffle cream sauce, corn on the cob with lime and Indian rock salt, and the ceviche (they have salmon, hamachi and tuna).  It's open only for dinner– and they serve only beer— although you can bring your own bottle of wine with a 500 baht corkage. I had a lovely dinner date with the Philippines' lechon diva, Dedet dela Fuente!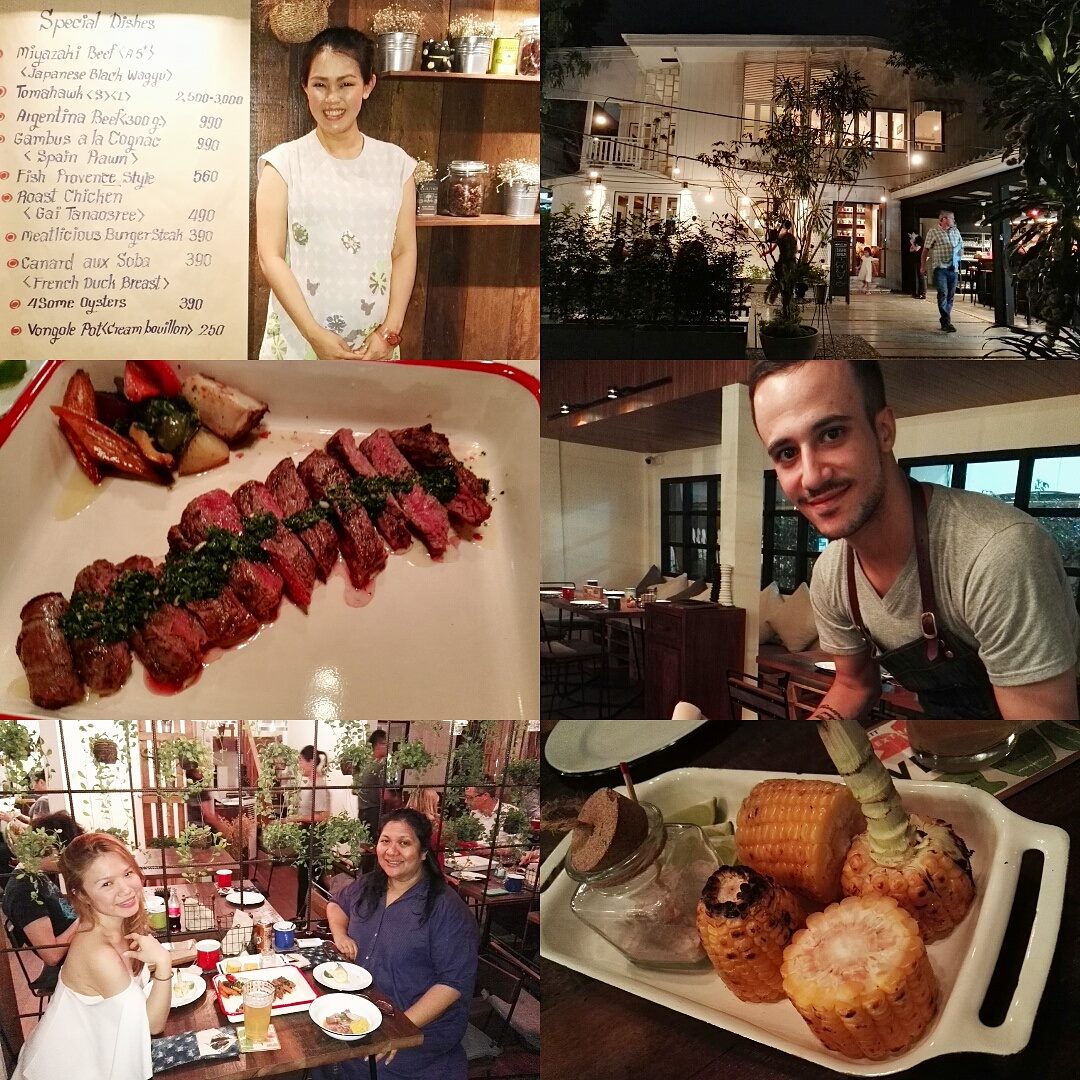 8 Sukhumvit Road, Phra Khanong Nuea, Watthana, Bangkok, Thailand. Phone: +66 (91) 698 6688 or email <meatlicious.rs@gmail.com>.
8) Err
Err, the casual sister restaurant of Bo.lan (opened just 8 months ago), which serves small, creative Thai plates and cocktails made with Thai spirits in a space that also so aptly reflects their restaurant's cuisine description– urban rustic Thai.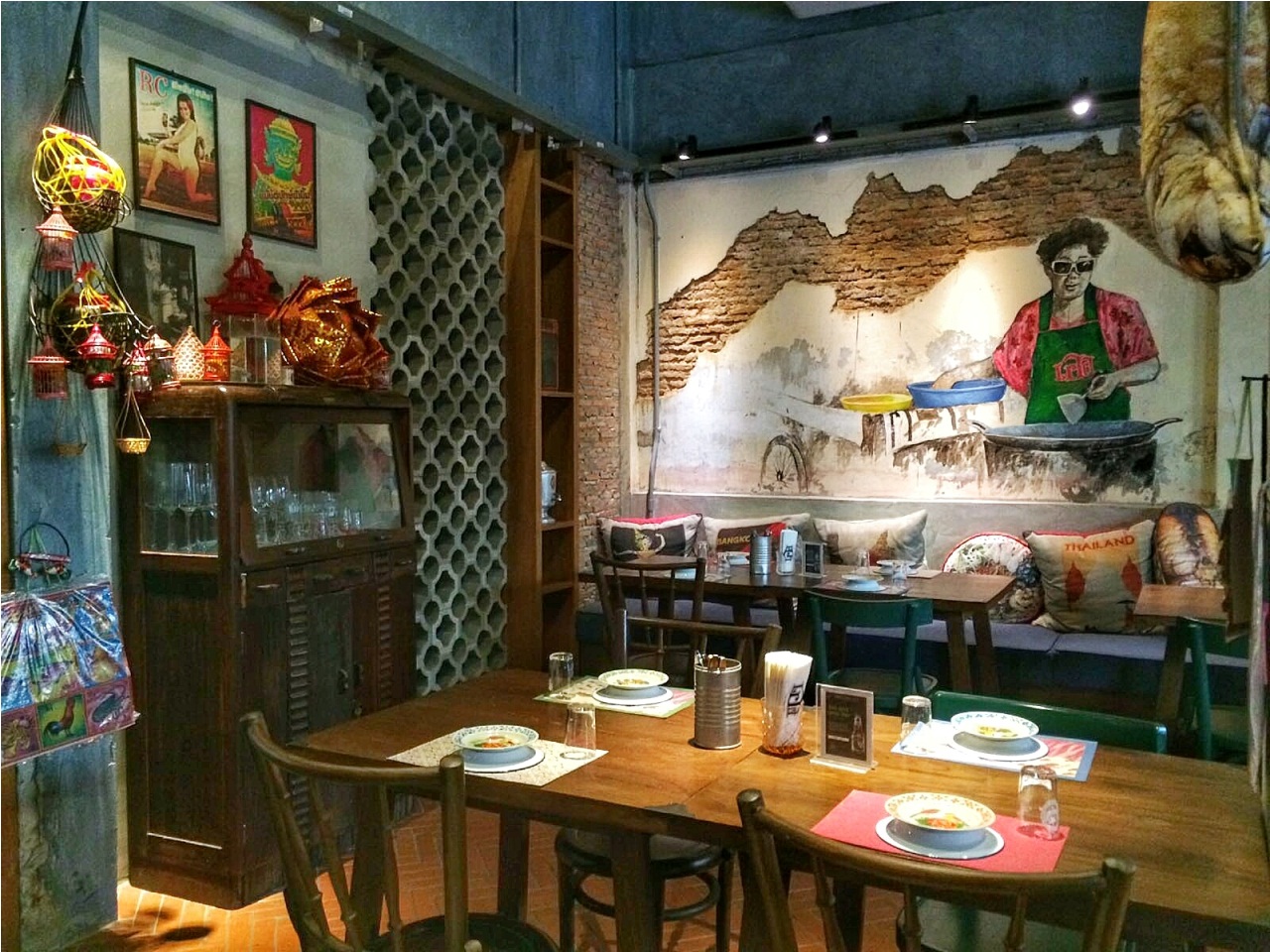 They take a whole chicken's skin, deep-fry it into a crisp, then stitch it back together to look like a chicken– and is served on top of homemade Sriracha sauce– still in its bottle. This was yum! And so creative. I also liked their GMtini made with a Thai corn spirit infused with lime, Thai basil and cinnamon and topped with popcorn– your drink's automatic bar chow on a plate. It's also located just behind the Wat Pho (Temple of the Reclining Buddha) and what's great about is that it's open from 11AM til late– they don't close in the afternoon, so if you're doing a 4PM lunch, go for it.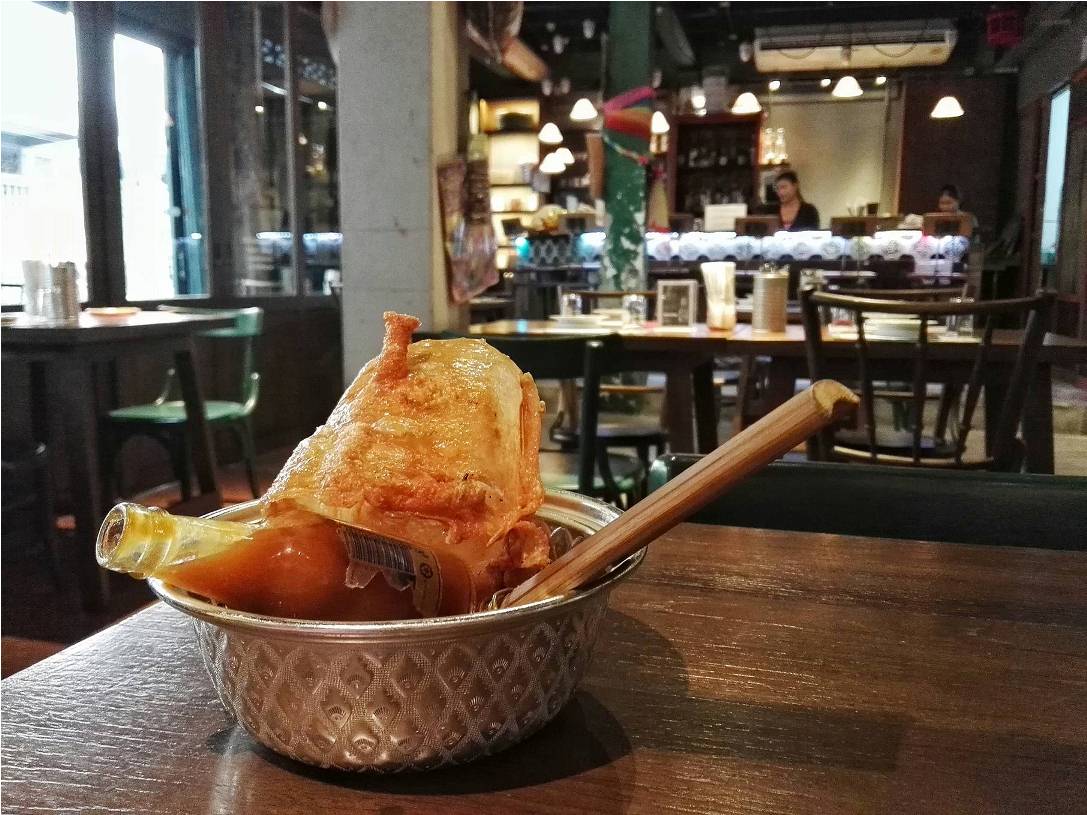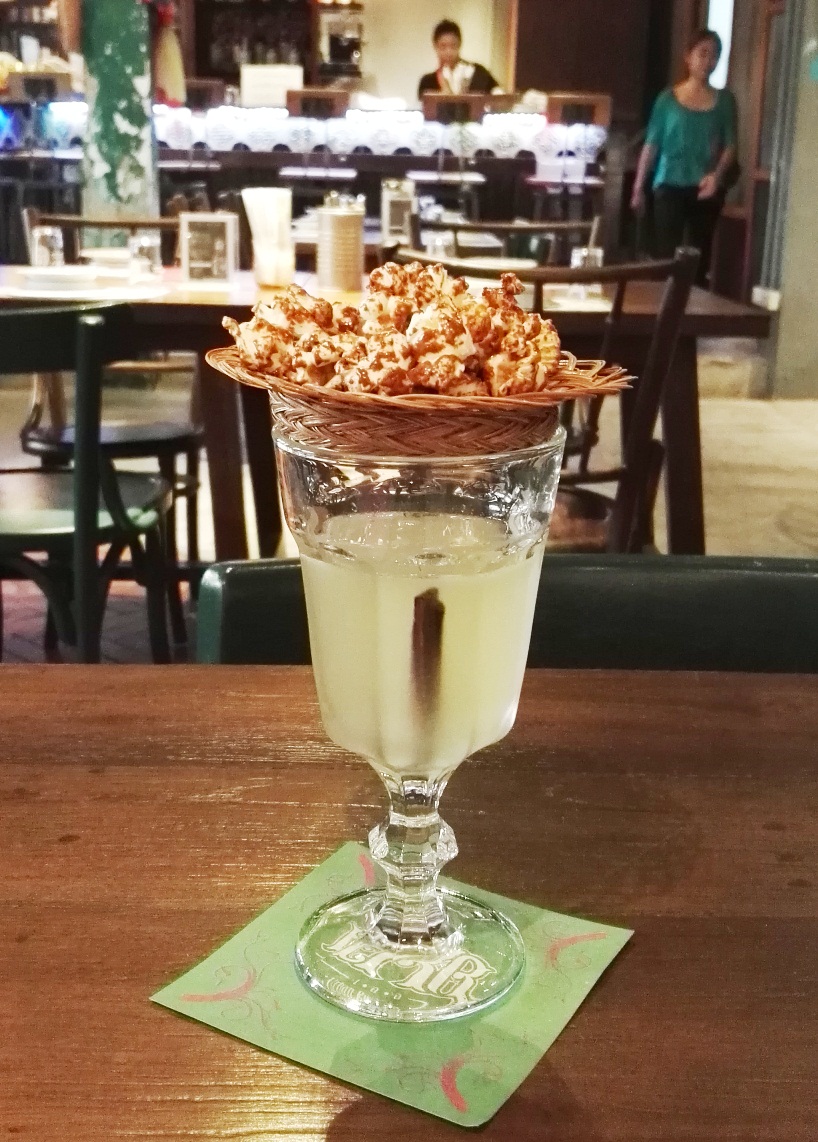 394/35 Maharaj Road Tatien, Phra Borom Maha Ratchawang, Phranakorn, Bangkok, Thailand. Phone +66 (2) 622 2291, email <info@errbkk.com> or visit <errnkk.com>
9) Le Du
Thitid "Ton" Tassanakajohn is one of the most regarded young Thai chefs in the country today. He completed a degree at Culinary Institute of America (CIA) and worked at The Modern and Jean-Georges before coming back to his country. I first met him at Madrid Fusion in Spain earlier this year, where he was one of the invited speakers on Thai cuisine. Le Du sounds French but dishes are Thai in ingredients and flavors, presented in a modern and creative way. Service was pretty harried the night Meya Cortez and I went though (apparently because they were overbooked) but when chef Ton stepped out of the kitchen, things seemed to turn out alright.  My faves were the Slipper Lobster with pickled wild ginger, Thai herbal jus, and the Local 30 Days Dry-Aged Beef Tenderloin with kale-salted fish puree, garlic jus, and kale. If you want to see what the young Thai chefs are up to and where they are taking Thai cuisine, chef Ton is certainly one to watch.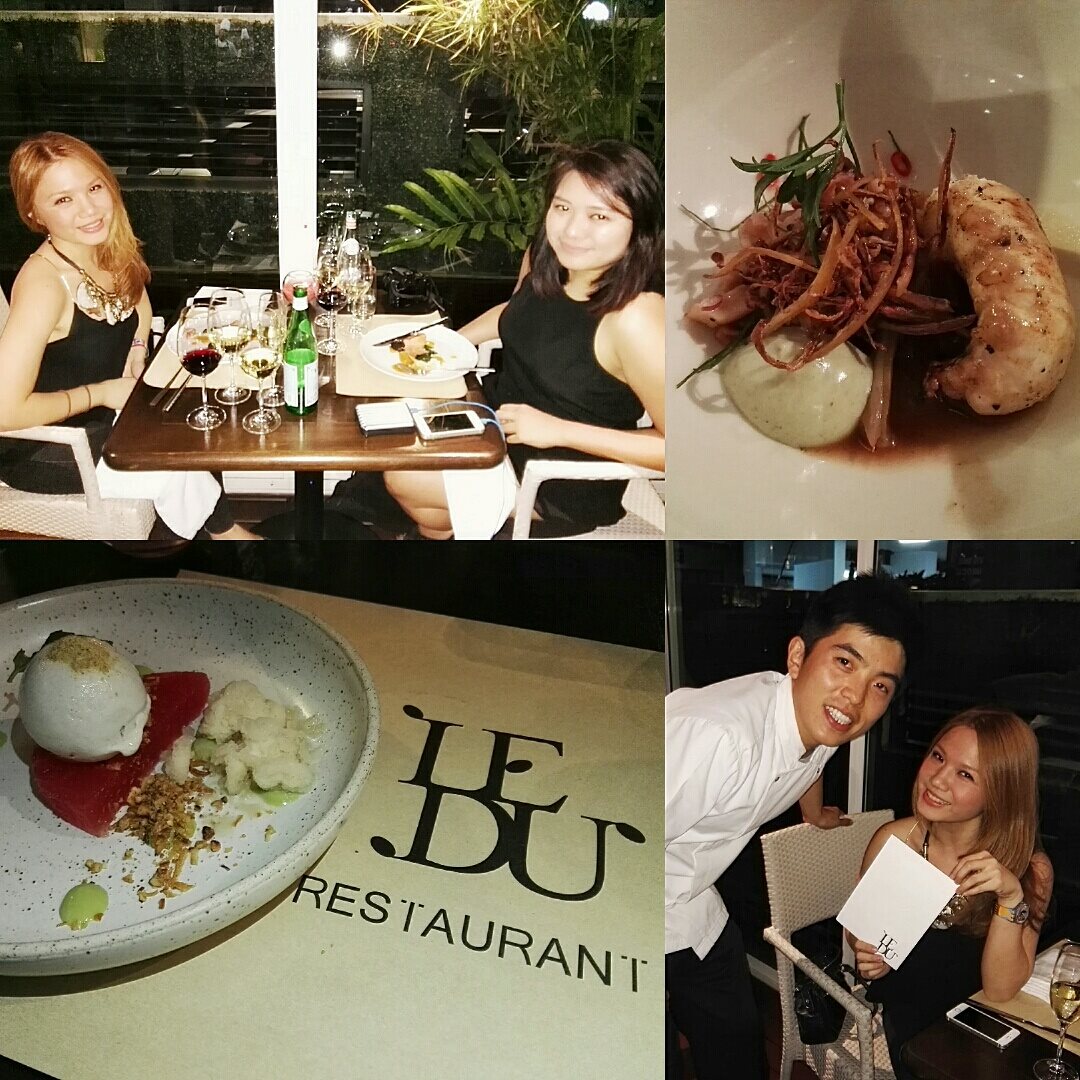 399/3 Silom Soi 7, Bangkok, Thailand. Phone +66 (92) 919 9969 or visit <ledubkk.com>