Last October 8, 2014, we celebrated Lifestyle Asia's 27th anniversary with a gala entitled "Spreading the Table," featuring the Best of Philippine Cuisine. This year, we supported 2 causes that are very close to my heart: Filipino flavors that champion and support our local produce and farmers; and the rehabilitation efforts from the devastation wreaked by the worst typhoon in the world. It's called "Spreading the Table" because it is a gathering of those who are giving and those who are receiving.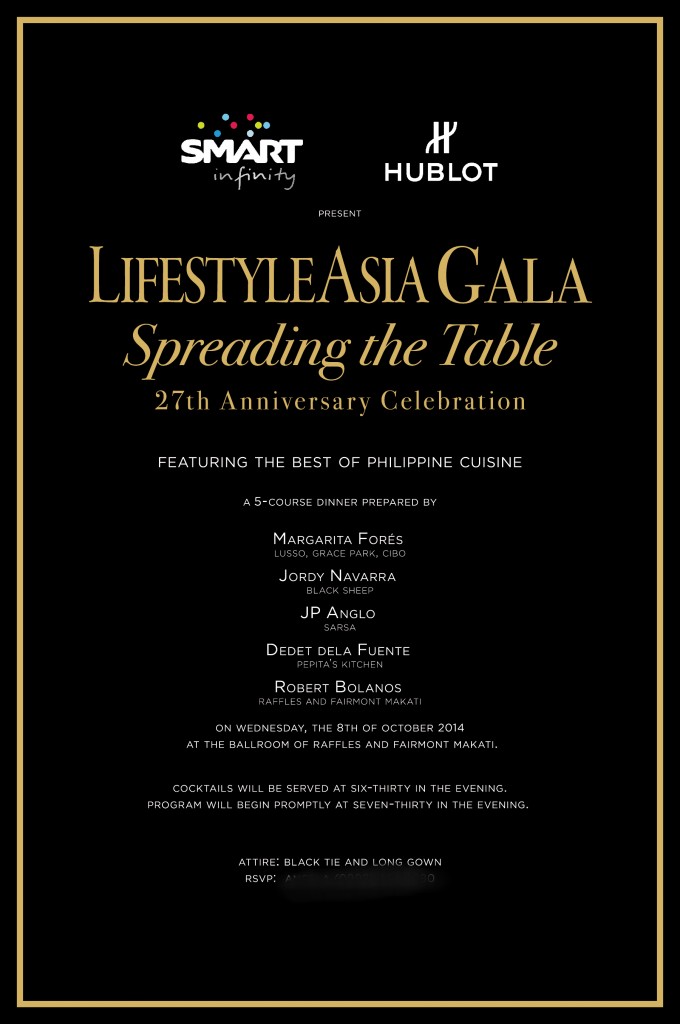 We selected 5 very talented chefs who are championing Filipino cuisine in their restaurants or advocacy. Margarita Fores (Cibo, Lusso and Grace Park) has been advocating our Filipino cuisine globally- most recently making front page of an Italian newspaper when she cooked adobo. Not alot of people know but Jordy Navarra really makes it a point to use Pinoy ingredients  as much as possible at his Black Sheep at the Fort; for instance, the beef they use there is Kitayama wagyu from Bukidnon. JP Anglo has been successful in bringing in his local Negrenese cuisine to Manila through his Sarsa; his version of sisig, for instance, uses chicken inasal, the famous Bacolodo specialty, instead of pork. Dedet dela Fuente has reinvented our famous lechon by infusing it with truffle rice (among many other kinds) at her Pepita's Kitchen. Raffles and Fairmont Makati's Robert Bolanos is one of the few Filipino chefs to hold such an esteemed position of Executive Sous Chef at an five-star hotel, and an international chain at that.
All of the Filipino dishes were paired with wines from Moet Hennessy; just to really disprove that annoying remark I often hear that "It's hard to pair Filipino food with anything except beer!" and to prove that our cuisine CAN be world-class.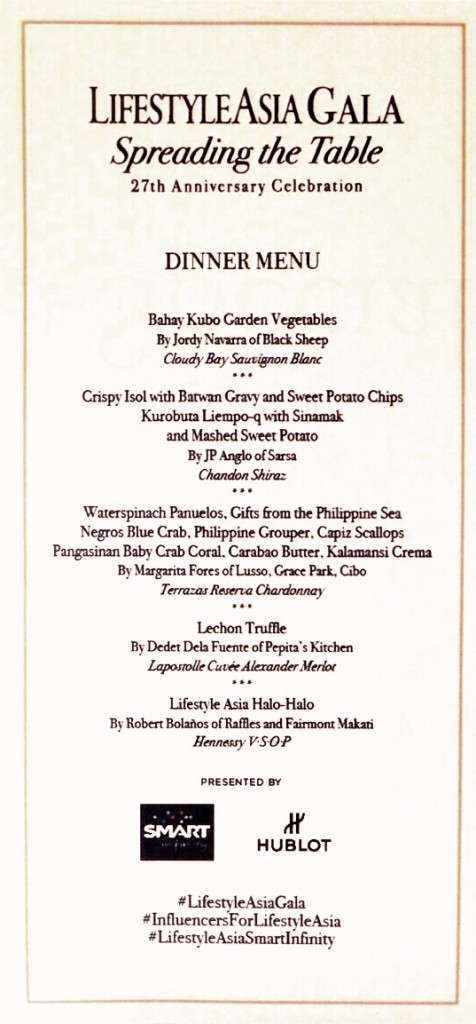 We put together a short 5-minute mini video (written and directed by One Mega Group TV 100 head and Emmy-award-winning producer Michael Carandang) on the concept of the gala, the ideas behind the dishes… and our quest to put Filipino cuisine on centerstage! We aired this at the gala right before the food was served, but we believe it should be preserved and shared for posterity

Please do take the time to watch it, you'll really be proud to be Filipino! <3
Video credits:
TV 100 Head Michael Carandang
Segment producer Kimm Hadap
Sr. Producer Mico Esquivel
TV coordinator Baschia Mariano
*Kitchen scenes filmed by Ron Mendoza; Food photography by Ed Simon