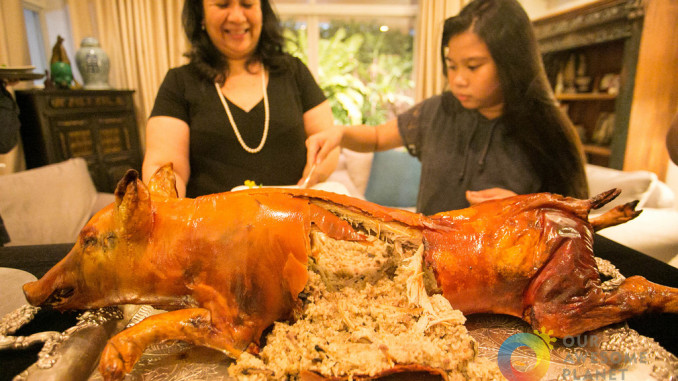 Hi everyone! For my events platform, CROSS CULTURES' last event for 2017, we are bringing the Philippines' lechon diva, Pepita's Kitchen to SINGAPORE for a two-night pop-up at Horse's Mouth on Orchard Road– on November 6 and 7.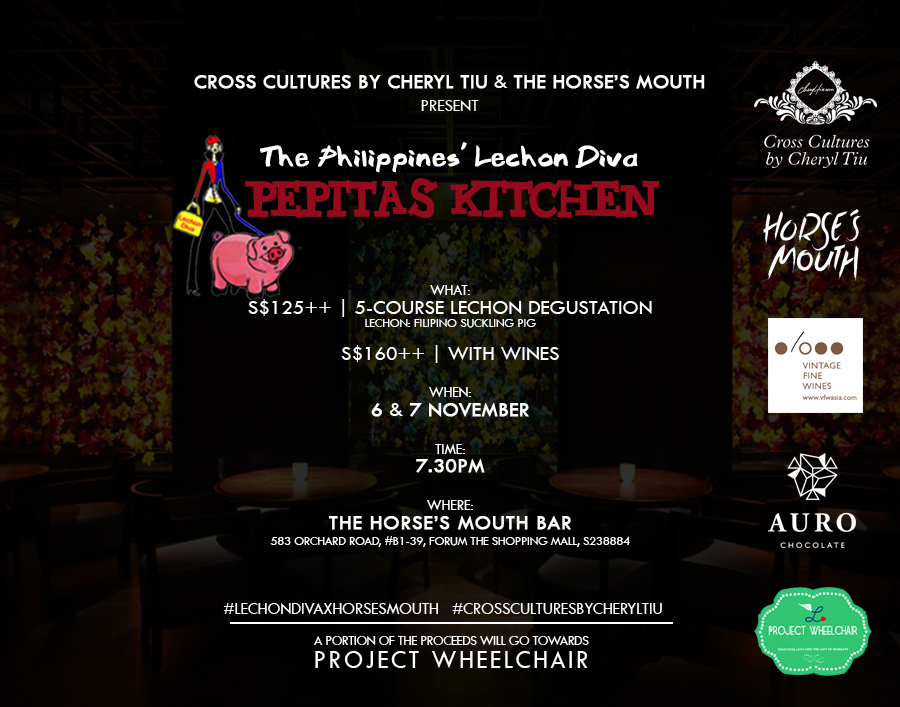 Anthony Bourdain (I saw it with my own eyes on his Instagram stories!) and Adam Richman of "Man vs. Food" are fans of Pepita's Kitchen's specialty lechon and it has received accolades from CNN International, Forbes USA, and voted "the tastiest dish in Asia" at the 2014 Chowzter Awards in London, as reported by the Guardian UK. And yes, last year, Cross Cultures also brought her to Hong Kong. That was wonderful, but for Singapore, we have a different stuffing for the lechon! (Keep reading!)
Watch a snippet here. Just click the play button below!
The special 6-course dinner at Horse's Mouth on Orchard Road is priced at SGD 125++. (With wines to pair from Monopole Wines, top up SGD 35++.)
Part of the proceeds of the event will benefit PROJECT WHEELCHAIR, which was started by Dedet and her daughters to provide the gift of mobility for those who cannot afford wheelchairs. Guests will also get to experience Auro Chocolate, the Philippines' latest premium single origin bean-to-bar from Davao.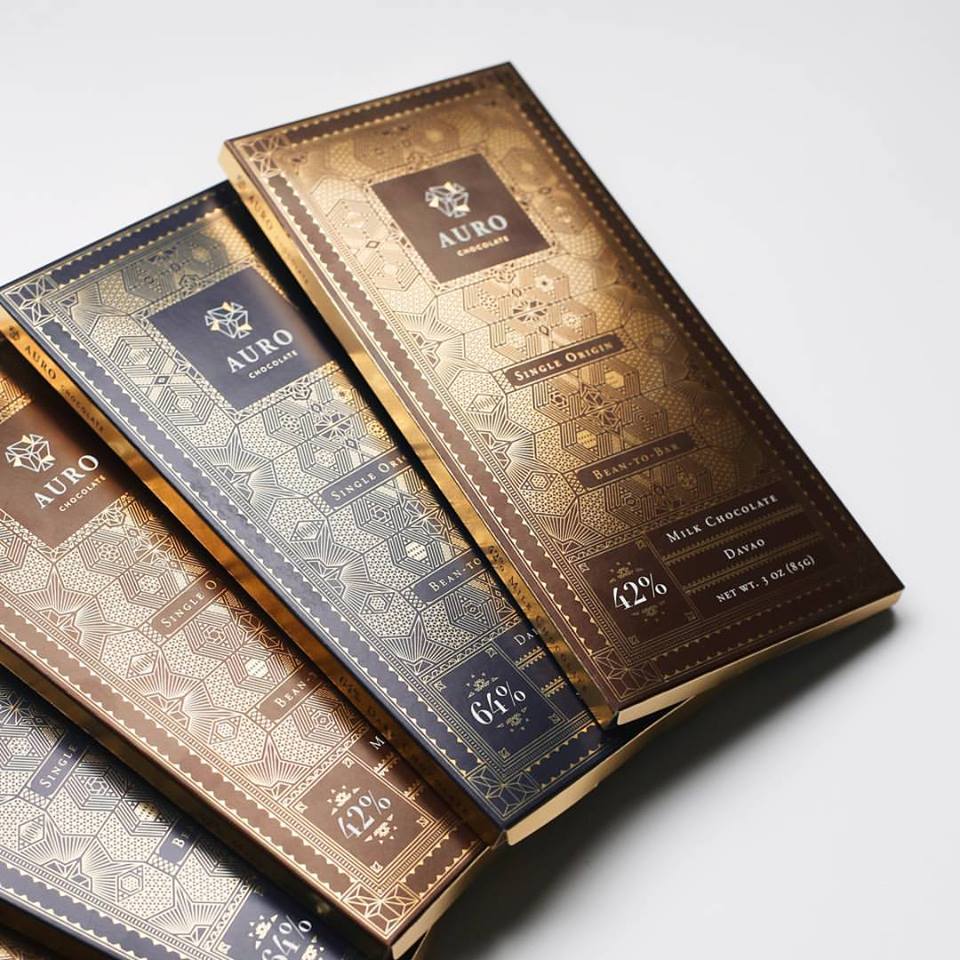 Here's what the six-course menu looks like:
*Note: A few things can change at the actual event but this is the closest possible for your reference
Philippine Pica Pica 
Crostini Topped with Balut Salpicao,Crab Gulong Gulong, Chicharrón on Crispy Kiping with Adobo Flakes
Nata de Coco Vegetable Wrap
Pickled Coconut Gel Vegetable Wrap
Hiplog
Shrimp Cooked in Salted Egg Yolk Sauce
Lucky You Noodles
Noodles with Bicol Express Sauce, Mild Philippine Chillies Stewed in Coconut Milk with Pork
Palate Cleanser
Ice Candy – Ginger & Calamansi
Lechon deLeche
Philippine Suckling Pig with Crab Fat Rice and Chorizo Stuffing with Philippine Chilli Labuyo Sauce
Cholesterol Sweeper
Oatmeal cooked in White Chocolate
Philippine Desserts
An assortment of 7 desserts from the Philippines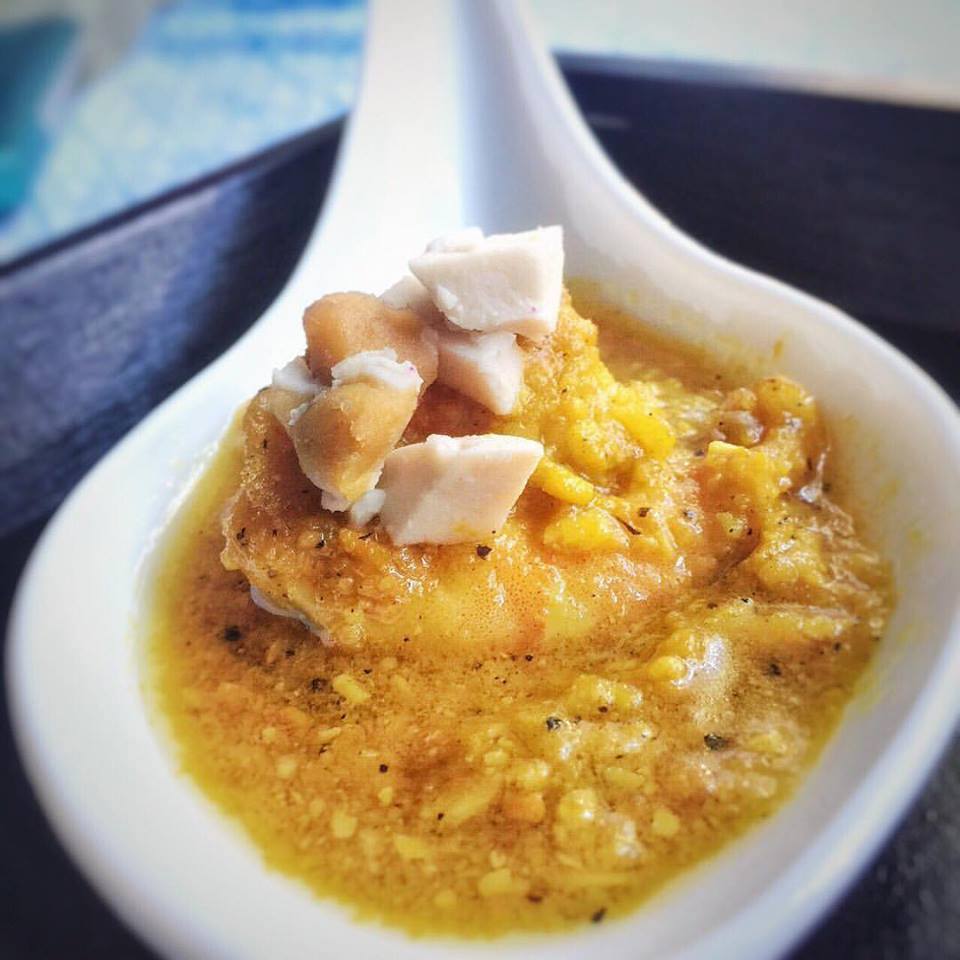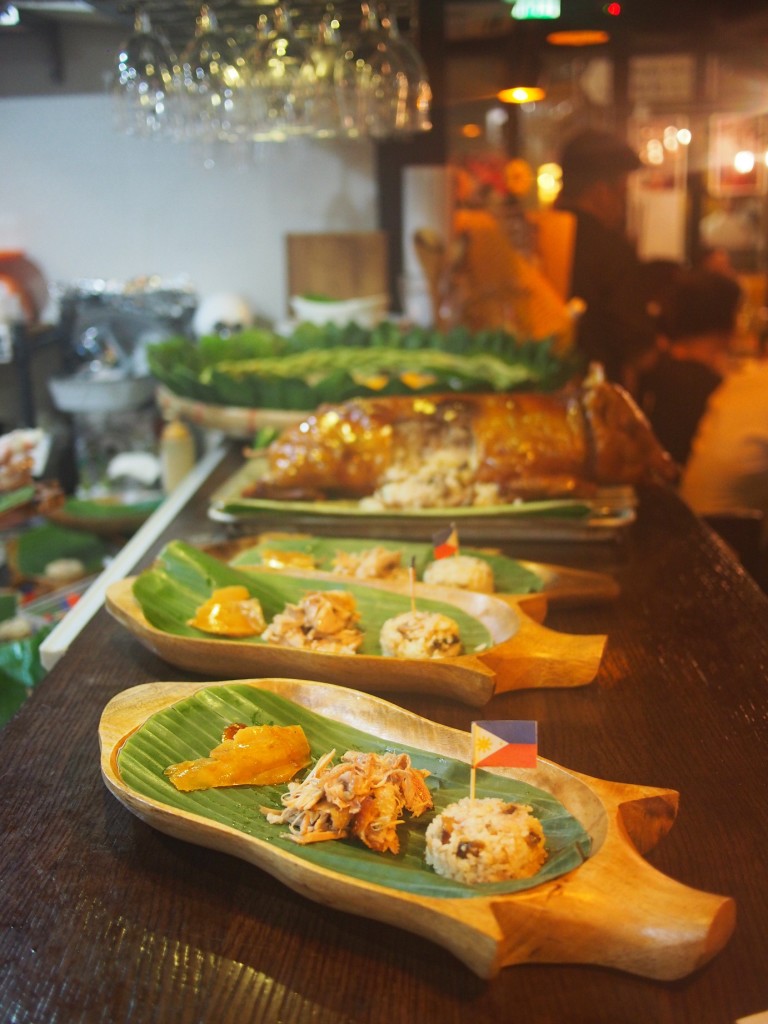 For reservations, phone +65 8188 0900 or email <crossculturesbycheryltiu@gmail.com>.
*Note: November 6 (Monday) is already on waitlist status (we are still accepting waitlists!) but we still have seats left for November 7 (Tuesday) but I urge you to book right away! xx