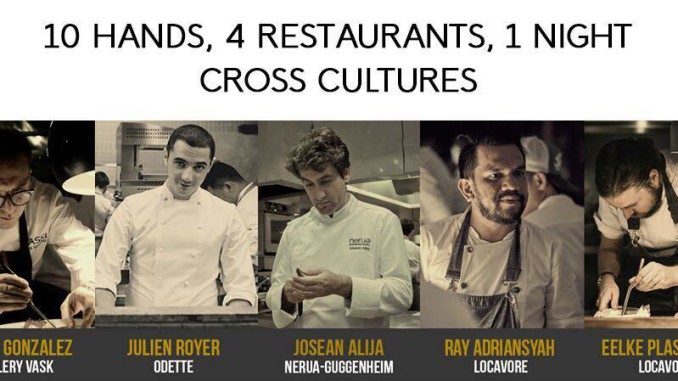 And… once again, as part of Madrid Fusion Manila's Flavors of the Philippines and Dinner with the Stars, on April 8  (Saturday), Cross Cultures is having our first TEN HANDS DINNER!! Featuring Odette in Singapore, Nerua Guggenheim Bilbao in Spain, Locavore in Bali and our very own Gallery Vask in the Philippines, who is also our host restaurant for the event!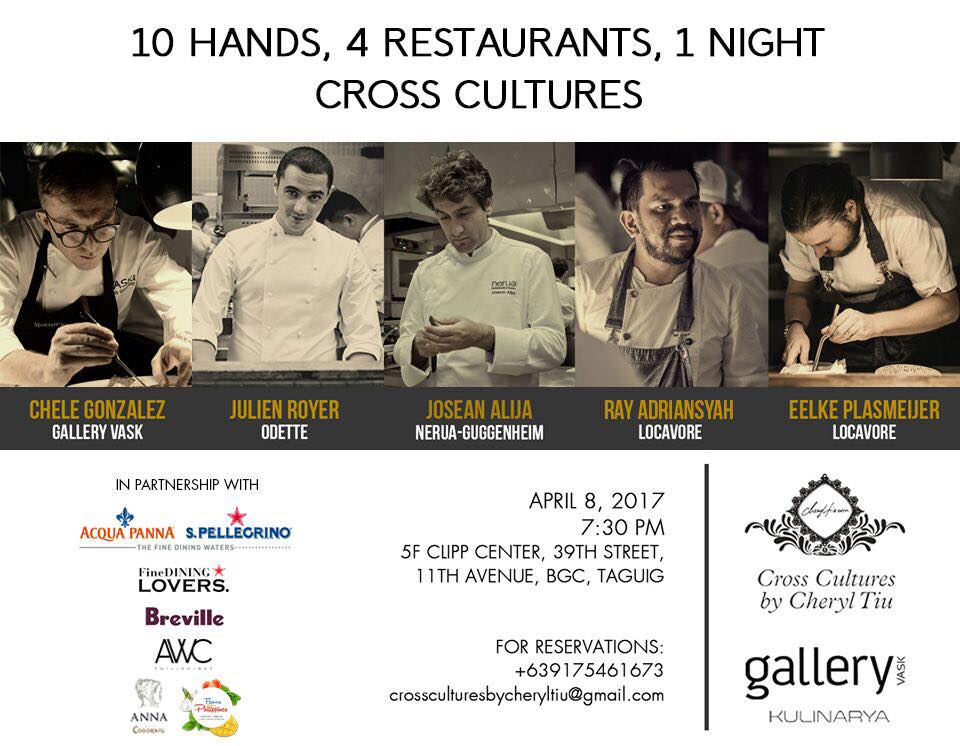 The dinner is priced at PHP9,800+ inclusive of wines. What an amazing confluence and crossing of cultures! For reservations, email crossculturesbycheryltiu@gmail.com or call Gallery Vask at 0917-5461673.
Thank you to our partners San Pellegrino and Acqua Panna, Fine Dining Lovers, AWC, Anna Codorniu and Breville. 🙏I have to be honest though that this dinner is already fully booked, and on waitlist status.
ABOUT THE CHEFS
Josean Alija (Nerua Guggenheim Bilbao, Spain)
We are happy to welcome back Josean Alija of Michelin-started Nerua Guggenheim Bilbao (which sits on the No. 56 spot on the 2017 World's Best Restaurants) who we collaborated with last July.
Josean learned Basque cuisine at traditional restaurants and worked in several avant-garde kitchens, where he realized that he had to seek his own path.
In late 1998 he started working in the kitchens of the Guggenheim Bilbao Museum, but when his cuisine was starting to take shape, a motorcycle accident left him in a coma for 21 days, on the brink of death. He awoke without the senses of neither taste nor smell, the essential tools of any chef. He had to learn how to taste things again, to recognize flavours and aromas.
In 2011 he was able to fulfill his dream of having his own space: Nerua. Nature sets the pace of Alija's cuisine, who adapts to each season without censorship to do the cuisine that he feels. A local cuisine that begins at the vegetable gardens, in the sea, and in the farms.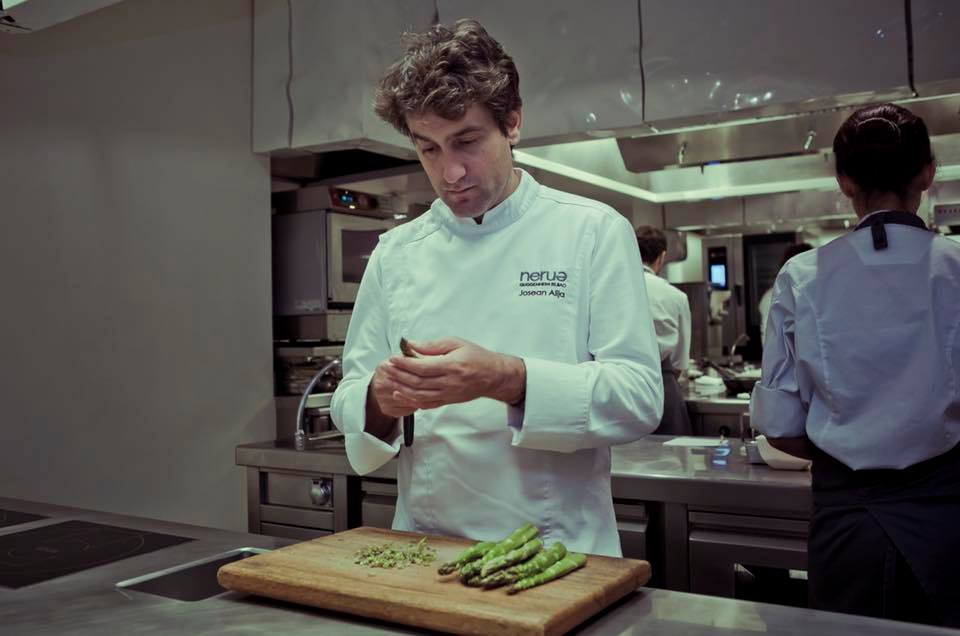 Julien Royer (Odette, Singapore)
Next up, we have a 1st time visitor to the Philippines– Julien Royer of the two-Michelin-starred Odette in Singapore.
Odette serves modern French cuisine that is guided by Royer's lifelong respect for seasonality, terroir and artisanal produce sourced from boutique producers around the world.
Odette is named in tribute to Royer's grandmother who taught him how some of the most remarkable dishes can come from the purest ingredients, and believed in ensuring that the fundamental pleasures of enjoying a meal are delivered in the most thoughtful, welcoming and hospitable manner.
This 2017, Odette entered the Asia's 50 Best list for the first time, jumping straight to the No. 9 spot—the highest new entry position of all time to date.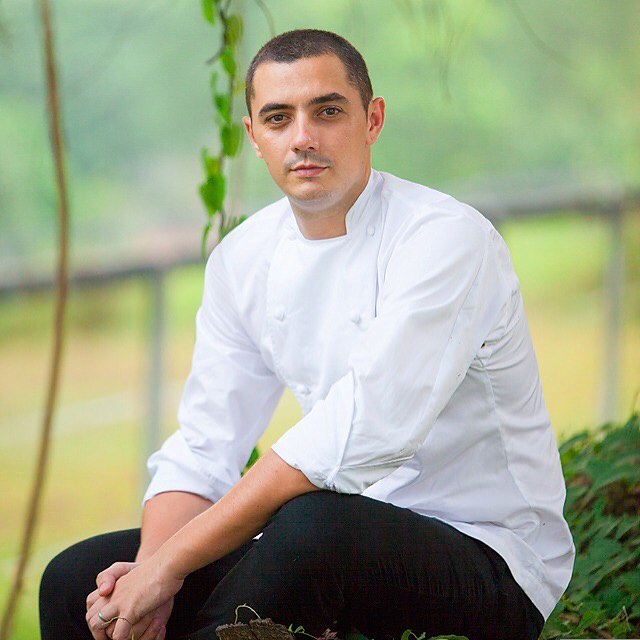 Ray Adriansyah and Eelke Plasmeijier (Locavore, Bali)
Chef Ray Adriansyah is the right hand of Locavore, and Eelke Plasmeijier the left one.
Ray Adriansyah was born in Jakarta  to Sumatran parents. His mother was an excellent cook and Ray grew up with a deep interest in traditional and international cuisines. While studying in New Zealand, he decided to quit the business school he was attending and switch to cooking. After graduating from culinary school in Christchurch, he returned to Jakarta and obtained the position of sous chef under Eelke. They've been working together every since. "It was a gradual decision to use local ingredients. We started using a few at the beginning but our commitment continued to grow. I'm very proud to use ingredients that are not imported; I wish more Indonesian chefs would do so. There are so many benefits all round."
Eelke Plasmeijer started his kitchen career at the age of 14 in a restaurant in his Dutch village. Working his way up through the ranks, he trained at hotel school and a two-Michelin-starred restaurant in Amsterdam. Visiting a mentor in Jakarta in 2008, he was persuaded to take over as head chef at a city restaurant there. Ray applied as sous chef, the two hit it off and soon moved to Bali where they ended up running the kitchen at the Alila Ubud together. "Working within the Alila concept of using local ingredients where possible, we decided to take it to the next level and use only local food. Then we started thinking about starting our own restaurant instead of staying within the hotel industry…" The rest is history.
Both chefs are married to Indonesian women, and their sons were born a month apart.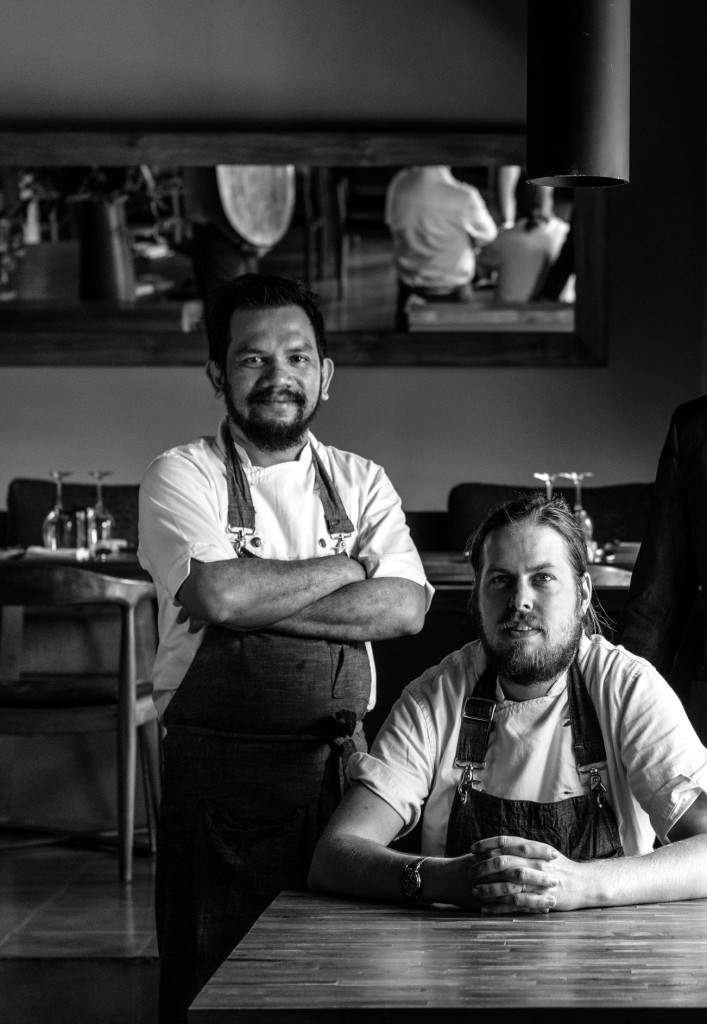 Chele Gonzalez (Gallery Vask, Philippines)
And of course, our host chef, Chele Gonzalez of Gallery Vask in the Philippines!
Originally from Torrelavega, Spain, Chele found an affinity for cooking at a very early age. After receiving a culinary degree from Arxanda, Bilbao he went on to work in some of the world's most respected restaurants, including Andra Mari, Arzak, El Bulli, El Celler de Can Roca, Nerua-Guggenheim, and Mugaritz where he developed his culinary philosophy. He is now based in the Philippines and has opened his restaurant Gallery VASK together with architect and artist Juan Carlo Calma. The restaurant climbed up to the No. 35 spot on the 2017 Asia's 50 Best Restaurants, the sole restaurant from the Philippines on the list for the past two years.
Chele is inspired by the many cultural influences collected from his travels, experiences, and the many people he has met, most especially the growers, producers, breeders, makers, and the communities who have become his friends in the Philippines.
In his own words he explains, "Our journey has led us to work with local farmers and fishermen. We use fresh, indigenous products while honoring their true nature."