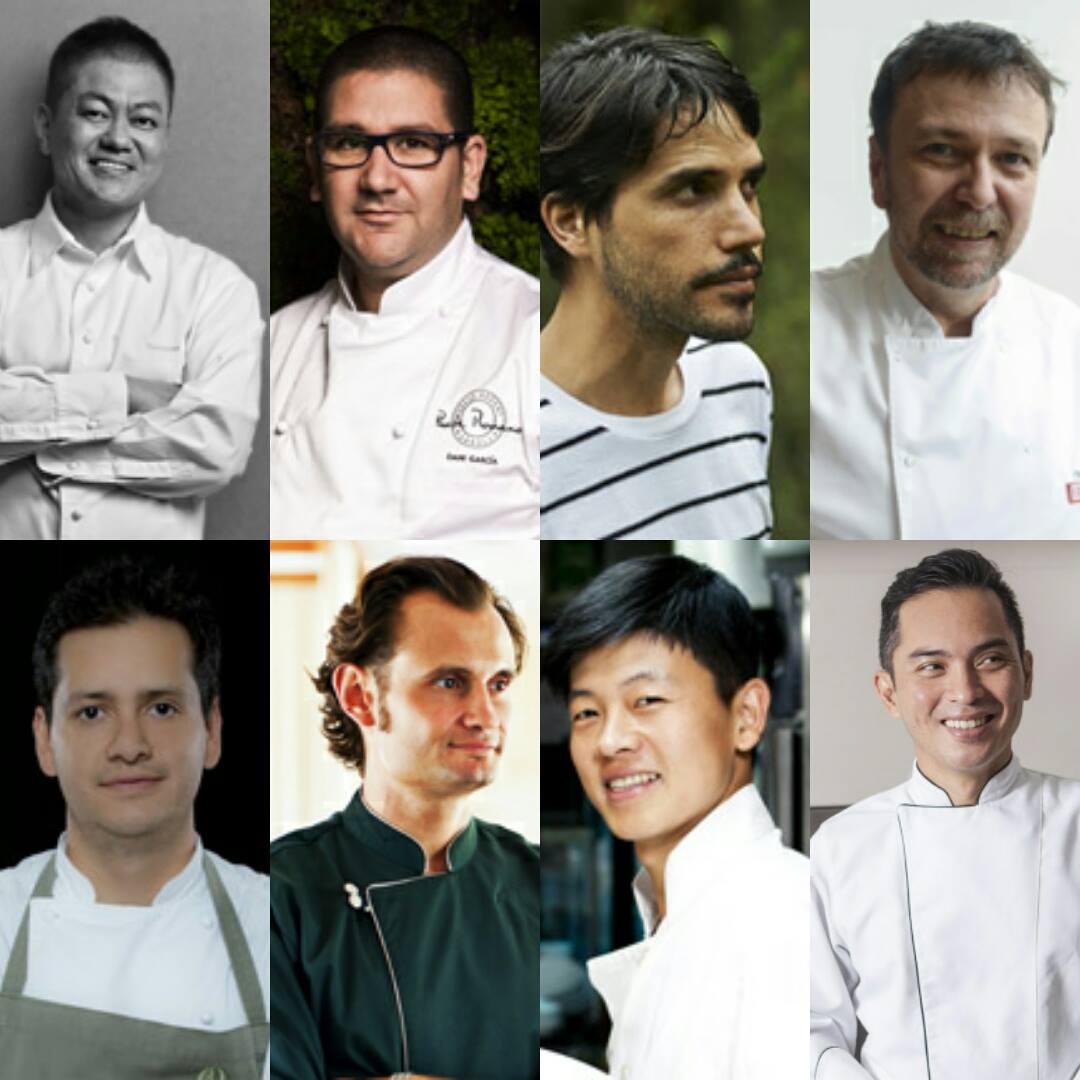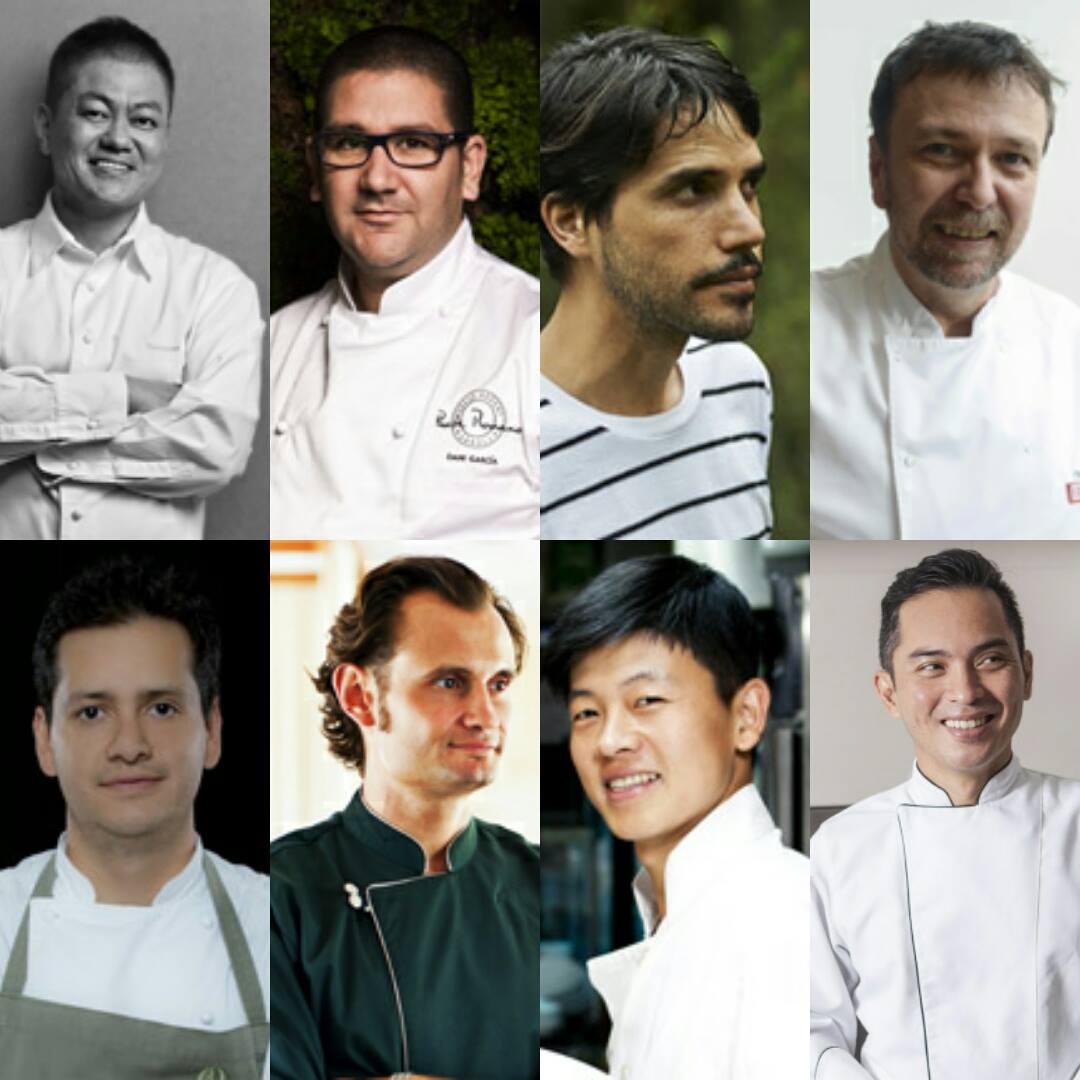 April is such a wonderful time to be in the Philippines! The second Madrid Fusion Manila is happening next week already, with the trade congress happening from April 7 to 9 at the SMX. With the incredible roster of chefs gracing our country for this event, what is most anticipated are the DINNERS.
Most of you may have read from this blog or on my social media page that my events platform Cross Cultures and Asia's #39 restaurant Gallery Vask have two 6 Hands collaboration dinners with Yoshihiro Narisawa, Virgilio Martinez, Jorge Vallejo and Jungsik Yim, of course with host chef Chele Gonzalez. (See more here.)
But there's loads of others happening next week! Here are the dinners for next week with visiting chefs from overseas:
April 4 (Monday) and April 5 (Tuesday) I Dani Garcia at New World Manila Bay Hotel
Chef Dani Garcia, whose eponymous Restaurante Dani Garcia restaurant in Marbella, Spain, holds two Michelin stars, will be preparing a 10-course avant-garde dinner inspired by Antoine de Saint-Exupery's The Little Prince, at New World Manila Bay Hotel priced at PHP10,000++, inclusive of wines. It will begin with cocktails at the ballroom foyer and then the first few courses at the ballroom before guests are ushered in batches to a "sublimotion" room– a special room with wall-to-wall LED screens showcasing alternative videos of The Little Prince, sceneries of the shore and ocean, and element of fire. After the "sublimotion" room, guests will be taken to  a contemporary recreation of the Sahara desert with Impy Pilapil's modern abstract sculptures representing nature, where they will be served jamon serrano and various tapas. The "culinary voyage" continues back at the main banquet reception where the rest of the dishes inspired by The Little Prince are served. For reservations, phone (632) 252 6888 or e-mail dining.manilabay@newworldhotels.com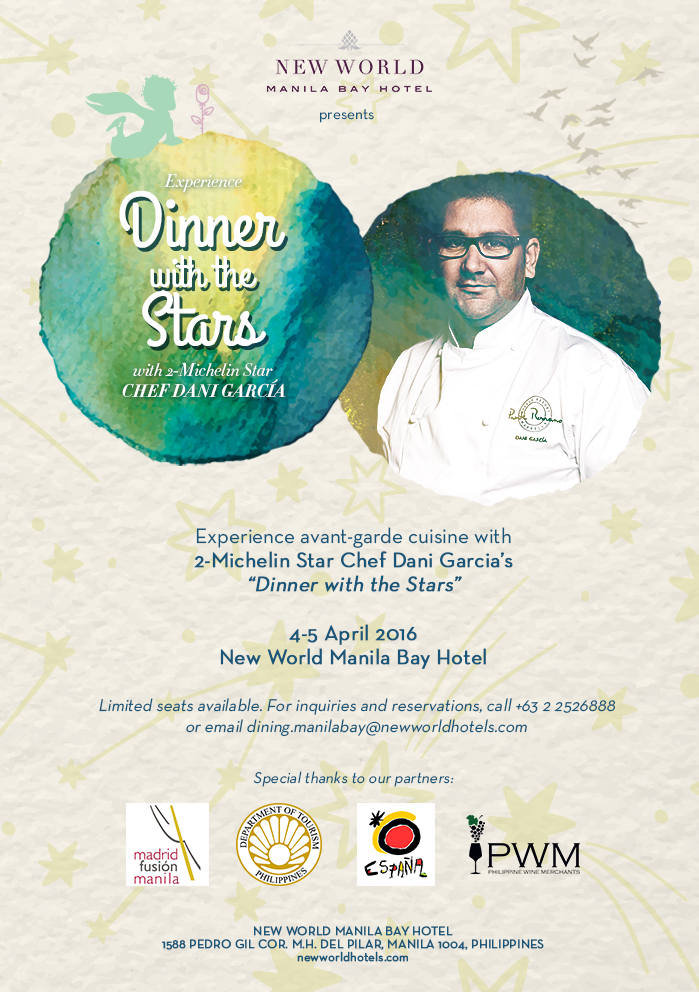 April 5 (Tuesday) | Noel dela Rama at CAV
Private chef in New York City Noel dela Rama has been involved with Madrid Fusion Manila since its inception. He's back in town and will be cooking a five-course dinner at CAV, each course paired with a different wine, priced at P5,500 (all in).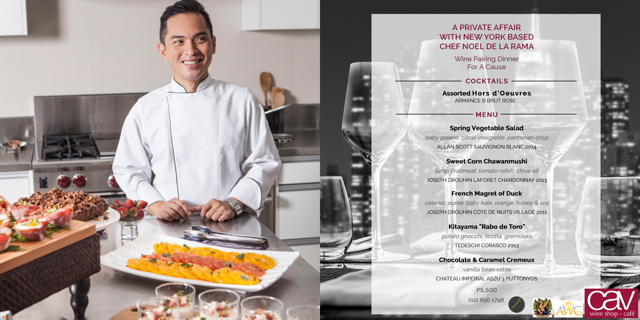 April 8 (Friday) | Jungsik Yim x William Mahi at Tasting Room, City of Dreams Manila
Tasting Room's William Mahi and Jungsik Yim of his eponymous Jungsik in Seoul and New York City will collaborating on a six-course dinner priced at PHP6,888++ per head with wines. Phone Tasting Room at (632) 691 7789 or email tastingroom@cod-manila.com for reservations.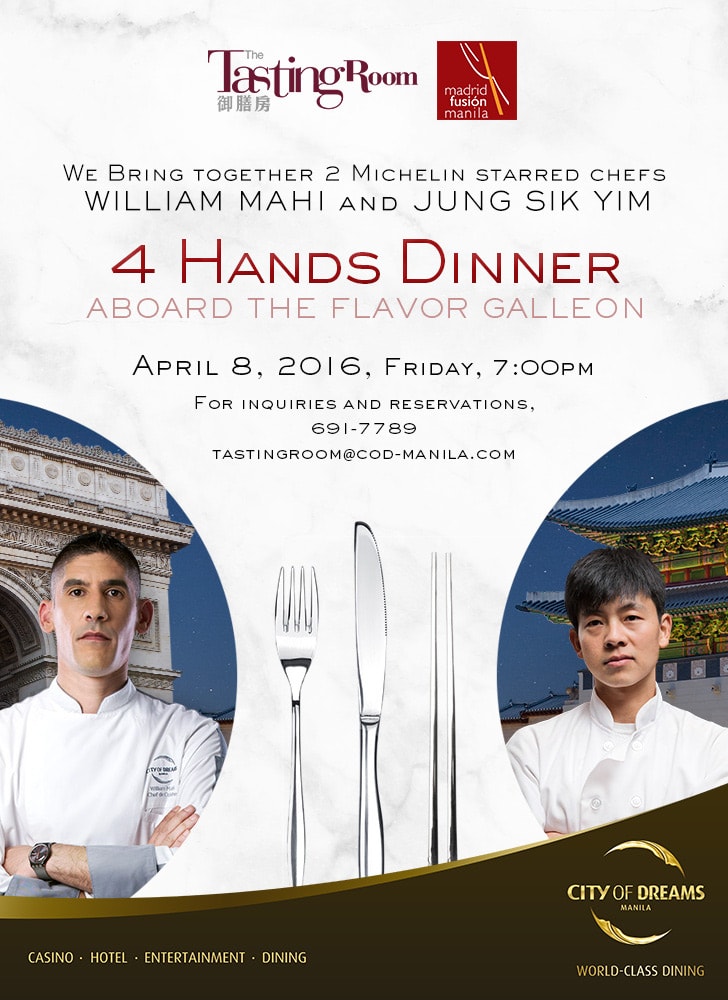 April 9 (Saturday) and 10 Sunday) | Yoshihiro Narisawa x Virgilio Martinez x Jorge Vallejo x Jungsik Yim x Chele Gonzalez at Gallery Vask
We will be bridging the cultures of Latin America and Asia (Peru and Japan on Saturday; Mexico and South Korea on Sunday) with the Philippines by way of Yoshihiro Narisawa (Narisawa, Tokyo), Virgilio Martinez (Central, Lima), Jorge Vallejo (Quintonil, Mexico City) and Jungsik Yim (Jungsik, Korea) with host chef Chele Gonzalez (Gallery Vask, Manila.) 
Each seat is priced at PHP9,800+ SC (inclusive of San Pellegrino and Acqua Panna, and wines from AWC Philippines), and part of the proceeds will be for the benefit of Fundacion Santiago. We are currently on waitlist status now but you may still send your names to crossculturesbycheryltiu@gmail.com or phone Gallery Vask at +63917 5461673 in case of any cancellations.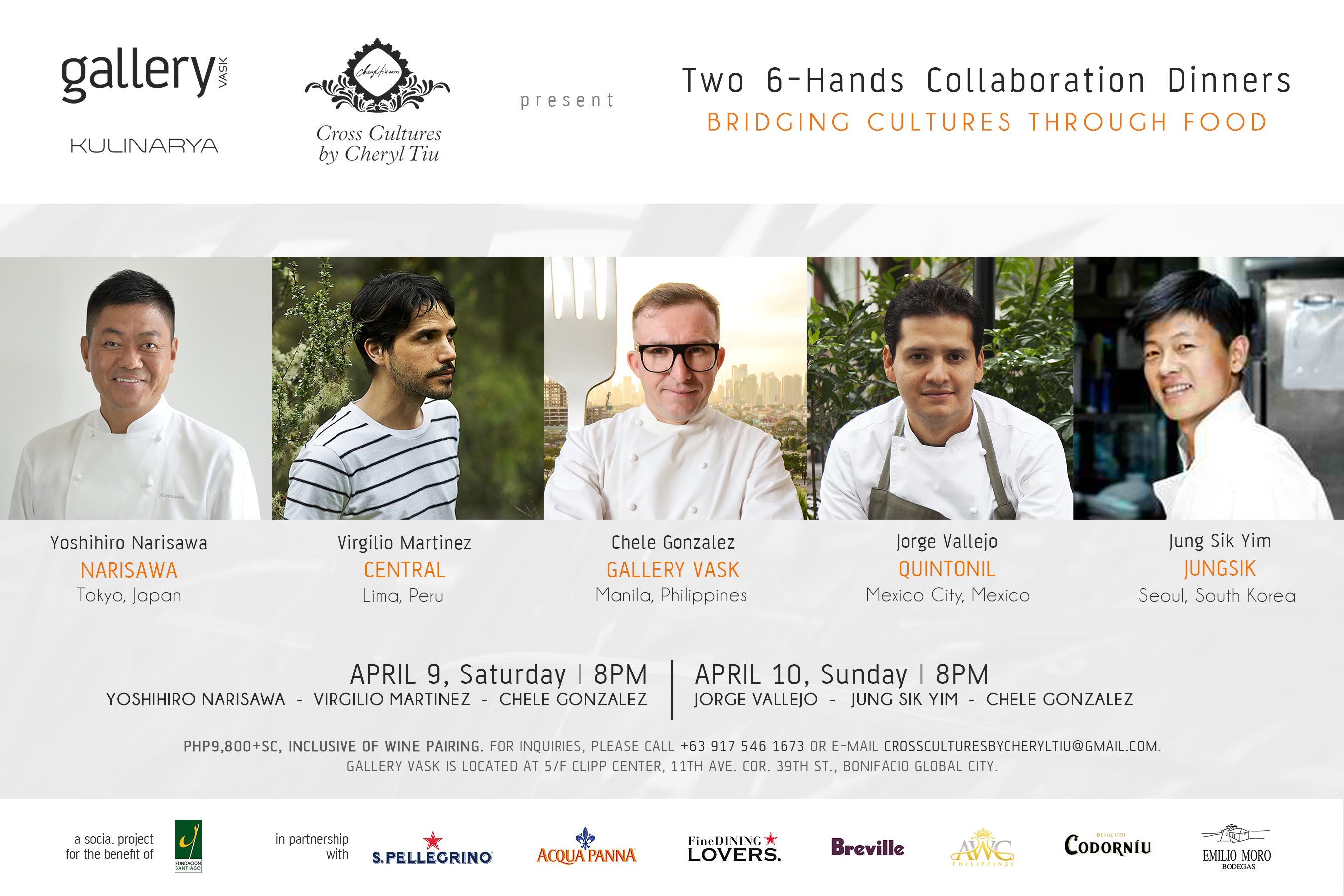 April 11 (Monday) | David Thompson at Constellation, Diamond Hotel Manila
Recently the recipient of the Diner's Club Lifetime Achievement Award at the 2016 Asia's 50 Best Restaurants awards ceremony in Bangkok, David Thompson of Nahm in Bangkok and Long Chim in Singapore will be cooking at Diamond Hotel Manila's Constellation at the 27th floor, priced at PHP8,000++ per head with wines. I'm told this dinner is already sold out but I suppose you can still call the hotel at (632) 528 3000 ext. 1121 to be waitlisted.
April 14 (Thursday), 15 (Friday) and 16 (Saturday) | Kevin Cherkas at Sage, Makati Shangri-La
For three nights, chef Kevin Cherkas of Cuca in Bali will prepare a seven course-dinner paired with Spanish wines, at Makati Shangri-La's Sage, priced at PHP4,200++. Apart from the dinner, there will also be at Spanish tapas and wine buffet at Sage Bar priced at P1,200++ per head. For inquiries and reservations, phone (632) 814 2580.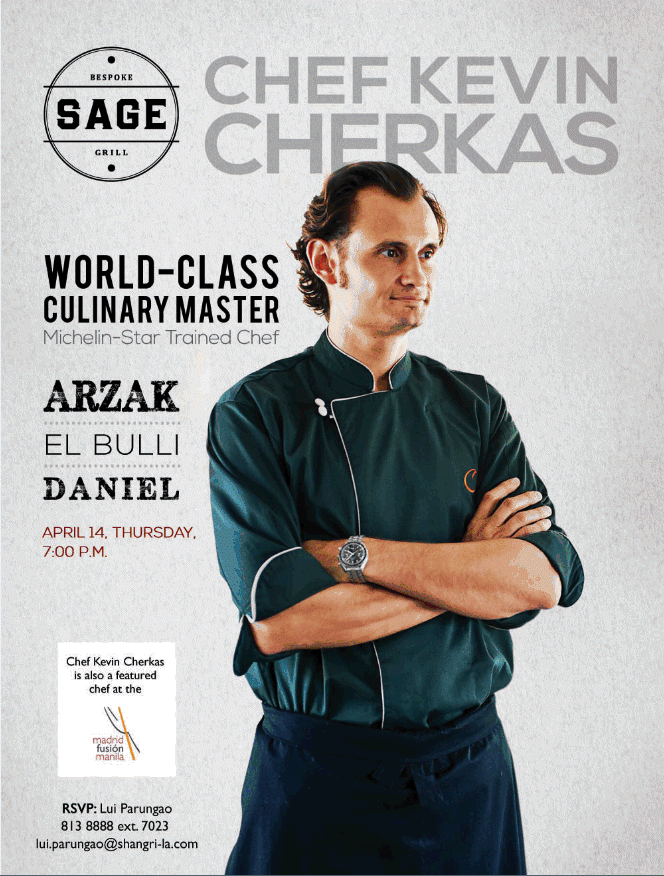 There are a few private events happening as well but what's making me so excited is that the entire COUNTRY from Luzon to Visayas to Mindanao will be having Madrid Fusion Manila food-related events, too, from a paella cook-off in Bacolod to a mango festival in Iloilo to a pub crawl in Davao! Check out the schedules HERE. 
And then before the month ends, the World Street Food Congress, will take place from April 20 to 24 at Bonifacio Global City— the first time it will be held in the Philippines (after 3 years in Singapore)! More details HERE.