Chef J. Luis "Chele" Gonzalez keeps giving us more reasons to come back to VASK. 
There are 27 new tapas on the menu and I'm going to share with you my Top 5 favorites:
1) PINTXOS (Traditional)- Gambas Aioli (P95/ piece) and Roast Beef + Cheese Emulsion + Bell Pepper (P95/ piece)
The small bites that are part of the unique personality of the Basque Country and Northern Spain have been given a makeover. The Gambas Aioli has a heaping of shrimps delicately piled on top of each other, smothered in cream, and the Roast Beef is literally a combination of salty (beef and cheese) and sweet (from the bell peppers). Manager Besay Gonzalez loves the former, and owner Carlo Calma loves the latter, even calling it "a complete meal."
2) STARTER (Traditional)- Quisquillas Fritas (Alive Baby Shrimps + Deep Fried + Crispy) P395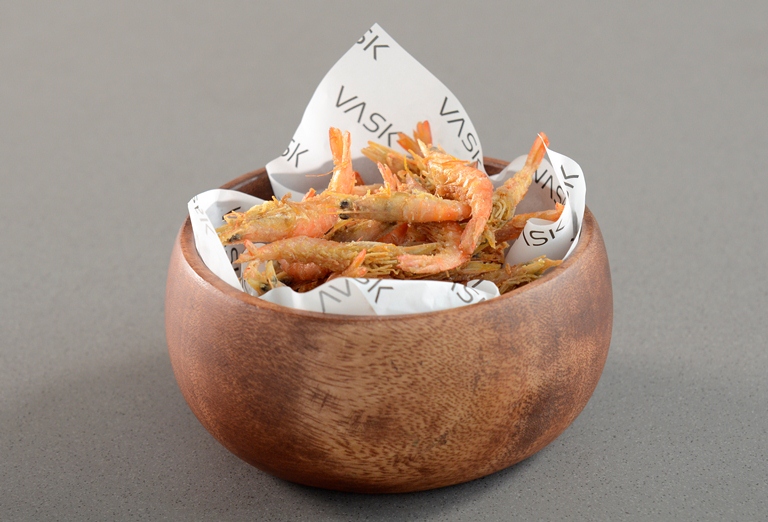 This is currently my latest addiction. Fried live shrimps with the right kind of tangy-salty that elicits the same reflex while eating your favorite bag of chips– once you pop, you can't stop. Like I'm really obsessed.
3) STARTER (Modern) Carpaccio de Wagyu con Helado de Parmesano (Australian Mayura Wagyu Carpaccio + Ice Cream + Crispy + Parmesan + Pine Nuts) P475
The paper-thin carpaccio is topped with parmesan ice cream, sprinkled with crunchy nuts and parmesan chips, and drizzled with lemon juice and rock salt. It has all the elements of the raw dish but reinvented through textures and form– it's like the Gen-Y version of the carpaccio. "I'm playing around in the kitchen all the time," shares Chele, "And instead of the typical one, I made a twist– I turned the parmesan cheese into ice cream and chips. It's understandable flavors for everyone but I made it fun, changed the textures and made it unique. Plus, as carpaccio needs to be cold, the ice cream keeps it cold." Definitely a must-order.
4) MAIN COURSE (Modern)- Tomato Relleno sobre Risotto de Semola de Setas (Tomato Stuffed + Onion + shrimp + Bacon + Semolina Mushrrom Risotto) P495
I know what you're thinking– tomato as a main course? But trust me, this is probably one of my favorite mains to date. The tomato is stuffed with onions, shrimps and bacon, and sits on pasta made from semolina (slightly lighter than usual). It's a recipe Chele said he learned while he was at Mugaritz— there the tomato is stuffed with onion, leeks and squid, and at Vask, he changed it around a little bit.
5) DESSERTS (Modern Menu)- Quesos y Texturas (Warm Couer de Lion Cheese + Cream Cheese Ice Cream + Crumbs + Honey) P350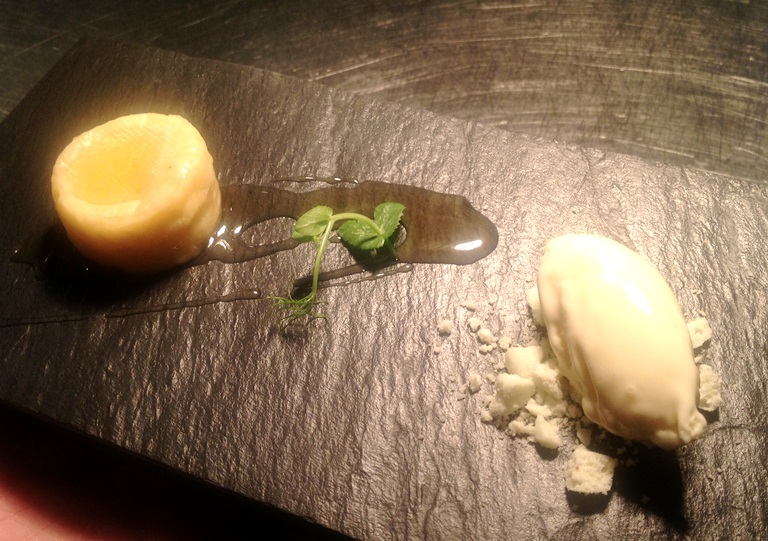 My sweet tooth palate seems to be off lately, so I haven't particularly enjoyed desserts as much. And I've been trying to avoid dairy as it makes me bloat. But this, regardless of being a cheese platter or a sweet ending, is incredible. Again, it's a play on textures with the warm couer de lion cheese drizzled in honey, and the cream cheese ice cream. Yum!
They also have a tapas tasting menu, where you get a sampling of 8 tapas for P1,995 (inclusive of 12% VAT; exclusive of 10% service charge).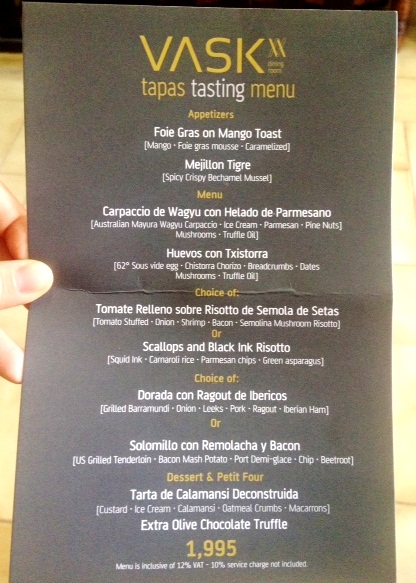 Check it out!
VASK is located at the 5th floor of the Clipp Building, 11th Avenue, corner 39th Street, Bonifacio Global City, Taguig. For reservations, phone +632 217-6563, SMS +63920 974-4742 or +63917 806-5292 or email vaskmanila@gmail.com