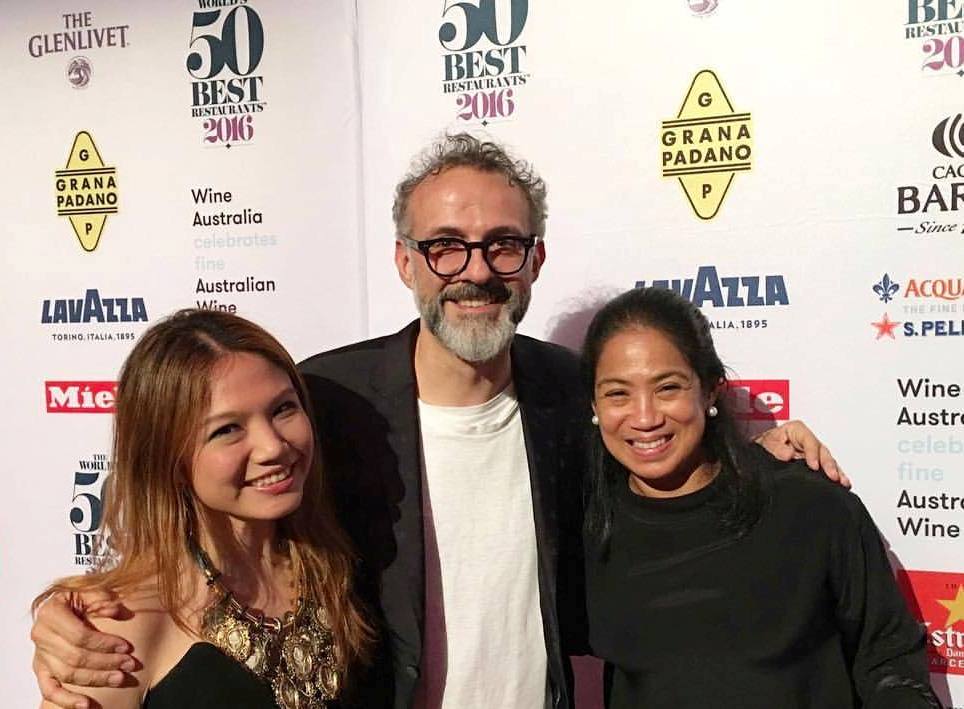 For the first time ever, the World's 50 Best Restaurants awards ceremony was held outside the British capital. Cipriani Wall Street in New York City was teeming with chefs, journalists and gastronomes for the 2016 World's 50 Best Restaurants awards ceremony, organized by William Reed Business Media.
Osteria Francescana from Modena, Italy, was proclaimed the No. 1 restaurant in the world this year, a very significant jump up from No. 2 last year. "There's a community created around 50 best," said Bottura at the press conference right after the event, "We are not here as competition, we are here as friends."
El Celler de Can Roca (Girona, Spain) took the No. 2 spot this year; Eleven Madison Park (New York, USA) climbed to No. 3. Central (Lima, Peru) retained its No. 4 spot. Noma (Copenhagen, Denmark) dropped to No. 5. Mirazur (Menton, France) leaped up high to No. 6; Mugaritz (San Sebastian, Spain) is No.  7. Narisawa (Tokyo, Japan) retained the No. 8 spot this year, Steirereck (Vienna, Austria) no. 9 and Asador Etxebarri (Axpe, Spain) at No. 10. (For the full list, click HERE.) 
It was also announced that next year's World's 50 Best Restaurants Awards will be held in Melbourne, Australia, in partnership with Tourism Australia. (Hence, we had an Aussie brunch to celebrate– more on that if you keep reading this post :-))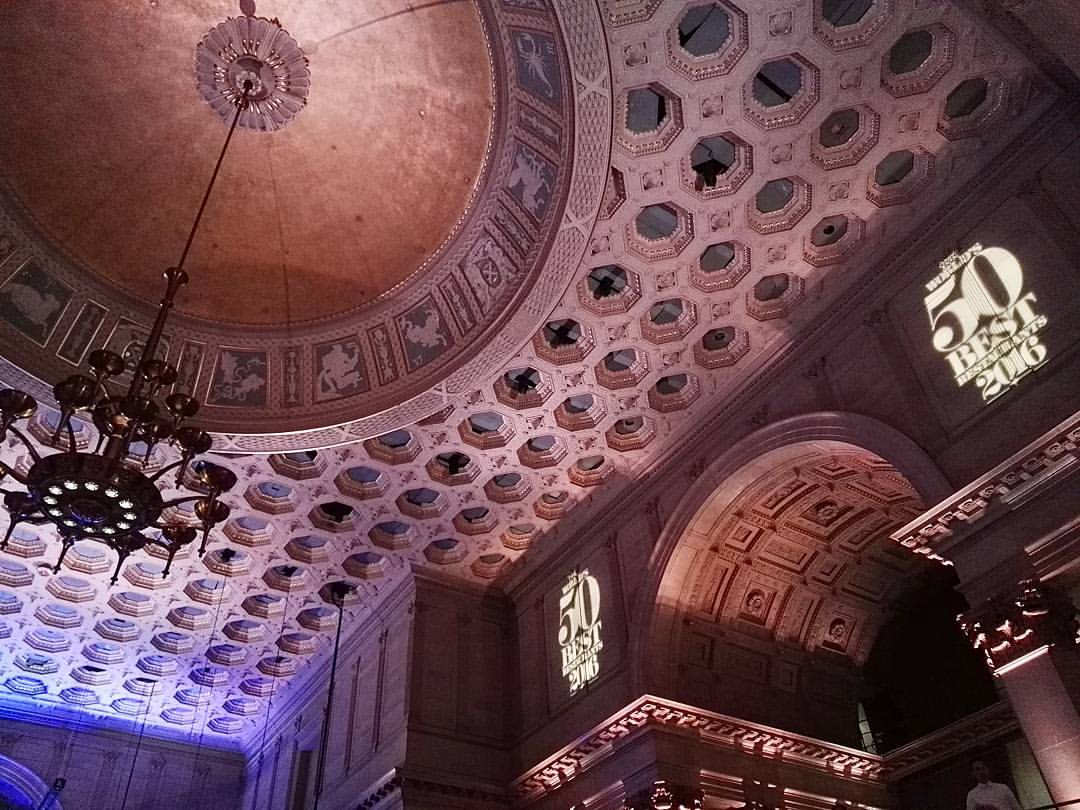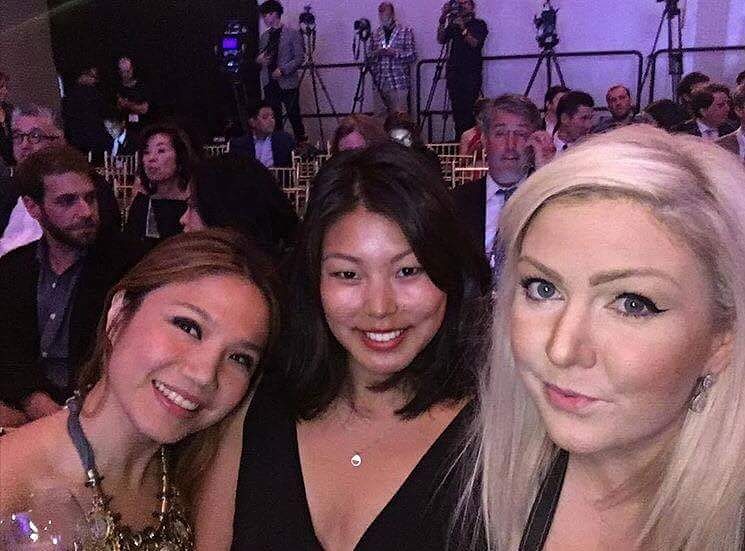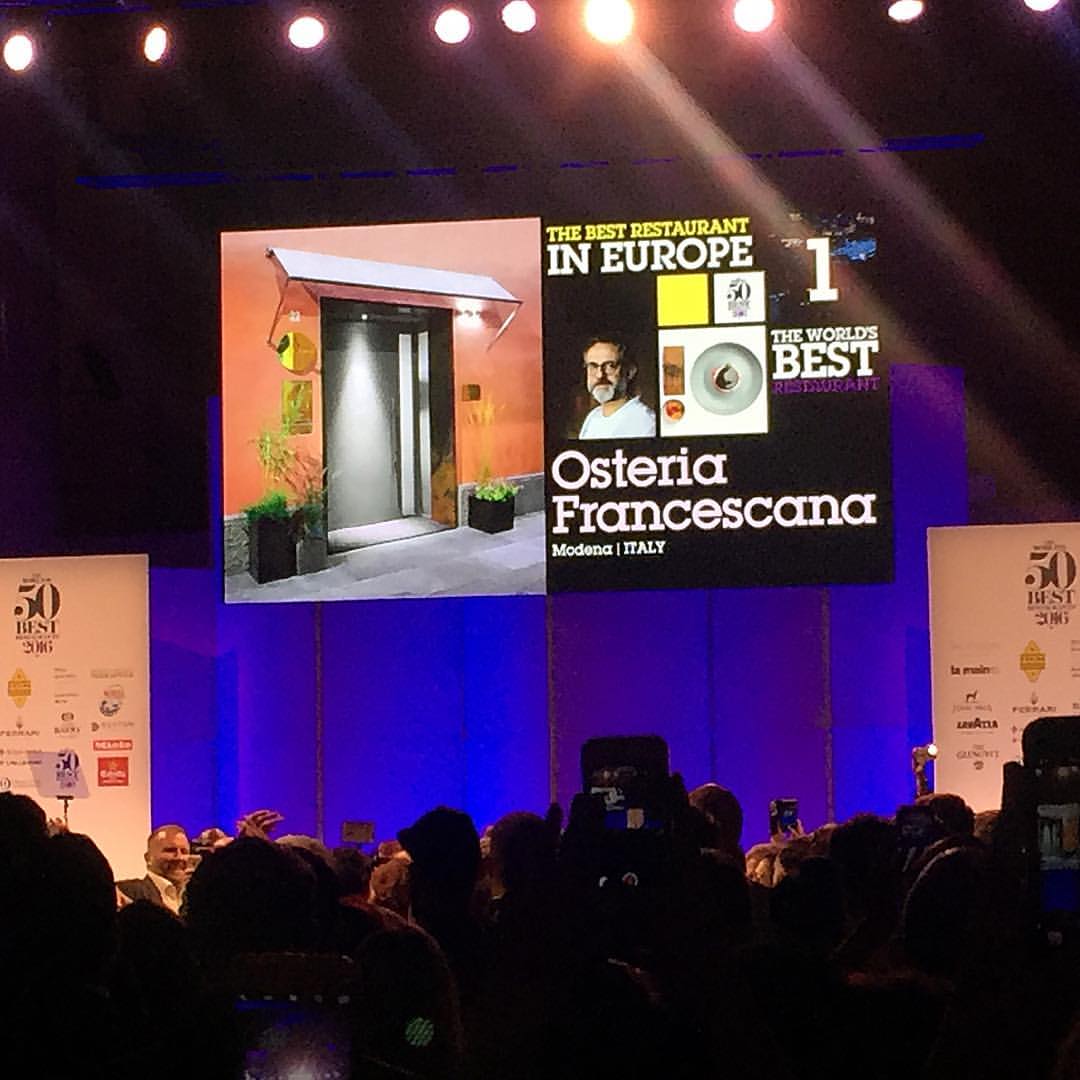 I think that victory is always sweeter when celebrated with loved ones and the sight of these absolutely warmed my heart: the chefs with their wives, who also happen to work in their respective restaurants with them– celebrating their winning moments together were priceless. That's Jorge Vallejo and Alejandra Flores of Quintonil in Mexico City, Mexico; Virgilio Martinez and Pia Leon of Central in Lima, Peru, Tim Raue and Marie-Anne Raue of Restaurant Tim Raue in Berlin, Germany; Massimo Bottura and Lara Gilmore of Osteria Francescana in Modena, Italy, and Josep Roca and Xani Roca, and Jordi Roca and Alejandra Rivas, of El Celler de Can Roca in Girona, Spain.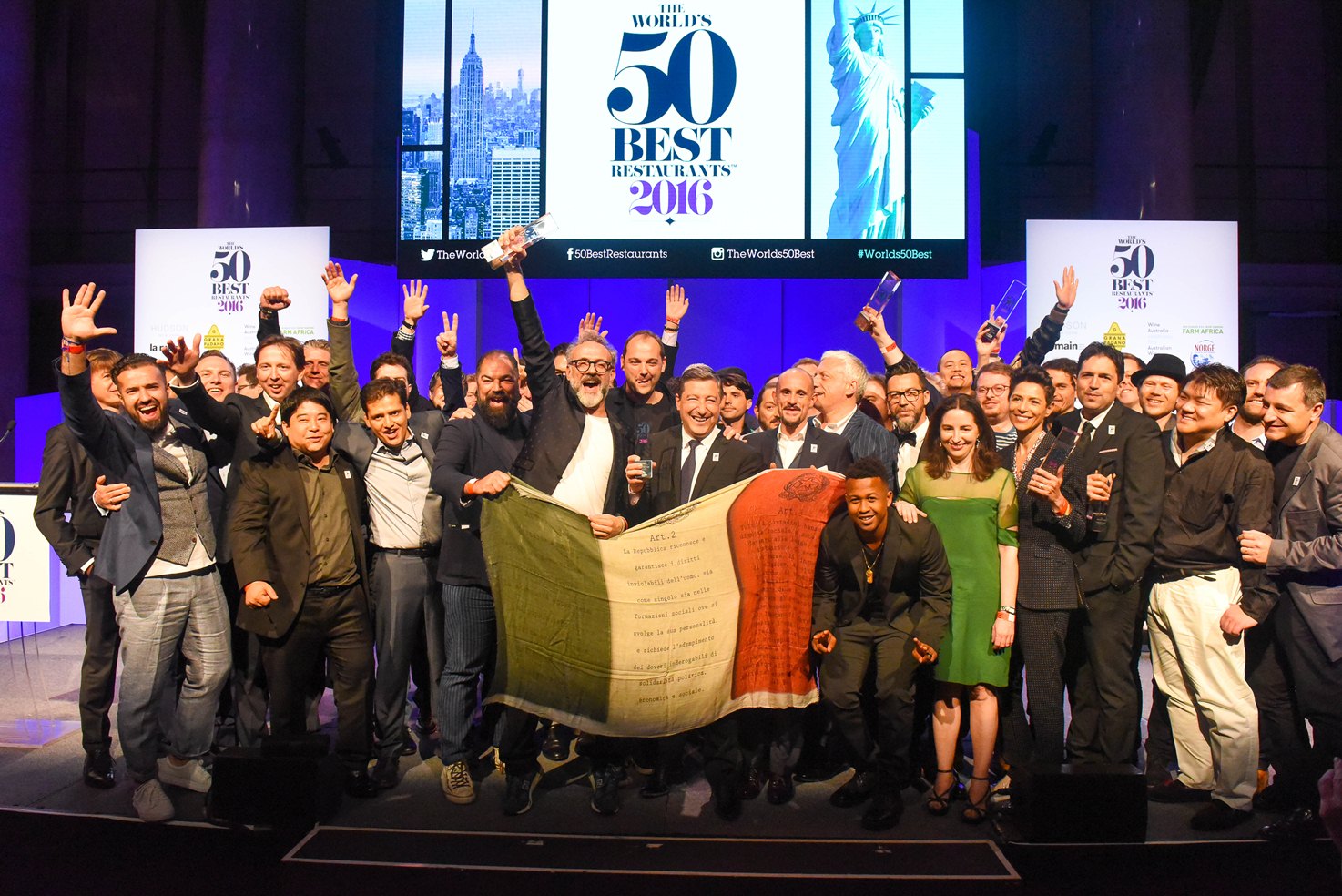 THE AFTER-PARTY AT ELEVEN MADISON PARK
Bet you've never seen Eleven Madison Park like this!!! What a fantastic after-after-party (the one at Cipriani Wall Street had April Bloomfield- with dishes from all her restaurants in the city!)…  Questlove DJ-ing.. And Daniel Humm, Daniel Boulud, Alain Ducasse, Zaiyu Hagesawa, and Massimo Botura. On. A. Ledge. This is history. Was so much fun!!!
There were tons of other events leading up to the awards ceremony proper– and likewise, really fun events after! It was really an excellent time to be in New York City to celebrate gastronomy. These were the ones I attended. Now let's start!
#KOREANYC AT BLANCA IN BROOKLYN
This was held on a Thursday, four nights before the awards ceremony. KoreaNYC was an initiative by Korean fine-dining magazine La Main to promote Korean cuisine on the world stage. There were two six-hands dinners, where top Korea-based chefs collaborated with an American chef. I attended the one at Blanca where chefs Hyunseok-Choi (Elbon The Table, Seoul) and  Jinmo Jang (A&ND Dining, Seoul) cooked alongside chef-patron Carlo Mirarchi. (The other one was at Blue Hill alongside chef-patron Dan Barber.)
If you've not heard of Blanca, it's a by-reservations-only 12-seater (that according to NY Mag sells out for the month within hours) by the same man behind Roberta's (yes, as in the pizza) in Bushwick, Brooklyn. So to get to the restaurant, you have to go through the telephone booth entrance then through Roberta's then through the roof deck.. and finally to the spacious concrete dining space which features a state-of-the-art kitchen.
The multi-course dinner pairs it with wine, sake and beer (even on a normal day). My fave dishes in photos below.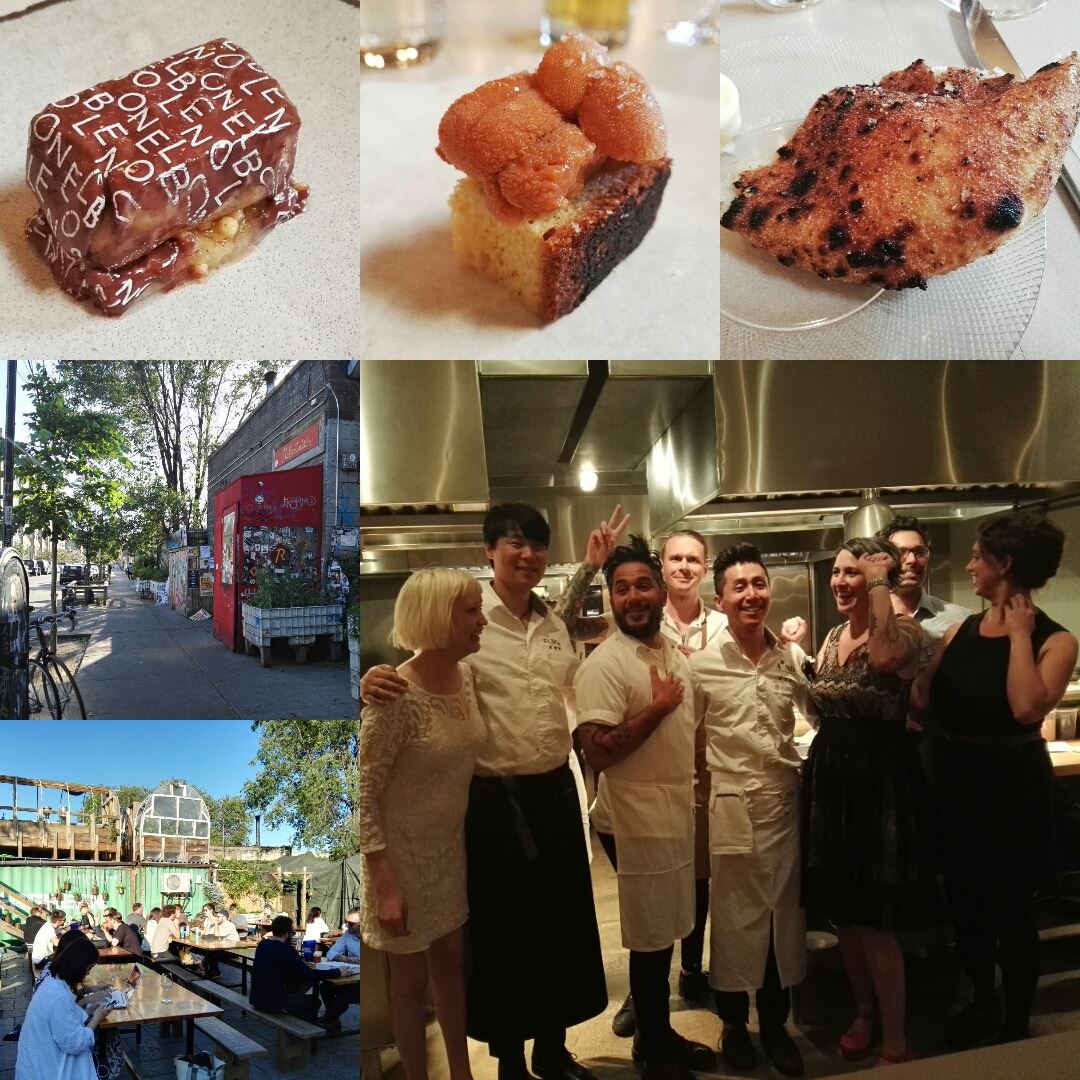 #KOREANYC GALA DINNER AT JUNGSIK IN TRIBECA
The culminating gala dinner for KOREANYC was two nights after, at Jungsik in Tribeca, where host chef Jungsik Yim cooked alongside top Seoul-based chefs Mingoo Kang (Mingles), Hyunseok-Choi (Elbon), Tony Yoo (24 Seasons), Jinmo Jang (A&ND Dining) —making that a 10-hands dinner.
How were these chefs selected? According to La Main editor in chief Jang Eun Sil, "The leaders of the new Korean food movement are chefs Jungsik and Mingoo (both their restaurants are part of the Asia's 50 Best Restaurants list). Tony Yoo does traditional Korean cuisine. And with Jingmo and Choi, we wanted to show how Korean food can be transformed into the avant-garde. It was a showcase of the diversity, the variety and of traditional and modern Korean cuisine."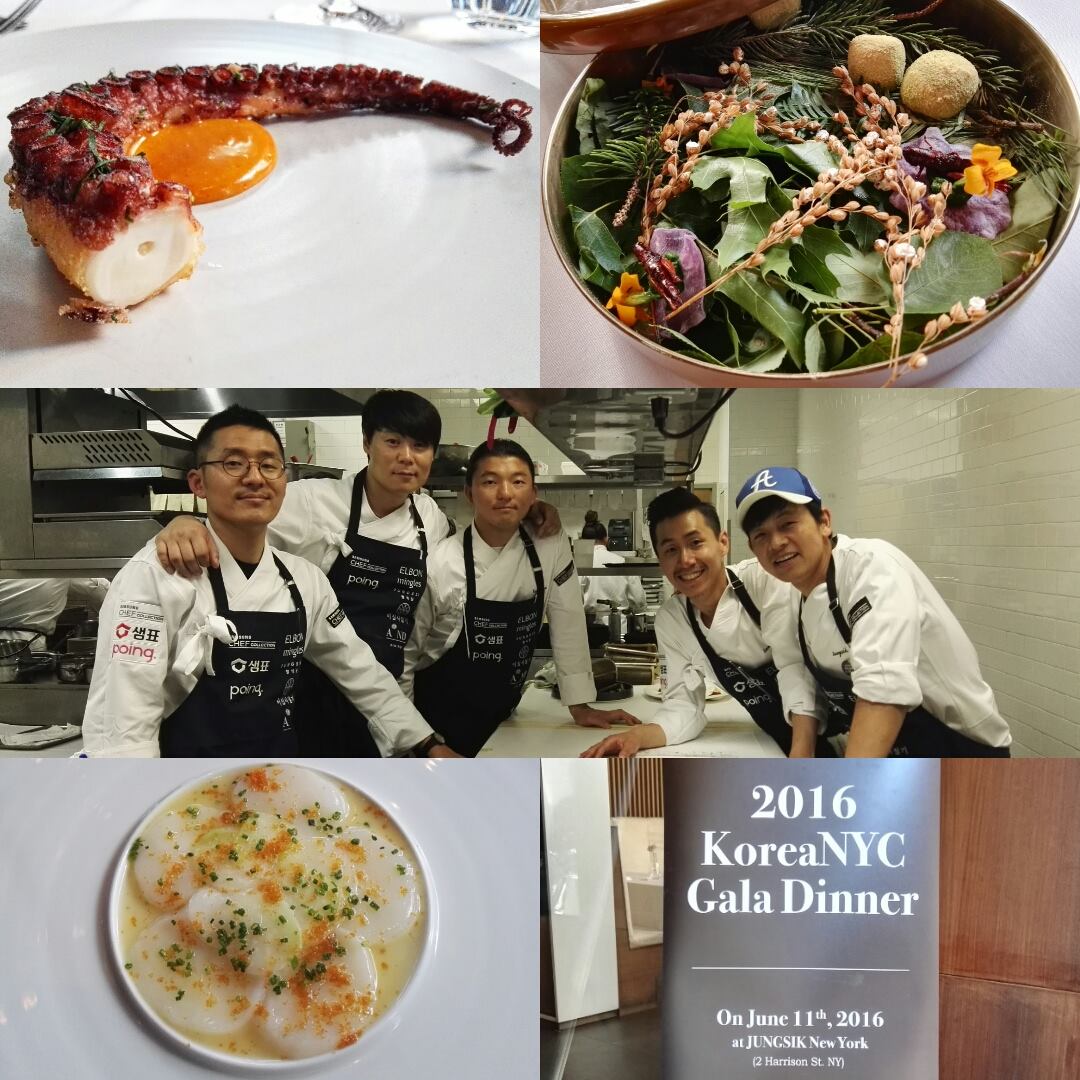 #50BESTTALKS AND "CHEF'S TABLE" SCREENING
The day before the awards ceremony, the "#50BestTalks: The Tastemaker" was held at the International Culinary Center, where chefs Dominique Crenn (also this year's World's Best Female Chef), Andre Chiang, Mingoo Kang and Yannick Alleno were speakers. There was a special screening of the Gaggan Anand episode from Netflix's critically acclaimed "Chef's Table "series, where director and producer David Gelb (also the man behind "Jiro Dreams of Sushi") and Gaggan were present for a Q&A session. The moving story of Gaggan's hardships in his hometown of Kolkata was interspersed with his successes as Asia's No. 1 restaurant.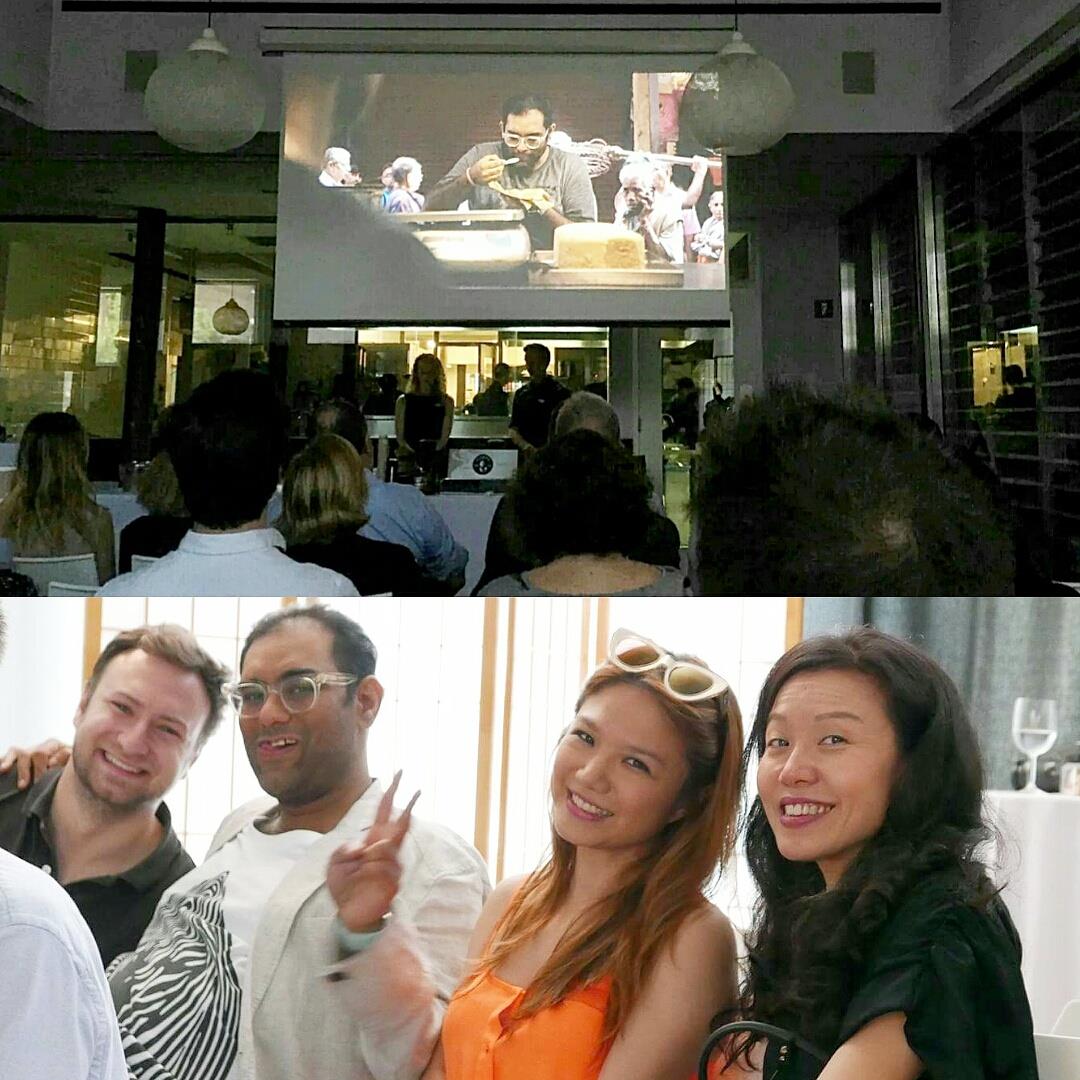 THE GREAT AUSSIE BRUNCH AT THE NOMAD HOTEL
When you receive an invitation called "The Great Aussie Brunch" with chefs Ben Shewry (Attica, Melbourne), Dan Hunter (Brae, Birregurra), Neil Perry (Rockpool, Sydney & Melbourne) and Peter Gilmore (Quay, Sydney) ON THE GRILL– you don't even think– the answer is, hell yeah! This was held the morning after the awards ceremony + after party (11AM to 1PM) and a lot of us were there, well-present! My faves were Ben Shewry's egg dish, and Neil Perry's grilled shrimps.. and as for the Australian wines present: the Leeuwin Estate Art Series Chardonnay 2014 from Margaret River in Western Australia.
(And no, the dress code was not white. This is all purely coincidental :-))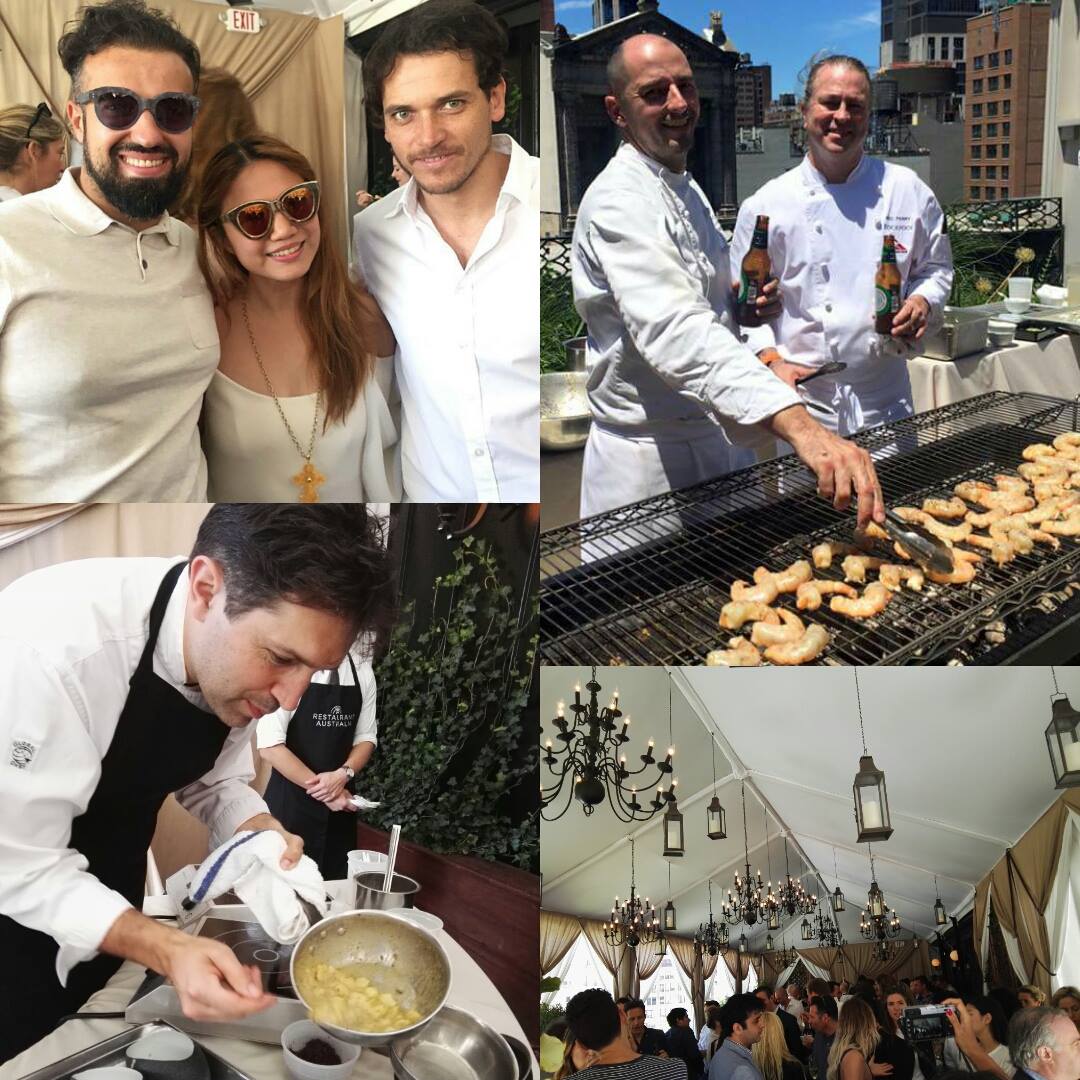 ITALIAN CHEFS PRESS CONFERENCE AT EATALY
So they said there was a press conference/ gathering with the Italian chefs at Eataly right after the brunch.. here, they honored and congratulated Massimo Bottura.. and Mario Batali even made an appearance! If you've seen the first episode of "Chef's Table," you'll see how when Alain Ducasse phoned Massimo and invited him to Monte Carlo to teach his staff how to make fresh pasta– he dropped everything– including his relationship with (his now-wife), Lara Gilmore. So this tight meaningful hug was so precious. <3
PS How serendipitous it is that Massimo won the first time the awards was held in NYC– the very city where he and Lara met?!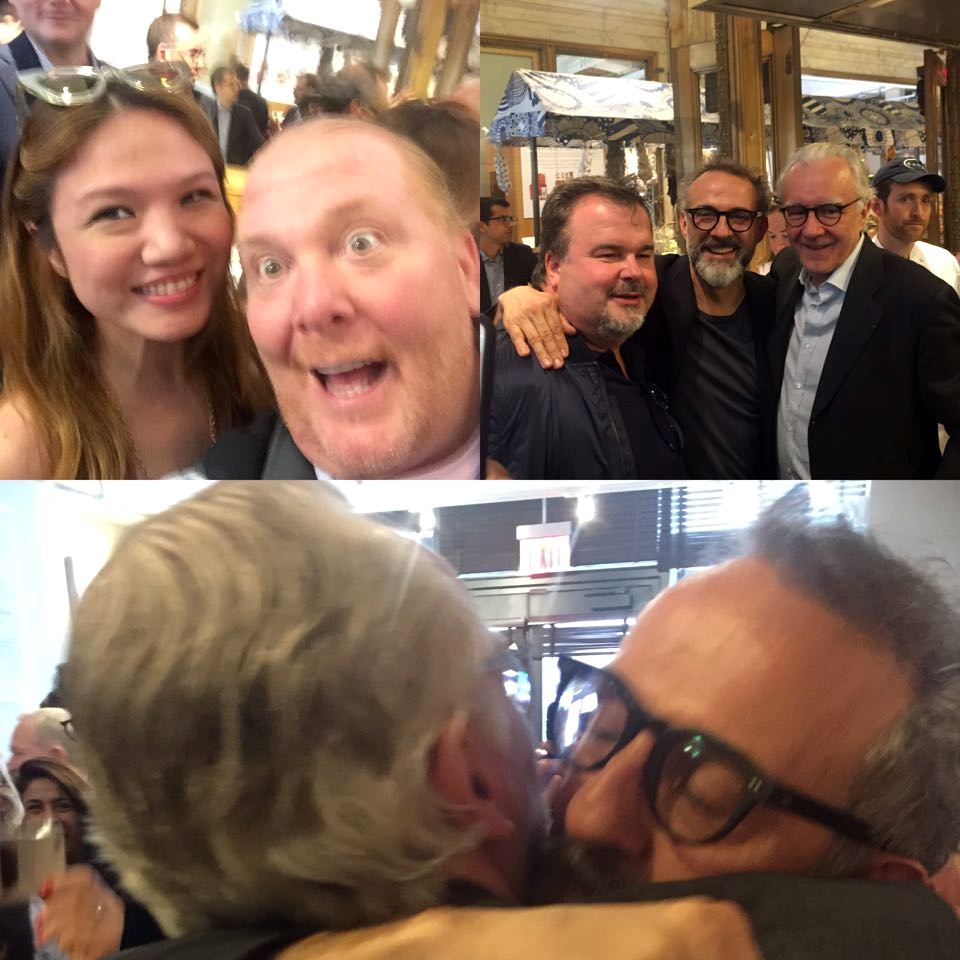 ……..AND…………. A CROSS CULTURES BY CHERYL TIU CHEFS COLLABORATORS REUNION!!!
It was so heart-warming for me to reunite with all my amazing chef collaborators during this World's 50 Best period. For those who don't know, I run an events platform called Cross Cultures, where we promote the exchange of cultures though food. We're so fortunate (and grateful!) to have had Gaggan Anand, Yoshihiro Narisawa and son Leo (Narisawa), Virgilio Martinez (Central), Jorge Vallejo (Quintonil) and Jungsik (Jungsik) collaborate with us, and restaurant partner Gallery Vask in the Philippines– and we had the happiest smiles and the biggest hugs when we all saw each other again in another part of the world. As Massimo Bottura said in his acceptance speech, "The most important ingredient for the future is culture." The only one missing here is Chelito!!!

But who knows, maybe next year! 😀