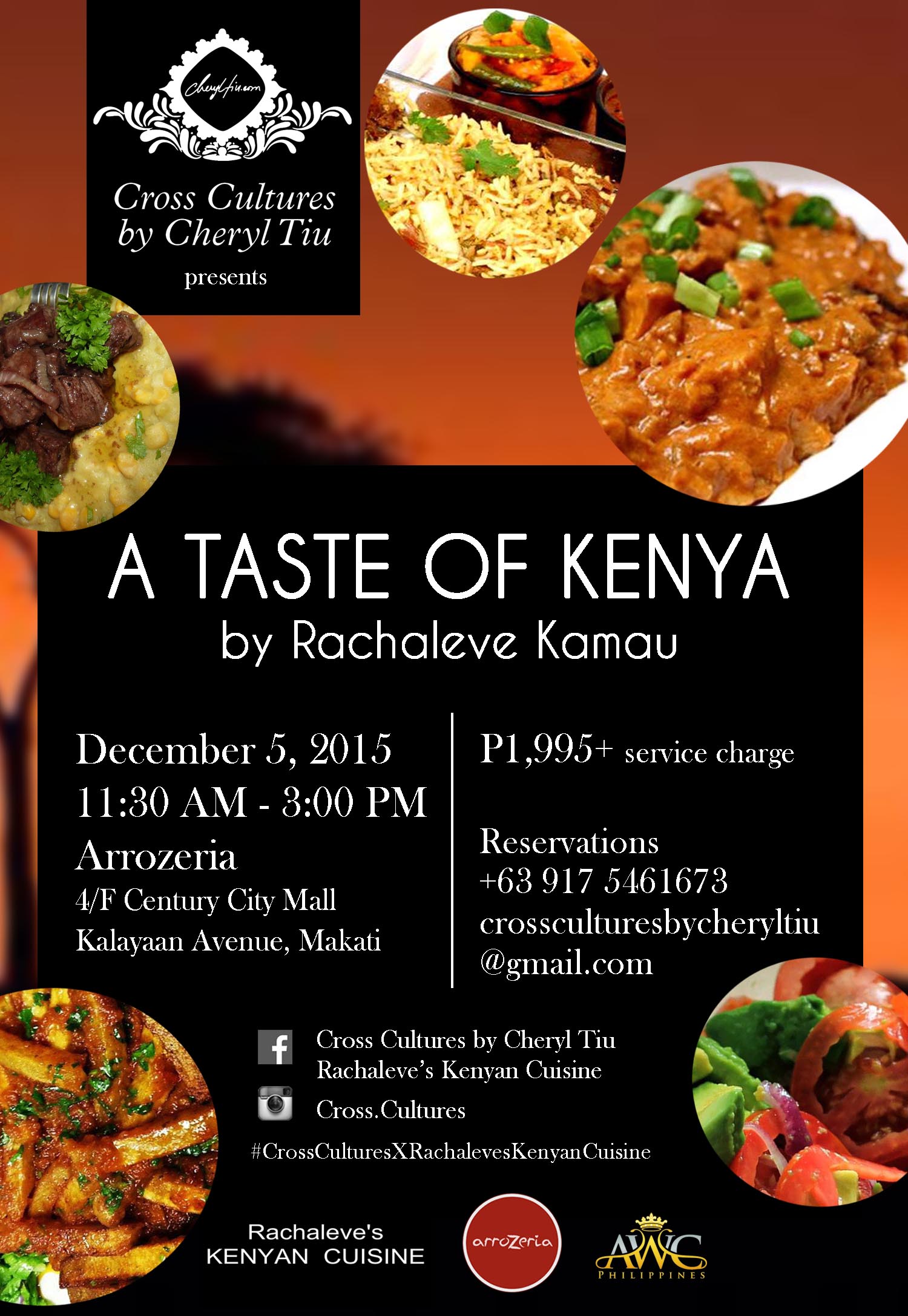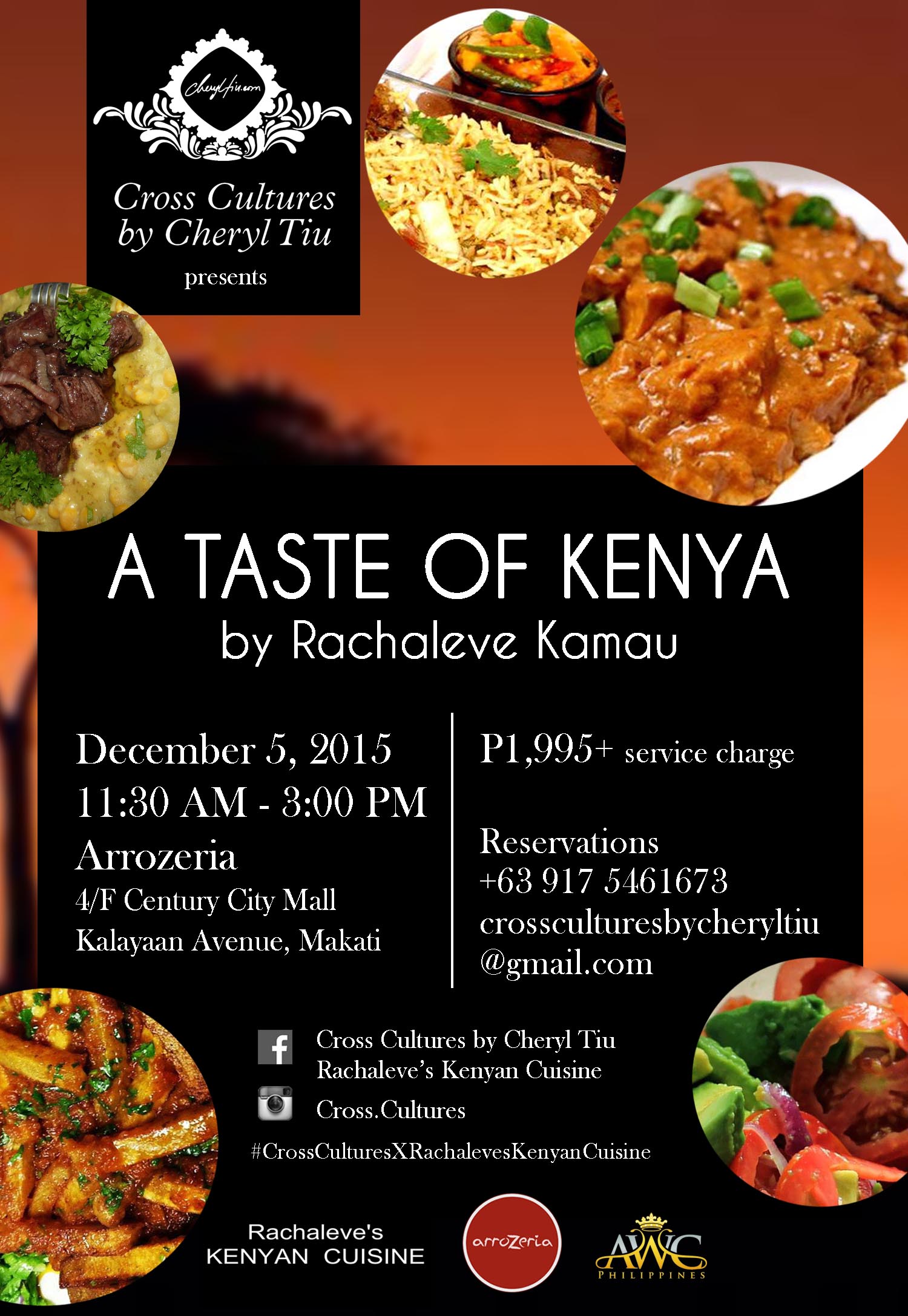 Hi everyone! If it seems like we've been a little quiet since Gaggan, it's only because we've been planning our next Cross Cultures event for you… A Taste of Kenya featuring the cuisine of Nairobi-born Rachaleve Kamau! This will be on December 5, 2015 (Saturday) from 11:30 AM to 3:00 PM at Arrozeria on the 4th Floor of Century City Mall, Kalayaan Ave., Makati. (Click here for the map). It's going to be a fabulous Kenyan brunch!
Some people might be wondering, "You're doing Africa again? You just did Ethiopia." Well, we intentionally spotlighted another country in Africa as part of our education process to address the misconception that Africa is not one country; rather a continent with 54 countries, each with a very different cuisine.
A little bit about Kenyan cuisine:
Kenya has had a long-standing relationship with foreign settlers and was once colonized by the British. Because of this, the taste, cooking methods and presentation of Kenyan cuisine have been greatly influenced by the Indians, Arabs, Europeans, and Pakistanis as well as other Western countries. They use a lot of fresh ingredients– kale, spinach, cabbage, tomatoes, beans, potatoes, avocados are popular vegetables, while beef and goat are the common meats, although sometimes fish, chicken and mutton are also available.
A little bit about the cook:
Rachalave Kamau was born in Nairobi, Kenya to a Kenyan dad and half-Tanzanian, half-Congolese mother. Growing up, she used to watch her grandmothers from both sides cooking and learned alot from them, and likewise her mother. She started cooking at the young age of 8, making chicken in peanut sauce, which everyone loved. She has showcased some of her dishes in selected bazaars and catering services, and the responses have been amazing. Peanut, coconut and cinnamon are her favorite ingredients. The brunch with Cross Cultures and Arrozeria will be her first pop-up.
On December 5, you can look forward to kuku njugu (Rachaleve's signature chicken in peanut sauce- so good!), niama soup (Kenyan beef stew, kachumbari (mixed vegetables), mukimo (mashed peas and potatoes), masala chips (my fave!) and of course their staple, ugali (cornmeal staple) that's had with every meal, nazi-viazi kitamu (coconut and sweet potato pudding)– and a couple more other dishes! It's just P1,995 + service charge, which already includes lovely wines from AWC PHILIPPINES— sparkling Ampelidae Armance B Brut, Layer Cake Chardonnay 2012 and Layer Cake Shiraz 2013. 
This is our last Cross Cultures for 2015, and we really hope to see you there!
For reservations, text or call +639175461673 or email crossculturesbycheryltiu@gmail.com. See you next Saturday! XX