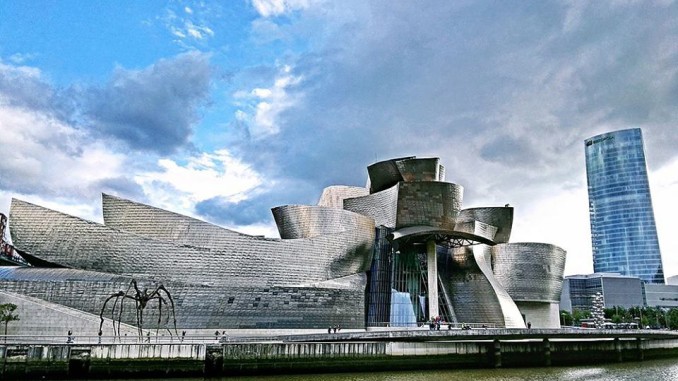 Hola! I know it's been a while since my last blog  post from Georgia, but I'm now in the beautiful city of Bilbao in Spain! What am I doing here? This year marks the Guggenheim Museum Bilbao's 20th anniversary, and they are celebrating with a series of special events, hosted by flagship restaurant,  Michelin-starred Nerua. I'm here for the Four Hands dinner between Nerua's Josean Alija and El Celler de Can Roca's Joan Roca, which is actually happening tonight! It's going to be super! It's my first time in Spain's Basque country and the hospitality has been incredible.
We had a welcome dinner with Joan Roca last night at the museum's Bistro Guggenheim, a fantastic 12-course menu prepared by Josean and the Nerua team. (Trivia #2: Did you know that this was the original spot where Josean worked at so it's like coming full circle!)
Many of you may remember Nerua from our Cross Cultures collaborations with them at Gallery Vask– a Four Hands dinner last year between Josean Alija and Chele Gonzalez, and a 10 Hands dinner just the other month. This time, they have been showing me their city– from eating a pintxos marathon to copious amounts of txakoli (dry Spanish wine native to Basque country)!
An awesome trivia I found out though was that Game of Thrones filmed their upcoming season in Basque Country and they celebrated Emilia Clarke's (Daeneyrs) birthday at Nerua! That's major!
Ok, well it's time for me to run now since we are beginning the dinner soon! I first met and tried Joan Roca's cooking at a Four Hands dinner he did at Restaurant Andre with Andre Chiang in 2014 (they donated to the Typhoon Haiyan victims in the Philippines!)– so three years later, I'm mega excited! Will be posting about it on my blog and social media real soon! xx