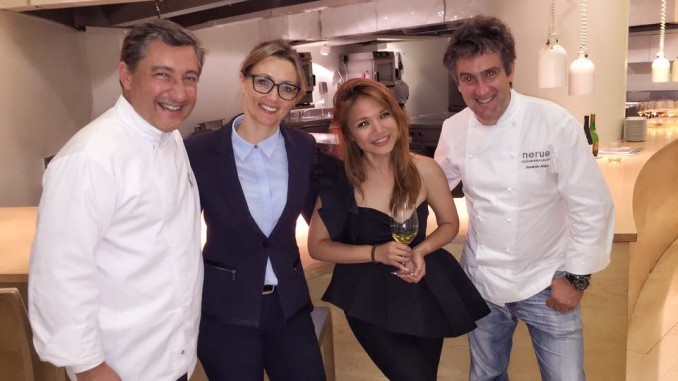 In celebration of the Guggenheim Museum Bilbao's 20th anniversary this year, host restaurant Nerua (1 Michelin star; No. 56 best restaurant in the world) is celebrating with a series of very special Four Hands dinners by host chef Josean Alija, along with Bruno Oteiza (Biko, Mexico – February), Joan Roca (El Celler de Can Roca, Spain – May), Mauro Colagreco (Mirazur, France – June), and Virgilio Martinez (Central, Peru – September). The series is called Ongietorri, which means "welcome" in Basque. All dinners sold out in 20 minutes! (But you can still try for waitlist.)
It was a huge honor for me to have been part of the very special Four Hands Dinner between Nerua's Josean Alija and Joan Roca of El Celler de Can Roca (3 Michelin stars; No. 3 in the world; they were No. 1 in in 2014 and 2015). You guys might remember that we did two Cross Cultures dinners with Nerua in the Philippines at Gallery Vask– a Four Hands one in 2016, and a 10 Hands one just last April– and I first experienced Joan Roca's cooking at Restaurant Andre in Singapore in 2014. I was stoked!!! Plus, it was my first time in Bilbao, too– which is going to be where the 2018 World's 50 Best Restaurants will be taking place– so exciting!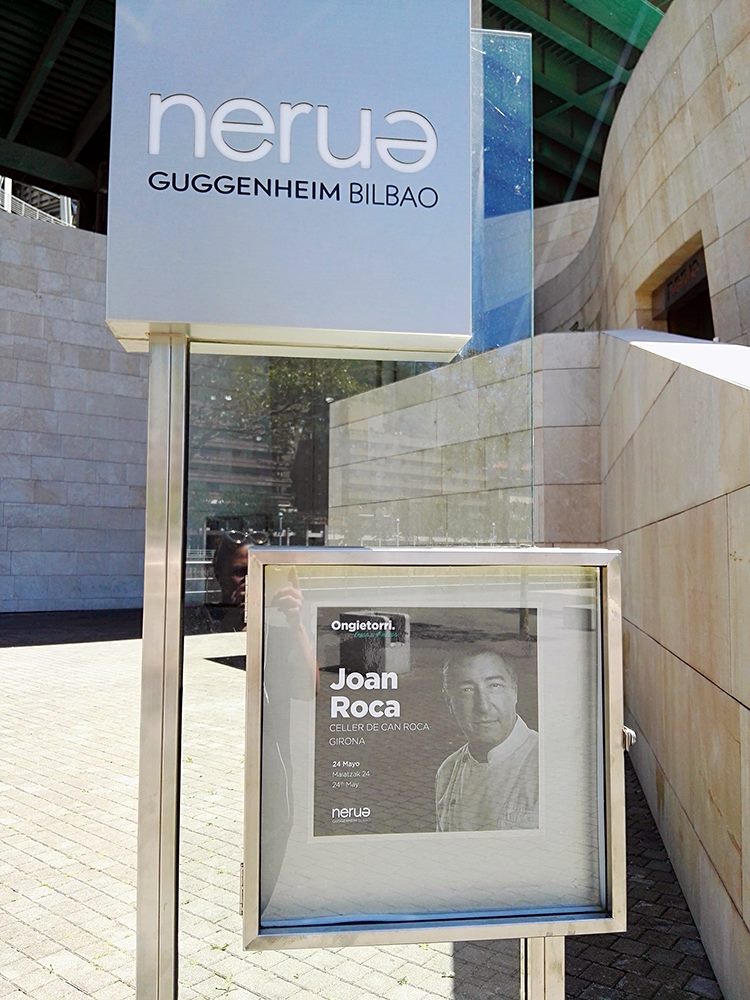 The evening began with sunset cocktails and Basque appetizers (txakinarto corn broth, cod torrezno with paprika, emmental cheese and iberian bellota ham croquette, and grillo) at the Nerua terrace overlooking the Nervion River– which I think has one of the best views of this part of Bilbao!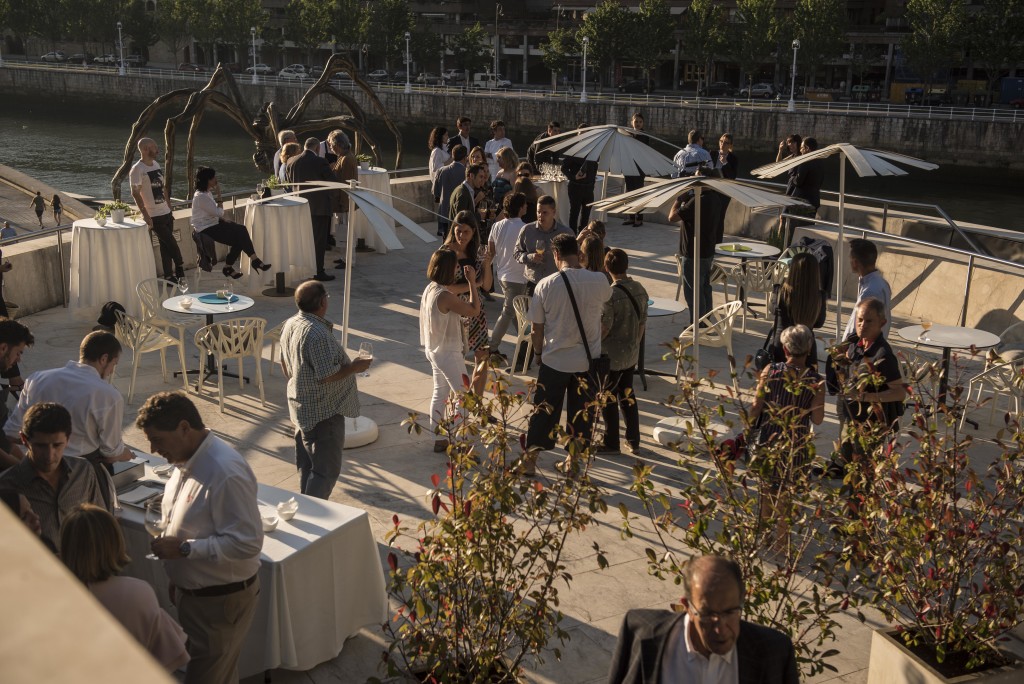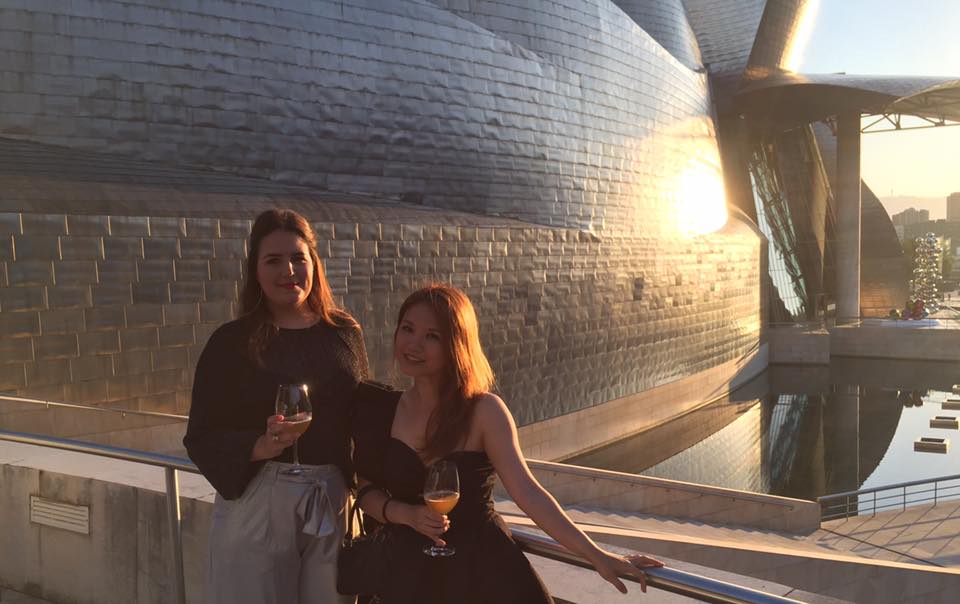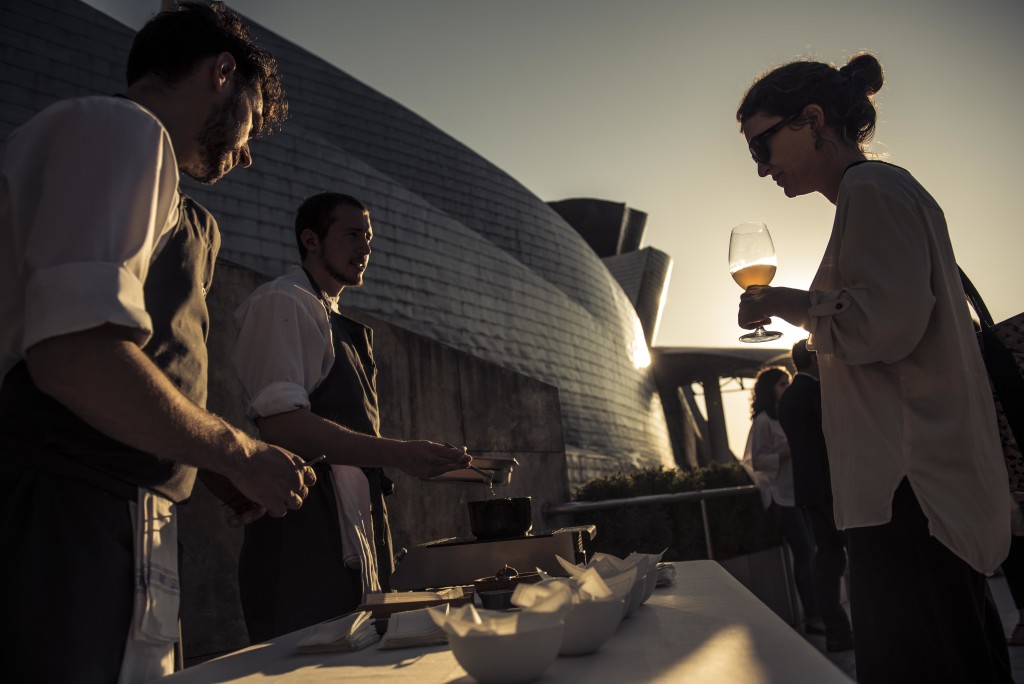 While Joan and Josean have cooked together before at events, this was their first Four Hands dinner. Joan had brought in several of El Celler de Can Roca's signature dishes, choosing the ones he thought would best complement Josean's cuisine– which he says he "likes very much"– in order to give it one seamless idea. Josean on the other hand, created a special menu with new Nerua dishes, just for the evening, of course, in line with Joan's.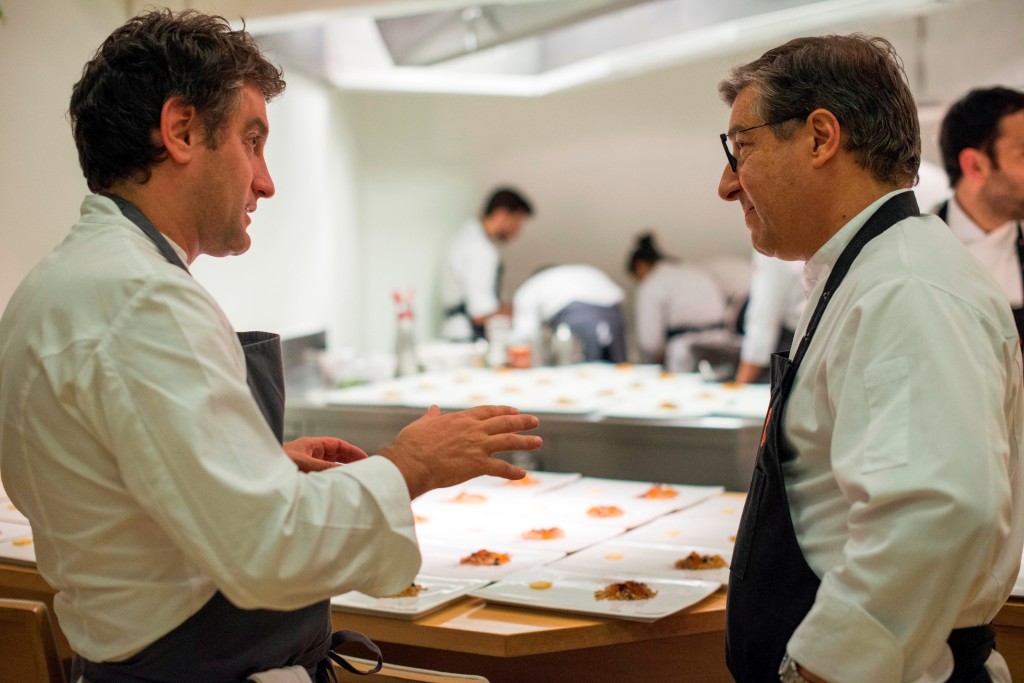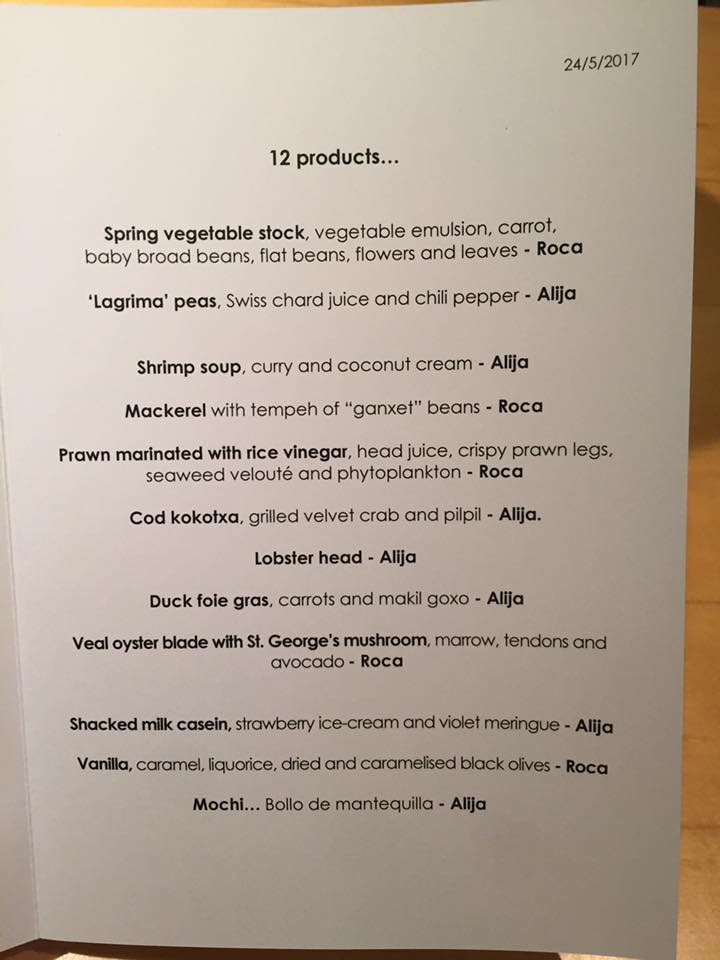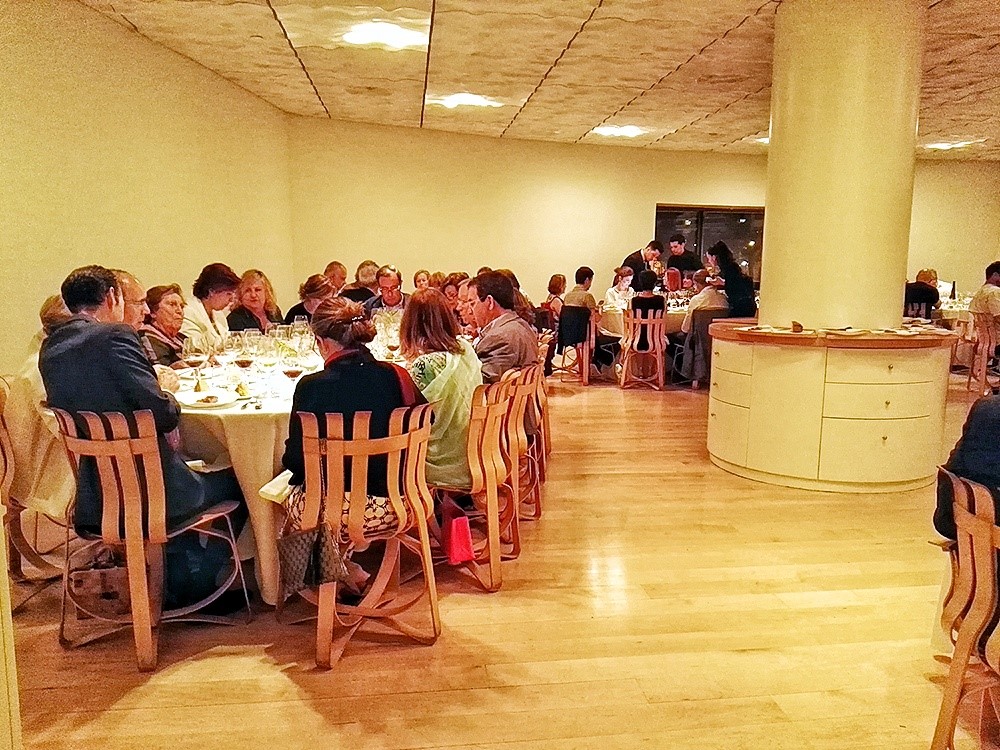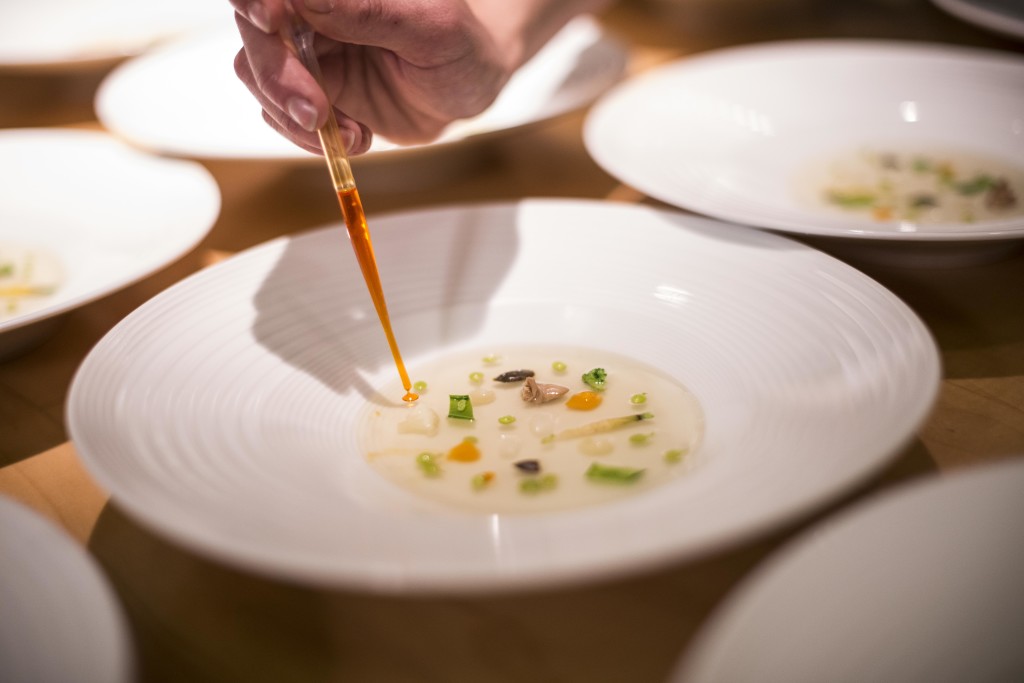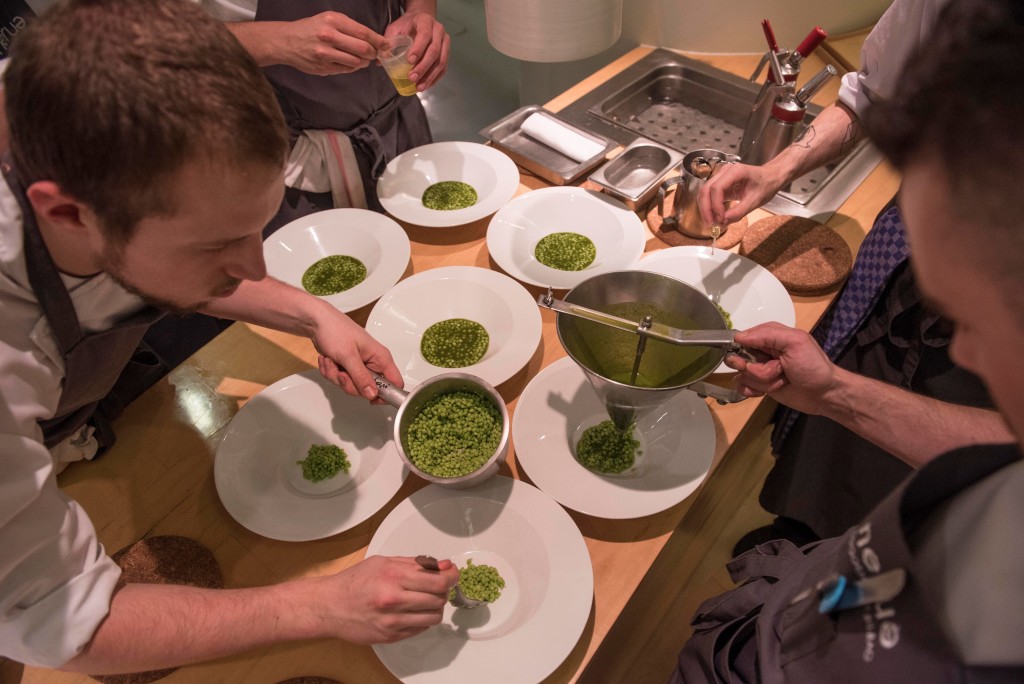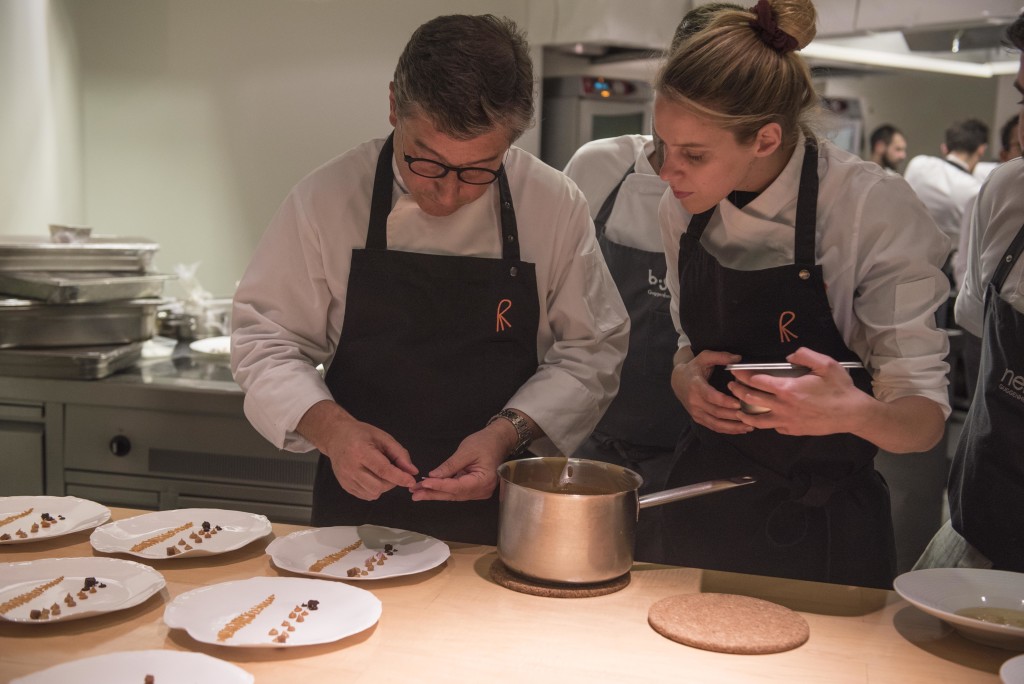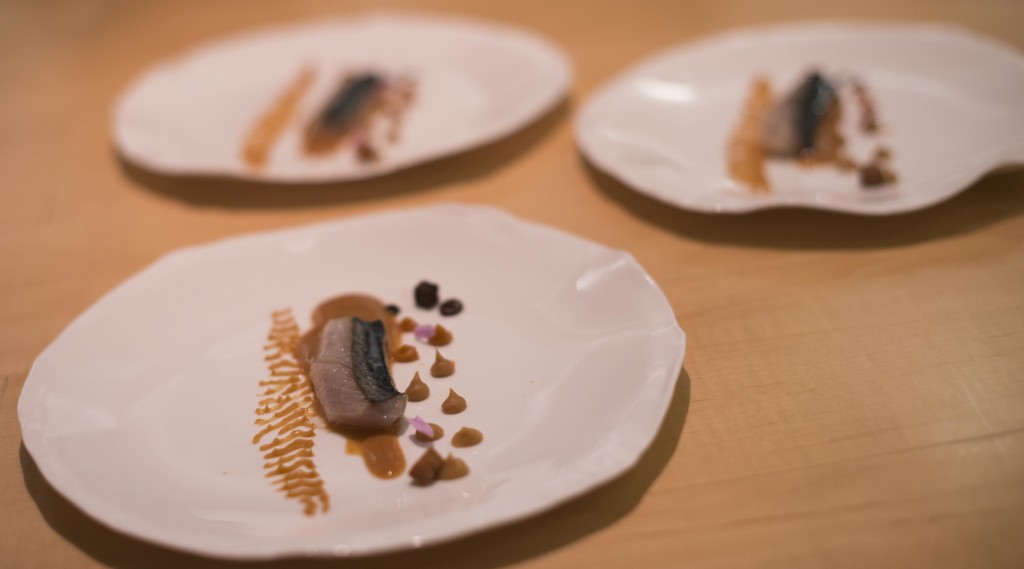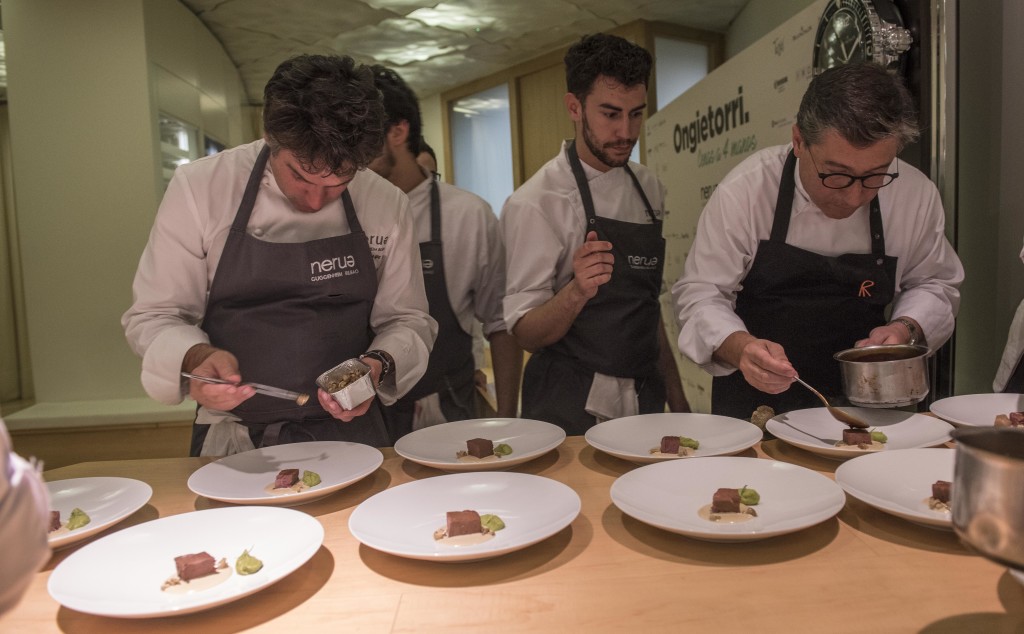 My favorite dish from Joan that evening was El Celler de Can Roca's signature deconstructed Palamos prawn dish. The prawn was marinated in vinegar, the head turned into a sauce, legs fried– everything is edible. While the product is from Catalunya, the flavors are Asian-inspired. 'The idea is local product, global inspiration,' shared Joan.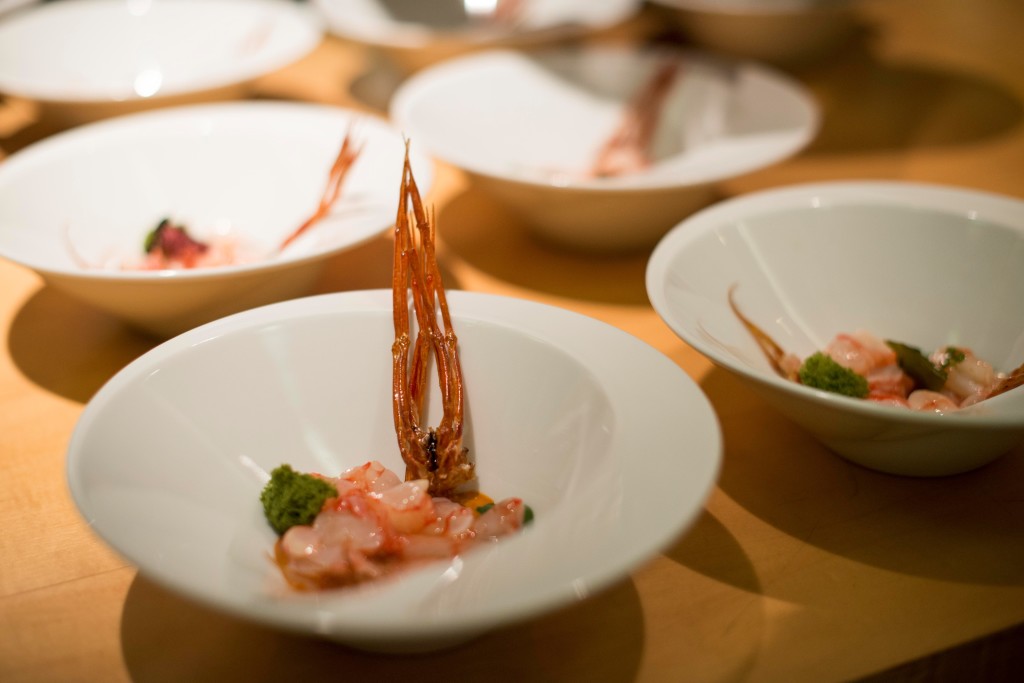 As for Josean's dishes, my personal favorite that night was the cod kokotxa with grilled velvet crab and pilpil. Kokotxa in pilpil sauce is a Basque specialty. At Nerua Guggenheim Bilbao, Josean Alija elevates this with sophistication. Every dining experience at the restaurant will see different versions, sometimes using cod, sometimes hake, with different sauces and techniques. That night, Josean used only be skin of the cod kokotxa, using its gelatin to make a sauce–  or rather a pilpil emulsion– along with crab corals – garlic, cayenne and olive oil, giving it a beautiful mildly spicy flavor.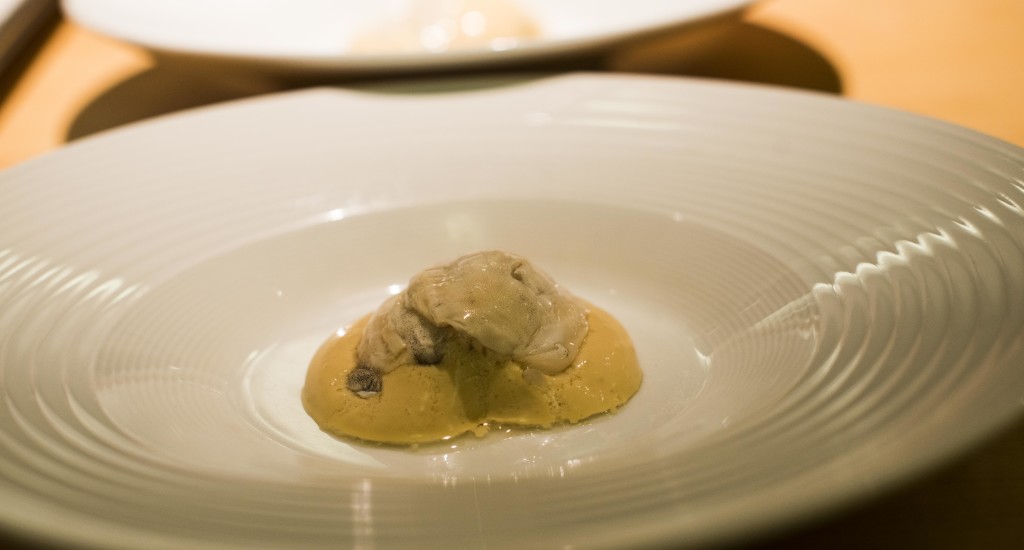 Accompanying them were an interesting range of wines, which Nerua sommelier Ismael Alvarez consulted with El Celler de Can Roca sommelier Josep Roca for the pairings. These included txakoli from Itsasmendi, a white Rioja from Felix Azpilicueta, a dark pink Felix Azpilicueta Coleccion Privada Rosado 2016 (rose) with meat– they wanted to challenge themselves– and a special 1964 Campo Viejo Reserva which they opened in honor of Joan's birth date.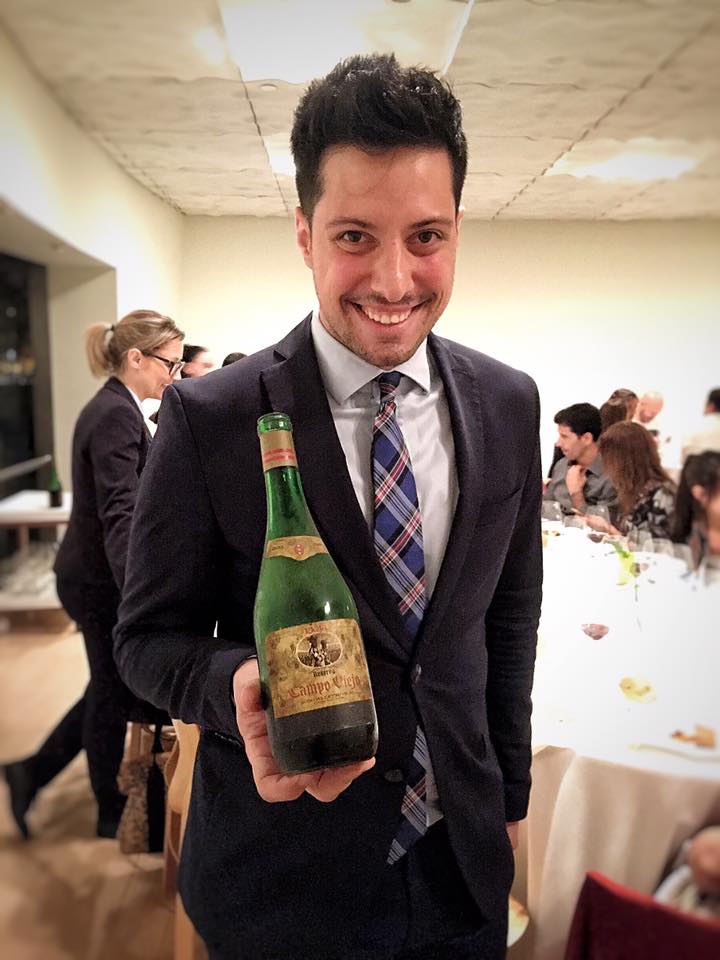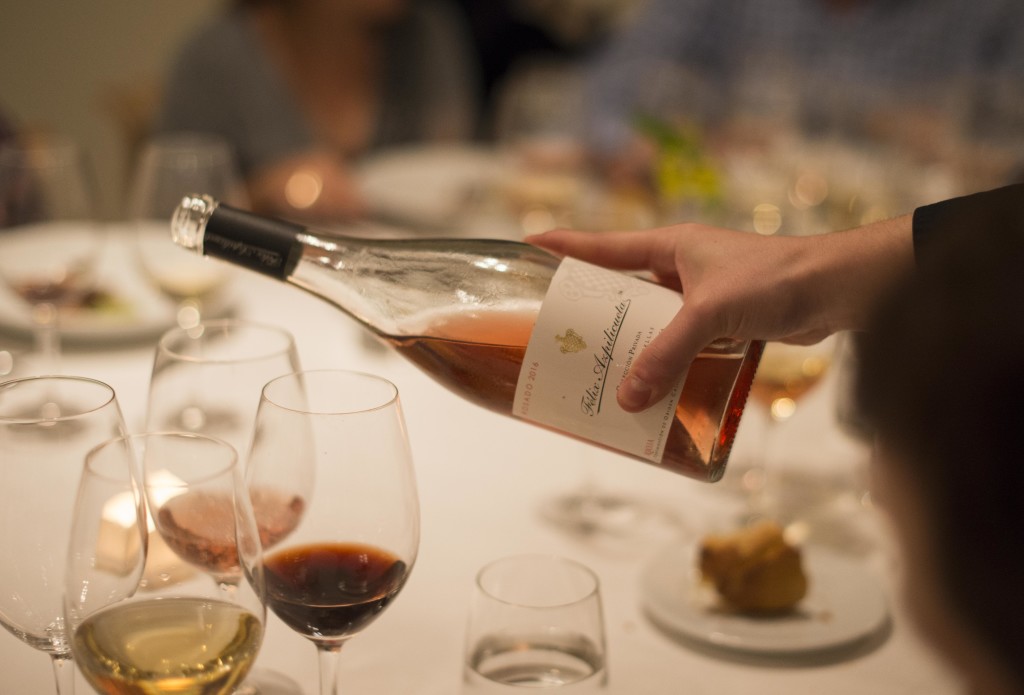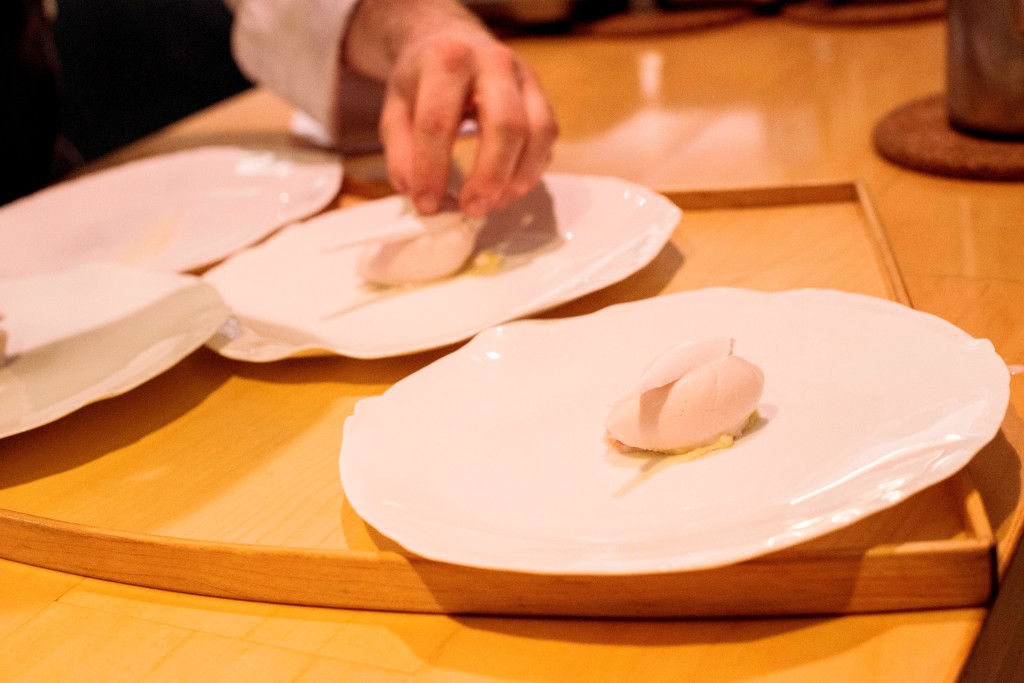 It was a beautiful dinner that saw two friends cooking together to complement each other's dishes, and a hospitality that had both visiting and host restaurant in tandem to make all 65 guests happy (and full)! It was a seamless flow of dishes and ideas that communicated how both chefs truly respect and enjoy each other's cuisines and philosophies.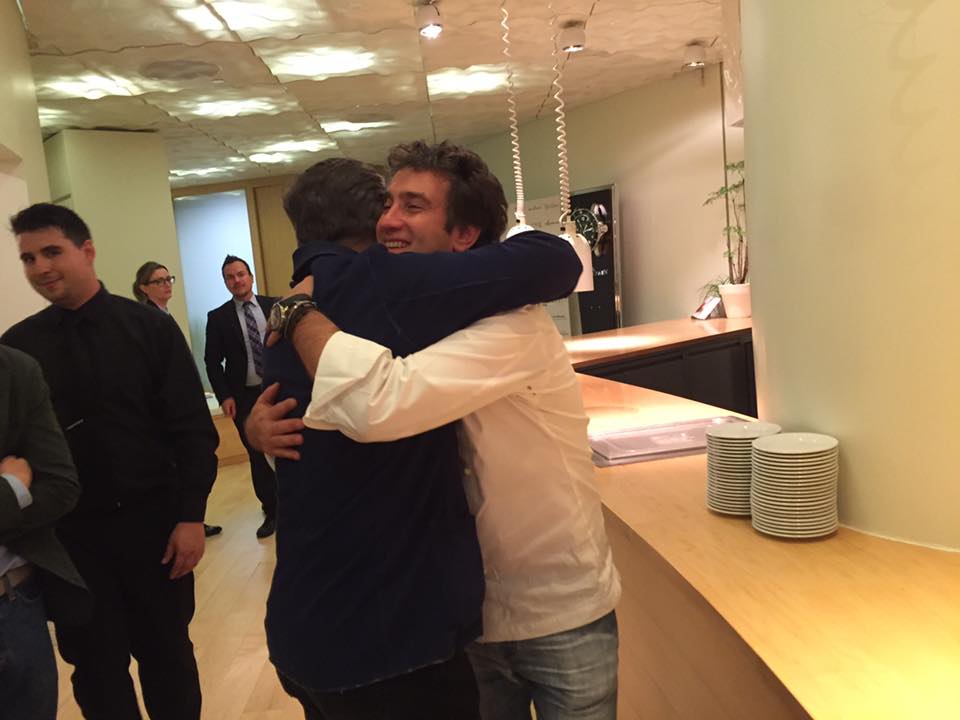 Also in attendance was Minister of Tourism, Trade and Consumer Affairs for Basque Country (Euskadi) Alfredo Retortillo. It was a great honor to meet him, and I'm excited about Bilbao's new growing tourism! (Apart from World's 50 Best to be held there next year, Game of Thrones Season 7 also takes place here (San Juan de Gaztelugatxe)– and the cast celebrated Emilia Clarke's (Daeneyrs) birthday in Nerua not long ago!)
#Ongietorri#Welcome to the #BasqueCountry to international gastronomic journalists attending #cenaacuatromanos#Tourism#Euskadipic.twitter.com/EYiyE2BJg0

— Alfredo Retortillo (@a_retortillo) May 25, 2017
Happy 20th birthday, Guggenheim Museum Bilbao, and happy 6th birthday Nerua! Thank you for such a fabulous event. <3